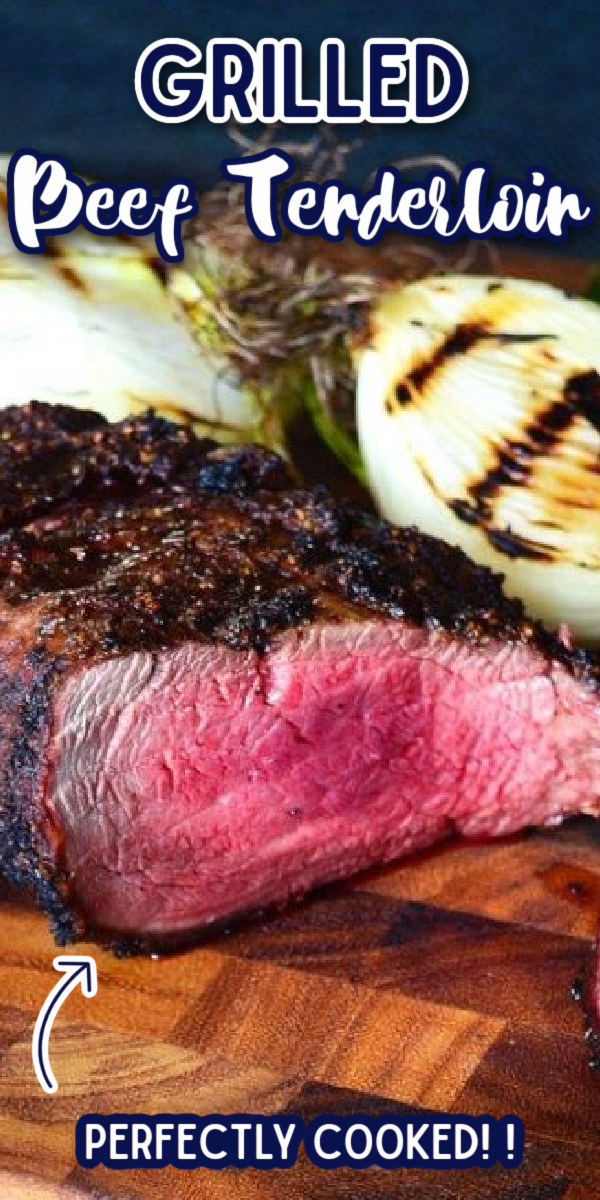 This Grilled Beef Tenderloin recipe is the perfect go-to meal, it has the perfect amount of flavor that will leave your mouth watering for more!
This Grilled beef tenderloin recipe is great for those stay in date night meals! It's a delicious main meal that can be made within 20 minutes!
I have been riding high on a wave of creative thinking and cooking motivation lately. I'm not complaining by any means, because its far easier to cook, write, and photograph when you're just feeling it. I can always tell when I am starting to feel a little frustrated and downtrodden, especially when I sit down to edit photos. They just look "blah" to me, not inspiring at all- and I am always aiming to inspire you. I sat down and looked at the photos for this week and was super excited, starting off with this peppery, grilled beef tenderloin.
If you follow me on Facebook and Instagram, you likely saw pictures of the dinner I put on for Valentine's Day. Dave's best friend from high school, along with his girlfriend, happened to be in town for a work conference on a weekend that Dave just happened to actually have off- miracles do exist. It also happened to be on Valentine's weekend. February was a particularly brutal stretch in our home, and Dave had worked about 13.5 hours a day every day from 2/2-2/13.
I decided to just be cool and suggest we stay in for Valentine's Dinner.
Grilled Beef Tenderloin Recipe
However, that doesn't mean that I was just going to through a few burgers on a grill- nor do I do special dinners on a normal scale (please reference here). I made a ridiculously large flower arrangement, got out the nice china, and then pondered the menu.
I have been making beef tenderloin this way for years now. The original recipe can from Allrecipes, but it's been edited and tweaked and altered so many times over the years that I no longer even measure the ingredients before they go in the spice grinder/coffee grinder. I made this for my parents a few years back and now they're in love with it as well. Its a great go-to for a great main dish with big flavor.
I am super excited to share Friday's dish with you! Can't. Freaking. Wait. You. Will. Die.
What you will need for this recipe:
Spice Grinder – I recommend using a spice grinder to mix the spices required in this recipe. This [easyazon_link identifier="B00E4KLW3Q" locale="US" tag="gogogogo03-20″]Electric Spice Grinder [/easyazon_link] should do the trick and it even comes with a one year warranty.
Table Top Grill – If you do not already own a grill, you can always purchase a table top grill. They are convenient and easy to store. This indoor/outdoor [easyazon_link identifier="B0000AZK85″ locale="US" tag="gogogogo03-20″] Grill[/easyazon_link] is perfect if you have limited space.
Meat Thermometer – To make sure the meat is at that perfect temperature, you can use a meat thermometer. You can grab this [easyazon_link identifier="B017613C3C" locale="US" tag="gogogogo03-20″] Digital Cooking Meat Thermometer [/easyazon_link] here!
If you liked this Grilled Beef Tenderloin recipe you can check out these: