This Lobster Mashed Potatoes recipe is not only incredibly easy, but totally jaw-dropping. If you're looking for the best lobster mashed potato recipe, you've found it!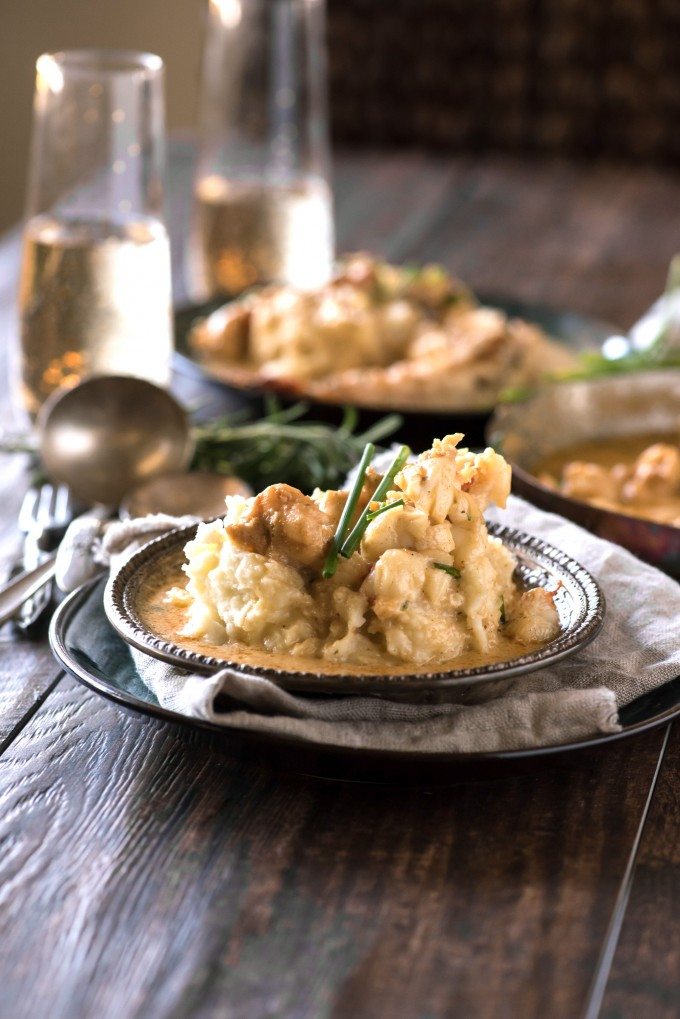 Yes, you read that right. Lobster mashed potatoes.
Helloooo hedonism.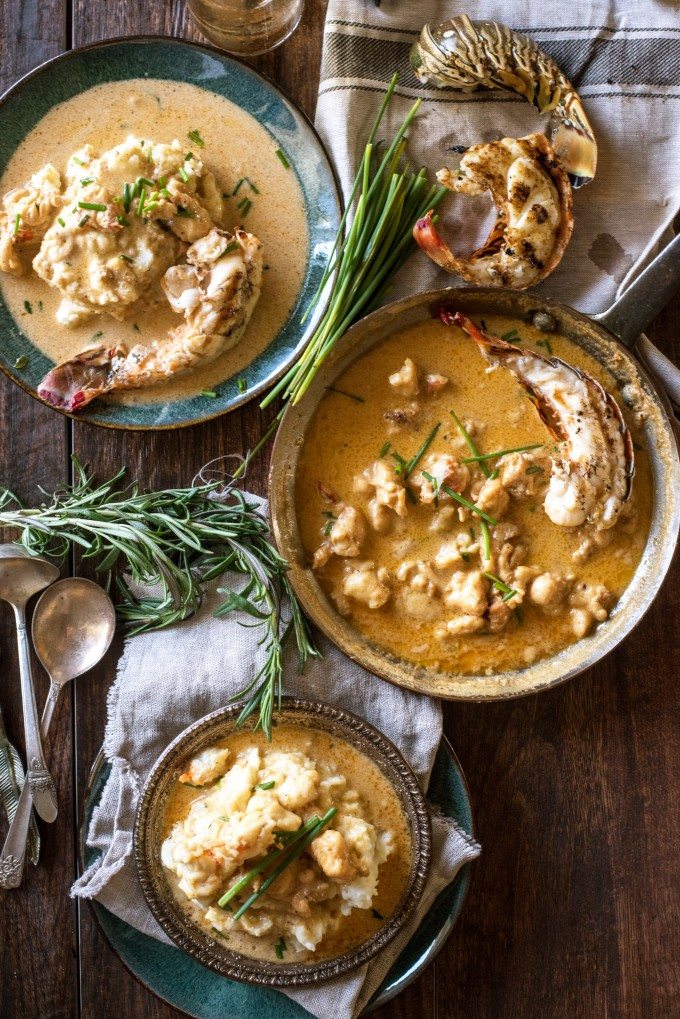 There was a great steakhouse back in Ohio that had these killer lobster mashed potatoes. It had never occurred to me that those to things should (or could) be combined, but once they touched my lips I wondered why all mashed potatoes didn't have succulent chunks of lobster in them.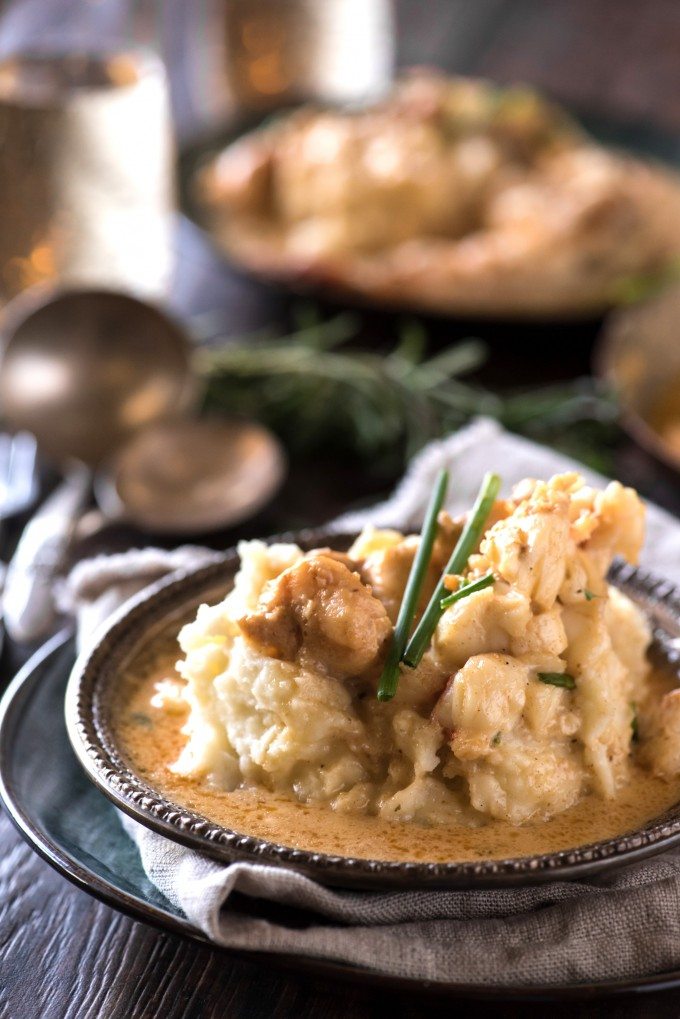 With my beef tenderloin on Valentine's Day, I wanted to do something with lobster, but something more special than just a broiled or grilled lobster tail. The memory of those potatoes popped into my head and I knew I had my answer. One problem. I hadn't eaten them in like 2 years and had only a vague inkling of what they tasted like. Even after a little Googling, I couldn't find an actual copycat for Hyde Park's potatoes. I looked at what some other places did and set out to do a little experimenting, while hoping for the best.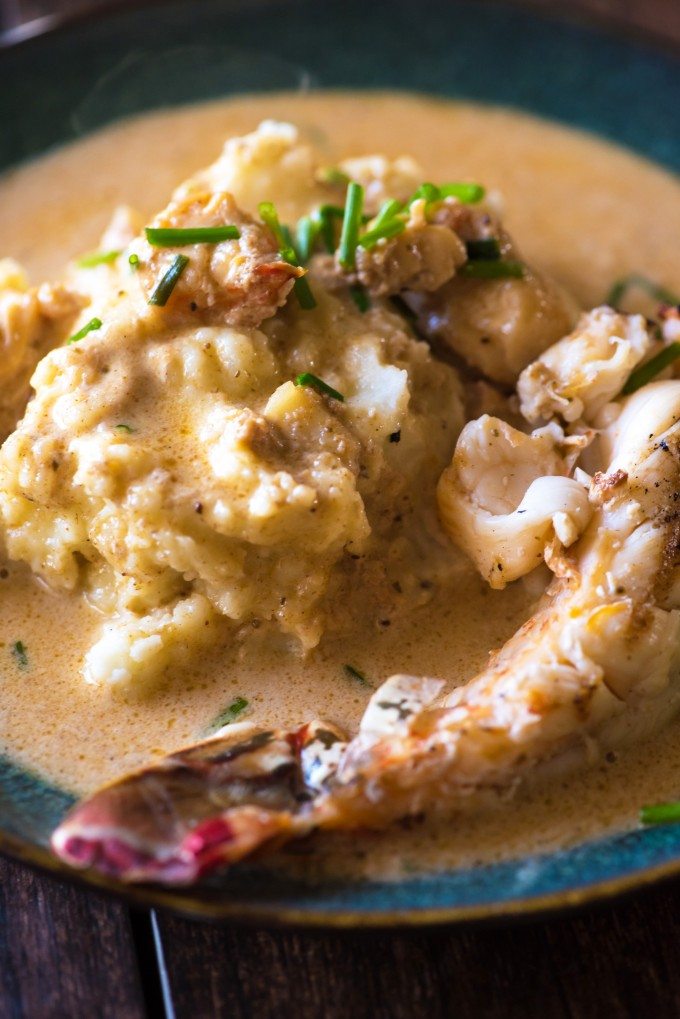 Oh. My.
I can't even begin to explain how utterly amazing these are. I'm not going to say that they're low fat or low-cal, but I think at this point you all know that I don't particularly live my life that way. They were SO good, in fact, that our friend came out of the bedroom the next morning and said,
"Hey, would you mind if I heated up a bowl of those potatoes for breakfast? I had a dream about them."
I think that's a good sign.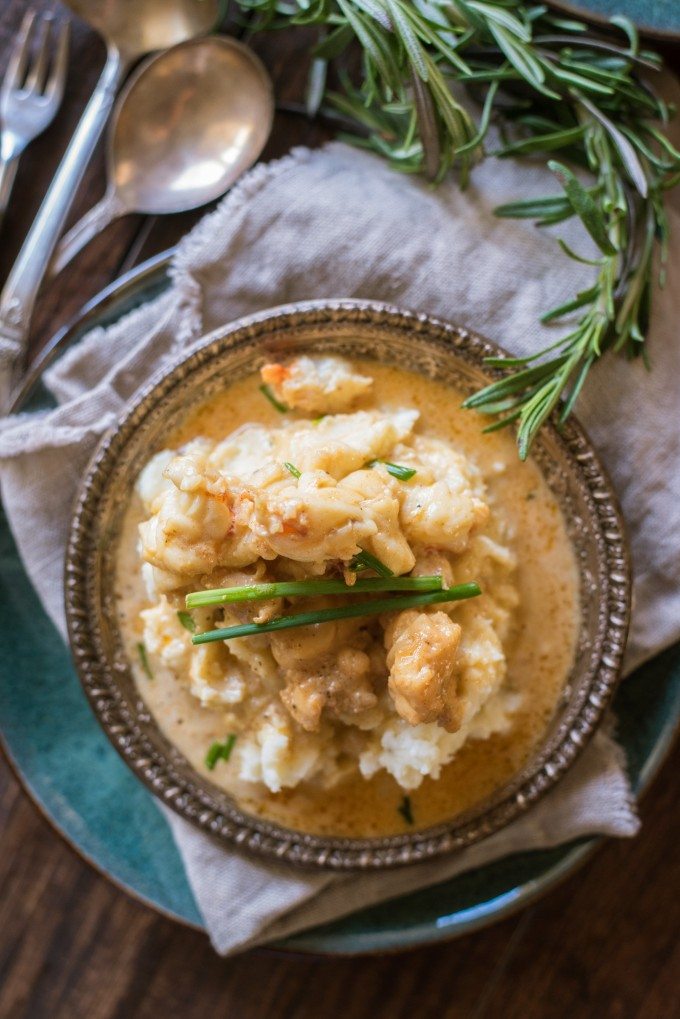 How to make these creamy Lobster Mashed Potatoes
These mashed potatoes are beaten with boursin, a soft, garlic-and-herb flecked cheese that helps make these potatoes super creamy. The sauce that gets poured over the top is seasoned with Old Bay and chili powder, then freshened up with a hit of chives, and the whole thing is stirred together tableside.
If you like this Lobster Mashed Potatoes recipe, try these recipes too:
Creamy Lobster Mashed Potatoes
Ingredients
6

medium sized russet potatoes

2.5

oz

boursin cheese

1/2-3/4

c

whole milk

4

T

butter

4

oz.

heavy cream

1 1/2

T

Old Bay seasoning

1

tsp

chili powder

1

tsp

fresh chives

minced

1

cooked lobster tail

meat removed from shell and roughly chopped
Instructions
Peel and dice the potatoes. Bring a large pot of salted water to a boil. Add the potatoes and cook until fork tender. Drain, then return to the pan over medium heat. Using a potato masher or wooden spoon, roughly mash the potatoes for 1 minute to remove the excess water that remains.

Remove from the heat and add in the boursin cheese. Use a handheld mixer on medium speed to melt the cheese into the potatoes. Slowly add in the milk and whip until the potatoes are a creamy texture and no lumps remain.

In a small saute pan over medium heat, melt together the butter and cream. Add the Old Bay, chili powder and lobster pieces and stir to combine. Sprinkle with the chives.

Move the mashed potatoes to a serving bowl and pour the lobster cream over the top. Garnish with additional chives, if desired. Stir together prior to serving.
SaveSave