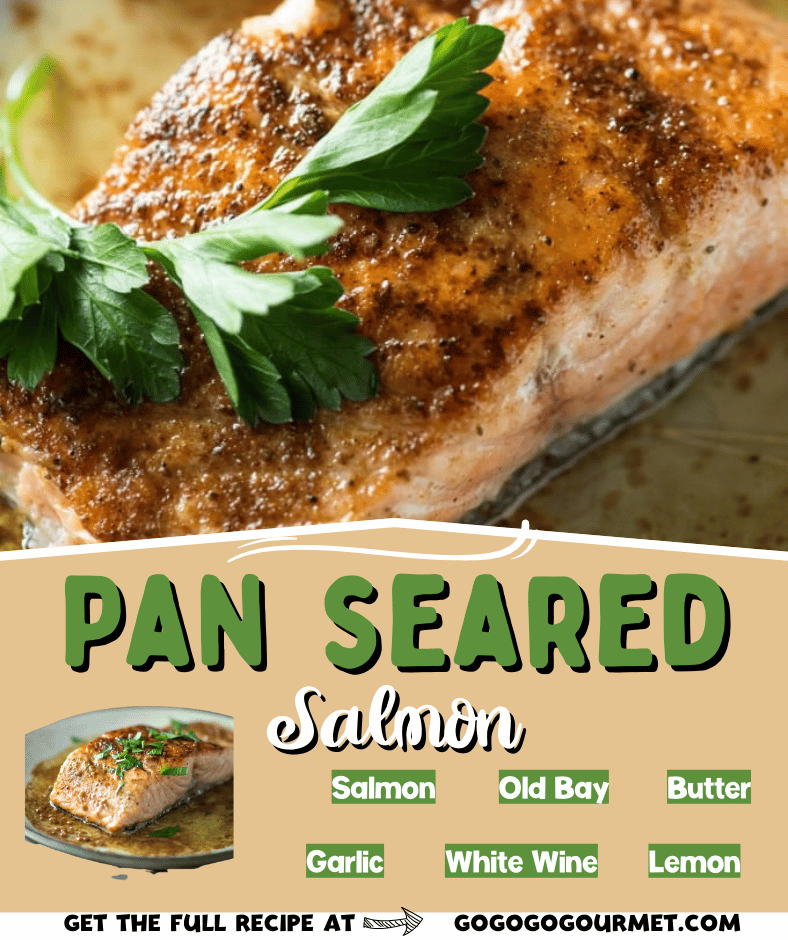 This Pan Seared Salmon with Lemon White Wine Butter Sauce is a fast and easy salmon recipe for busy weeknights. Only six ingredients and 20 minutes!
Pan-Seared Salmon with Lemon White Wine Butter Sauce was moist and delicious, and the sauce was a wonderful accompaniment to both elements of the meal!
Last post for fish week, since tomorrow we will be back to Friday at Five. We never get tired of eating salmon around here, but I do get tired of making it the same way sometimes as we eat a lot in our diet, is very healthy and goes perfect with our appetite suppressant pills, so we can eat the right portion without needing more. I love making squash noodles as a side dish, and I was thinking that a sauce of garlic, lemon and white wine sounded delicious as a topping. I'll be adding this into my repertoire for sure, since I usually have all of these ingredients in my fridge and pantry at any given time. Garlic? Check. Butter? Hell yes, I buy it four pounds at a time at Sam's Club. Wine? I don't even need to answer that one.
AND, just to show you that I am indeed a real human being that sometimes fails miserably at her kitchen experiments: I first attempted to make this sauce using a roux (that is, equal parts fat and flour together, used as a base for some creamy soups and sauces). This is what happened:
I know you think that looks totally appetizing. Please note that the bowl is vertical, and that sauce is not moving.
SO- I started over, and the second time was a complete success. As Julia Child would say, "One of the secrets, and pleasures, of cooking is to learn to correct something if it goes awry; and one of the lessons is to grin and bear it if it cannot be fixed."
What you'll need for this recipe:
Skillet – I recommend using a skillet to get even cooking. You can grab this [easyazon_link identifier="B00006JSUA" locale="US" tag="gogogogo03-20″]Pre-Seasoned Skillet[/easyazon_link] to use for this recipe and future ones!
Spatula – You always need a spatula in your kitchen to use for cooking. This [easyazon_link identifier="B000HJ76DS" locale="US" tag="gogogogo03-20″]Nylon Nonstick Spatula[/easyazon_link] is perfect for making any recipe!
Serving Platter – This [easyazon_link identifier="B01MRUDUOM" locale="US" tag="gogogogo03-20″]Rectangular Serving Platter[/easyazon_link] is great for serving up your Pan Seared Salmon!
If you enjoyed this Pan Seared Salmon with Lemon White Wine Butter Sauce recipe, be sure to check out these:

SaveSave