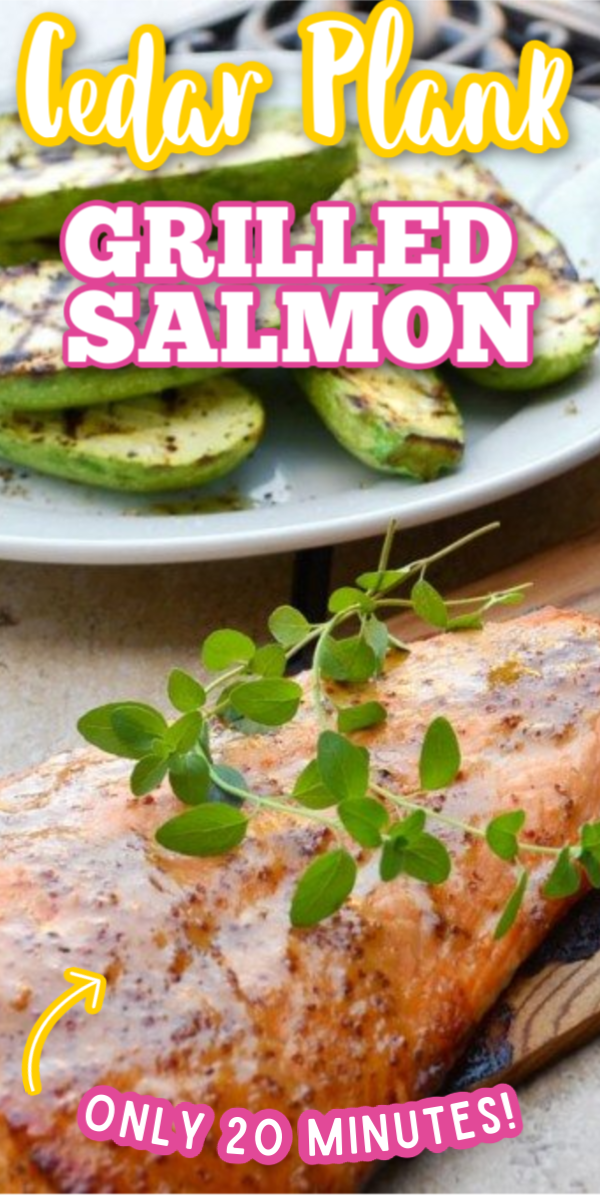 If you've ever wondered how to grill salmon on a cedar plank, I've got the recipe for you! This Cedar Planked Grilled salmon is the ultimate summer dinner!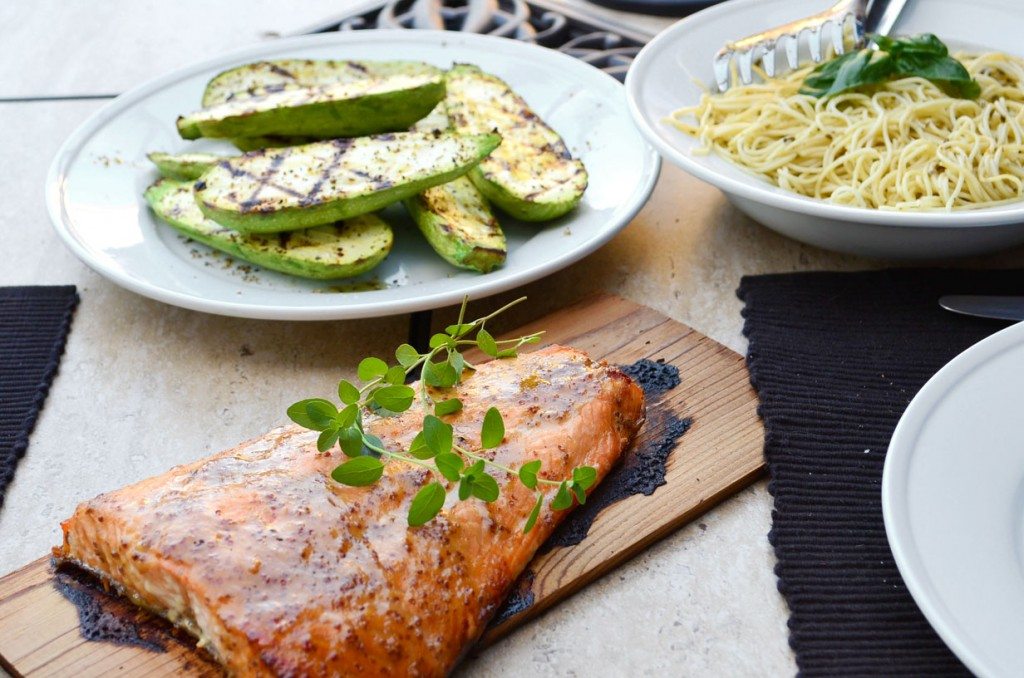 I am always up for trying new things. Shockingly, I have never tried grilling salmon, likely because I always have perfect results with my fail-safe oven method. I decided it was worth trying, because it was nice outside and I didn't feel like doing ANY dishes whatsoever. First I heated my grill, seasoned my fish and oiled it generously. I sprayed my grill with cooking spray. Then added the fish and let it cook until the skin was crispy. I tried to use tongs to flip the fish. Nothing happened. The spatula didn't yield much nicer results, but I did manage to flip the fish to cook the other side. Sort of. I also "sort of" got it off the grill.
I mean, it was totally delicious, but it looked like a hot mess.
The next day, I was back at the grocery store, as I seem to be multiple times a week now, and I caught sight of a display of cedar grilling boards next to the seafood counter.
Hmm. I have those at home, but I use them as photo props. Maybe I should try their intended purpose and do a cedar planked grilled salmon.
It. Was. Awesome.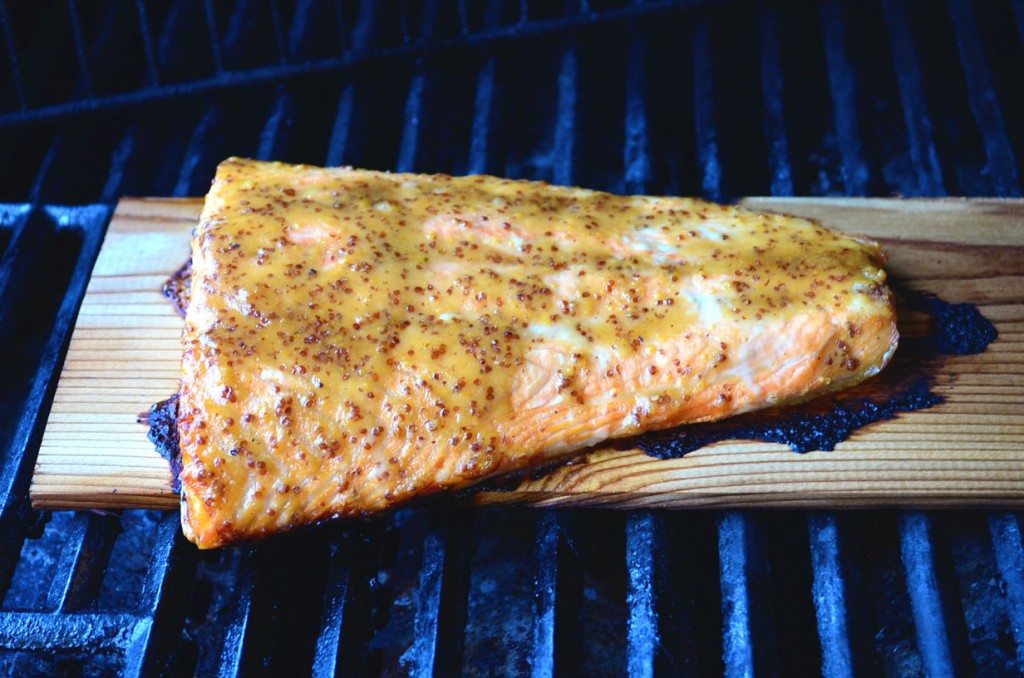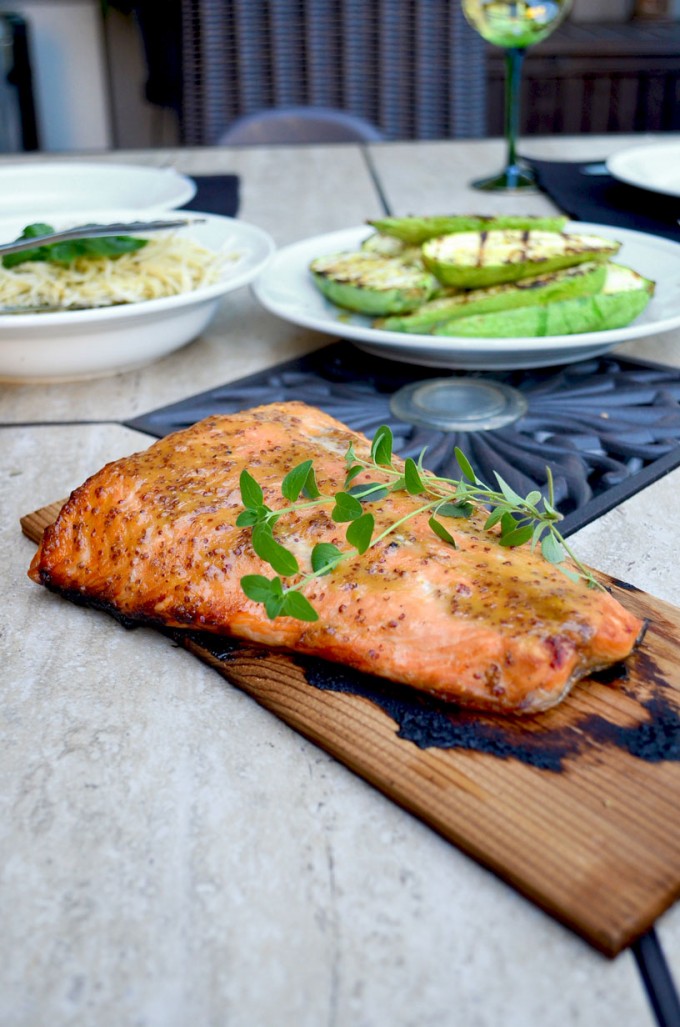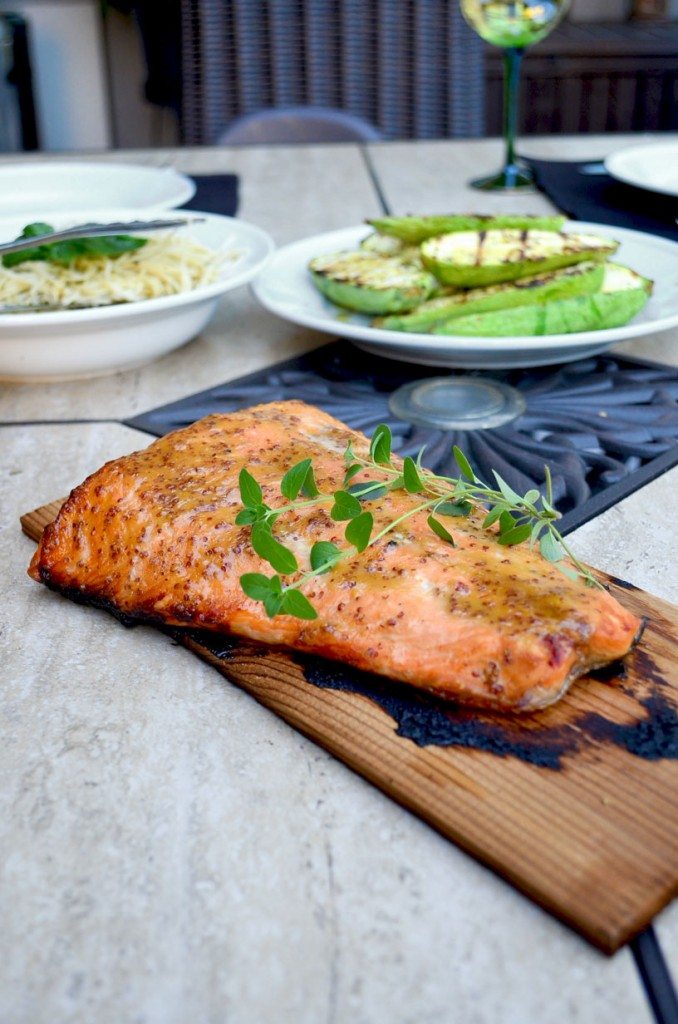 The great thing was that the board added such a unique, smoky, grilled flavor to the fish, but all I had to do was throw the board in the trash for clean up. I didn't have to oil the fish more than normal. I didn't have to flip it. It was just a smokier version of what I already do in the oven- perfect for spring/summer/fall evenings where I don't want to turn my oven on.
What I used for seasoning
I poured over a whole grain mustard sauce that added a little savory sweetness to the fish, as well as helped to keep the fish moist. You could really do whatever you wanted here, if you don't apply some sort of a glaze or sauce and you go for a dry rub, just make sure to dot it with some butter and/or drizzle it lightly with olive oil.
The whole dish was just lovely, top to bottom.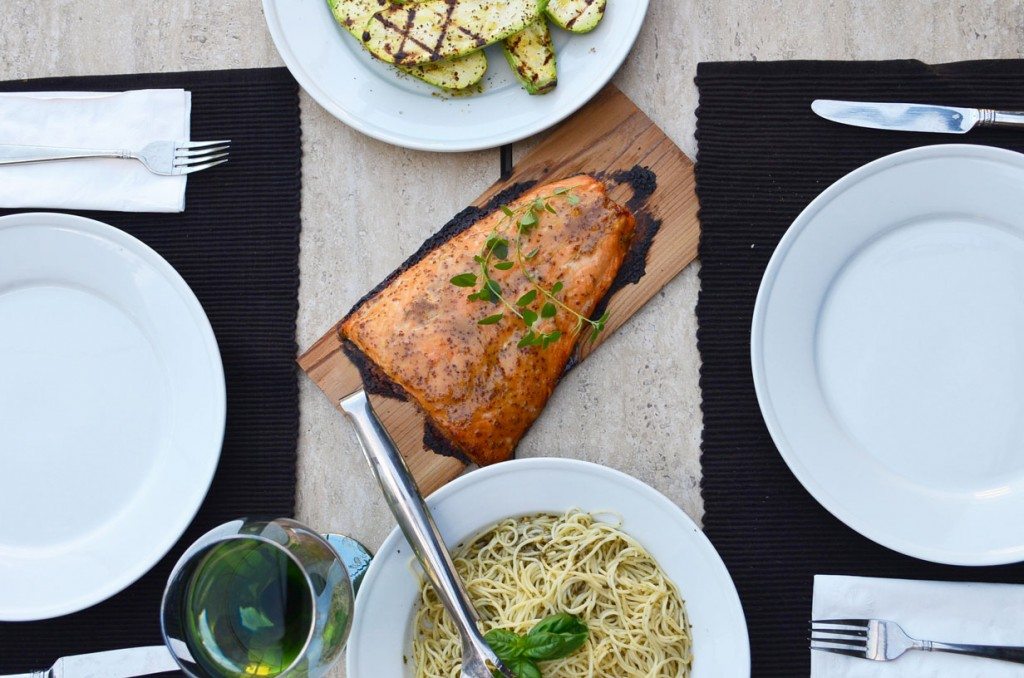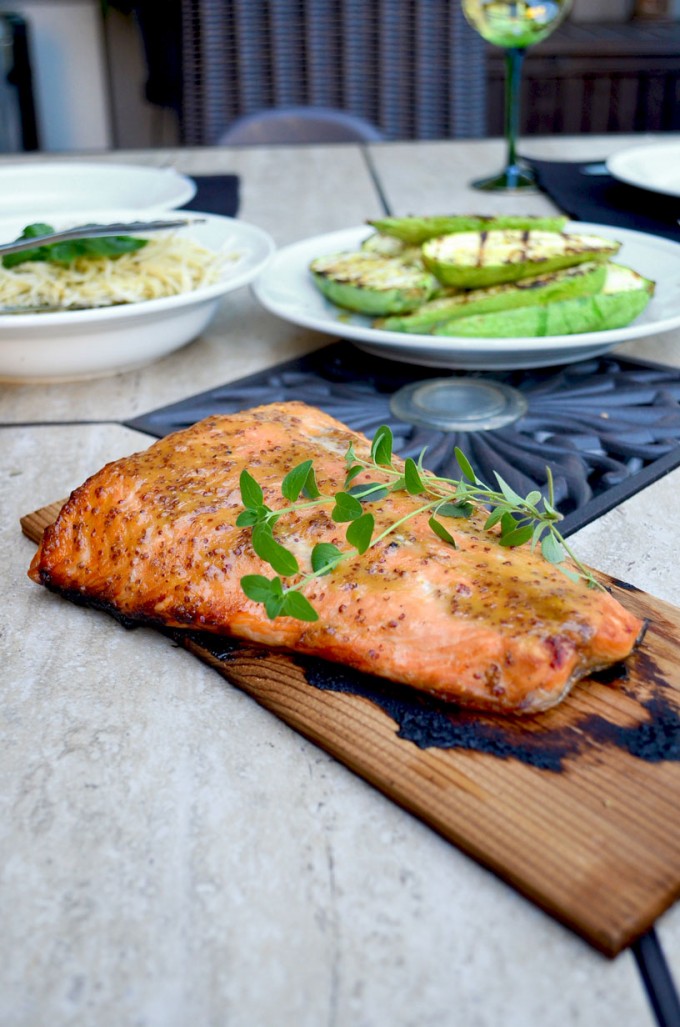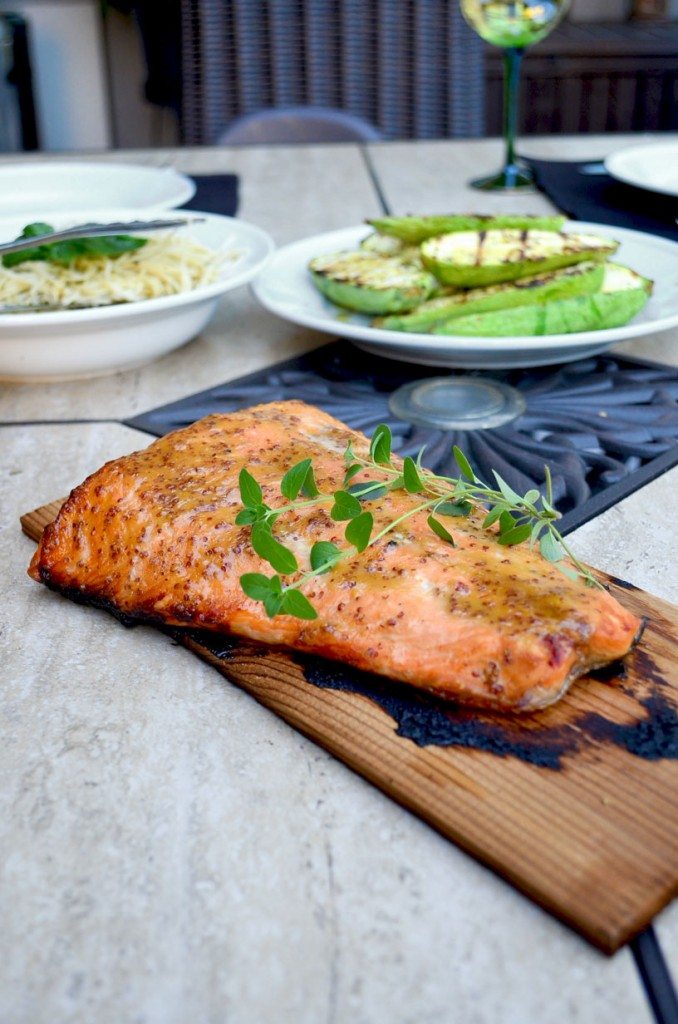 Tools needed to make this Grilled Salmon Cedar Plank recipe:
All you really need is your grill and some [easyazon_link identifier="B009BFBNWO" locale="US" tag="gogogogo03-20″]cedar planks[/easyazon_link]. You can buy them in packs of 12 which is awesome!
If you liked this grilled salmon recipe on cedar plank, check out these other awesome salmon recipes:
Cedar Planked Grilled Salmon
Ingredients
1

piece

salmon

1

cedar board
Instructions
Soak the cedar board in water for at least 30 minutes.

Heat a grill over high heat.

Sprinkle a board with olive oil. Add the fish to the board and top with desired sauce or seasonings.

Add the prepared board to the grill, then turn the temperature to low and shut the lid of the grill.

Cook the fish until it is cooked through and flakes with a fork. 15-20 minutes, depending on the thickness of the fish.