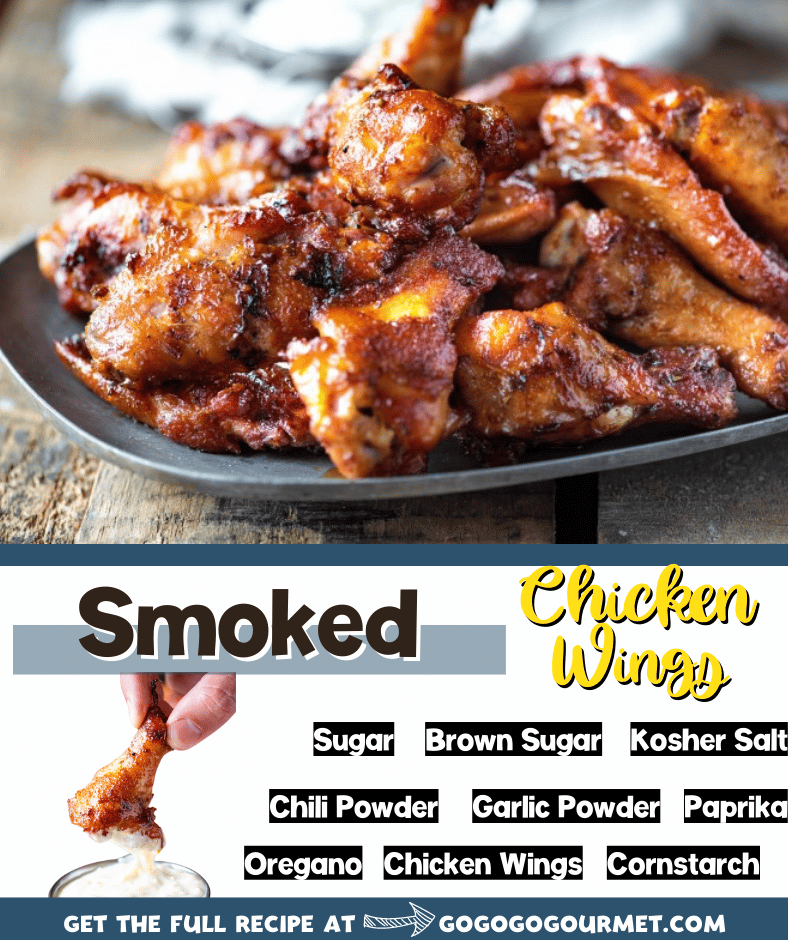 Have you ever smoked chicken wings before? These are out of this world with their juicy meat and sweet and spicy dry rub! Find out how I learned from my mistakes to make the best smoked chicken wings ever!
I have embarked on a new cooking journey- the journey of smoking.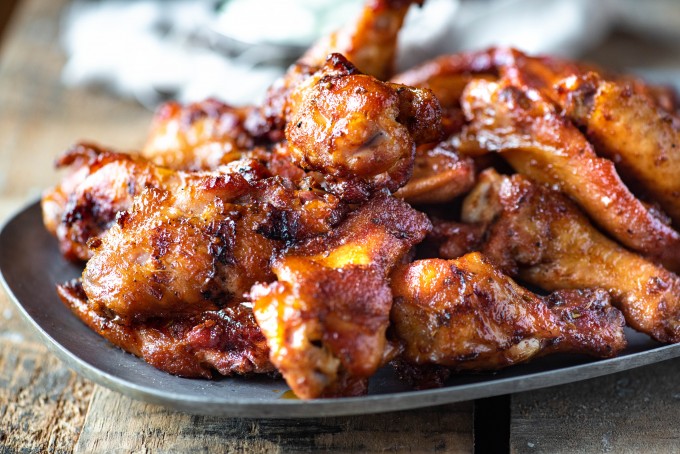 To really get the full picture of the story, I have to go back several years- back when we first moved to Florida.
When we first moved, I noticed something almost immediately- everyone in Florida LOVED smoking! And I'm not just talking about cigarettes, although they really did a lot of that too.
Once I had tasted slow cooked pork, steaks kissed with the taste of smoke, and , I was DOA. I needed a smoker.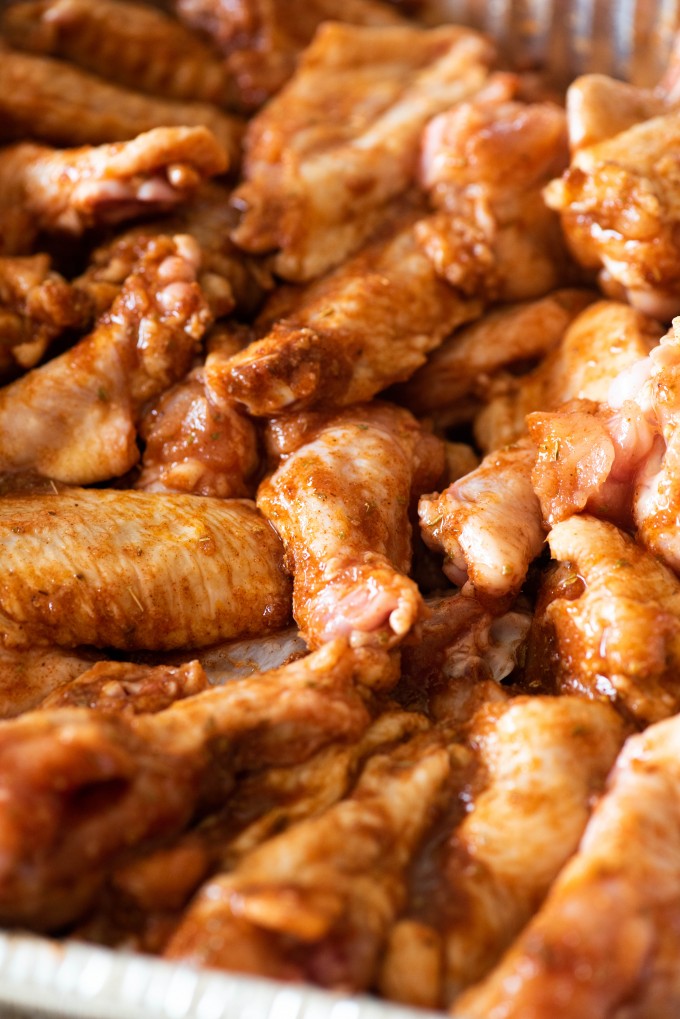 I mulled and hemmed and hawed for 3 years, and before I knew it, it was June 2017 and it was almost time to leave Florida and journey back to Ohio. Our anniversary is in the beginning of June, and Dave handed me an envelope.
Any guesses on what was inside? Oh you're absolutely right- it was a smoker. Well, a picture of a smoker, accompanied by a promise of a smoker after our 1000 mile move across the country.
Fast forward to June 2018, and does anyone want to guess whether there was a smoker on patio? If you guess there was not, then you guessed correctly.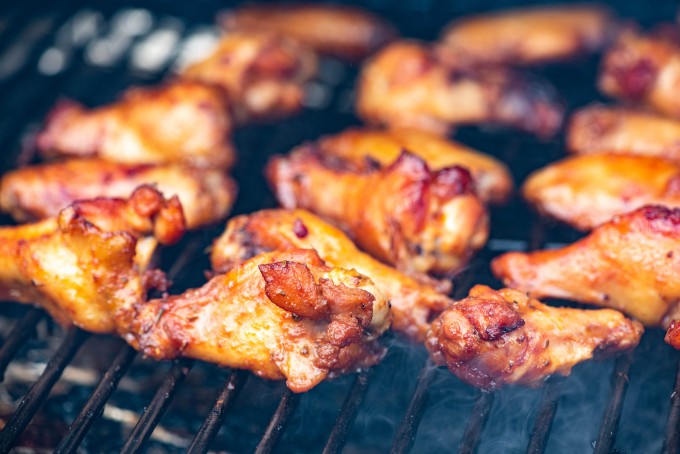 I had had enough. Our neighbor across the street had a Traeger grill, and served me some of the best home-grilled filet mignons that I had ever had. I emailed Trager, told them my sob story about my non- anniversary gift and low-key (not so low-key) begged them to partner with me.
It was a match made in heaven.
One week later, my[easyazon_link identifier="B01BH3RCRW" locale="US" tag="gogogogo03-20″]Traeger Pro Series 34 grill[/easyazon_link] showed up on my driveway. I was thrilled and set to work.
Perhaps unsurprisingly, I quickly discovered that smoking is a whole new beast for me to learn. Its simultaneously exciting and frustrating to have a new challenge to conquer.
After I went after some chicken halves, brisket and a pork shoulder for my trial runs, I felt like I was able to really go after a much-beloved food- smoked chicken wings.
I was nervous because I was batting about 50/50 on my success rate thus far (those stories are still to come), but these were AMAZING!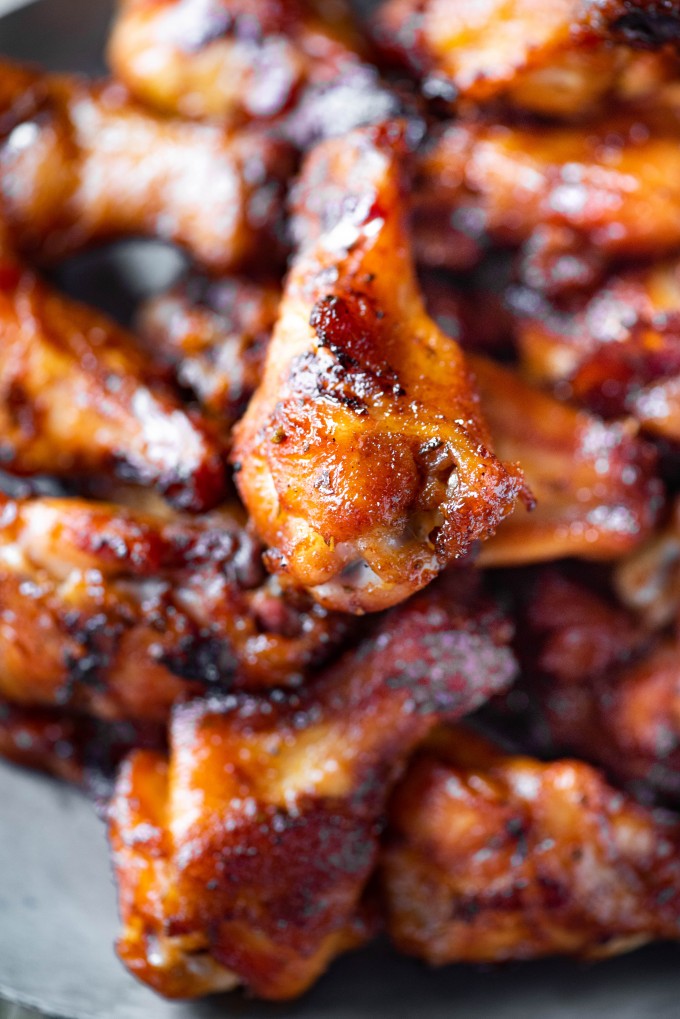 How to smoke chicken wings
We're all obsessed with chicken wings around here, and they are one of my go-tos to throw on the grill for those large family gatherings that have become frequent since we moved here. Throw on your favorite dry rub, throw them on a grill, flip, serve. How can it get easier??
I won't say that smoking chicken wings is easier, but it is equally simple, and I think yields a more tender, juicier wing. Plus, the smoky flavor is out of this world!
I used my [easyazon_link identifier="B014DAVCP4″ locale="US" tag="gogogogo03-20″]ThermoPro Wireless Remote Digital Cooking Food Meat Thermometer[/easyazon_link]. I'll be getting another one of these soon for when I smoke multiple things at once.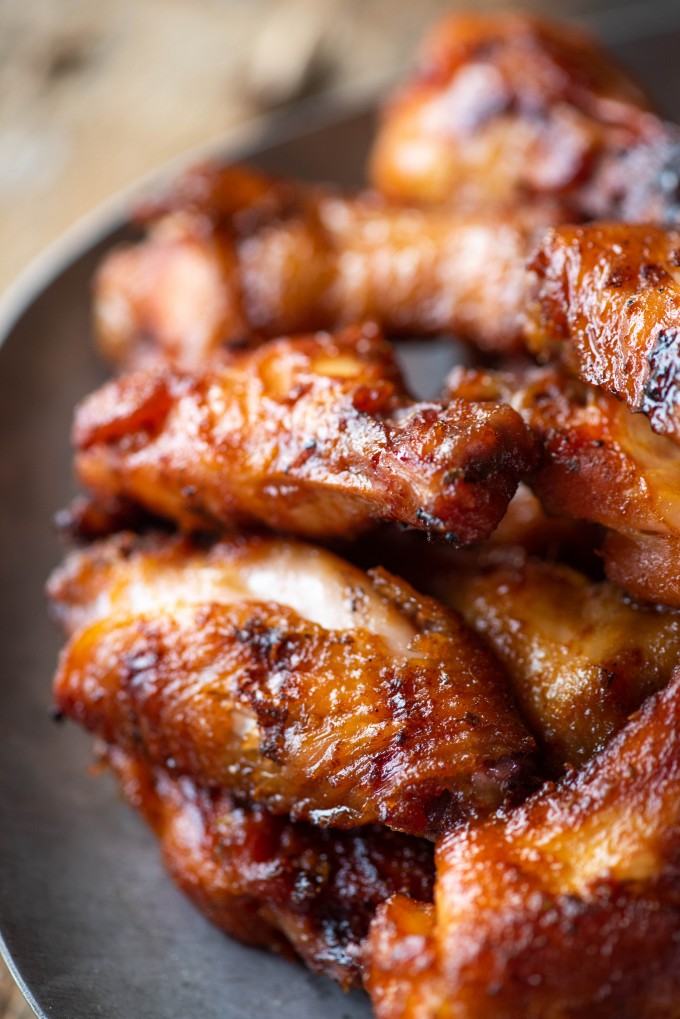 After they reached their safe internal temp of 165 F, I turned the Traeger onto the HIGH to crisp up the skin. The biggest problem that I've had with learning how to smoke so far has been getting the outside right. I had started off with making a couple of chickens. The inside of the chicken was delicious, juicy and smoky, but the skin was completely inedible- like eating leather!
After doing some reading, I decided to hit them with a blast of high heat to crisp them up and see what that did. It worked really well, so I think I'll try that next time I do chickens.
You can use your favorite dry rub on these, but I made up a delicious sweet and spicy rub that is super easy and makes some crazy delicious wings. You might notice that it contains cornstarch. It certainly isn't necessary, but I also use it in my Grilled Beef Tenderloin rub- it helps give it a crust on the outside.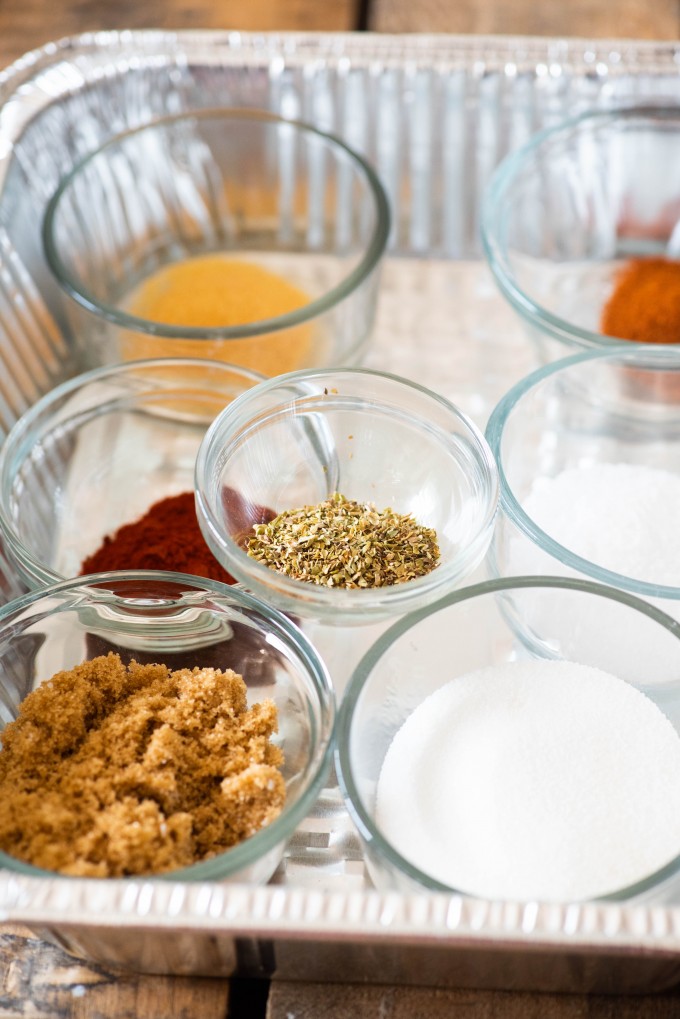 Temperature and Cooking Time for Smoking Chicken Wings:
I smoked these at a temperature of 225 and they were done in about 2.5-3 hours. Not an expert, but I think 250 F would also work well, plus they would get done a little faster. They need to get to an internal temp of 165 F.
Equipment needed:
[easyazon_link identifier="B078HPR447″ locale="US" tag="gogogogo03-20″]Aluminum drip pans[/easyazon_link]
[easyazon_link identifier="B01GE77QT0″ locale="US" tag="gogogogo03-20″]Bluetooth thermometer[/easyazon_link]. I know a lot of people like to use the [easyazon_link identifier="B01IHHLB3W" locale="US" tag="gogogogo03-20″]pen thermometers[/easyazon_link] too, but I like that this constantly monitors the temperature for me, so I don't have to keep opening the smoker and letting all my heat out. The wireless receiver stays with me, whether inside or outside, and alerts me when I reach my temperature.
When I have smoked overnight, it even stays on my nightstand with the baby monitor!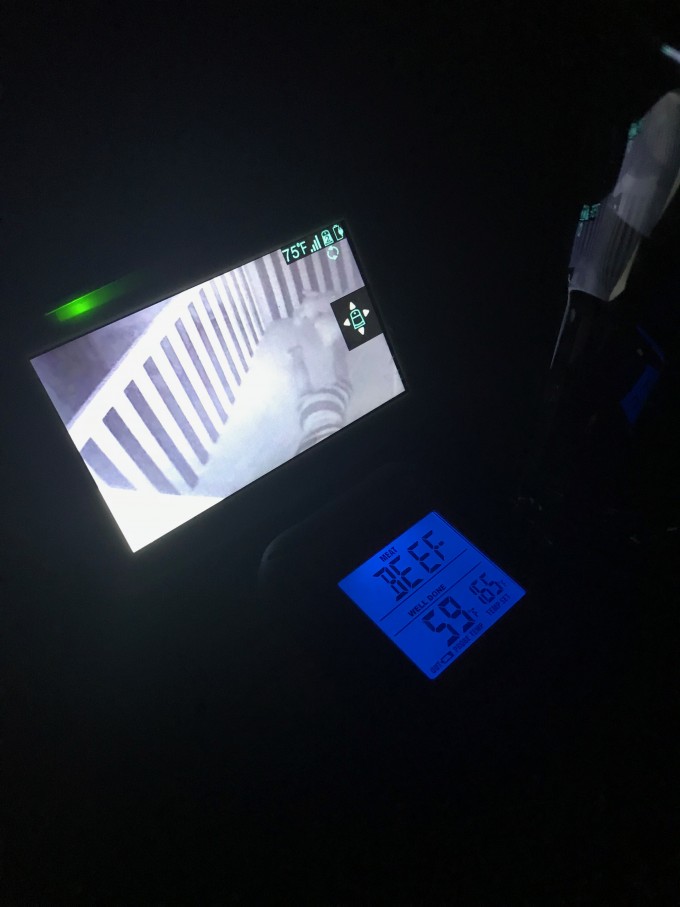 [easyazon_link identifier="B01BH3RCRW" locale="US" tag="gogogogo03-20″]Traeger Pro Series 34[/easyazon_link]- this is the grill from Traeger, which you can find out more about here. I'm still learning it, but I REALLY like it a lot- even for more than just smoking!
[easyazon_link identifier="B01F2YP954″ locale="US" tag="gogogogo03-20″]Hickory Pellets[/easyazon_link]- I used Hickory wood for this recipe, but let's be honest, I have no clue of the nuances of different wood flavors (yet).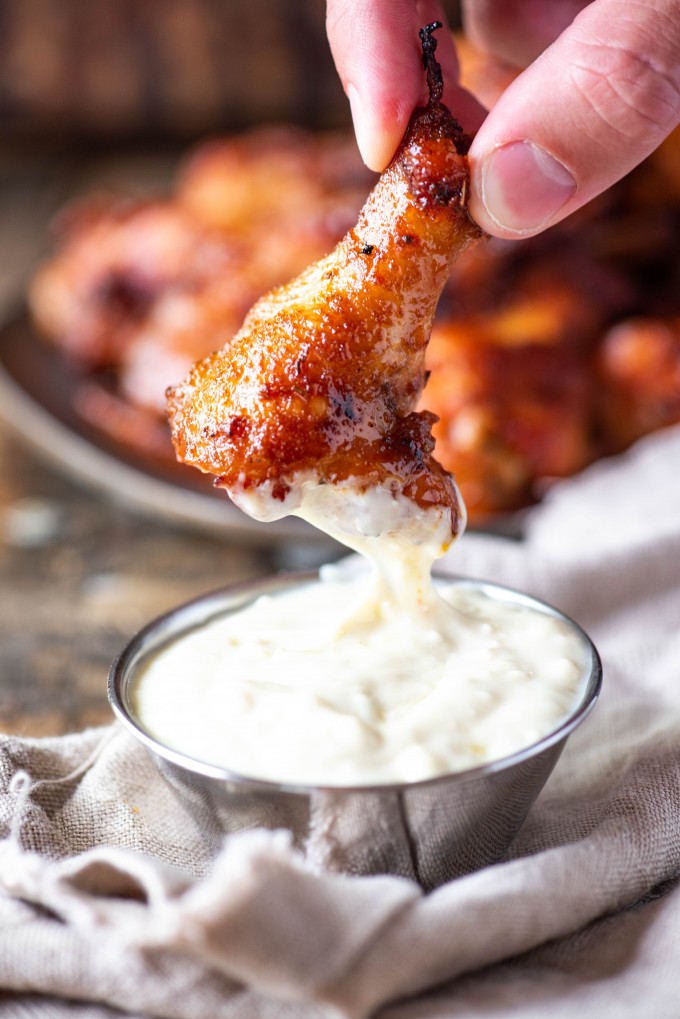 Related recipes:
Smoked Chicken Wings
Ingredients
1/4

cup

sugar

1/4

cup

brown sugar

2

tablespoons

kosher salt

1

teaspoon

chili powder

2

teaspoons

garlic powder

1

tablespoon

smoked paprika

2

teaspoons

oregano

1 1/2

tablespoons

cornstarch

3

lbs

chicken sings
Instructions
Preheat a smoker to 225 F.

In a medium mixing bowl, add all spices, plus the cornstarch.

In a disposable aluminum pan, dump the chicken wings. Sprinkle with the spice mixture, and use your hands to toss the chicken wings until evenly coated with the rub.

Place the pan and wings in the smoker. Smoke for 2-3 hours, until reaching an internal temperature of 165 F, tossing twice

Adjust the smoker (or a separate grill) to HIGH. Place chicken wings directly on oiled grill grates and cook for 3-5 minutes per side, until outside has crisped up.

Remove from grill/smoker and serve.
SaveSave
SaveSave
SaveSave
SaveSave