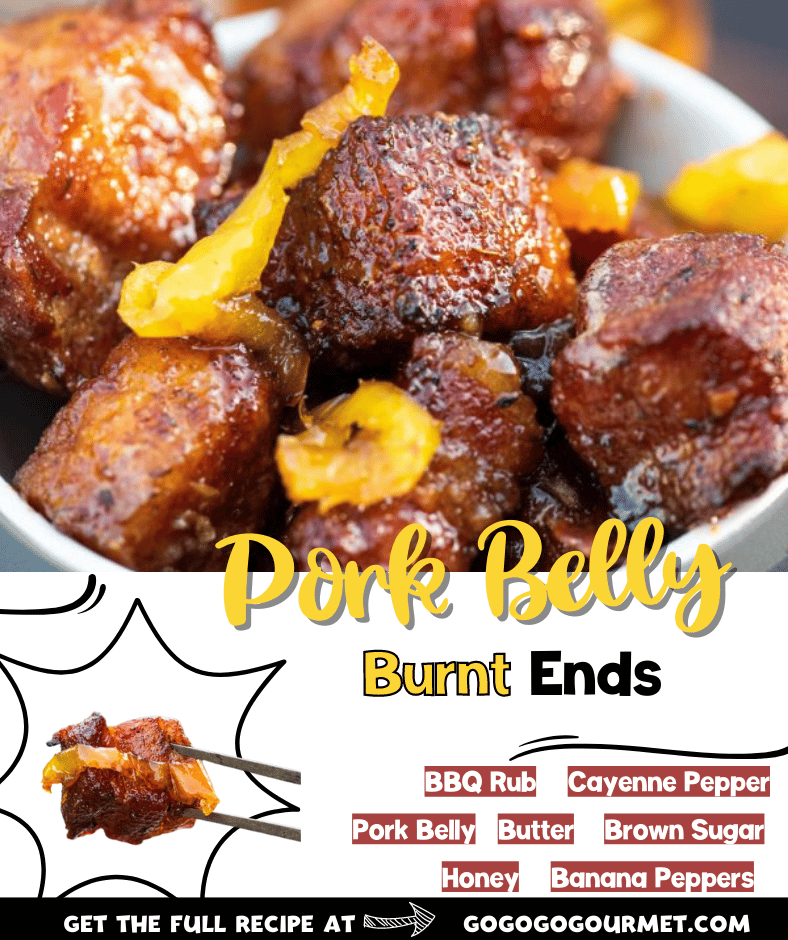 These pork shoulder burnt ends couldn't be any easier – or any more delicious! Thanks to your smoker, each one is full of tangy barbecue, smoky flavor, and juicy pork.
This post brought to you by the Ohio Park Association. All opinions and statements, as always, are my own.
I'm still obsessed with my smoker. Its been so fun for me to face a new challenge when it comes to cooking, and I am LOVING learning from my mistakes.
And boy oh boy, was this delicious dish born out of a huge blunder!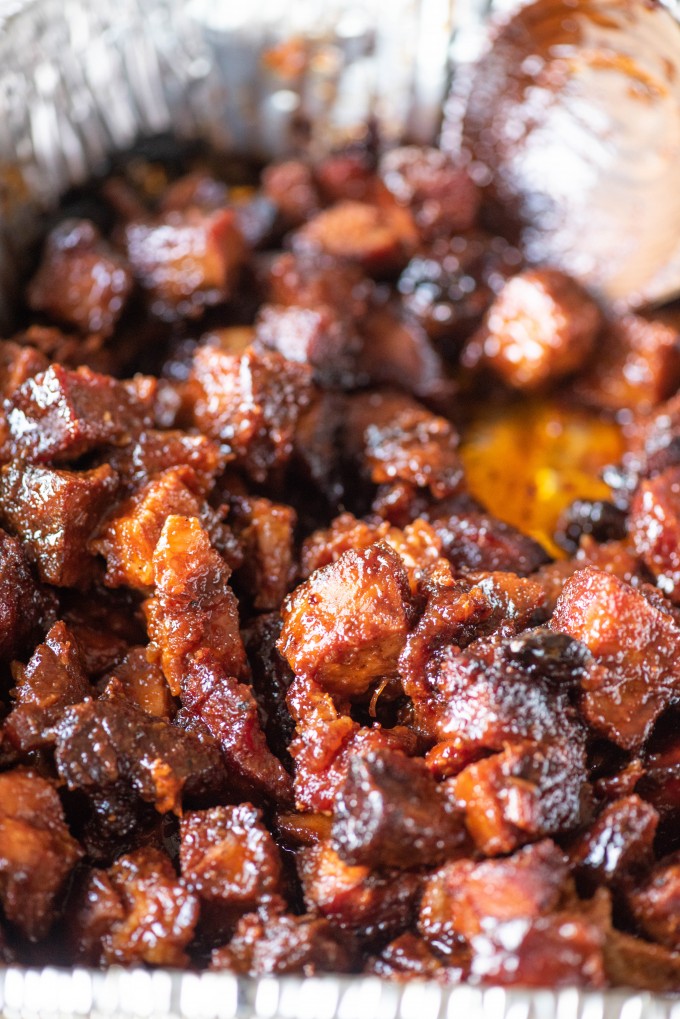 So the very first week I got my wood pellet smoker grill, I was so excited. I just wanted to smoke everything and anything I could! I completely disregarded the fact that I actually didn't know anything about smoking, or temperatures, or best practices.
I'll just wing it. I'm sure it'll be fine.
Well, it wasn't fine. The chicken I made the first night was juicy, but the skin was like rubber. I didn't read the directions on the grill and cooking temperatures. They were done a lot later than I thought they would be. I was annoyed.
I decided to brush off my first average attempt and go for the gold. I asked the frequent fliers of these blog posts, my sister-in-law, brother-in-law and my two nephew to come over on Saturday night, so I could try my hand at a succulent, smoky, juicy, crispy pork shoulder smothered in barbecue sauce.
I took precautions. I read. I planned. I started my 9 lb bone in pork picnic roast at 8 am at a low temperature, assuming that if I started it any higher, it would be done too early.
I don't want to wreck the suspense that I'm sure you're feeling, but news flash- it finally reached 190 F at 1 am.
I was not happy.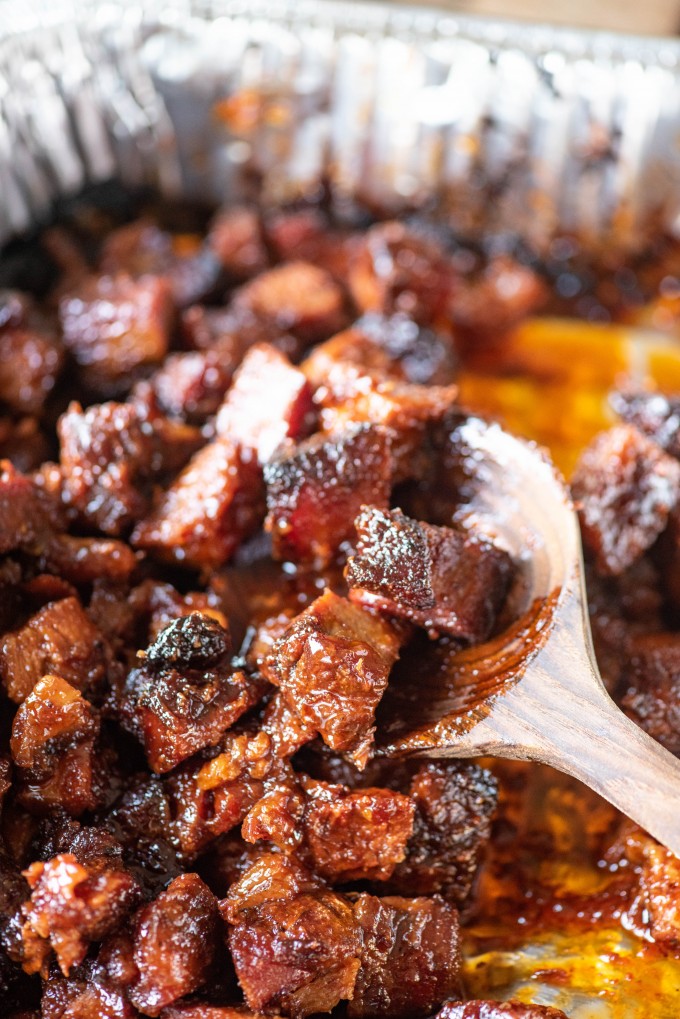 This was the time where I learned about the "stall" in smoking. Without getting too technical, because frankly I don't totally understand it fully myself yet, your meat can hit a point in the cooking process where the temperature just. doesnt. change. for an extended period of time.
This picnic roast sat at 144 F for over three hours, during which I slowly, but resolutely, lost my resolution and patience.
Around 5 PM, I was starting to panic. My sister in law suggested that I abandon my dream of leaving the roast whole, and break it down into smaller pieces so it would get to temperature faster. It was a solid idea. I did it.
It didn't work.
Around 7:30, the kids had lost their cool. It was time to abandon ship on my perfect, tender, smoky picnic roast. I took the two smaller pieces that I carved off, diced them up, and doused them in barbecue sauce.
Now THOSE were really, really good. The pork was tender and juicy, with crispy edges and an incredible flavor. Even though it might have seemed like an unmitigated disaster of an end result compared with original expectations, I counted it as a "lemonade out of lemons" sort of situation.
My parents were coming into town the next day, so I decided that I would throw my aluminum pan of cubed BBQ pork back in the smoker and let them warm back up to serve along the brisket I was tackling (there's no rest for the weary here!).
They were EVEN BETTER after they spent that additional time in the smoky heat- the sauce caramelized, they got a little more tender, and those crispy edges got even crispier.
Then I learned that what I had created was something called "burnt ends."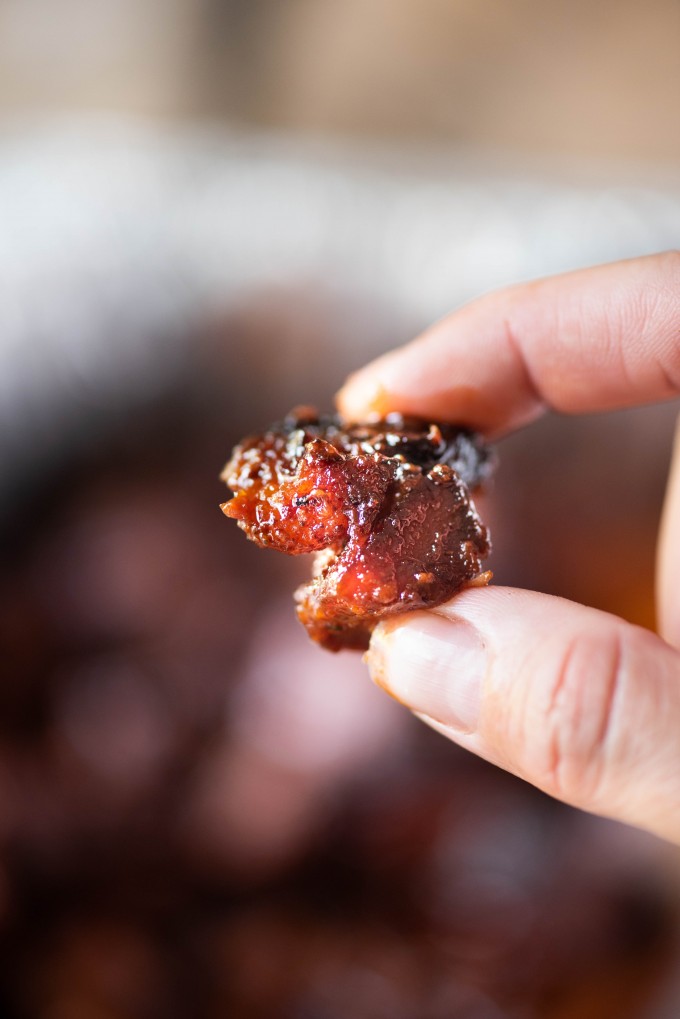 What are burnt ends?
Burnt ends originally manifested with brisket. Pitmasters would set aside the dried out, fatty, overly crispy parts of the brisket when slicing up their smoked brisket. As they slowly started to discover that not only did people like them, they might even like them enough to become their own thing.
So now pitmasters everywhere are taking the tough, fatty point of the brisket and cubing it up midway through the cooking process to maximize the burned edges and smoky flavor.
The process is essentially the same here, except we are using a fatty cut of pork- either a picnic roast or a pork shoulder works great. I haven't tested it, but pork side or pork belly would also be excellent candidates for this pork burnt ends recipe.
Recipe Equipment and Tips:
Smoker: I have a [easyazon_link identifier="B06XTNWVVV" locale="US" tag="gogogogo03-20″]Traeger Pro Series 34[/easyazon_link]. I'm still learning how to master it, but I love it.
[easyazon_link identifier="B073Z1CZ4G" locale="US" tag="gogogogo03-20″]Aluminum pans[/easyazon_link]- for smoking your pork bits after they are smothered in sauce.
A good [easyazon_link identifier="B00004RFMT" locale="US" tag="gogogogo03-20″]chef's knife[/easyazon_link]- a sharp knife is your friend here!
Your favorite BBQ rub and sauce. I love the local Montgomery Inn BBQ sauce, but if its not available by you, we are also huge fans of Sweet Baby Ray's. If you don't want to deal with making your own BBQ dry rub, [easyazon_link identifier="B01AYZM5H6″ locale="US" tag="gogogogo03-20″]my favorite is made by Weber- their Kansas City BBQ rub[/easyazon_link]. I also have two recipes for a barbecue dry rub on my Smoked Chicken Wings and Instant Pot BBQ Ribs.
Similar Recipes to these Pork Shoulder Burnt Ends: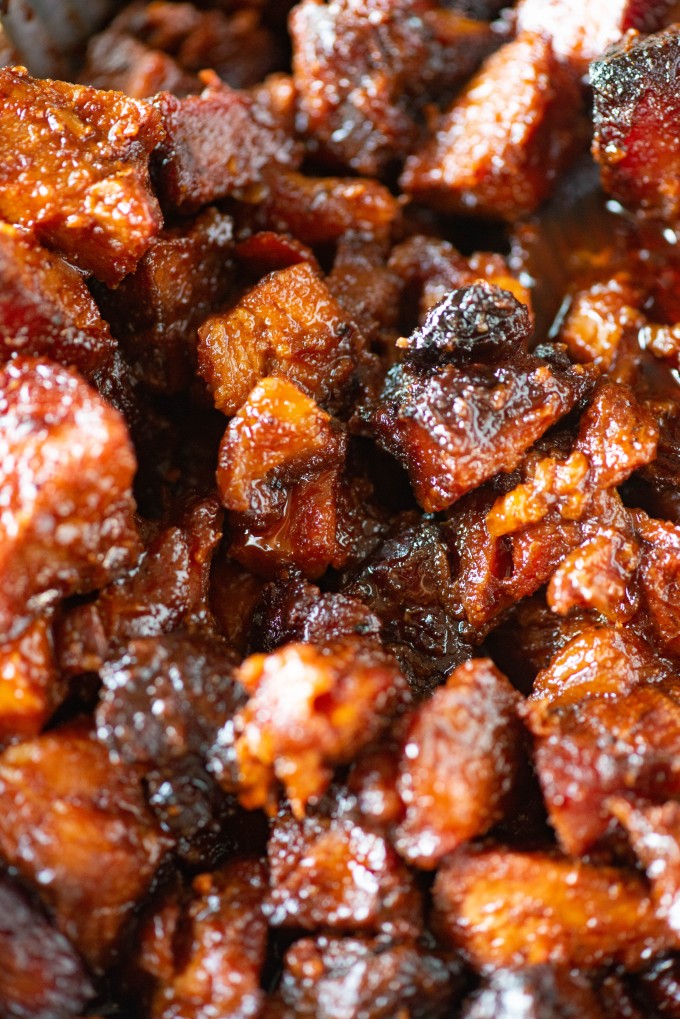 Smoked Pork Shoulder Burnt Ends
These pork shoulder burnt ends couldn't be any easier – or any more delicious! Thanks to your smoker, each one is full of tangy barbecue, smoky flavor, and juicy pork.
Ingredients
6

lb

pork shoulder

3/4

cup

dry BBQ rub

2 1/2

cups

bbq sauce
Instructions
Prepare a smoker at 250 F.

Break down the pork shoulder for faster cooking by cutting it into pieces that are approximately 1 1/2-2" thick. Generously season with the dry rub on all sides.

Transfer to prepared smoker. Smoke until pork reaches a temperature of 165 F.

Remove pork to a large cutting board and allow to rest for 10-15 minutes. Cut pork into 1-2" cubes and transfer into an aluminum pan.

Pour BBQ sauce over the pork pieces and toss until evenly coated. Return to smoker for an additional 1-2 hours, until pork is tender inside and crispy outside.
SaveSave
SaveSave
SaveSave
SaveSave
SaveSave
SaveSave