I'm so excited. I finally found the "sweet spot" on my camera and flash. I asked for an external flash for my birthday back in April, but with everything that has happened since, I have had barely any time to play around with it and its 293487923 settings. Considering the amount of photography courses I have taken in my life, that's kind of pathetic- as is the amount that I remember from said courses. I was playing around with it the other evening, and lo and behold! I stumbled onto a perfect combination of settings that perfectly captured what I was looking at.
It was a beautiful thing.
I have no idea how I did it, but thats beside the point.
Look at the pictures! So pretty!
Anyway, my husband is obsessed with chicken wings. I started buying the whole chicken wings a couple of years ago and then subsequently grilling them. They are SO cheap at the grocery store (3 lbs were $5), and because they are significantly bigger and meatier than bar wings, you can definitely get away with serving them as a dinner. By electing to grill vs. fry and doing a minor amount of trimming (specifically, cutting out the small triangle section of skin in between the wing section and the drummette section), you can even feel guiltless about the potential calorie count (that's what I tell myself anyway). These are not only great for dinner, but for parties, tailgates, snacks, etc. too. Coupled with the squash, this is a perfect quick weeknight meal.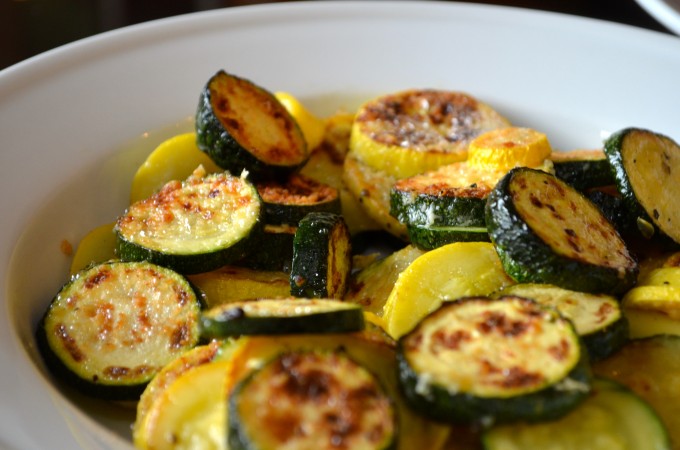 Grilled Wings
Whole chicken wings
Seasoning of choice (suggestion: try Old Bay)
Heat a grill on high heat. Add wings, turn grill down to medium heat and cook until crispy and browned, about 5 minutes. Turn wings, and continue to cook until cooked through, about another 5 minutes. Remove and serve.
Broiled Romano Summer Squash with Grilled Wings
Ingredients
2

small zucchini

sliced into rounds

2

yellow squash

sliced into rounds

1/3

cup

grated romano cheese

Cooking spray
Instructions
Preheat the broiler on high. Heat an oven-safe skillet over medium heat. Add olive oil and sliced squash, season with salt and pepper. Sauté until squash are firm-tender and browning. Remove from heat and top with cheese. Spray with cooking spray. Transfer skillet to oven, and broil until cheese melts and browns.