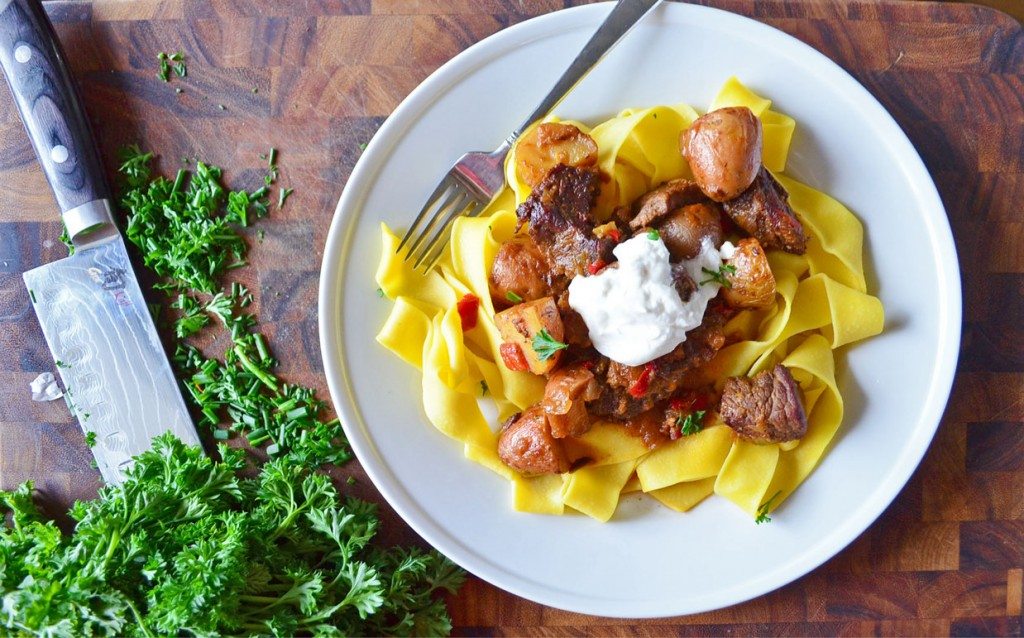 One of the things that I really enjoy about writing this blog is how it pushes me to come up with different dinner ideas, and really helps to keep me out of a rut. I've always liked trying new dishes, but sometimes you just want what you KNOW is going to work for everyone when you sit down to the table that night.
Well, I bought a large package of cubed beef chuck at Sam's, but then had no motivation for what I actually wanted to do with it. All I knew is that we had had a lot of chicken lately, and I wanted something different. I only have a couple standard dishes that I use cubed chuck for- either beef stew or beef burgundy. Since I'd already done those for the site, I set out to do something different. I pulled out this cookbook and started flipping through it. The picture for Hungarian Goulash caught my eye. I read through the ingredient list, and lo and behold! I had everything in the house already. DONE. I'd never had goulash, nor did I really know what was in it, so I set out to find out.
Have to say… we loved this. Dave ate it three times in four days- something that I considered to be quite a measure of success, since he had more than a few reservations written in his facial expressions when I set the plate down in front of him that first night. "What is this? Sour cream? On top of pasta?"
I still don't know quite how to describe it- according to the cookbook, a goulash is a dish that features paprika and sour cream. I still think that its kind of a broad definition. The dish was great! The beef was tender and rich and falling apart, with kind of a smoky flavor from the paprika and red pepper. I really had no idea what to expect, and honestly was kind of expecting not to like it, because it DOES sound like a lot of things that wouldn't maybe necessarily go together. Beef, pasta, potatoes, red pepper, sour cream? Kind of weird. But it WORKS.
If you wanted to prepare this in the crockpot, I would do steps 1-4 the night before, then put the rest of it in the crockpot before you leave in the morning.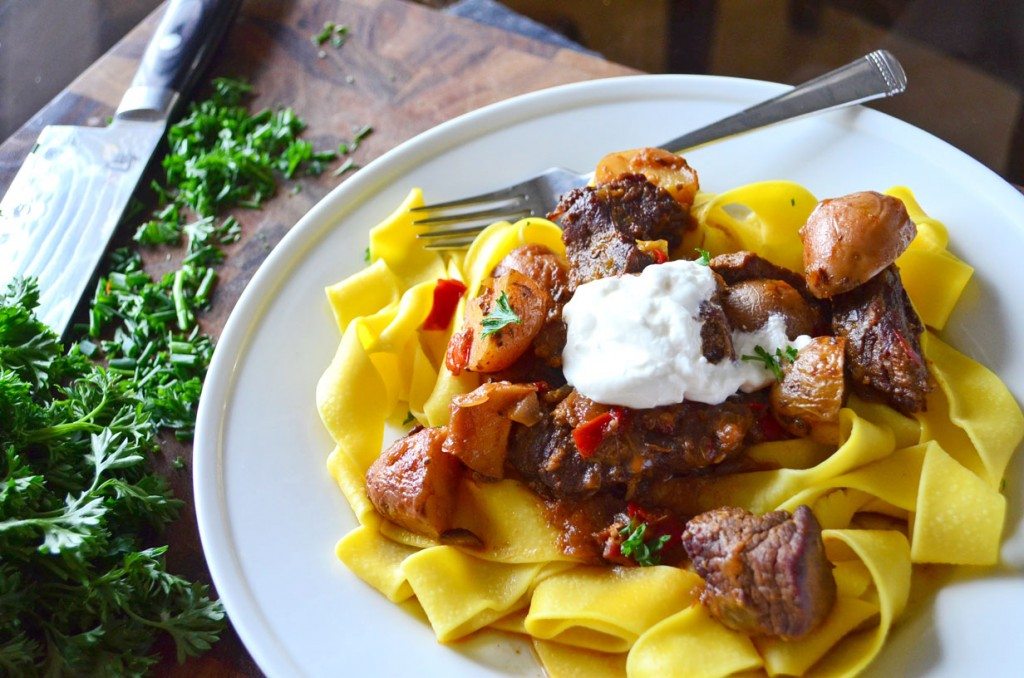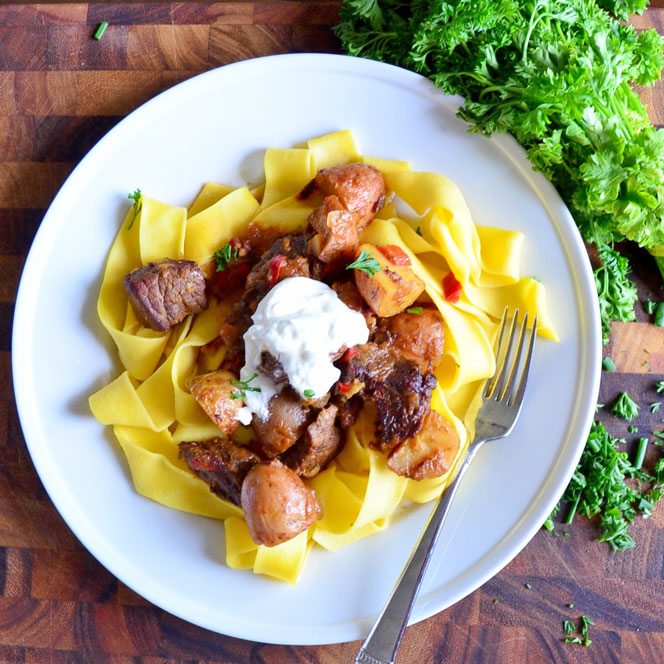 Hungarian Beef Goulash
Ingredients
1

T

canola oil

4

thick bacon slices

roughly chopped

2

lb.

beef chuck

cut into 2-inch pieces and patted dry

Salt and freshly ground pepper

to taste

2

onions

chopped

2

garlic cloves

minced

1

Tbs.

paprika

1

tsp.

caraway seeds

1

tsp

oregano

1

Tbs.

tomato paste

1

cup

dry white wine

1

cup

chicken broth or stock

1

red bell pepper

seeded and chopped

2

lbs

small potatoes

quartered (I used small red potatoes)

1/2

cup

sour cream

Buttered egg noodles

for serving
Instructions
In a large dutch oven (or frying pan, if using a crockpot) set over medium high heat, heat the oil. Add the bacon to the pan and cook until the fat has rendered and the bacon is crisp. Remove with a slotted spoon to a paper-towel lined plate and set aside.

Season the cubes of beef with salt and pepper and add to the pan to sear, working in batches if necessary. Brown the beef on all sides, turning only has necessary, approximately 5 minutes per side. Remove from the pan and set aside.

Add the onions to the skillet, and saute until slightly softened. Add the garlic and cook another 1-2 minutes.

Stir in the paprika, caraway, oregano, tomato paste, wine and stock. Add the beef back to the pan and cover. Slide into a 300F oven, and cook for 2 hours.

Add the reserved bacon, chopped bell pepper and potatoes, and cook for an additional hour.

To serve: Spoon the goulash on top of the buttered noodles and top with a dollop of sour cream.

For the crockpot: Prepare through step three the night before (if desired). Add the beef, onion mixture, spices, broth and wine to the crockpot and cook on low for 6 hours. Add the reserved bacon, red bell pepper and cook for an additional 2 hours.