This Pizza Casserole recipe is loaded with everything that you love about pizza! Italian herbs, sausage, pepperoni and fresh mozzarella are baked with fresh mozzarella for an amazingly fast dinner
Sponsored post written by me on behalf of DaVinci Pasta. The opinions and text are all mine.
I hesitate to really call this a pizza casserole recipe, because to me it's more of a "one pot pasta pizza bake." However, I can't beat the argument that "pizza casserole" is much shorter and to the point, right?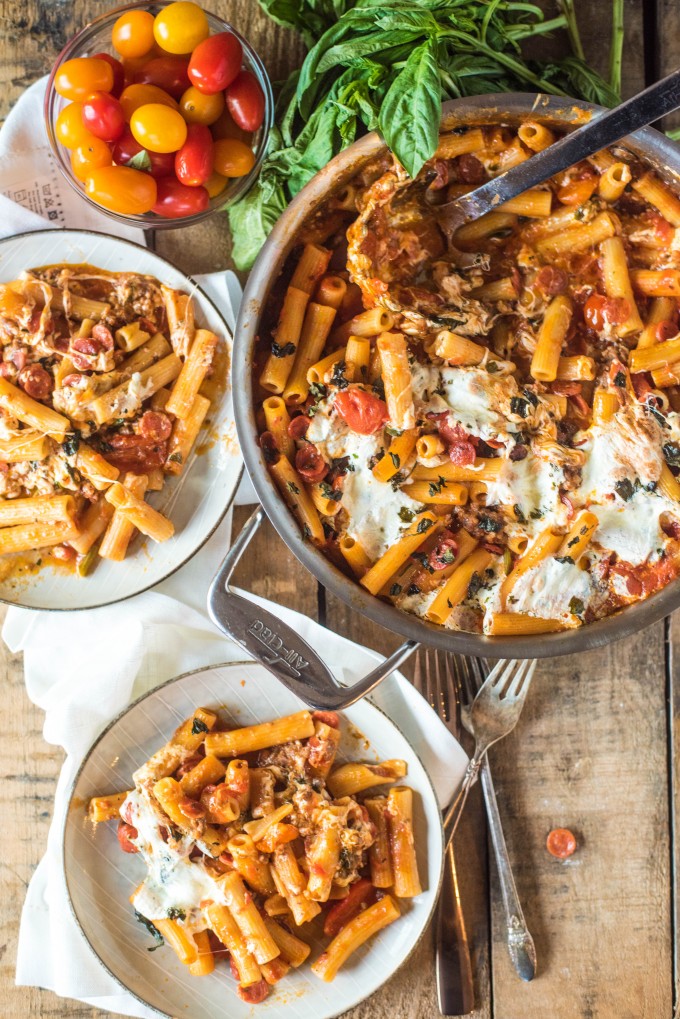 I feel like my life has been changed since discovering (and semi-mastering) the beauty of the one pot pasta dish. Is it really that big of a pain to boil a separate pot of water to cook pasta in? No, of course not. Is it still one (or more) things to wash at the end of a busy day? You bet it is!
The kids are both in a little bit of a food rut, which as a food/recipe writer is unendingly frustrating to me. Jonathan pretty much asks if we can have "pantinoni pizza" every night – that's pepperoni pizza, for all of you without four year olds at home. I know I should correct him to the right pronunciation, but it's so darn cute and makes the nightly request for it a littler more palatable. And Michael? Michael, my former eating machine, who ate whatever and however much I put in front of him, pretty much lives in a land of straight carbohydrates these days. He eats no meat, chicken, or fish, but will pretty much eat any kind of pasta I put in front of him. Oh, by the way, Jonathan eats no pasta except for spaghetti.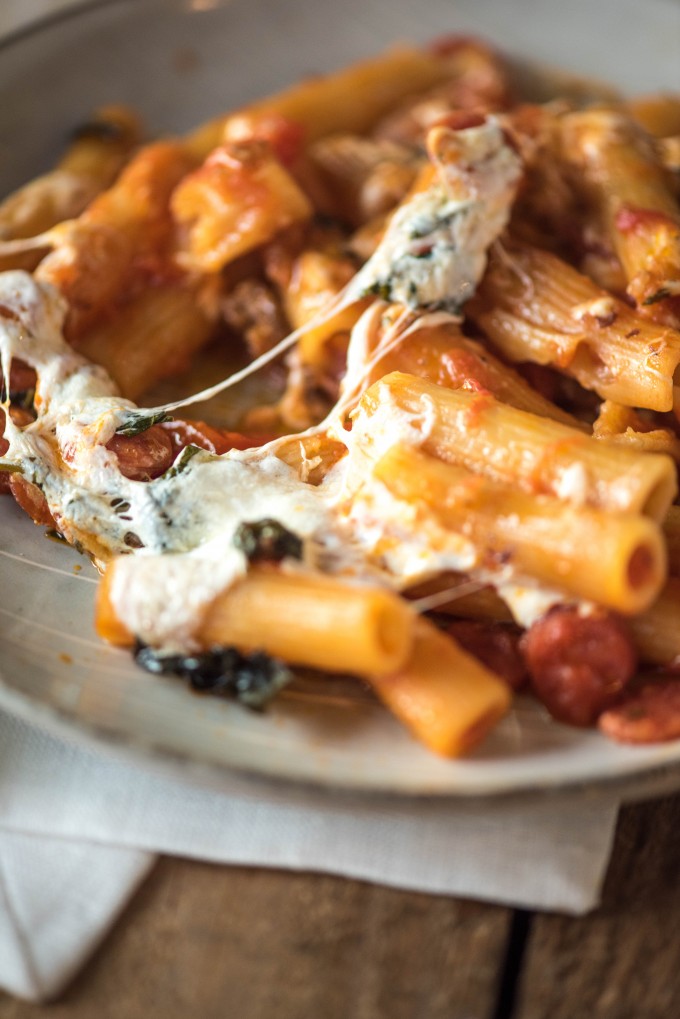 Mealtimes have become a bit of a battle, and usually end with each kid eating part of whatever I've made. They are never the same part.
So when I came up with the concept of this dish, I figured it would be a hit with both kids- Michael could chow down on the pasta, Jonathan would eat a few bites of pasta and then devour all of the pepperoni and sausage.
It kind of ended up like that.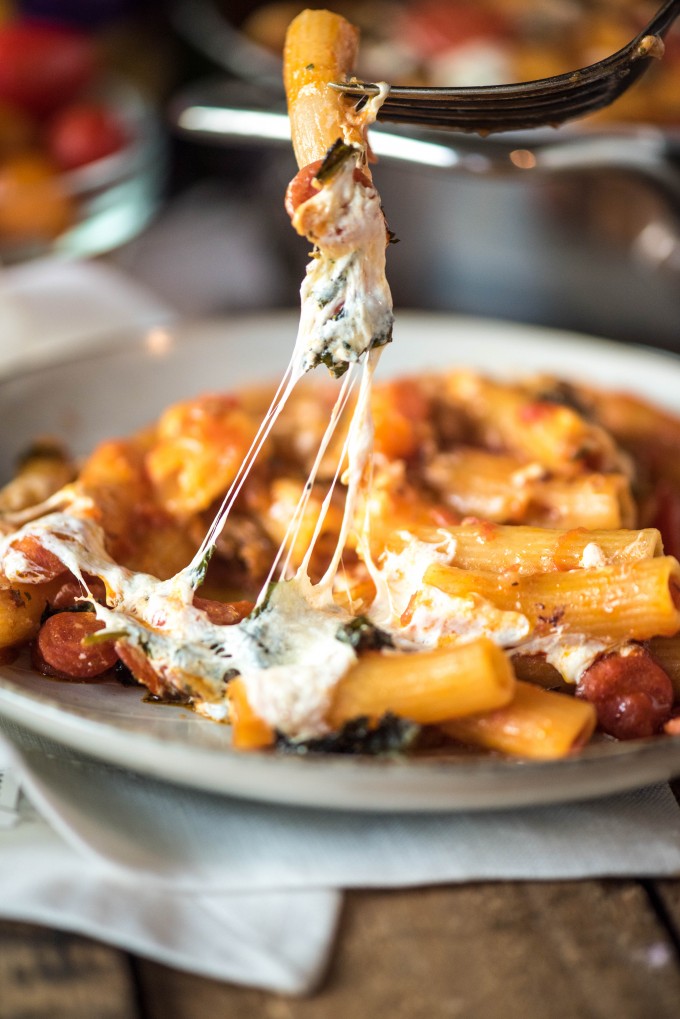 I used DaVinci pasta for this particular recipe- their rigatoni is more authentic than most brands (as it should be, since it's made IN Italy FROM Italian ingredients). Their rigatoni tastes great and isn't quite as mammoth as other brands can make theirs. This is a happy medium and a great carrier for the robust sauce that it was cooked in. I also picked up some mini pepperoni for this, mostly because they were adorable and I thought they would fit in better with this pasta dish than a full size.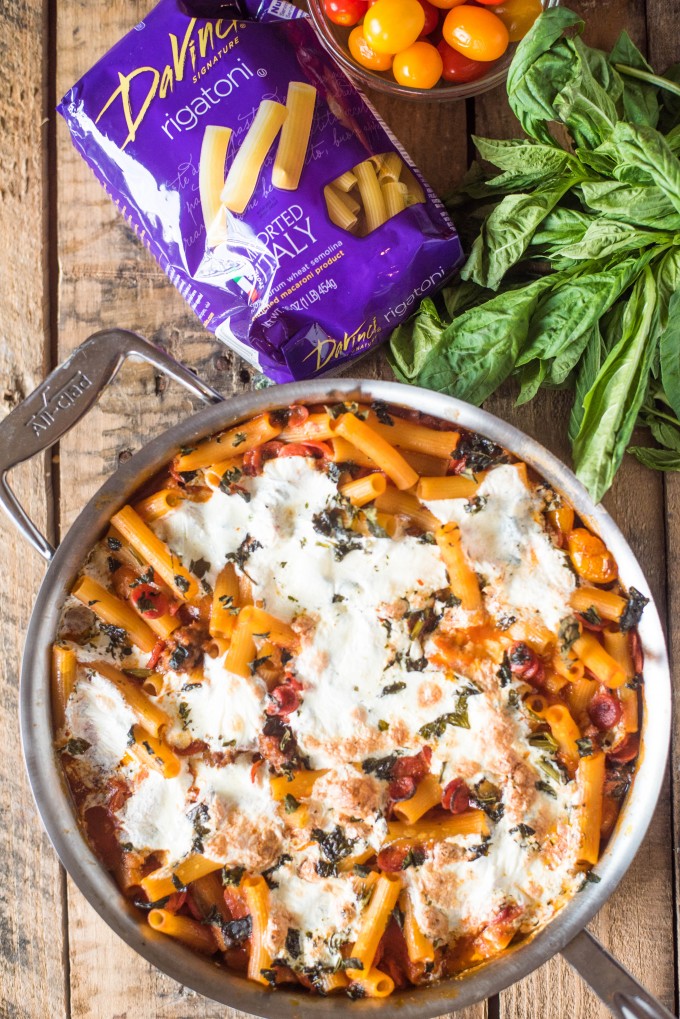 My sister-in-law, brother-in-law, 2 year old nephew, and newborn nephew all came over for dinner the night I made this- dinners like these are just begging to be shared with family you love. We baked up garlic bread, had a huge salad, and went though a couple bottles of wine while we ate. I think the wine also spurred the spirited conversation of whether the pepperonis should have been full size or not (that conversation ended in a tie at 2-2, I'm pretty sure). So for those of you that can't find mini pepperoni, just know that my sister-in-law thinks full pepperoni would have been better.
As you can tell, we have a lot of fun together! ❤️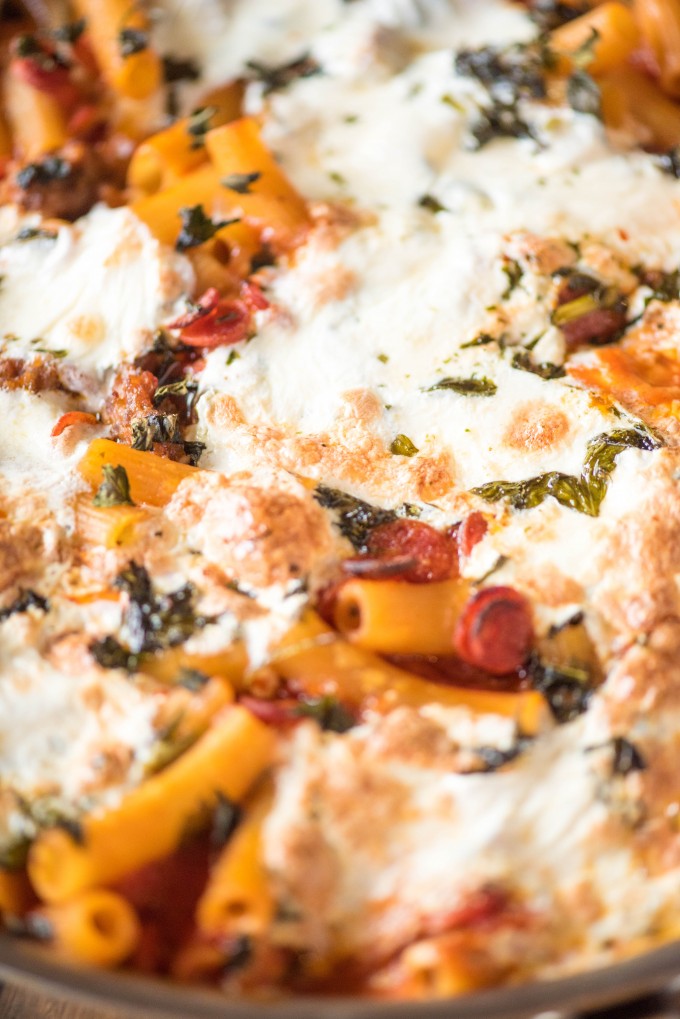 Full disclosure, none of the kids ate anything that night because they were so amped up to be together. There was a lot of silliness followed by a lot of "You know what, fine, just go." HOWEVER- the leftovers the next day were a huge hit.
We loved this dish. It was easy, cheesy and a simple cleanup. It had a ton of flavor from the sausage and pepperoni, and the rigatoni was the perfect pasta to hold it all together.
You can enter for a trip to Italy in the DaVinci Endless Pastabilities Sweepstakes (please take me with you if you win!) Check out the other offerings and DaVinci pasta personalties (I was Authentic!) by following @DaVinciPasta, #EndlessPastabilities, and #PastaPersonalities on social media!
If you like this easy Pizza Casserole Recipe, check these out:
Baked Spaghetti with Pepperoni
Pizza Casserole
Ingredients
1

tablespoon

olive oil

1

lb

Italian sausage

3

cloves

garlic

minced

1

can tomato sauce

2

cups

grape tomatoes

halved

1

tablespoon

dried oregano

2

teaspoons

kosher salt

2

cups

water

1

lb

DaVinci rigatoni

1

cup

crushed tomatoes

5

oz

mini pepperoni

1/4

cup

chopped basil

2

cups

fresh mozzarella bocconcini
Instructions
Preheat oven to 375 F.

In a large, deep, oven-safe skillet, heat the olive oil over medium heat. Add the Italian sausage to the skillet and brown, breaking up into small pieces with a wooden spoon. When the sausage is almost done, add the minced garlic.

Pour in the tomato sauce, tomatoes, oregano, salt, and water. Use a wooden utensil to scrape the browned bits off the bottom of the pan, and stir together the sauce.

Add the rigatoni and tomatoes to the skillet and mix in. Cover and simmer for 15 minutes.

Remove from heat. Uncover skillet; stir in the the pepperoni and fresh basil. Fold in half of the bocconcini, press them under the top surface of the pasta as much as possible. Top with the remaining mozzarella.

Transfer to preheated oven and back for 15 minutes, when cheese is melted and golden brown. Serve immediately.
SaveSaveSaveSave