This Chicken and Rice Soup has been warming up my family for generations! Tender chicken cooks with hearty vegetables and fluffy rice in this simple soup.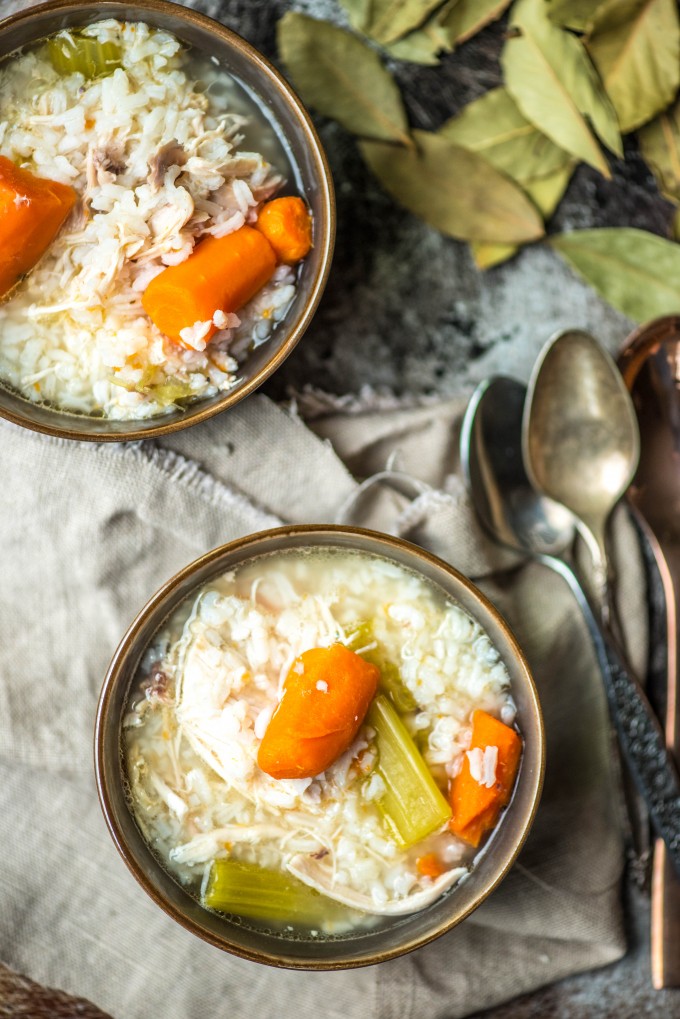 I'm going to make a really old and tired joke here, so bear with me- "How can you get a cold when its 88 outside?!?!"
In all seriousness though, J came down with a nasty cold last week, and Mom and Dad had followed suit by the weekend. I had other intentions in mind for the whole chicken in my refrigerator, but they were going to have to wait. Feeling crappy calls for nothing else but chicken and rice soup.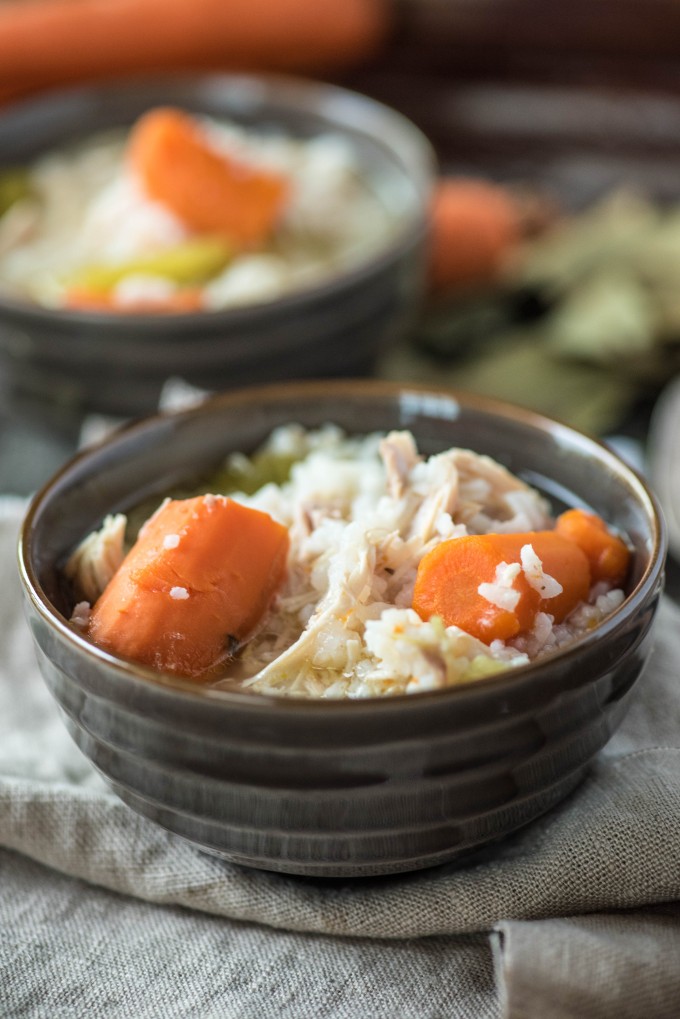 I have been eating this soup my whole life. It came from my grandmother, which explains why it's one of the few things that I have seen my dad cook on a stove in my lifetime. The recipe is basic, and I'm sure it could be enhanced with herbs or other aromatics, but I don't think that I could ever bring myself to do it- much like my mother's brisket. Theres something that just stays with you about food you ate as a child. It's perfect and un-improvable in your mind.
Mmm.. now I'm thinking of brisket and mashed potatoes too… perfectly matches the rain outside. But that's a recipe for another day (likely soon).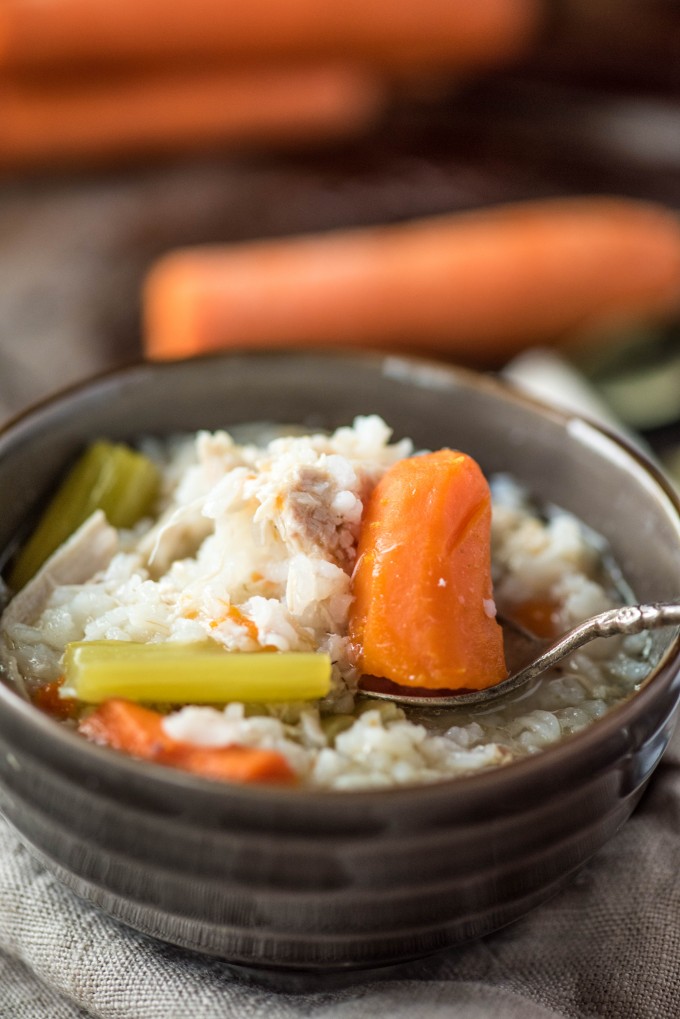 Like I said, this is basic, and I am fairly sure that even the most unconfident in the kitchen can pull this off. Lately, I am becoming more and more about hands-off cooking vs. fast. The best part summer's departure is the fact that its now time to put your oven back to work and break out the crockpot. Cooking something low and slow gives extra time for the flavors to come together and develop. So many of these dishes require so little work from me. Its fab. Theres probably like 10 minutes of actual work at hand here.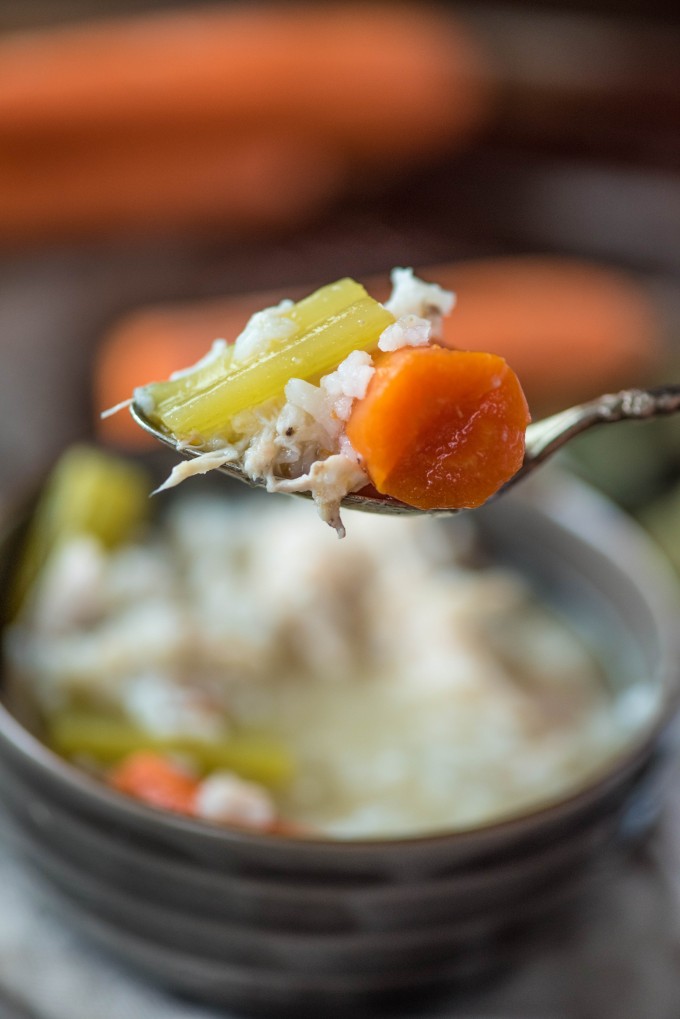 If you like this Chicken & Rice Soup recipe, try:
Chicken & Rice
Ingredients
1

chicken

either cut into quarters or pieces

4

quarts

water

1 1/2

T

kosher salt

1 1/2

tsp

pepper

3

bay leaves

5-6

carrots

cut on the diagonal into 2

5-6

ribs celery

cut on the diagonal into 2

4

cups

cooked rice
Instructions
Add chicken, salt, pepper and bay leaves to a large pot. Add water and allow to simmer for about 45 minutes.

Add in carrots and celery.

After 15 minutes, remove chicken from the pot and set aside until cool enough to handle. Shred the chicken.

Return chicken to the pot, add rice and stir together until even. Taste test and add more salt and pepper if needed.