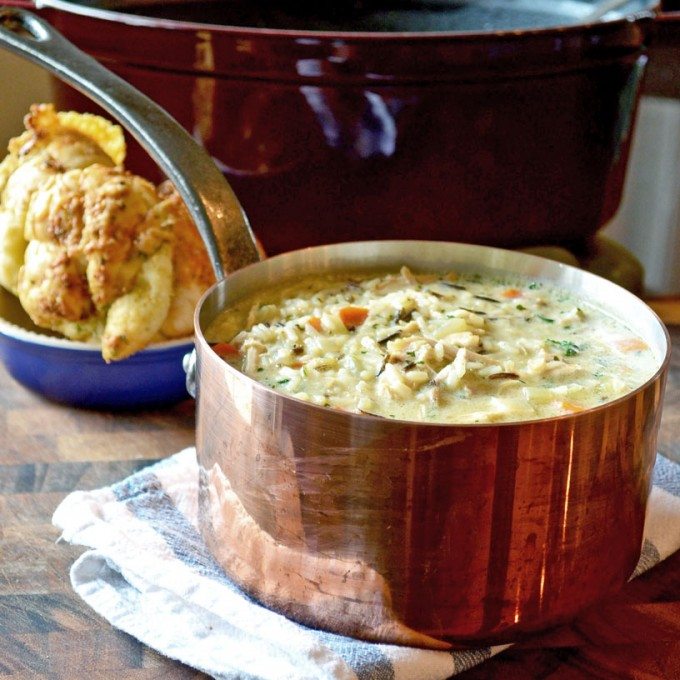 It's cloudy and rainy today. There is just something so soothing about bowl of soup on a cloudy day. I've been making this creamy chicken and wild rice soup for years- it's one of my favorites, a Panera copycat (unsurprisingly, also one of my favorites). Its been pared down and tweaked over the years, and now has been effectively streamlined. Even most of the seasoning has been taken care of, courtesy of Uncle Ben's.
By the way, can we please talk about the rolls pictured there? For those of you fortunate to have a Super Target by you, I heartily suggest that you make haste to buy their Parmesan Pull-Apart Rolls. Oh. My. Lord. They were utterly divine! I'm either going to have to buy them four bags at a time and freeze them, or I will have to figure out how to copycat them, because those need to never be far away- wow.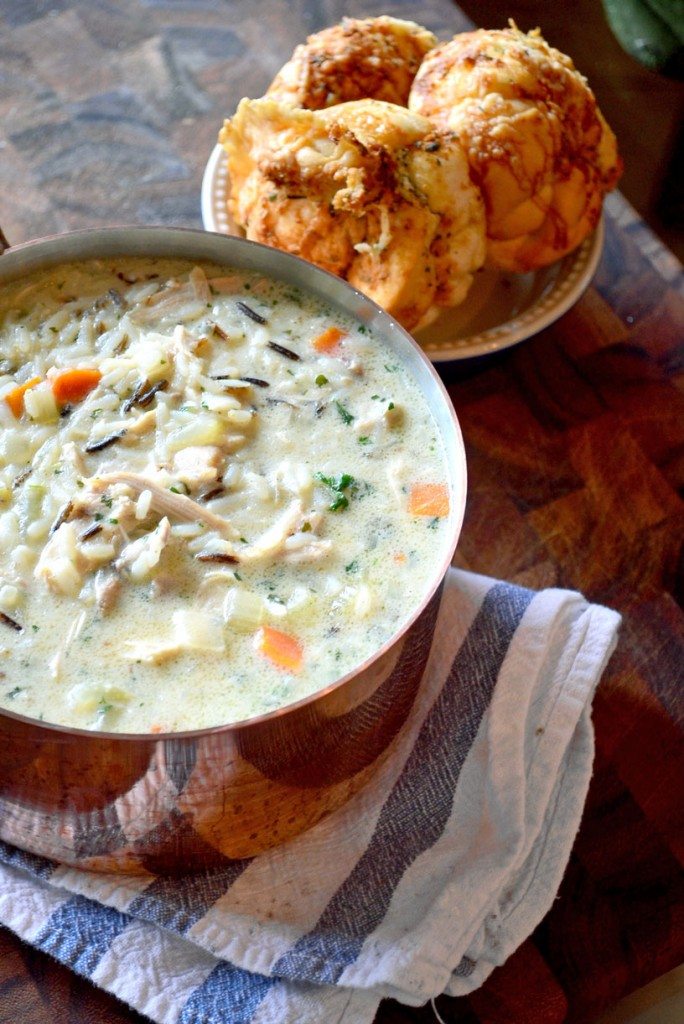 Creamy Chicken & Wild Rice Soup
1 whole chicken, cut into quarters 8 quarts water 1 medium onion, chopped 4 ribs celery, sliced in half lengthwise 1 carrot, chopped 2 cloves, garlic 3 T butter 3 T flour 3 cups milk 2 boxes Original Recipe Wild Rice
Ingredients
1

whole chicken

cut into quarters

8

cups

water

1

medium onion

chopped

4

ribs celery

sliced in half lengthwise

1

carrot

chopped

2

cloves

garlic

3

T

butter

3

T

flour

3

cups

milk

2

boxes Uncle Ben's Original Recipe Wild Rice
Instructions
Add the water and chicken pieces to a large pot over medium-high heat. Bring up to a simmer and cook for approximately 30 minutes.

Add the onion, carrot, celery and garlic to the pot. Continue to cook until the chicken is very tender and the vegetables are soft, approximately another 20 minutes.

Remove the chicken from the pot and set aside until cool enough to handle.

Add the rice and seasoning packets to the pot. Stir together.

In a separate small saucepan, melt the butter over medium heat. Whisk in the flour and cook for 1-2 minutes to cook off the raw flour taste. Slowly whisk in the milk. Bring the mixture up to a simmer and allow it to thicken slightly. Using a ladle, spoon approximately 1 cup of the broth mixture into the milk and stir together. Then pour all of the thickened milk mixture into the large pot, stir, and reduce the heat to medium.

Remove the chicken from the bone and roughly shred.

Add the chicken back into the large pot and stir together. Simmer for 5-10 minutes until the rice is fully cooked and the soup has thickened to a creamy consistency. Season with salt and pepper to taste, and serve.