This Potato Corn Chowder with Bacon is the perfect soup to ease from summer into fall. Use summer's sweet corn to make this hearty soup!
I love when posts write themselves, and that is certainly the case for this Potato Corn Chowder with Bacon. I had to make it not once, not twice, but three times!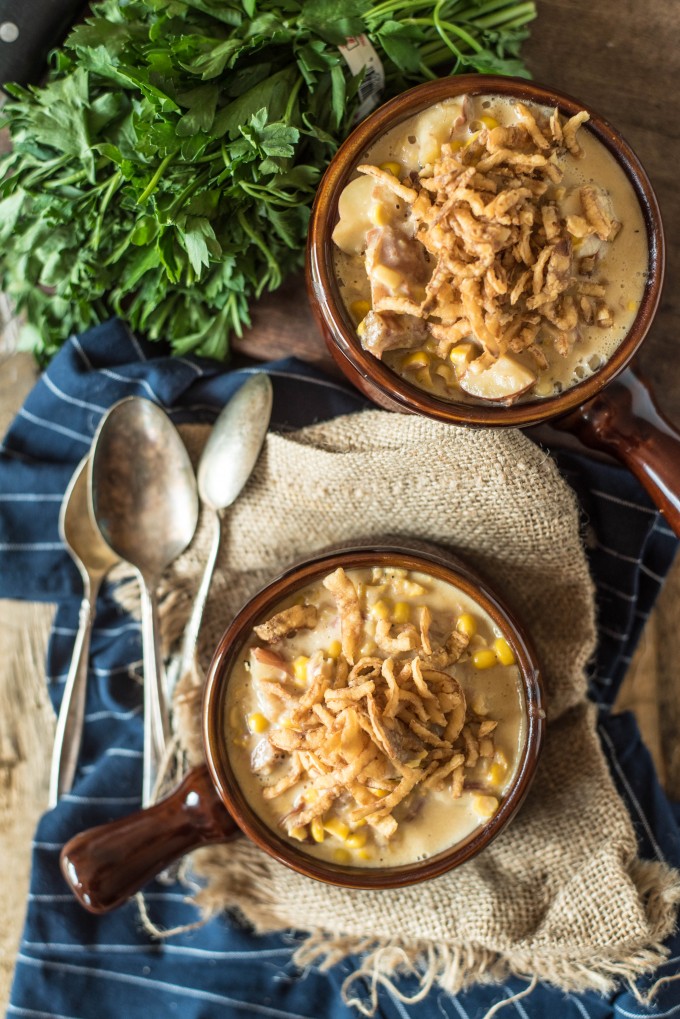 The first wasn't really supposed to be "a thing." When you write a food blog, you're always thinking in the back of your mind about your site- what recipes will trend well on Pinterest on Facebook, how long its been since you posted a regular recipe, what seasons are coming down the pipeline. I started this site because, quite simply, I loved to cook and I wanted to share that with the world.
But especially with the move this summer, all of that took a backseat. The only work I did was sponsored, because I have bills to pay (just like you); because two-thirds of my kitchen was in boxes (hopefully not just like you); and because I was so unbelievably stressed and overwhelmed with everything going on.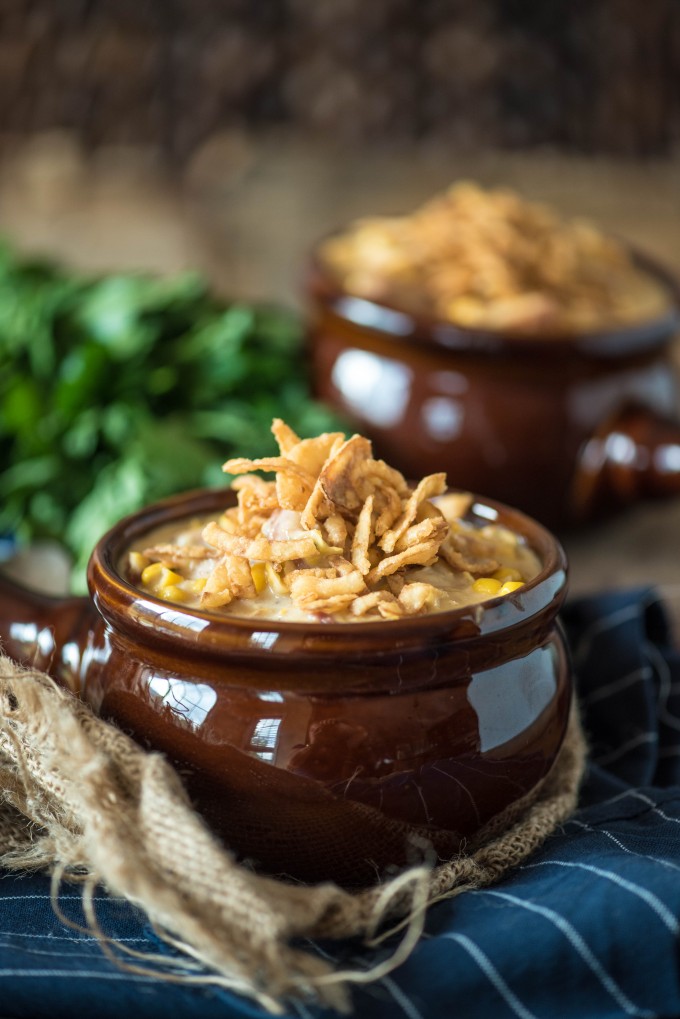 But after we got here, after I unpacked those boxes and restocked my pantry, I stood at the stove and diced potatoes, and chopped up pancetta and stripped fresh corn from the cob to make a hearty corn chowder just because.
And it was so nice. So freeing to make something with no ulterior motives, just because I thought it sounded good and I wanted to eat it.
Then I ate a bite and knew it was so good, I'd have to write about it.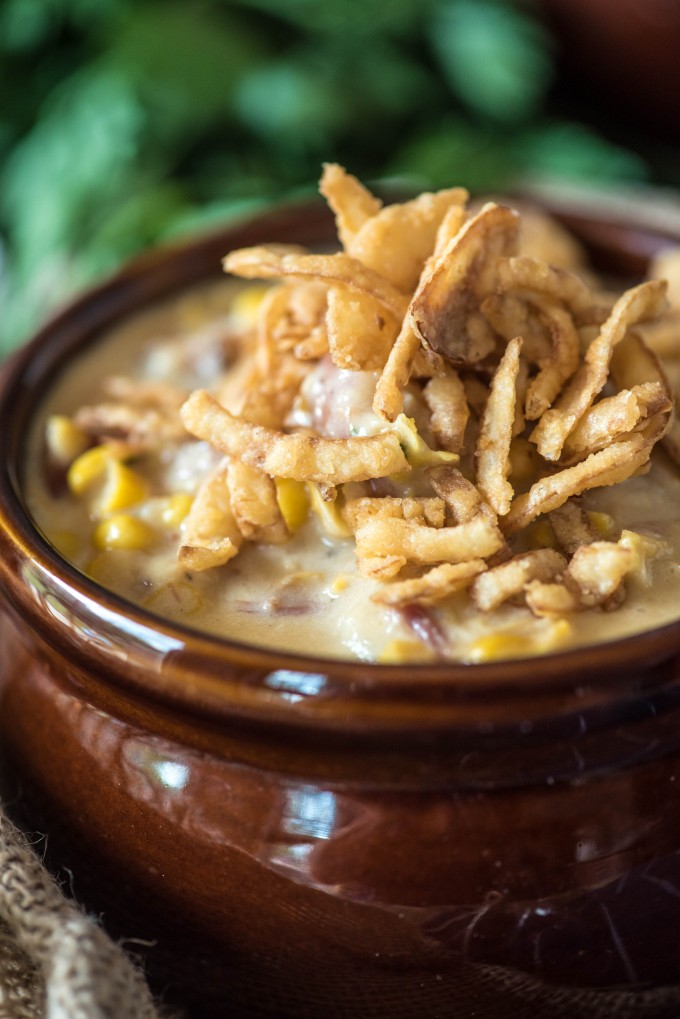 So a few weeks later, I set everything up to shoot a video for it. I was almost done, when my camera somehow disengaged from my tripod, hit the floor, and my SD card popped out.
It was like being punched in the stomach- I was petrified to see if 1. the camera had broken, 2. the lens had broken, 3. the footage was there.
Thankfully, the camera and lens were fine, but because the card had popped out during recording, everything I had just shot was gone.
It meant I had to make it a third time.
Luckily, it was good enough that I was still happy to eat it three times in the course of a month.
I used fresh end-of-season corn for this particular recipe, but if you decide to make it in the dead of winter, frozen corn would work just as well too. If you like your chowders on the thicker and smoother sides, throw half of it in a blender (or do what I did and use your immersion blender for extra ease factor), but if you like your soups chunky, just leave it as it. Tailor it to your preferences- it's delicious either way!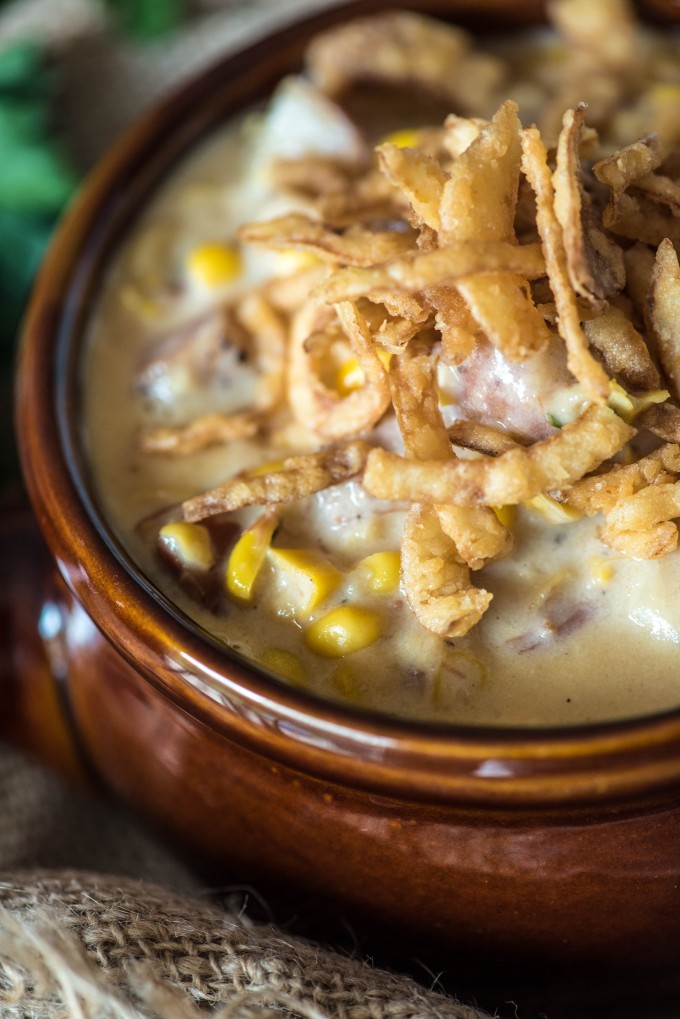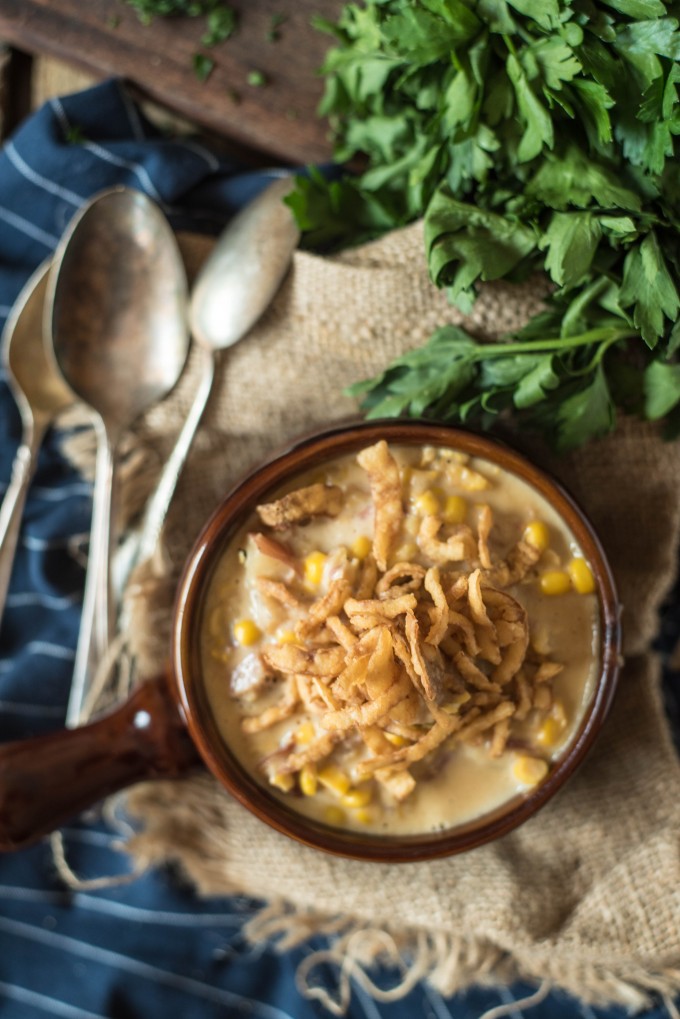 What you'll need for this recipe:
If you like this Potato Corn Chowder with Bacon, try:
Potato Corn Chowder with Bacon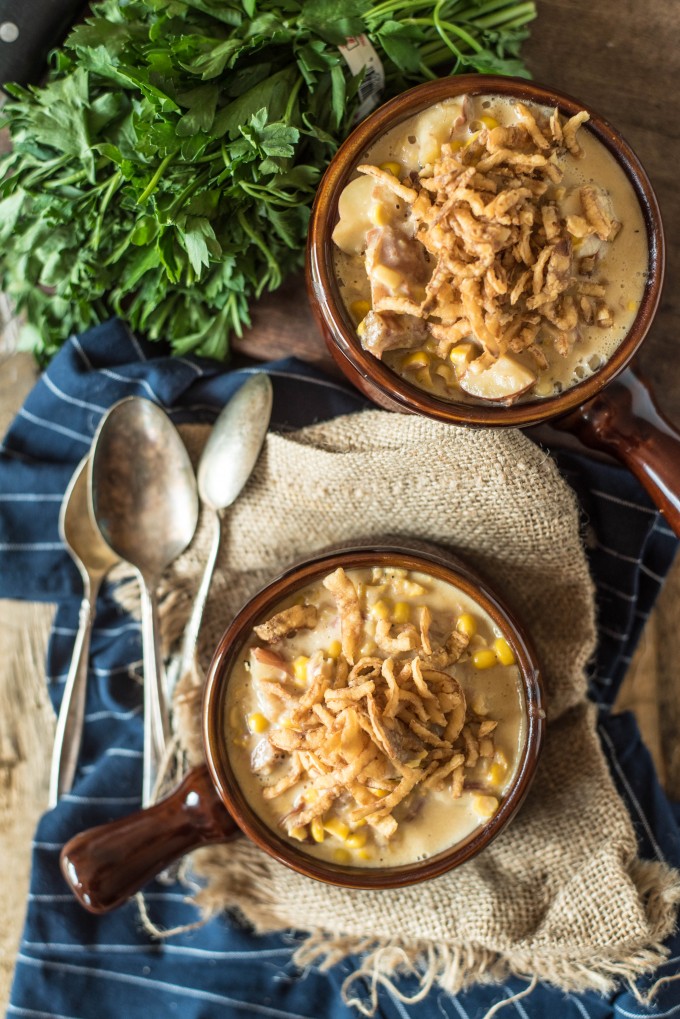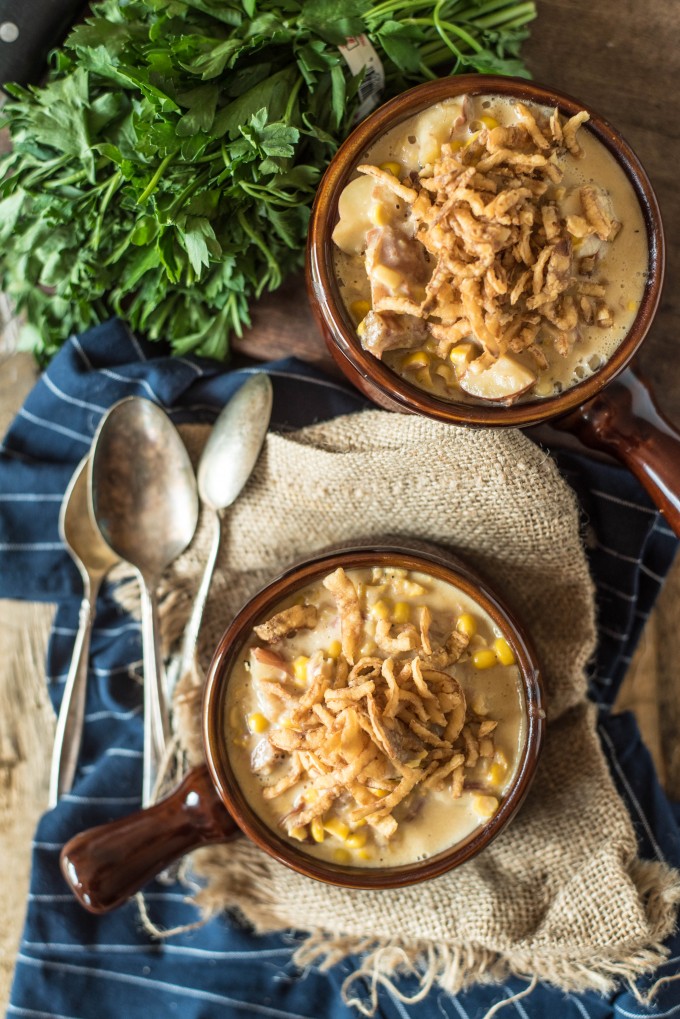 This Potato Corn Chowder with Bacon is the perfect soup to ease from summer into fall. Use summer's sweet corn to make this hearty soup!
Ingredients
3/4 lb pancetta, cut into medium sized (1/2
1 onion, chopped
2 tablespoons flour
2 cups vegetable stock
3 cups diced red potatoes
2 cups milk
1 cup cream
7 ears fresh sweet corn, stripped from cob (about 4 cups)
1 tablespoon chives
salt and pepper
Crispy onions, for topping and serving
Directions
In a large, heavy pot over medium heat, add 1 tablespoon olive oil to the pan. Add the pancetta and onion and sauté until the fat has rendered down, the pancetta is crisp and the onions are translucent.
Sprinkle the flour over the rendered fat and whisk in for 1-2 minutes.
Slowly whisk in the vegetable stock. Pour in the milk, cream, potatoes and the corn. Bring to a simmer and cook until the potatoes are tender, about 15 minutes.
Use an immersion blender to blend the soup to a thicker consistency (you can also add half the soup to a large blender if you don't have an immersion blender). Season with salt and pepper and stir in the chives.
Ladle into bowls and serve topped with crispy onions (optional)
Loading nutrition data...
Save
Save
SaveSave