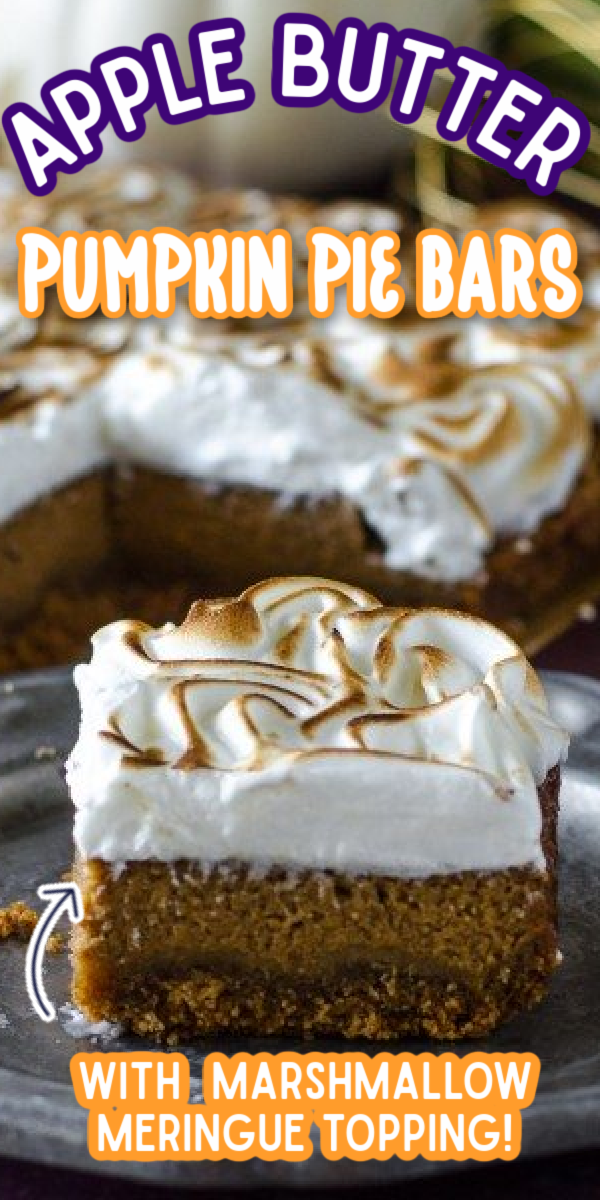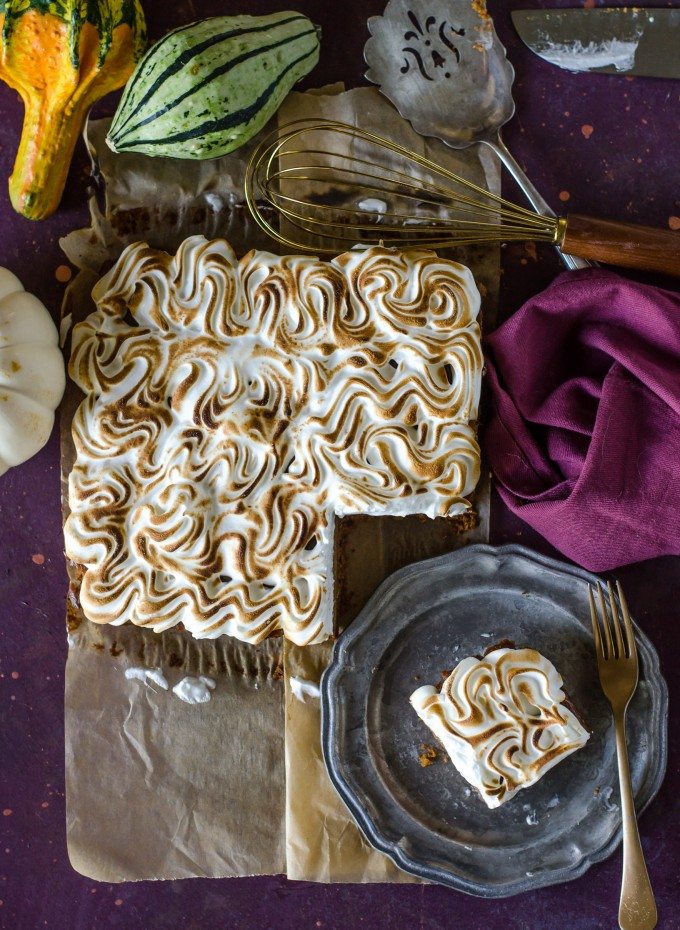 The inspiration for this recipe came from several places:
Thinking about the fact that I have never had sweet potato casserole with marshmallows on top.
People eat sweet potato pie and pumpkin pie in fall
Last Thanksgiving, Jonathan "helped" me cook dinner by dumping a container of nutmeg on top of my pie. My beautiful pie was ruined after I had to scrape it off, so I made a meringue to hide the Thanksgiving sins.
The marshmallow meringue from my No Bake Smores Pie was so easy and totally delicious.
Would it be weird to put marshmallow meringue on pumpkin pie bars? I mean, its kind of like sweet potato casserole. Right?
As you can see, I was clearly all over the place. Good news is that my weirdo train of though ended up working out sort of brilliantly. I used to make an apple butter pumpkin pie based off one from the Food Network, but I hadn't made it in years. I adapted the recipe slightly here, adding some more spices, pouring it over a cinnamon graham cracker crust, and topping it with mounds of fluffy marshmallow meringue.
I promise you, this is a refreshing new twist on some fall classics. You won't believe how fast these come together- just watch (above)!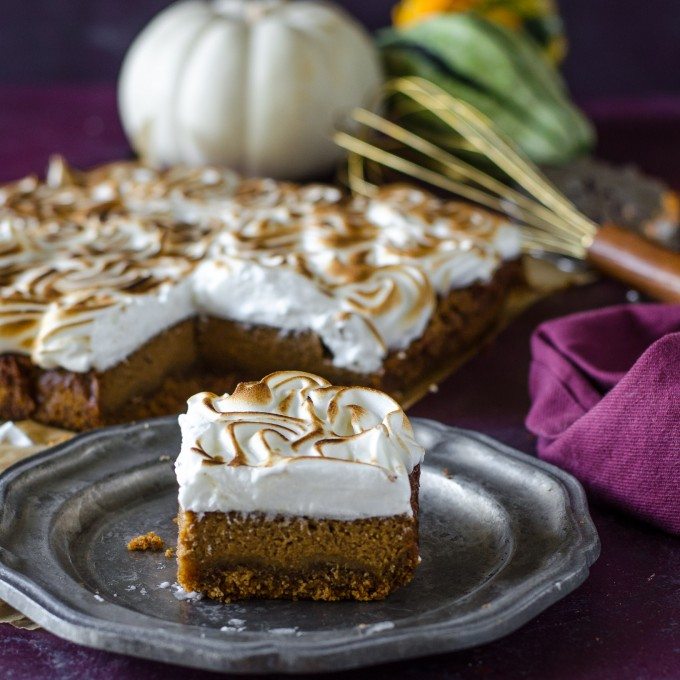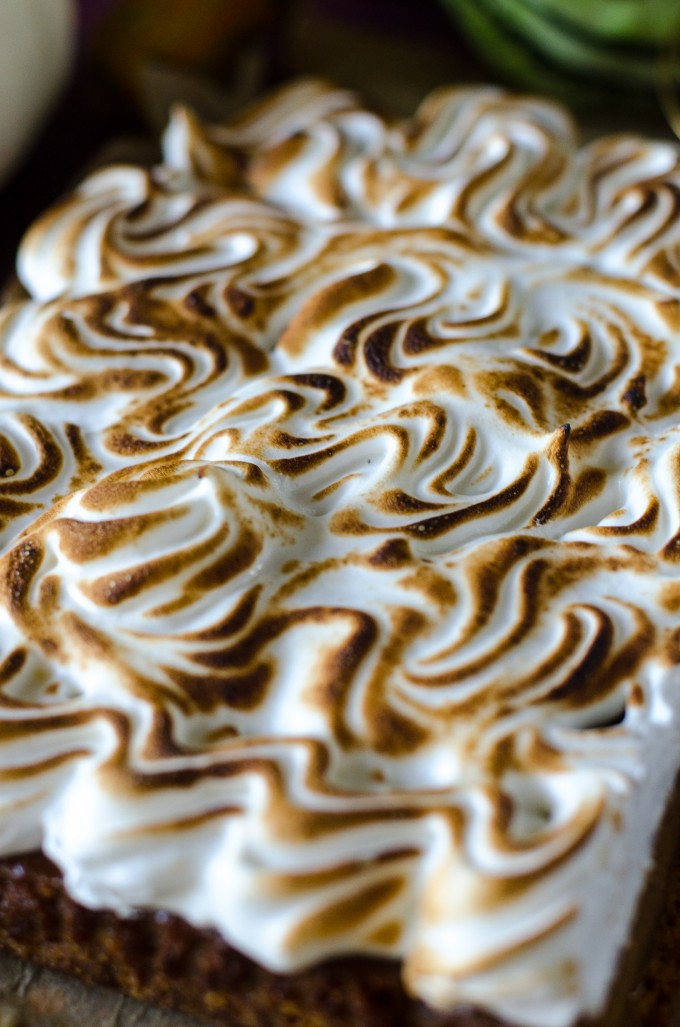 Apple Butter Pumpkin Pie Bars with Marshmallow Meringue
Ingredients
6

tablespoons

butter

9

graham crackers

1

cup

apple butter

1

cup

pumpkin

3

eggs

half cup dark brown sugar

3/4

cup

evaporated milk

3

egg whites

1/2

teaspoon

ginger

1

teaspoon

nutmeg

1

teaspoon

cinnamon

7.5

oz

jar Marshmallow Fluff
Instructions
Preheat the oven to 350.

In the bowl of a food processor, add graham crackers and pulse until fine crumbs. Pour in the melted butter and run the machine until the crumbs are evenly coated and can be pinched together.

In a mixing bowl, add the apple butter and pumpkin purée along with the dark brown sugar, evaporator milk, eggs, and spices. Whisk together.

Line a 9 x 9 square baking dish with parchment paper. Add the butter graham cracker crumbs and press firmly into the bottom. Pour pumpkin mixture over top.

Bake in preheated oven for 45 to 50 minutes. Cool to room temperature.

In a clean mixing bowl, add the egg whites. Using a hand mixer, beat to soft peaks. Add the marshmallow fluff in batches, raise the mixer speed to high and whip to stiff peaks. Spoon into a piping bag (fitted with a pastry tip if desired).

Pipe the meringue over the top of the pumpkin pie bars (conversely, you can just spoon it on and spread it over the top, using a spoon or offset spatula to create swirls and peaks). Use a kitchen torch to brûlée the surface (or place briefly under broiler).