The majority of the time when I'm wistful for my hometown, its for one of two things- people or food. I wouldn't refer to Elkhart, IN as any sort of a "food mecca" by any means, but it has its share of cult favorites among the locals. When I went back home (isn't it funny that you always refer to the place you grew up as "home," no matter how long you haven't lived there?) at the end of June, I told my mom that I had a list of places that I absolutely NEEDED to go.
Every single one was food related.
For those in the know, Elkhart must-eats are:
Hacienda Mexican Restaurant. You absolutely have to get a side of ranch and mix some into their salsa. It can't be duplicated at home. I don't understand it.
Volcanoes Pizza- their breadsticks. I'm still on an eternal quest to figure out an acceptable long-distance copycat of these. They are super soft and bready, not really particularly "formed" and absolutely LOADED with cheese. They are magical and quite possibly worth buying a plane ticket for.
Adams Bake Shop- their chocolate cupcakes are the things dreams are made of.
Charlie's Butcher Block- I guess you could refer to this as a deli, but its so much more than that. They are a butcher, a deli, a bakery, a grocer, all wrapped up in to one. Their apple and cherry slices are fabulous, they make an English pea salad that I absolutely HAVE to learn to make, their bread continues to be some of the best I've ever had and their freezer and refrigerator cases are stocked with fabulous ready to eat meals. I grew up eating their Beef Stroganoff, and think I have copycatted it fairly closely, but it still remains one of my favorite meals to this day. But where they really shine is their soups- Broccoli Cheese, Cream of Broccoli, etc. To me, the ultimate is their chicken noodle.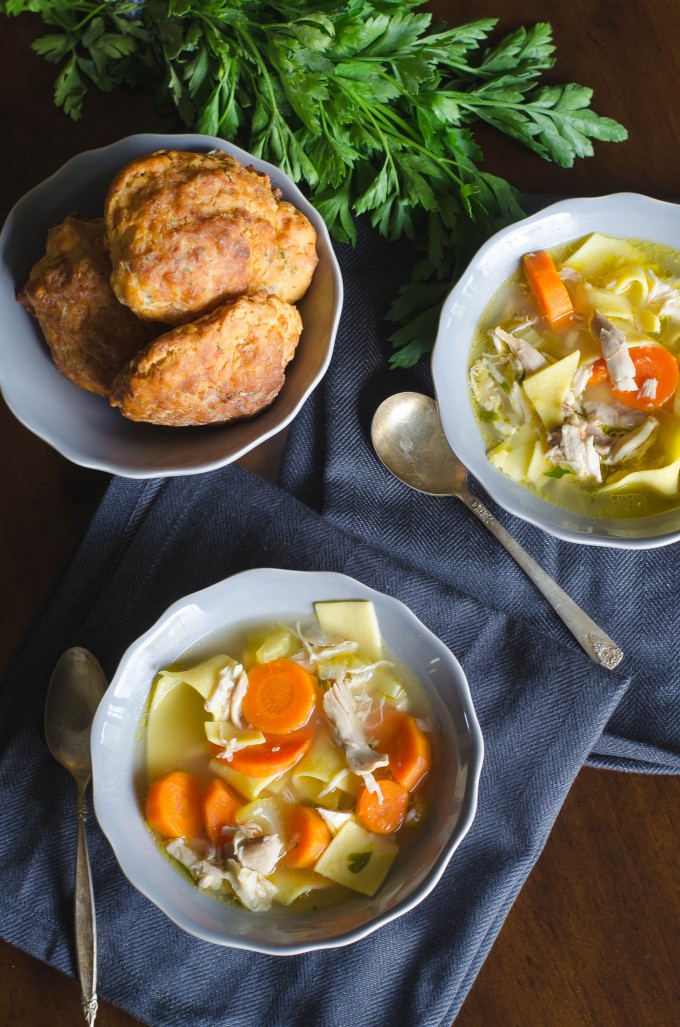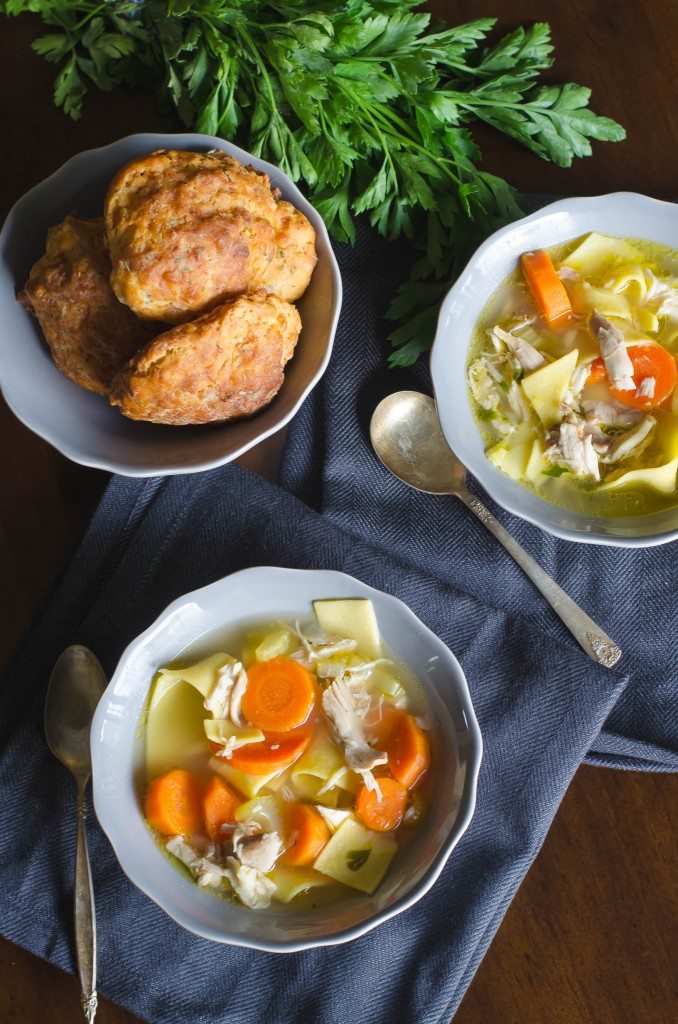 You may find it unbelievable that I am waxing poetic about chicken noodle soup, but I am. It was chock full of celery and carrots, tender chicken, and the most amazing wide noodles. It is homey, and warm and filling and everything a chicken noodle soup should be.
When I was feeling under the weather, I decided to go for a copycat and was pretty satisfied with the end result. I was able to find some wide noodles at the grocery store, which saved me from having to make them from scratch. I cooked mine right in the pot, which you definitely can do, but be prepared to add more liquid- I ended up adding at least 2 more cups of chicken stock. If washing another pot isn't a big deal to you, I think I'd recommend cooking them separately.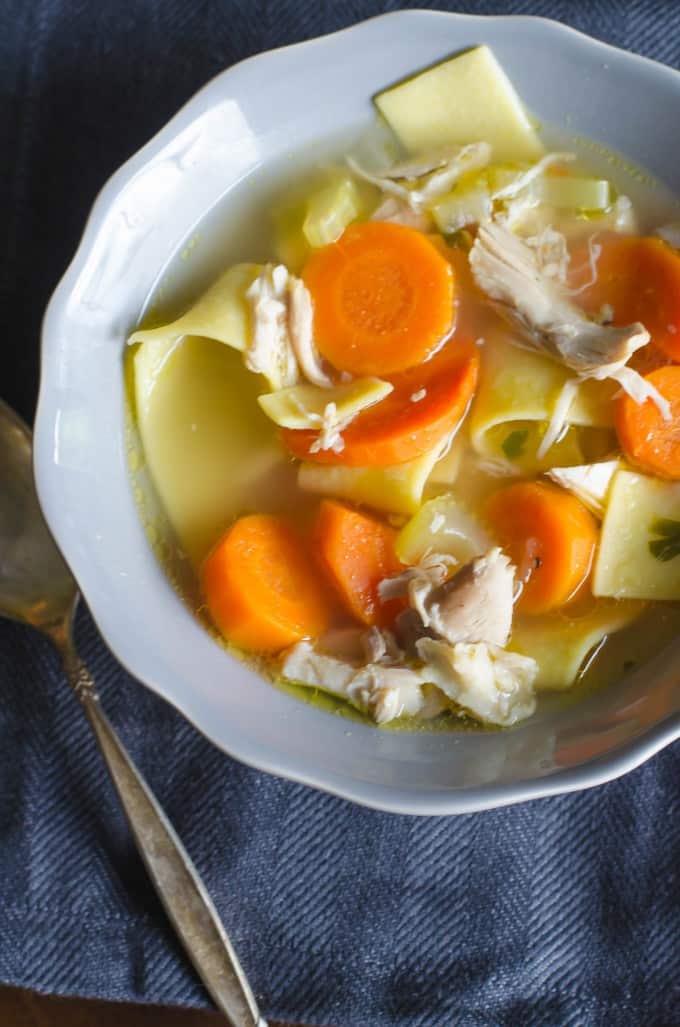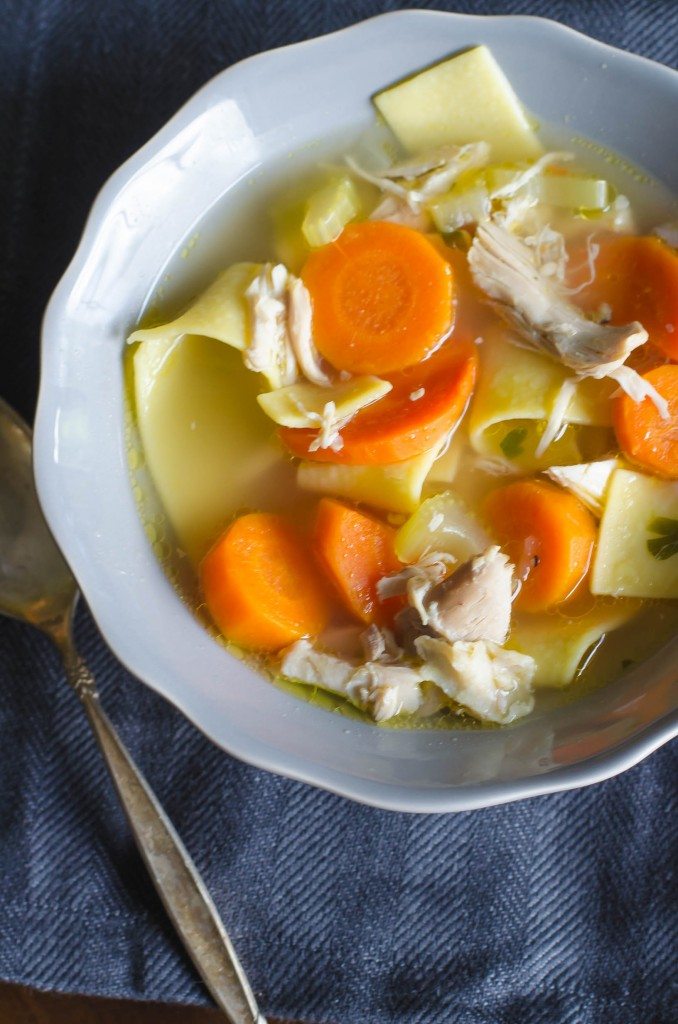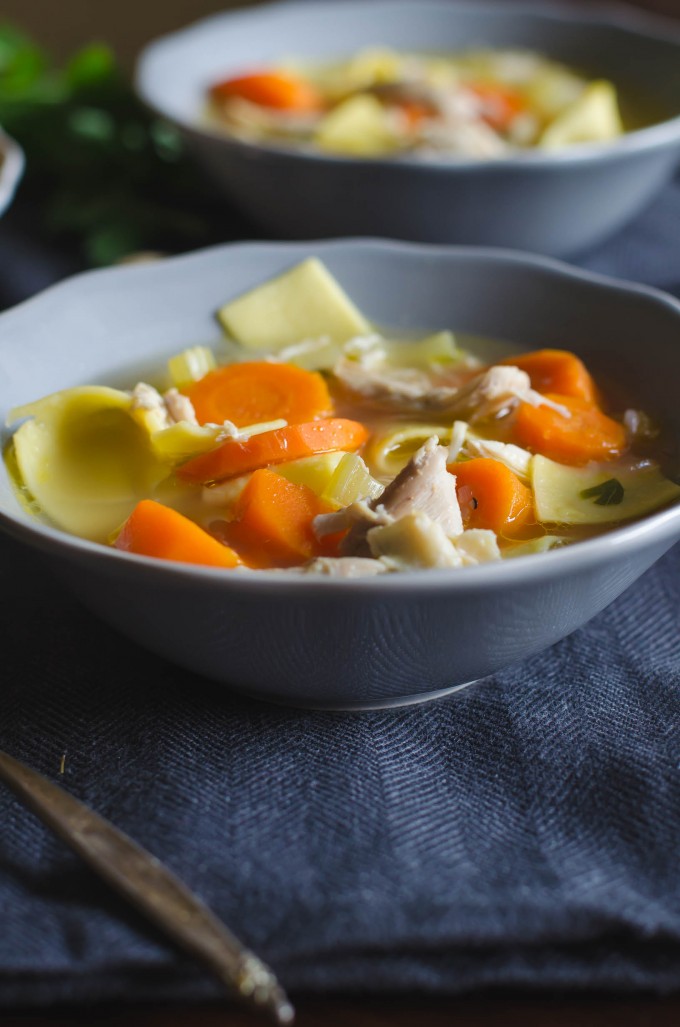 Homestyle Chicken Noodle Soup
Ingredients
1

whole chicken

cut into quarters

10

cups

water

salt and pepper

1

bay leaf

1

cup

onion

chopped

3

ribs celery

cut into 1/4" slices

2

large carrots

cut into 1/4" slices

2

tsp

fresh parsley

1

tsp

fresh oregano

8

oz

wide noodles
Instructions
Add the chicken and water to a large pot. Season with salt and pepper; add bay leaf. Place over medium- high heat to a rapid simmer. Cook for 30 minutes.

Add the onion, celery and carrots to the pot and cook for an additional 30-45 minutes, or until the chicken is tender and easily fall off the bone. Remove the chicken and set aside until cool enough to handle. Shred the chicken and return to pot.

Bring a separate small pot of salted water to a boil. Add the noodles and cool until al dente. Drain; add to soup pot.

Add the fresh herbs and cook for an additional 10 minutes. Ladle into bowls and serve.