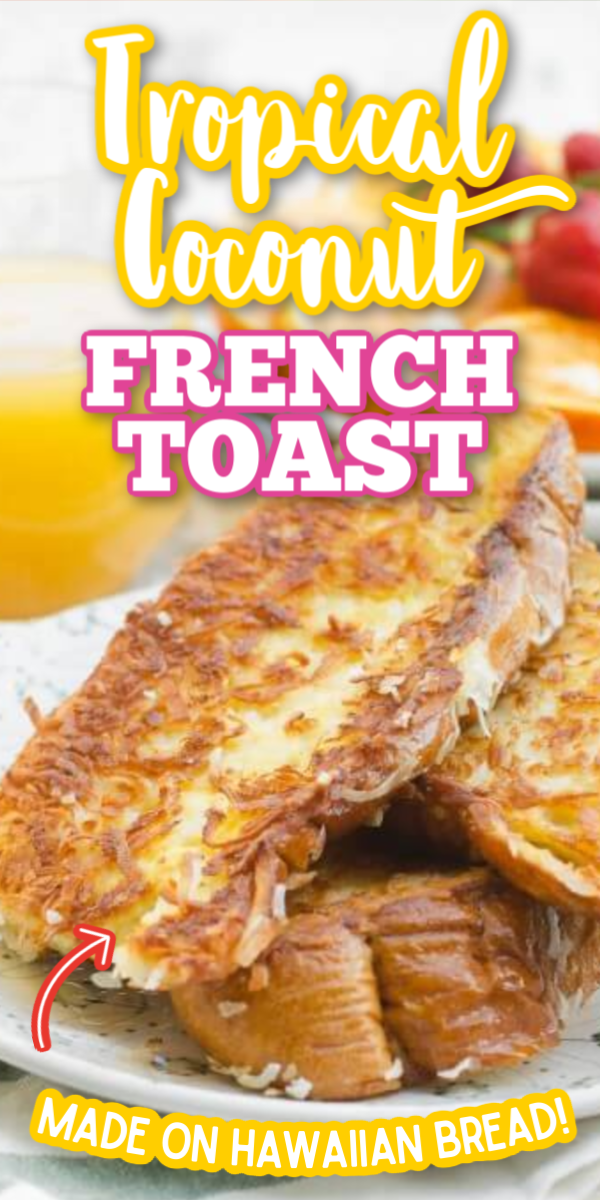 This Hummingbird Tropical Coconut French Toast brings the flavors of the tropics to your breakfast table! It really is the best coconut french toast recipe!
This house is currently on a Hawaiian bread kick. I've always loved it for my Ham and Cheese Party Sandwiches, but I've recently expanded my usage to bread bowls and regular sandwiches with the whole loaves. I've always been wary of using it that way, thinking that it would be far too sweet, but surprisingly, its not at all. It makes a fantastic sandwich.
But when I started really thinking about it, I thought it would make an out-of-this-world tropical french toast- and I was right. There's just enough tropical flavor there without being overbearing, since the coconut really loses a lot of its sweetness when its cooked and the juice in the batter isn't overwhelming.
I have two tips for you on this recipe: One- don't oversaturate the bread. In and out of the batter, or it will be a soggy mess. Two- and most importantly- DO NOT LET YOUR PAN GET TOO HOT. You'll end up with a burned, overdone outside and a mushy inside. Not what we are going for here.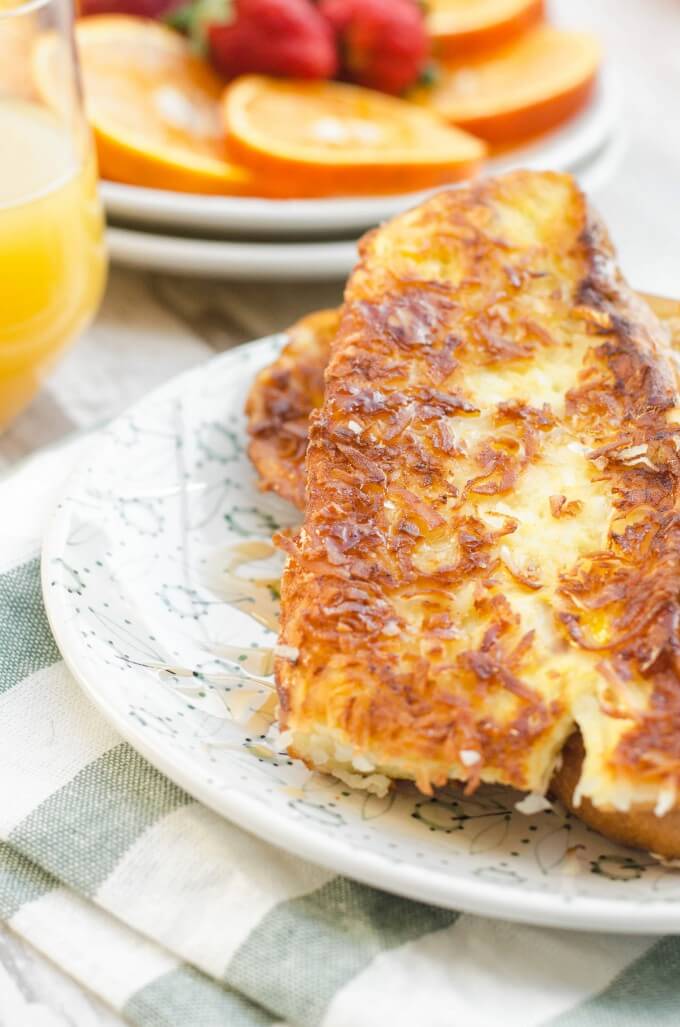 My first batch, I used a cast iron pan, thinking that would be the best way for me to get a nice crust. False. It got way too hot, the sugar from the coconut burned in several spots, and I was close to thinking the dish was a failure. I tried the next round in a nonstick pan over medium heat and it turned out wonderfully. The outside didn't cook overly quickly, allowing me to get a cooked inside and a crispy, golden outside.
This was great with syrup, but I think it would be evenly delicious with a fruit salsa over top- mango, pineapple, strawberries, kiwi, etc.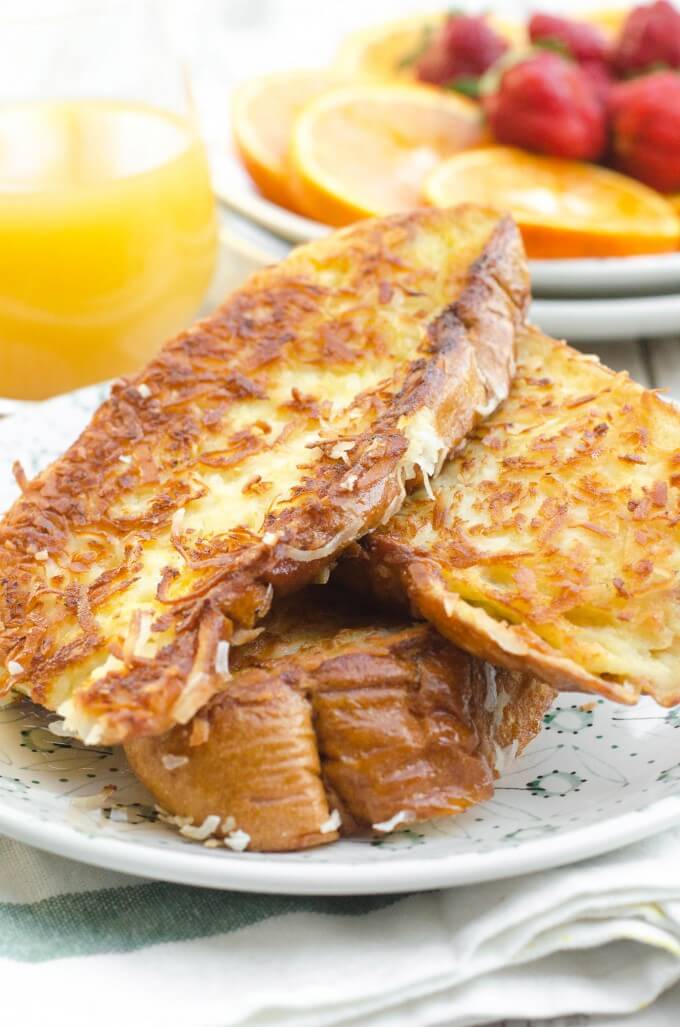 Tools needed to make this easy breakfast recipe:
For any French toast recipe, it's helpful to have a nice [easyazon_link identifier="B00006JSUA" locale="US" tag="gogogogo03-20″]skillet[/easyazon_link].
A set of mixing bowls[easyazon_link identifier="B002BFQR3G" locale="US" tag="gogogogo03-20″]mixing bowls[/easyazon_link] is great for not only this recipe, but lots of others, too!
If you liked this Coconut French Toast recipe, check out these other french toast recipes:
Hummingbird Tropical Coconut French Toast
Ingredients
3

eggs

1/2

cup

milk

1/3

cup

orange-pineapple-banana juice blend

1 1/2

cups

shredded coconut

1

round hawaiian bread

sliced 1" thick

Vegetable oil
Instructions
Heat 1 T oil in a nonstick skillet over medium heat.

In a wide, shallow bowl, beat together the eggs, milk and juice. Spread the coconut on a plate.

Dip a bread piece in the egg mixture quickly (do not oversaturate), then into the coconut to coat each side. Add it to the hot oil and cook until the coconut is golden brown, then flip. Be very careful not to burn the coconut!

Repeat with the remaining slices, adding more oil as necessary. Serve with syrup and/or fresh fruit.