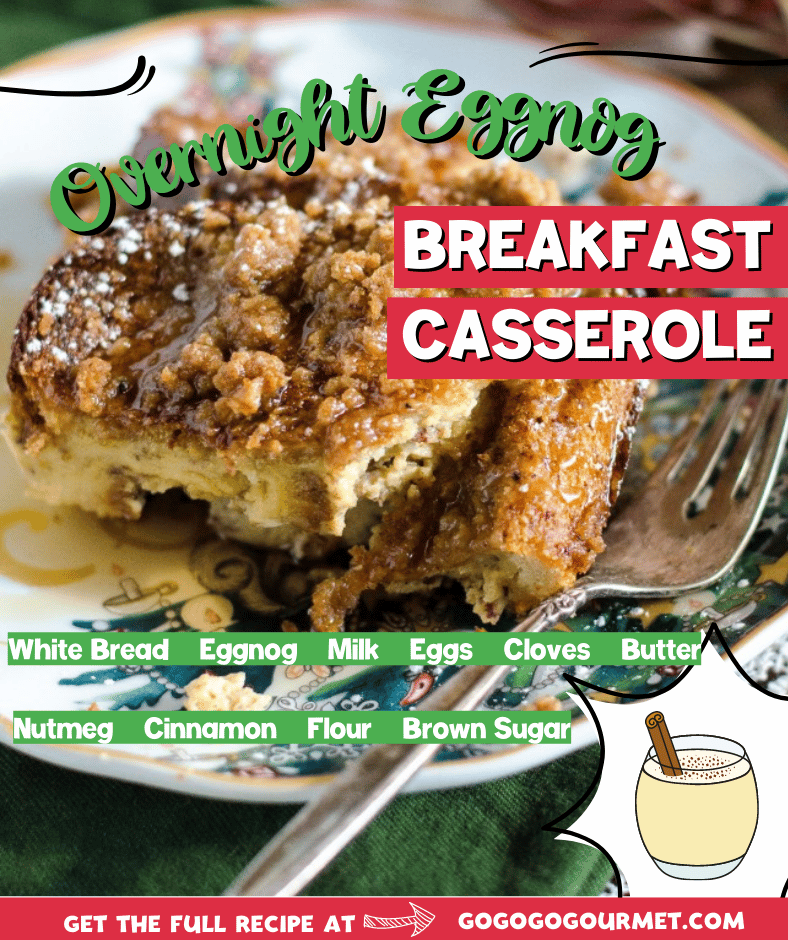 Overnight breakfasts are a must when it comes to Christmas morning eating, and this Overnight Eggnog French Toast Casserole fits right in! Never wonder how to make eggnog french toast again!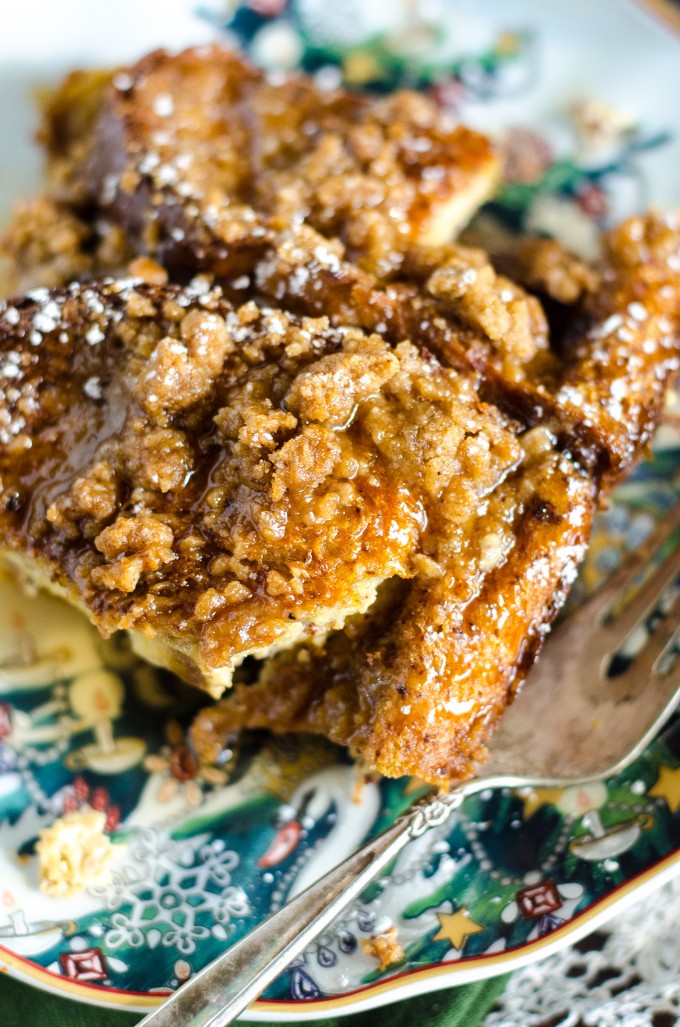 This Eggnog French Toast Casserole is perfect for helping to make your family Christmas breakfast one to remember!
I don't know about all of you, but this is how Christmas morning goes in our house:
Early awakenings
Opening presents, while guzzling coffee and coffeecake (usually Entenmann's)
Look around and go, Oh my God, what a freaking mess.
Think about cleaning it up. Don't.
Play with toys with kids until someone complains that they're hungry and when is breakfast?
Grumble and then make breakfast.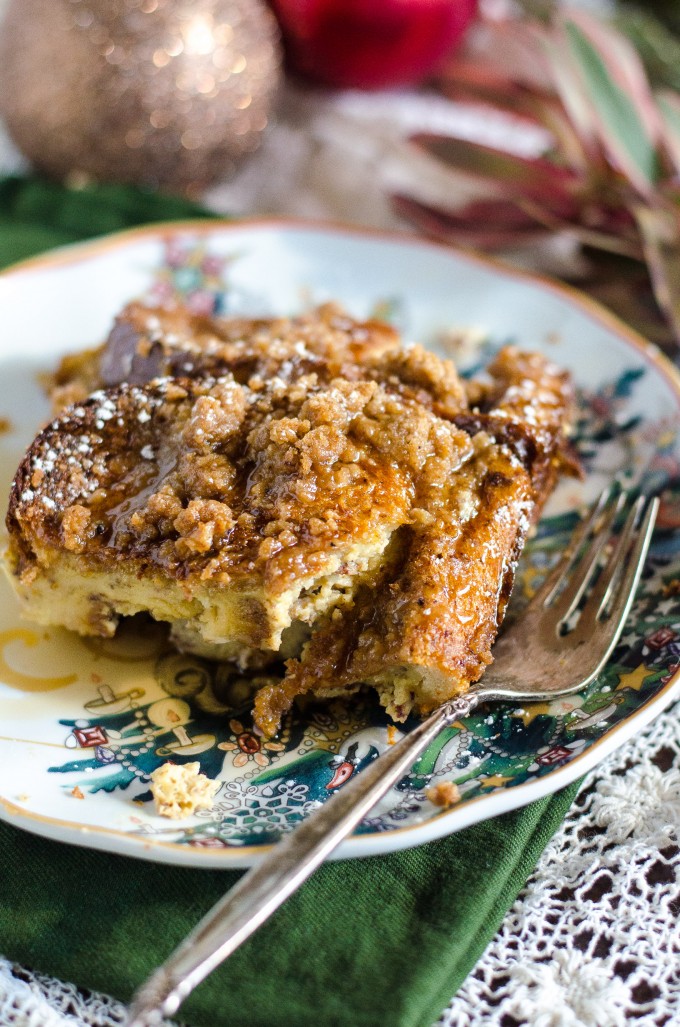 Please note that nowhere in there did it say anything about actually cooking. It's Christmas morning, I worked my tail off to make everything magical for everyone. I'll be damned if I'm missing it to cook.
Enter the wonder of Christmas morning- Overnight Eggnog French Toast Casserole. Truth be told, I finished wrapping presents and getting everything ready at midnight last year, then mixed this up in about 5 minutes and threw it in the fridge. It was INCREDIBLE. I usually prefer to make my own eggnog, so it isn't quite as sweet, but this uses store bought eggnog and it isn't too sweet at all. Thankfully, I jotted down the recipe in the wee hours of Christmas morning and shot some pictures after baking it. So yes, I have been holding on to these for a year.
Totally worth the wait.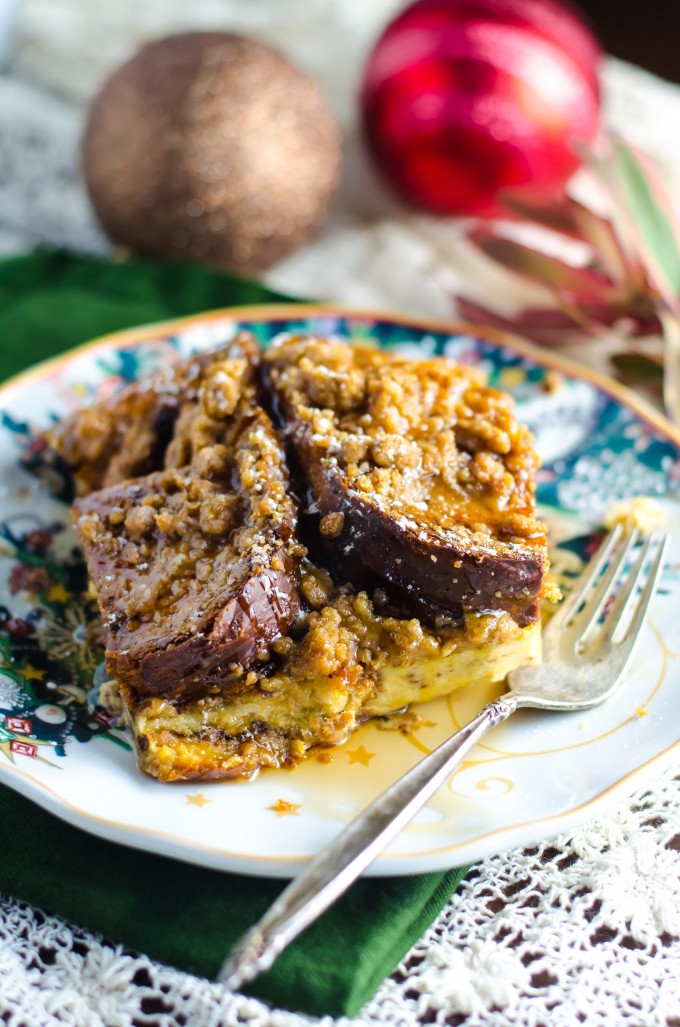 What you'll need for this Eggnog French Toast Casserole recipe:
Baking dish- This [easyazon_link identifier="B0006BDCZ8″ locale="US" tag="gogogogo03-20″]Rectangular Baking Dish [/easyazon_link] is great for any kind of baking. You'll get some great use out of it!
Mixing bowl- These bowls are perfect for mixing up any recipe and even come in three different sizes. Get your [easyazon_link identifier="B00LGLHUA0″ locale="US" tag="gogogogo03-20″]3-Piece Glass Mixing Bowl Set[/easyazon_link] here.
Whisk- A good sturdy whisk that can do all the mixing you need done, is key to any successful recipe. Grab this [easyazon_link identifier="B00004OCNS" locale="US" tag="gogogogo03-20″]Balloon Whisk[/easyazon_link] to get your recipe done right!
If you enjoyed this Overnight Eggnog French Toast Casserole, be sure to check out these:
Overnight Eggnog French Toast Casserole
Ingredients
1

pound

loaf bakery white bread

2

cups

eggnog

1 1/2

cups

milk

5

eggs

1/4

teaspoon

cloves

1/2

teaspoon

nutmeg

1/2

teaspoon

cinnamon
Streusel
1/2

cup

flour

1/2

teaspoon

nutmeg

1/2

cup

brown sugar

2

tablespoons

softened butter
Instructions
Cut bread into 1' cubes. Butter a 13 x9 baking dish

In a large mixing bowl, whisk together the eggnog, milk, egg and spices.

Spread bread cubes in prepared baking dish and pour eggnog mixture over. Cover and refrigerate overnight.

In the morning, preheat oven to 350F.

In a small bowl, stir together the flour, spices and brown sugar. Work the butter in until crumbles have formed and butter is fully incorporated. Sprinkle over casserole.

Cover with foil and bake for 30 minutes. Uncover and bake for 30 minutes longer. Let cool slightly before serving.