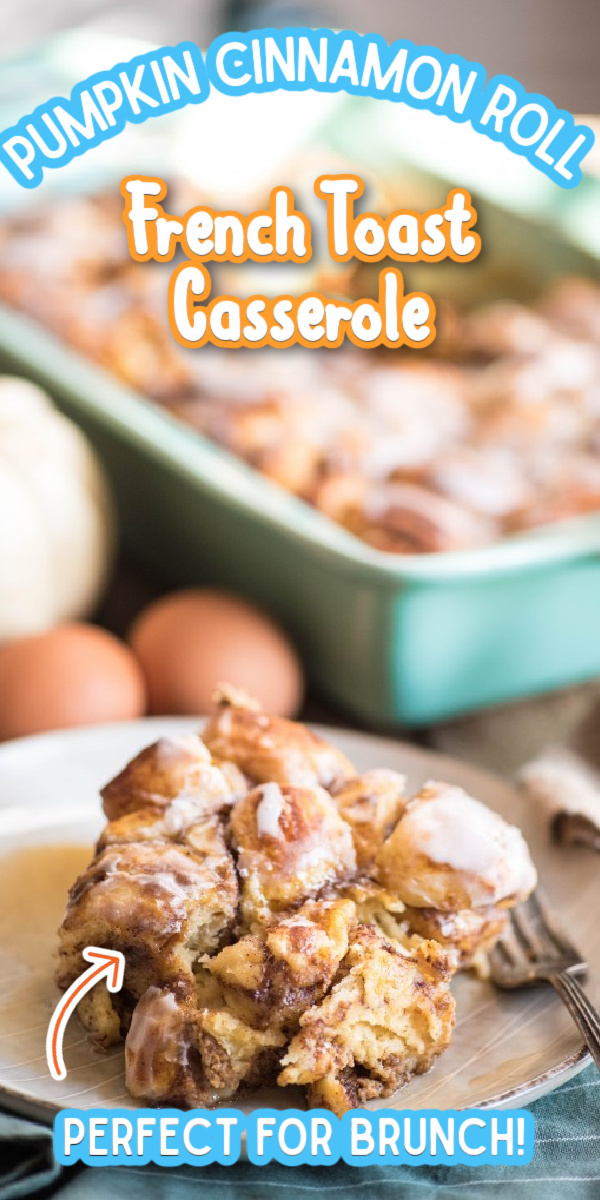 This Pumpkin Cinnamon Roll French Toast Casserole is full of fall flavor and warm spices. Only five ingredients and it's ready in under 45 minutes!
Holy fall goodness. That's all I can say about this beautiful pan of deliciousness. I am in love with this breakfast dish, which I accurately am calling Pumpkin Cinnamon Roll French Toast Casserole.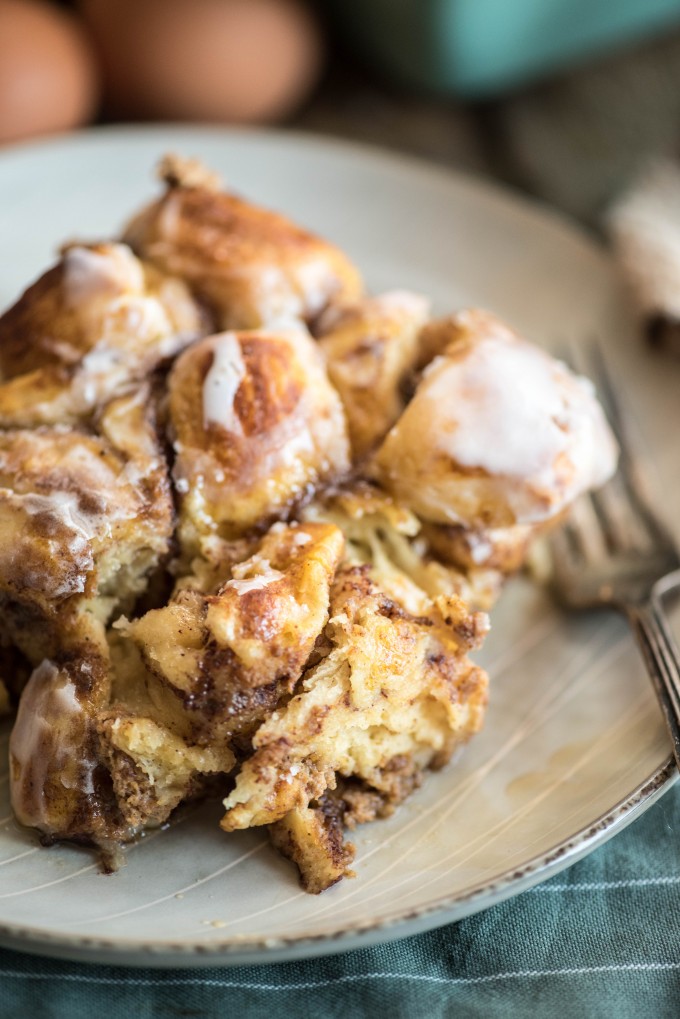 I had this idea as I was walking through the grocery store the other day. If you haven't noticed, the retail world is READY for fall. Fall clothes are steadily creeping in to Target, pumpkins and orange and yellow are starting to make their appearance, and there's even a tree outside my kitchen window dropping leaves.
I passed an end cap of canned pumpkin, and about ten steps later, I passed the display of cinnamon rolls. I went back for the pumpkin, dreaming of some sort of breakfast-y miracle in the days to come.
I originally intended to do a slow cooker overnight version of this pumpkin French toast casserole. I love overnight French toast casserole- I love the concept of putting something together the night before and just having to throw it in the oven the next morning while you're waiting for your coffee to brew. I thought that perhaps the slow cooker would still achieve this, but the more that I thought about it, I realized a couple things:
I really wanted it to have a beautiful golden brown topping on it, which was unlikely to happen in the slow cooker; and
Since the cinnamon rolls are made with yeast, I probably was going to be able to eliminate the whole overnight thing to begin with.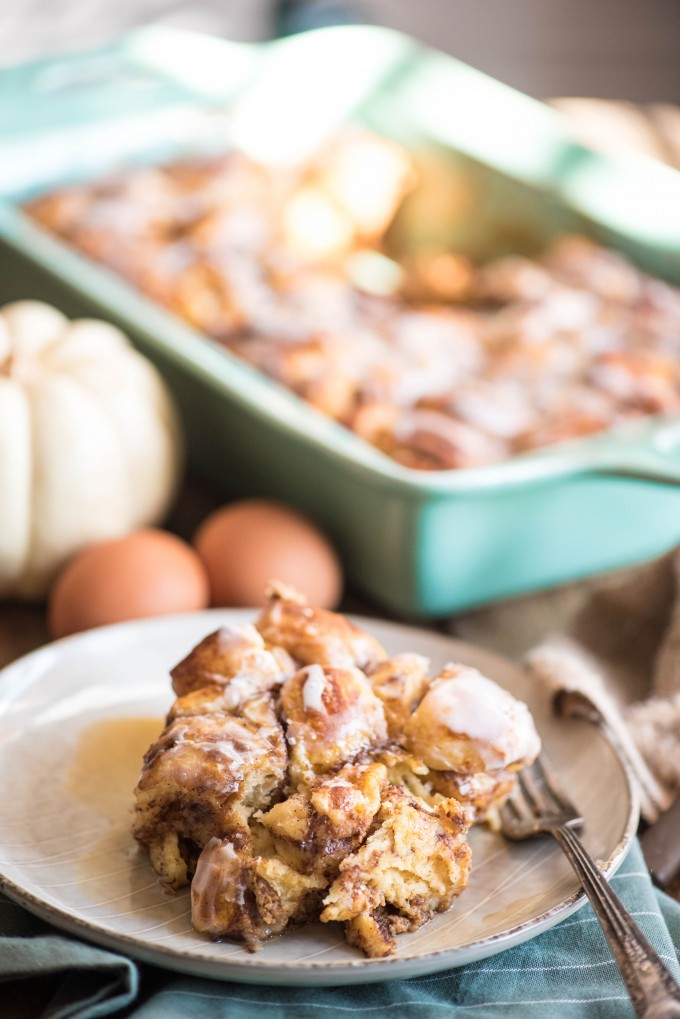 Great news, I was correct on all counts! It took me approximately 4 minutes to get my ingredients out, measure them, dump them in a bowl and whisk them together. I quickly diced up the cinnamon rolls, threw them in a baking dish, poured the wet ingredients over top, gave it a quick stir, and threw it in the oven.
I even shot the video for these Iced Pumpkin Spice Cookies while it was baking.
I did a little happy dance when I checked on it after 35 minutes. It looked GORGEOUS and the house smelled incredible. I stirred up the reserved icing and drizzled it over top.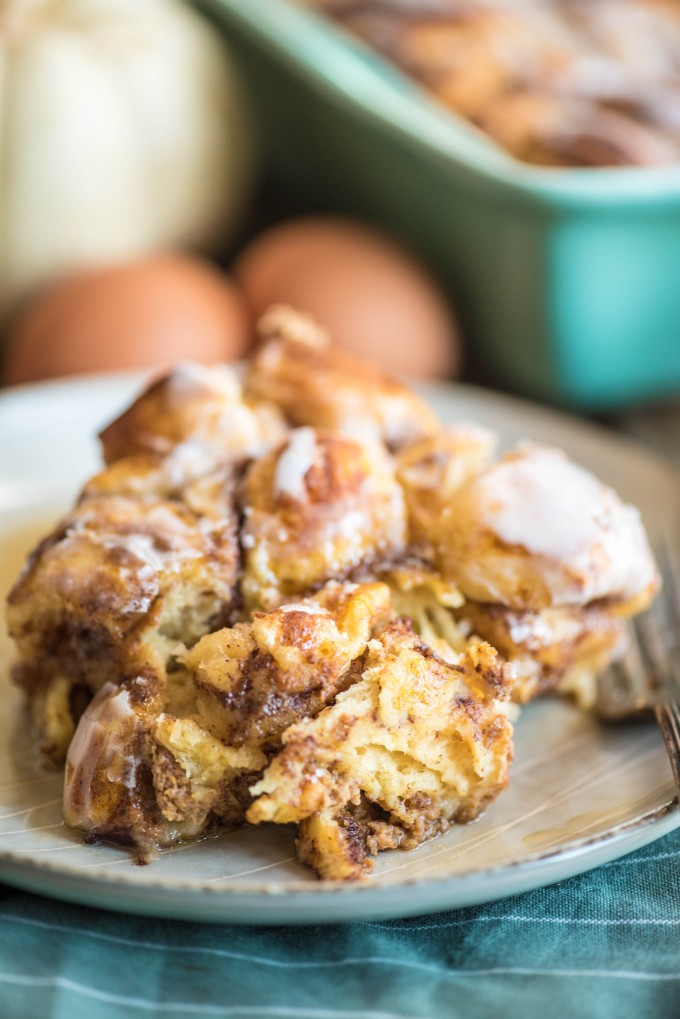 It was really the best. No, really. The best.
David even remarked to me- " You know, I thought this was going to be super heavy and over the top sweet, but it isn't at all. It's really, REALLY good. You can even drizzle syrup on it and its not too much!"
The kids obviously both devoured it. I couldn't have been more pleased with how this particular pumpkin French toast casserole turned out.
If you like this Pumpkin Cinnamon Roll French Toast Casserole recipe, try these other fall breakfasts out:
Pumpkin Spice Waffles
Oven Baked Apple Pancake
Pumpkin Cinnamon Roll French Toast Casserole
Ingredients
2

cans cinnamon rolls

1

cup

pumpkin

4

eggs

1

cup

milk

2

teaspoons

pumpkin pie spice
Instructions
Preheat oven to 350 F.

Open the cans of cinnamon rolls; set icing aside. Separate cinnamon roll rounds and cut each into quarters.

In a medium sized bowl, beat together the pumpkin, eggs, milk and pumpkin pie spice.

In a 13×9 baking pan (preferably nonstick), evenly distribute the cinnamon roll pieces. Pour the pumpkin mixture over top and stir until evenly coated. Bake in preheated oven for 35 minutes, until golden brown.

Remove from the oven. Drizzle with reserved frosting and serve warm with maple syrup.