These Java Chip Cupcakes are the cake version of the popular Starbucks Java Chip Frappuccino. The frosting is blended with chocolate covered espresso beans!
I have to admit, I have never fully and wholly understood the aversion that people today have against scratch baking. Is it the extra time needed to measure out the ingredients? Is it the extra things that you have to pull out of the pantry and/or make sure you have?
I've never found that to be a detractor from baking for me.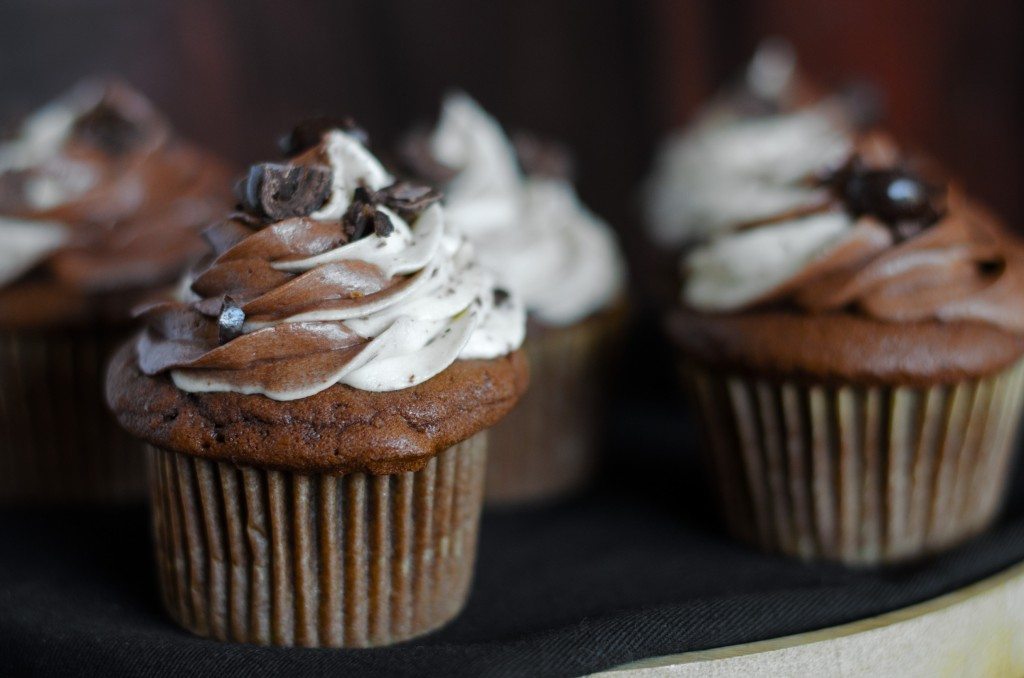 However, that being said, I'm a huge fan of boxed cake and brownie mixes. I think that they always turn out moist and like they're supposed to, and it takes next to no time to mix them up.
The good news for all of the bakers out there is that Pillsbury has decided to come out with a new line of baking mixes, Pillsbury Purely Simple, that meet you in the middle. These cookie/brownies/cake/frosting mixes or as close to scratch baking as you can get, without actually having to measure everything out yourself. There are no artificial colors, flavors, or preservatives,  so if you look at the ingredient list it reads flour, sugar, etc.- it's quite refreshing! When I ran across the whole line at Target, I was pumped.
I was so excited to try them out, and decided to kick them up a notch by turning them into a copycat Java Chip Cupcake. I baked a batch of chocolate cupcakes per package directions, and decided to have a little fun with the frosting. I turned the chocolate into a mocha frosting by using 1/4 cup coffee instead of water in the mix, and then grated some nice dark chocolate into the buttercream using a ribbon grater. The two-tone frosting  topped with chocolate-covered espresso beans just reminds me of the big mound of whipped cream on top of my chocolate coffee heaven-in-a-cup. These are so good, and hats off to Pillsbury for making scratch cooking as accessible as possible for all of the weary weeknight bakers out there.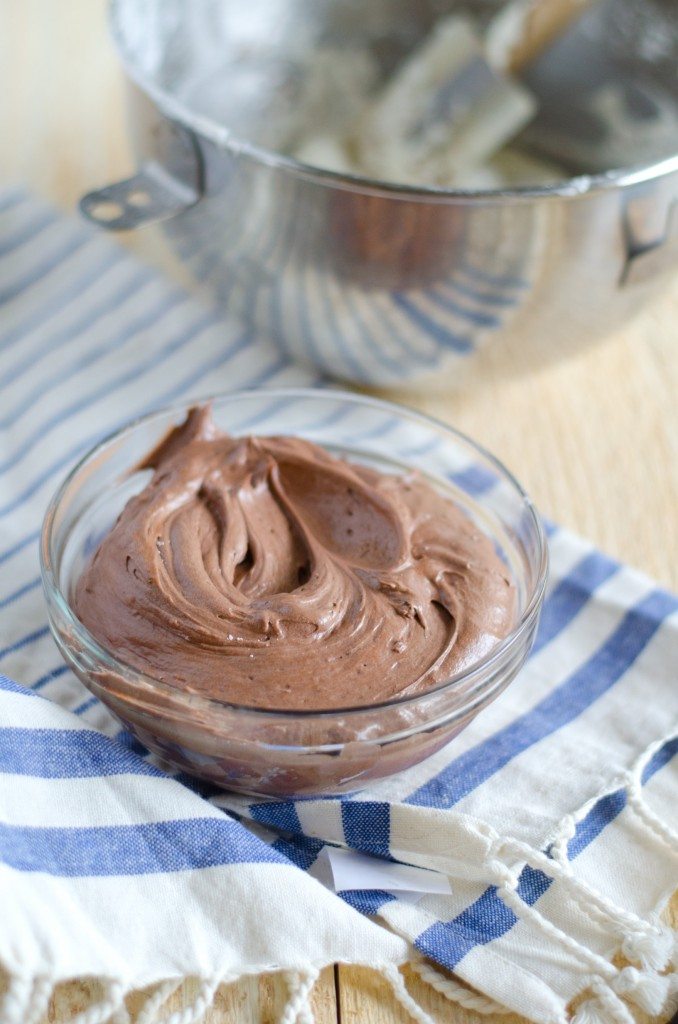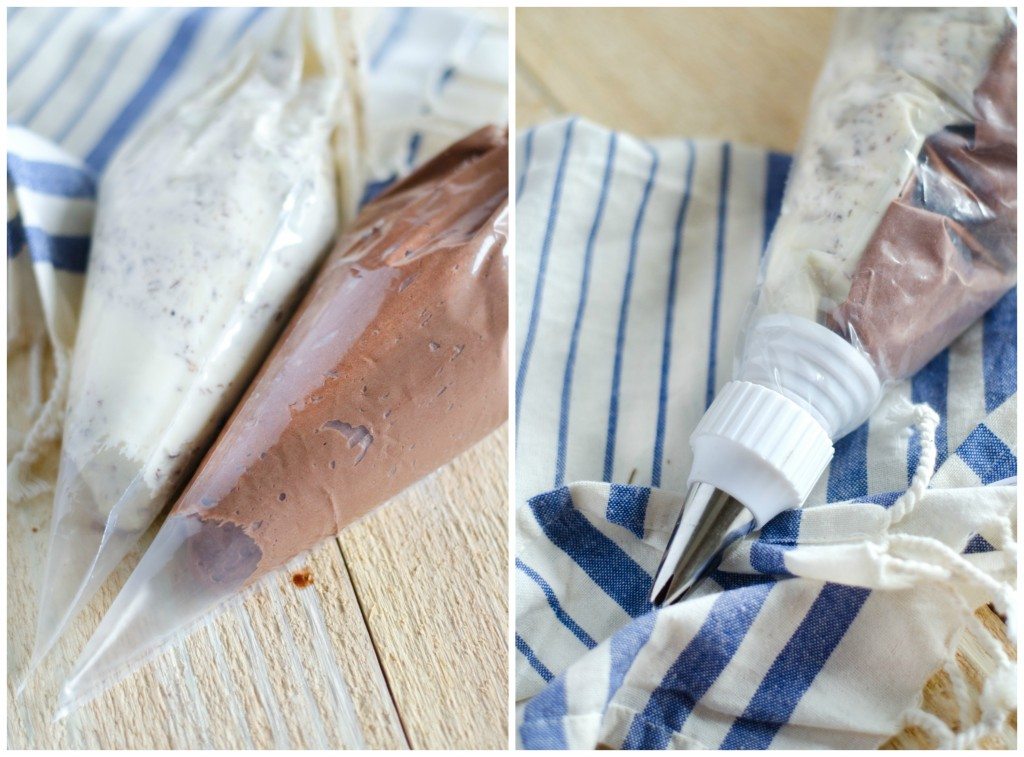 I had never done a two toned frosting before this, and I have to say- I think they turned out wonderfully (and was not difficult to do either!). In hindsight, I think I probably complicated the method more than I needed to. Instead of filling two piping bags and then fitting those inside a third bag with a coupler/tip (as shown), I think you could probably just scoop each frosting into one side of one bag. I can't guarantee which method would be easier to set up- but they will both work in the end! I used a Wilton 1M tip here.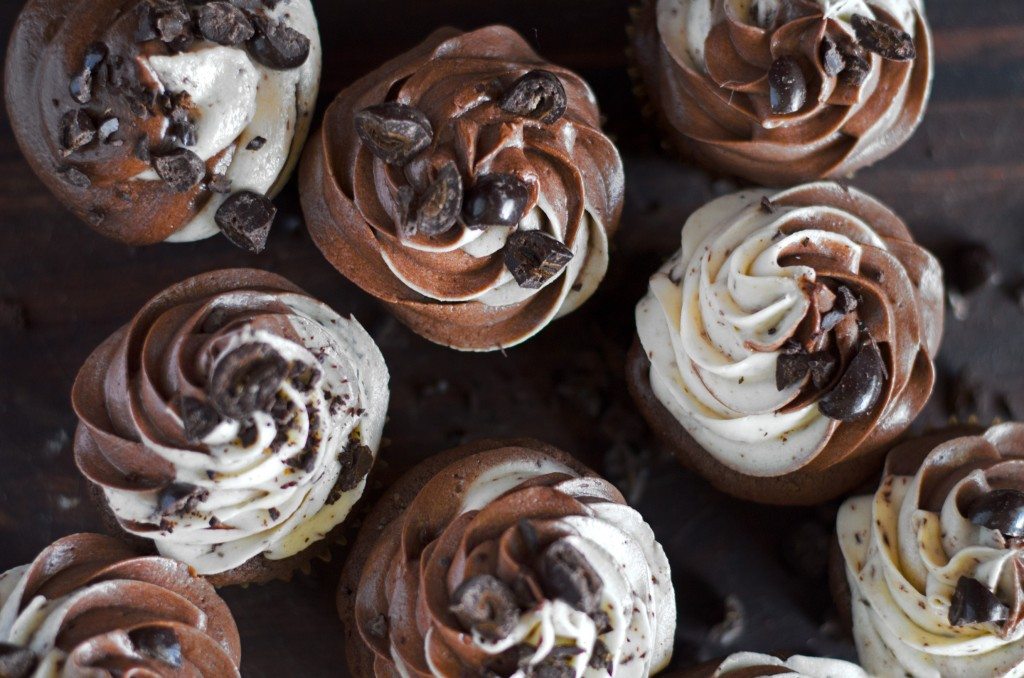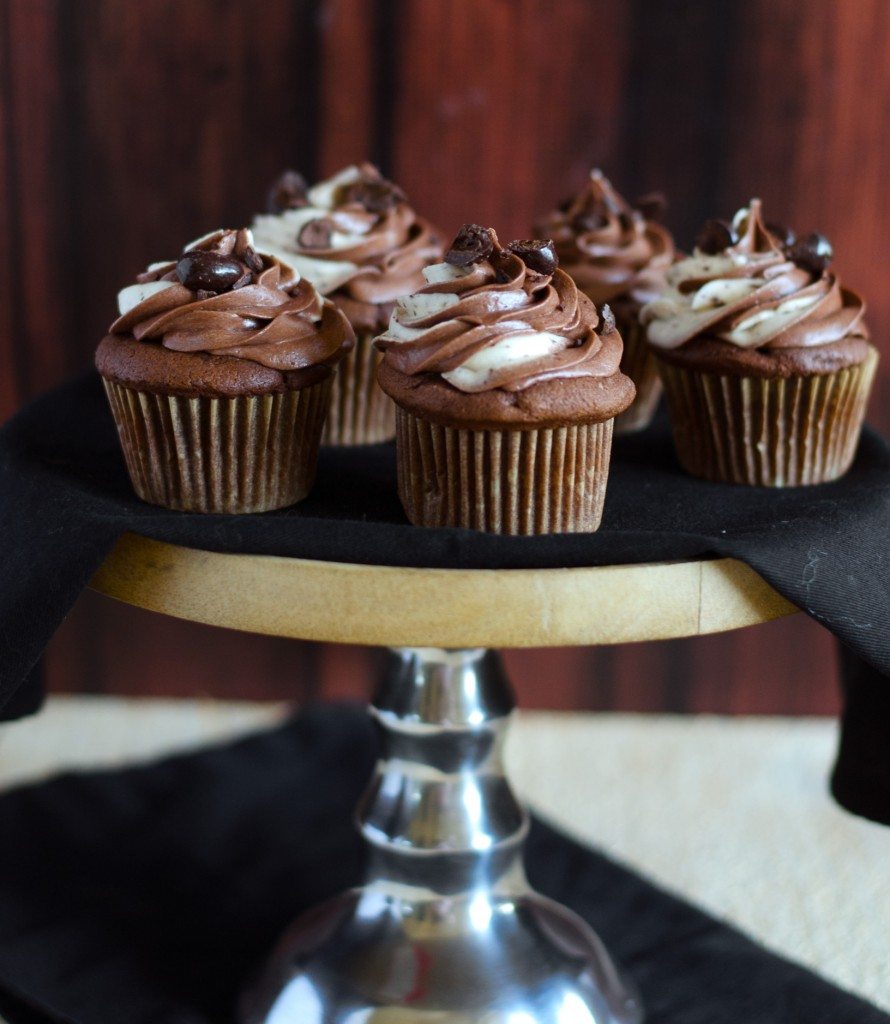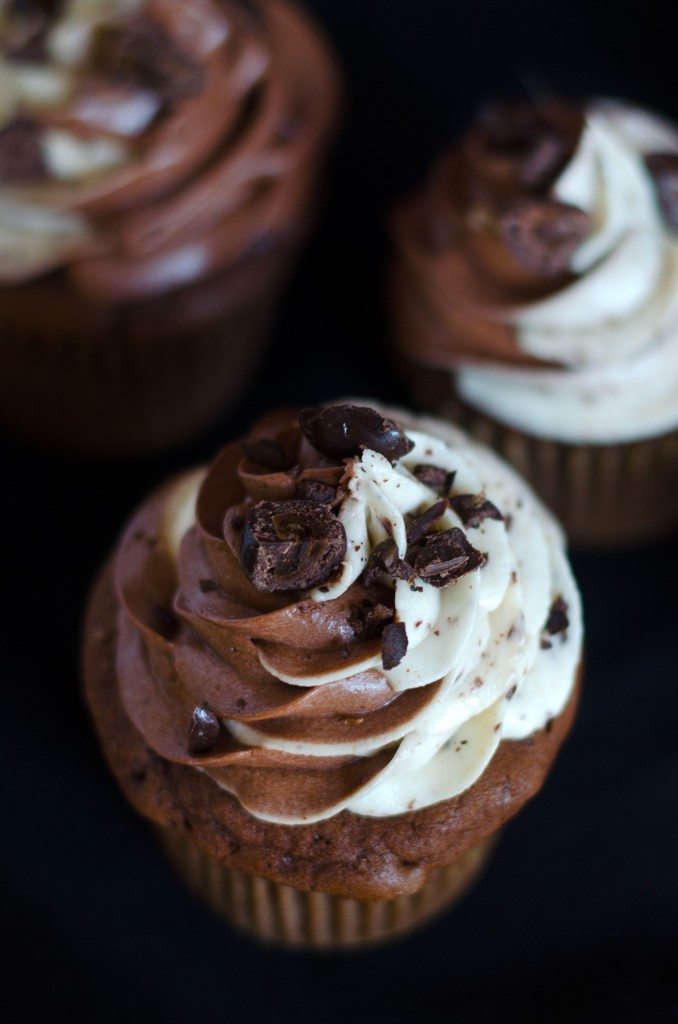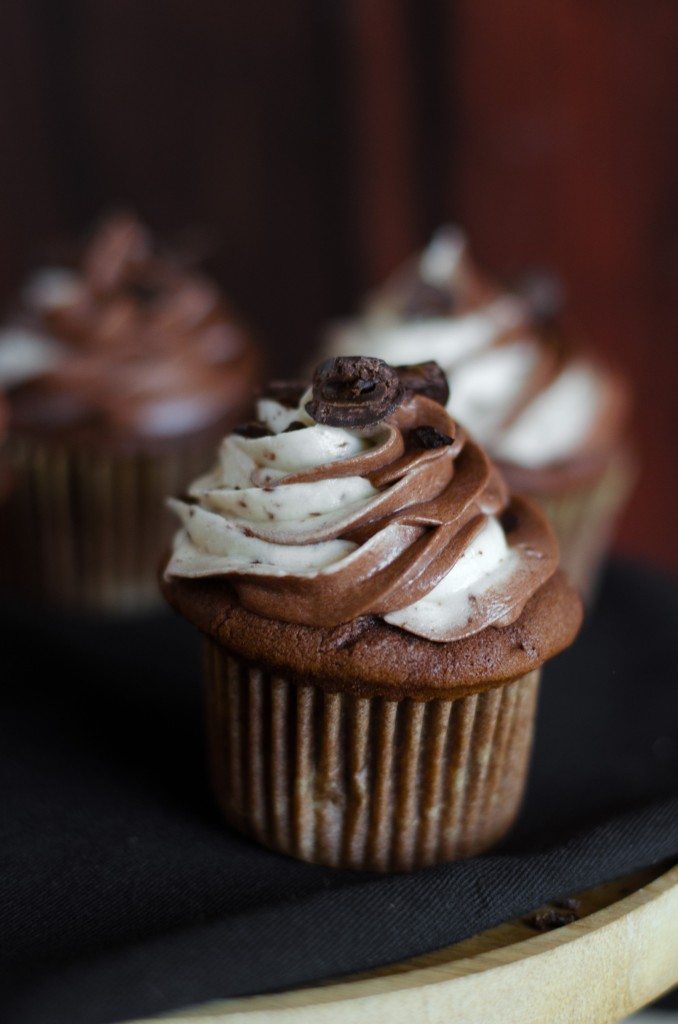 If you like these Java Chip Cupcakes, check this out too:
Java Chip Cupcakes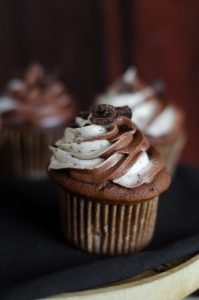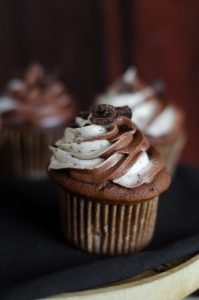 Ingredients
1

box Pillsbury Purely Simple Chocolate Cake Mix

1

package Pillsbury Purely Simple Chocolate Frosting Mix

1

package Pillsbury Purely Simple Buttercream Frosting Mix

3

sticks butter, softened

3

eggs

1

cup milk

1/4

cup coffee

1

oz bittersweet chocolate, grated

1/4

cup chocolate covered espresso beans, coarsely chopped
Instructions
Line two muffin pans with liners and preheat oven to 350. Prepare cupcake batter as directed on the box. Using a cookie scoop, fill each well ⅔ full with batter (I ended up with 22 cupcakes, not 24).
Bake as directed. When a toothpick inserted comes out clean, remove from the oven and allow to cool completely.
Prepare the white buttercream frosting according to package directions. Fold in the grated chocolate. Spoon into a piping bag, snip the very tip off, and set aside.
Prepare the chocolate buttercream frosting according to package directions, but substitute the coffee for the water. Spoon into a piping bag, snip the very tip off, and set aside.
Slide a large tip coupler into the bottom of a third piping bag. Slide both filled piping bags into the third bag, and pull the ends of the filled bags through the coupler. Cut off both ends of the filled bags at that level and apply your tip. Frost the cupcakes in a swirling motion, so you end up with two-toned swirls.
Sprinkle with espresso beans and serve.