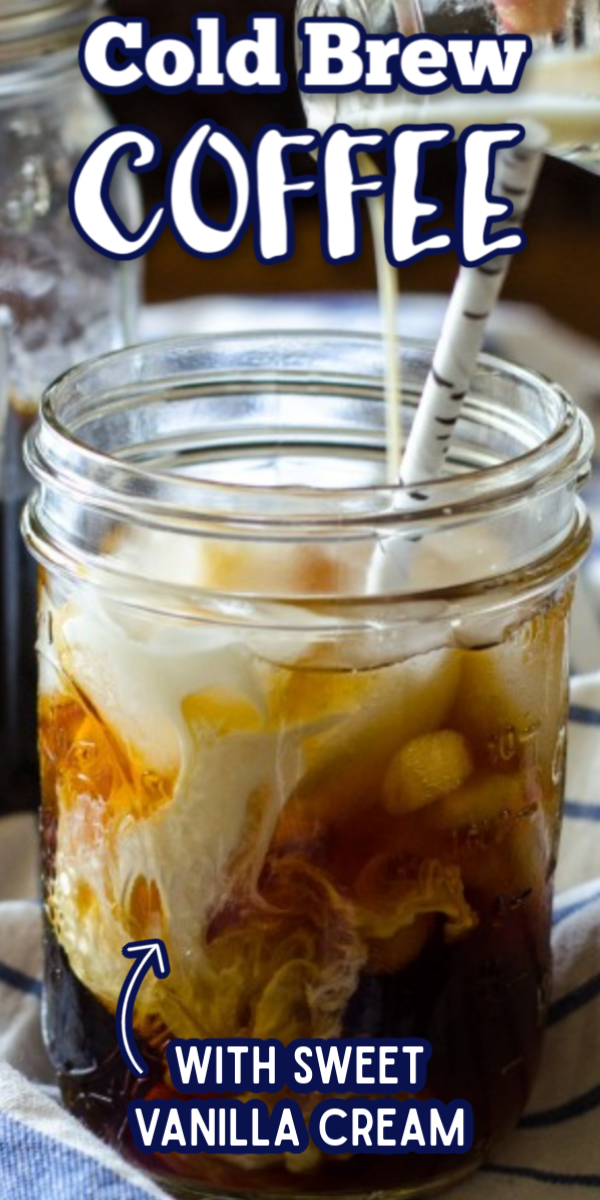 Have you ever wondered how to brew cold brew coffee? Or have you ever wondered how an ethopian coffee taste like? This easy Cold Brew Coffee recipe with Sweet Vanilla Cream is a favorite of mine from Starbucks and it's so easy to make at home!
You spend hours researching the right coffee brewing method, the optimum water temperature, the perfect coffee grinder, even the most exceptional coffee beans – all with the singular goal of making a flawless cup of coffee. All of this will be for naught if you don't have a functioning coffee canister for your precious beans.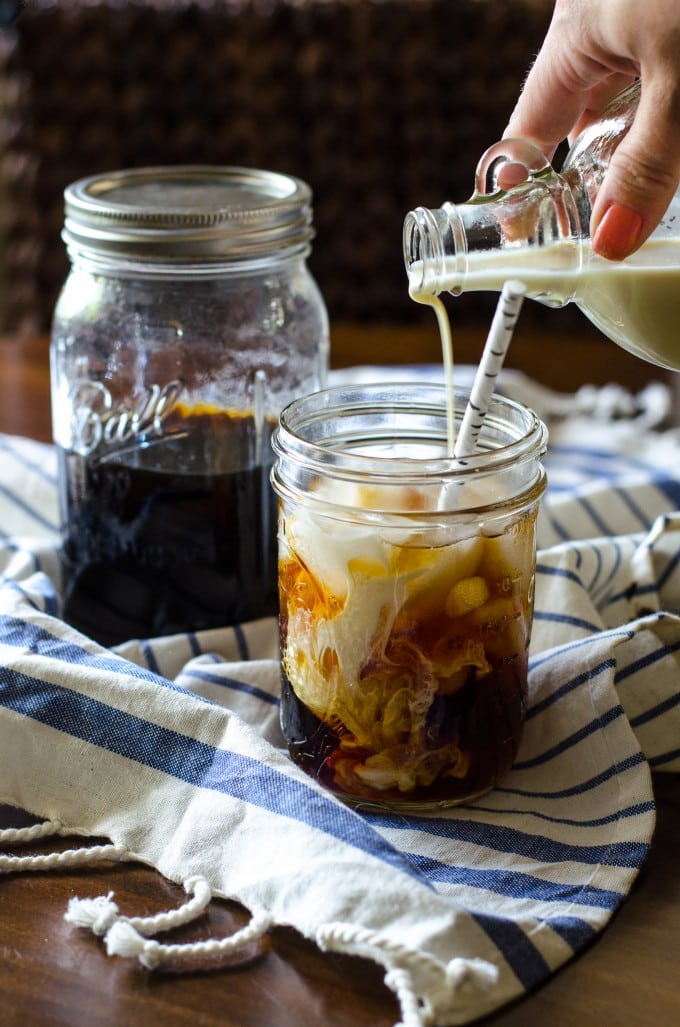 I was having a particularly bad morning. Dave had picked up my grocery order from Walmart two days prior (if you haven't tried it, the online grocery ordering is amazing), which had included a container of plain yogurt I needed for the Grilled Gyro Kabobs recipe I had in my head. I had gone to make it the night before, but as I was cooking, I realized I had no recollection of unpacking yogurt. Sure enough, no yogurt anywhere in the fridge.
I was instantly pissed off, wrapped everything back up and threw it in the fridge. My first instinct was to lash out at Walmart for obvious incompetence. My second instinct was to ask Dave if he was absolutely positive he got all the groceries out of the car. Of course, he assured me, but I'll go check anyway.
Thirty seconds later, he appears with a very warm container of yogurt that had spent 2 95 degree days in his car, wedged under a seat.
So I was less than pleased that I had to go to the store. Michael absolutely hates being in his car seat, so he screamed the entire way there. If I have to do this, I thought, I'm at least going to Starbucks.
My friend Ted had previously lauded the joys of cold brew coffee to me, so I decided to give it a shot. I was amped.
"Sorry, we're out of cold brew."
I wanted to whine to someone for sympathy, so I texted Ted. His response was less than heartwarming: "Make your own."
You know what? Fine. I will.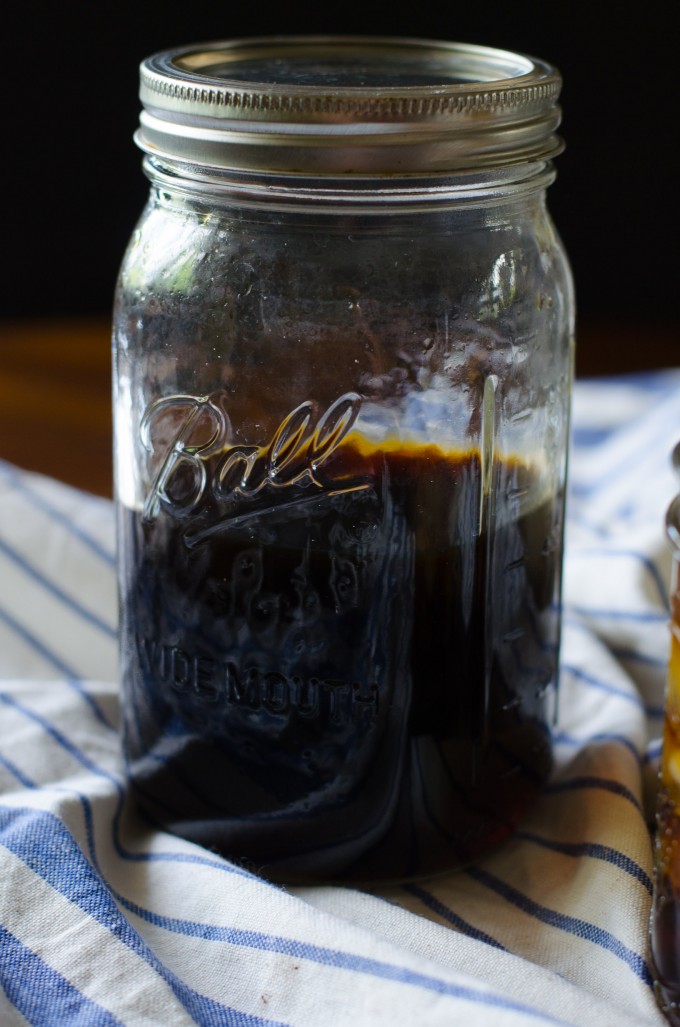 After reading about cold brew and how to make it, I felt pretty foolish for not having taken the jump earlier. It is SIMPLE. I even made a delicious sweet vanilla cream to go in it.
Cold brew is unbelievably smooth and not at all bitter, I loved it! It will definitely be a summertime staple in my fridge. Talk about a great pick me up for these hot, hot days.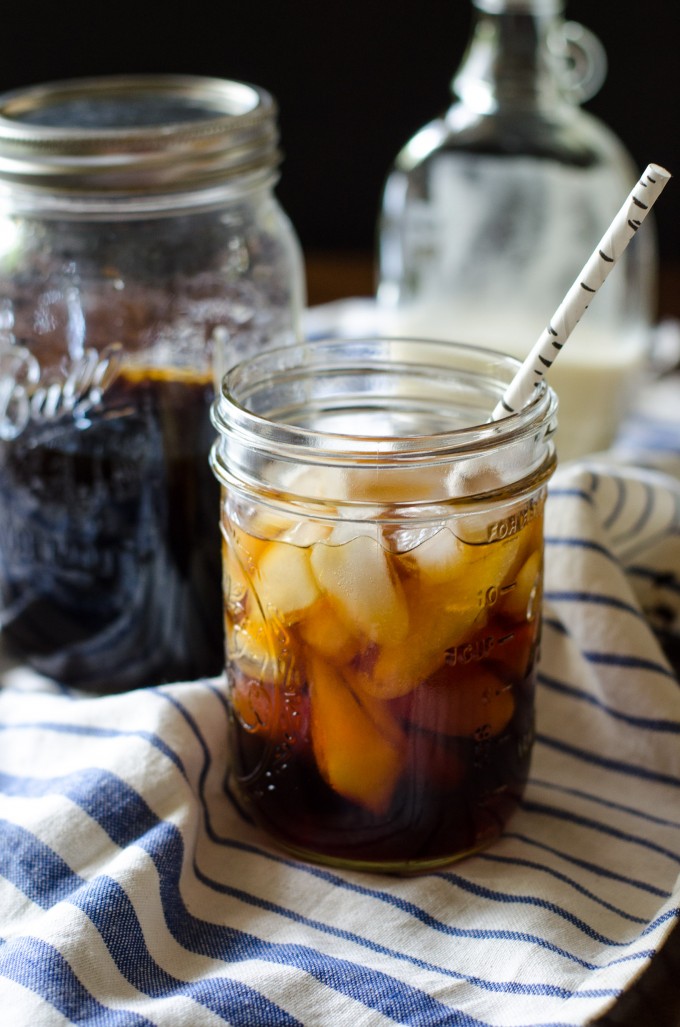 Tools needed to make cold brew at home:
You will need a lidded container (like a [easyazon_link identifier="B01N1SIQP2″ locale="US" tag="gogogogo03-20″]large mason jar[/easyazon_link]) to soak the coffee grounds in over night.
You'll also need a [easyazon_link identifier="B007TUQF9O" locale="US" tag="gogogogo03-20″]mesh strainer[/easyazon_link] and some [easyazon_link identifier="B00FQS0416″ locale="US" tag="gogogogo03-20″]coffee filters[/easyazon_link] to filter out the grounds afterwards.
If you liked this Cold Brew Coffee recipe, check out these coffee cake recipes to go with it:
Cold Brew Coffee with Sweet Vanilla Cream
Ingredients
2/3

cup

coffee grounds

3

cups

water

1/2

cup

heavy cream

2

T

sugar

2

tsp

vanilla extract
Instructions
In a large lidded jar (I used a mason jar), combine the coffee grounds and water. Let sit out at room temperature for at least 12 hours or overnight.

The next day, strain twice: first through a mesh strainer, and then through a coffee filter (to catch the silt). Coffee concentrate is now ready to use.

To use coffee, combine with water at a 1:1 ratio in a cup filled with ice. Add Sweet Vanilla Cream, if desired. (recipe follows)

In a small microwave safe cup or bottle, add the vanilla, sugar, and cream. Microwave for 1 minute and stir to dissolve sugar. Microwave for 30 seconds longer if needed.