If you're wondering how to grill polenta, these Grilled Polenta & Mozzarella Stuffed Sausage Stacks are for you! They are easy, delicious, and make the perfect summer meal!
This post brought to you by Classico Riserva. The content and opinions expressed below are that of Go Go Go Gourmet.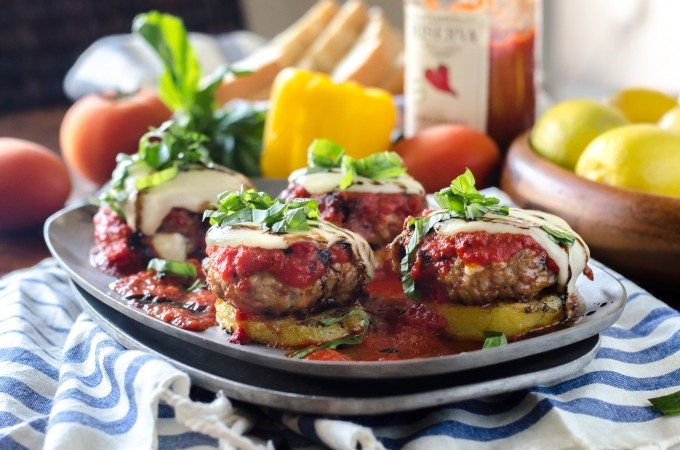 There's something to be said about having a little spice in your life.
If you know me by now, you know that I prefer to make things from scratch. Not only do I think the end result tends to be superior, but I can control what goes into it and what I'm feeding my family. I used to make pasta sauce with David with the summer's bounty of tomatoes, but honestly, we just don't have the time that we used to- kids can do that to you. But I really miss that homemade taste!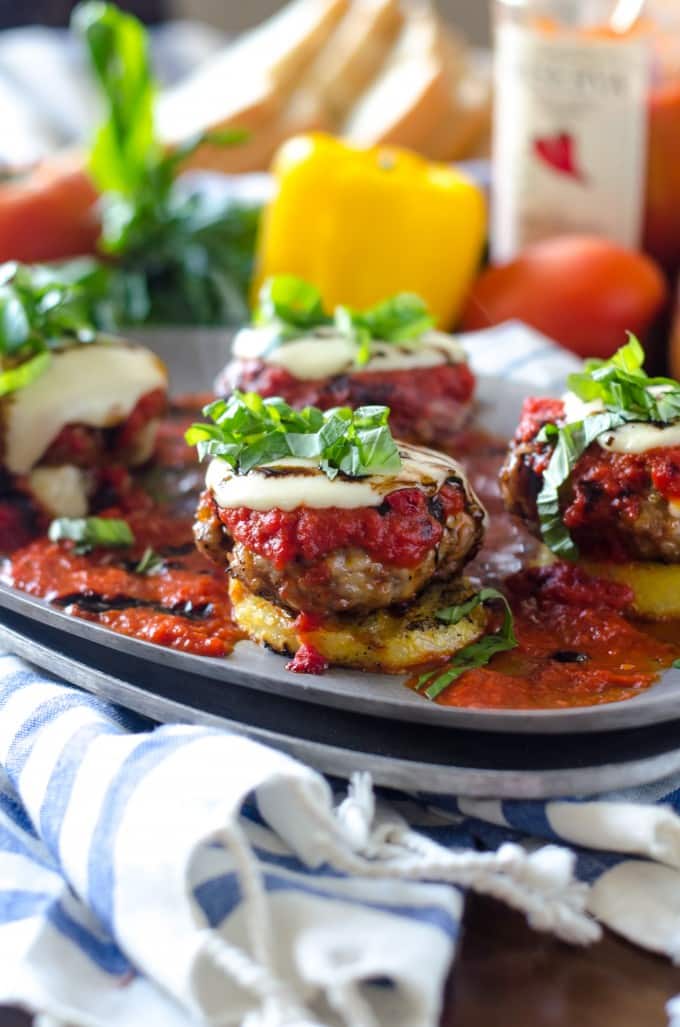 Enter Classico Riserva Pasta Sauce, a new line of sauces that is shaking things up with their flavor offerings: Marinara, Eggplant & Artichoke, Roasted Garlic, Arrabbiata and Puttanesca. What I especially love about these sauces is the complete absence of artificial ingredients or extra sugar, but packed with tons of fresh, homemade taste. Its as close as you can get to that slow-simmered pot on the stove.
I have to say, this Arrabbiata sauce is one of the best I've ever had, homemade or otherwise. The sauce was full of flavor and had that great pepper/heat taste that is so essential to arrabbiata. I wanted to create a recipe that really showcased the outstanding flavor. Sausage and peppers is an Italian mainstay, so I created a cheese filled dish that plays on this theme, with a dash of caprese flair, and reminiscent of a summer burger just off the grill. These are such a showstopper that they could easily be used as a meal starter or as the main entree. We loved eating these, and I loved how fast they were to make. I can't wait to have them again, honestly. All that fresh mozzarella!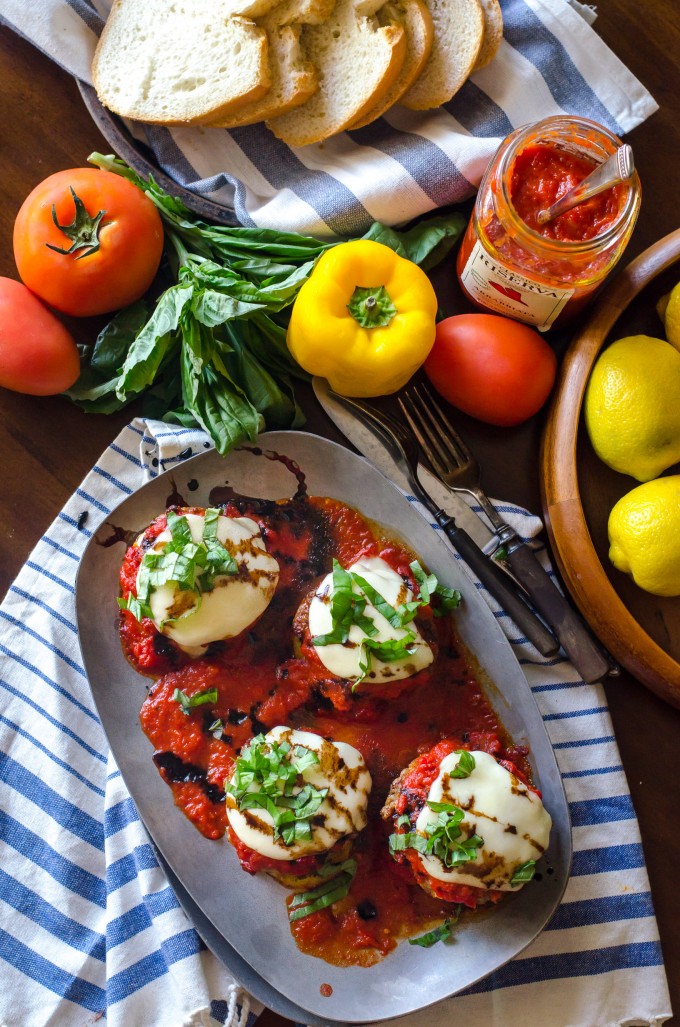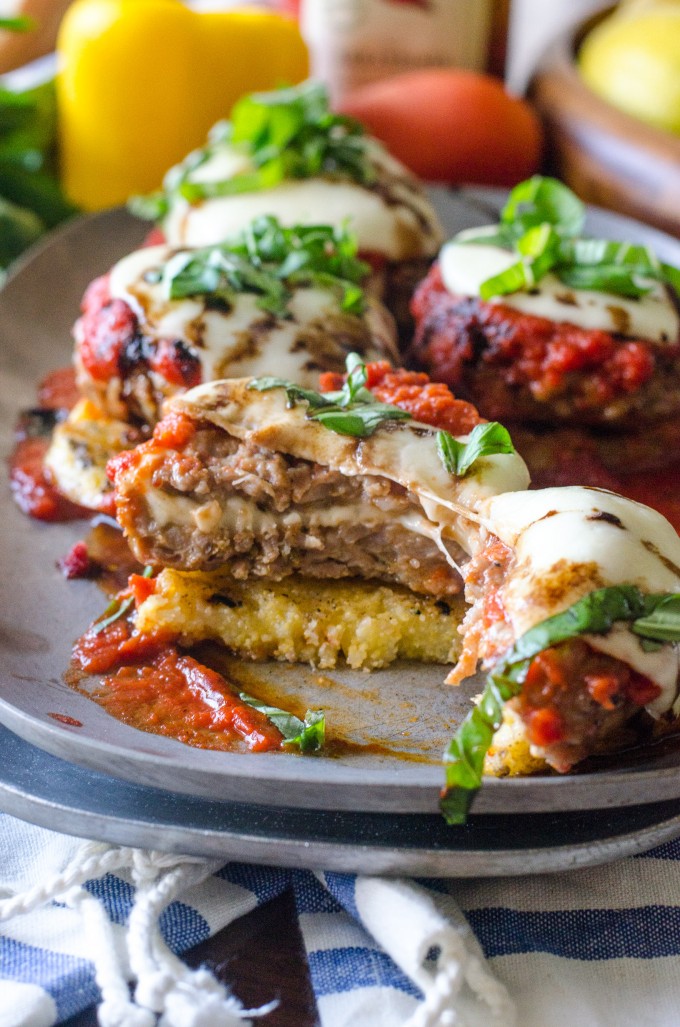 You've got to try this dish out, pronto- as well as these sauces. I know you're going to love their unique flavors as much as I did. Want to try them out for free??? Leave a comment telling me how you'd like to use them for a chance to win VIP coupons!
Tools needed to make the best grilled polenta recipe:
All you really need to make these stacks is a [easyazon_link identifier="B07FKLK6DG" locale="US" tag="gogogogo03-20″]grill[/easyazon_link]!
If you liked this easy grilled polenta recipe, check out these other recipes for grilling season:
Grilled Polenta & Mozzarella-Stuffed Sausage Stacks
Ingredients
1

lb

ground sausage

16

oz

pre-sliced mozzarella cheese

24

oz

Classico Riserva Arrabbiata Sauce

18

oz

tube ready made polenta

Olive oil

Fresh basil

Balsamic glaze
Instructions
Preheat a grill to medium high heat/ 375F.

Divide the italian sausage into five portions; flatten out to approximately 1/4".Place one slice of mozzarella on top of the sausage, then wrap the sausage around the cheese to form a cheese-filled patty. Seal up any openings.

Slice 5 1/2" thickness rounds of polenta. Sprinkle with salt and pepper and drizzle with olive oil.

Add the the sausage patties and polenta rounds to the grill. Cook for 6-8 minutes per side, until sausage is cooked and the cheese is melted, and the polenta has grill marks.

On a grill-safe or oven-safe tray, stack a sausage patty on top of a polenta round. Topped with 1/3 cup arrabbiata sauce over each stack and top with a mozzarella slice. Close the grill and cook until the cheese is melted and the sauce is bubbling.

Drizzle with balsamic glaze and sprinkle with basil. Serve immediately.