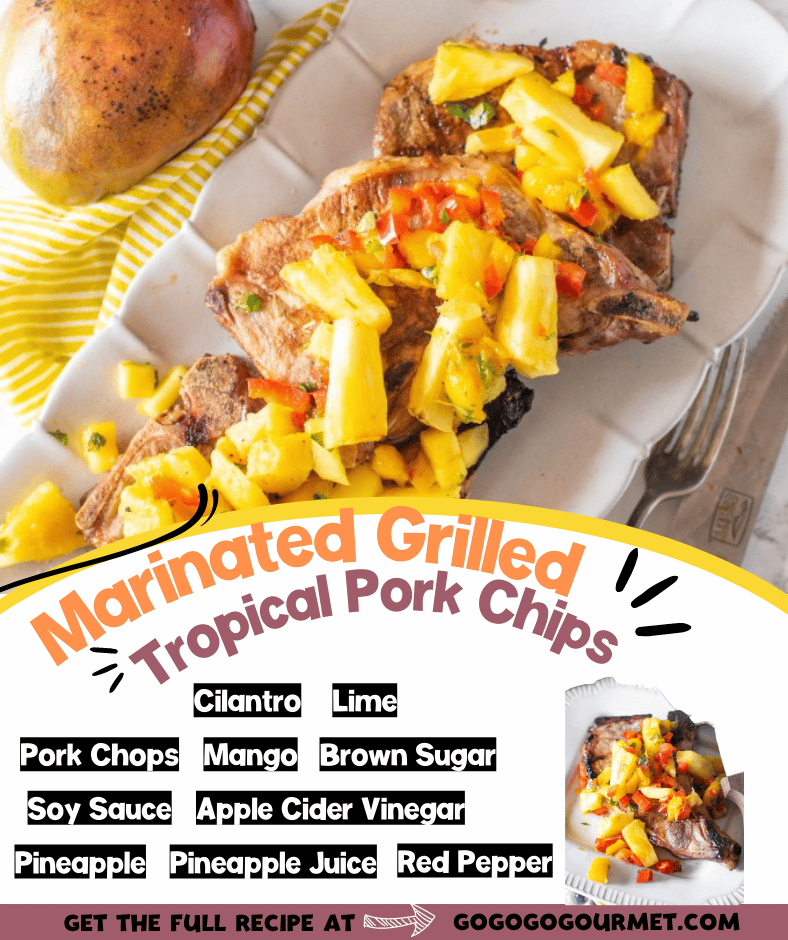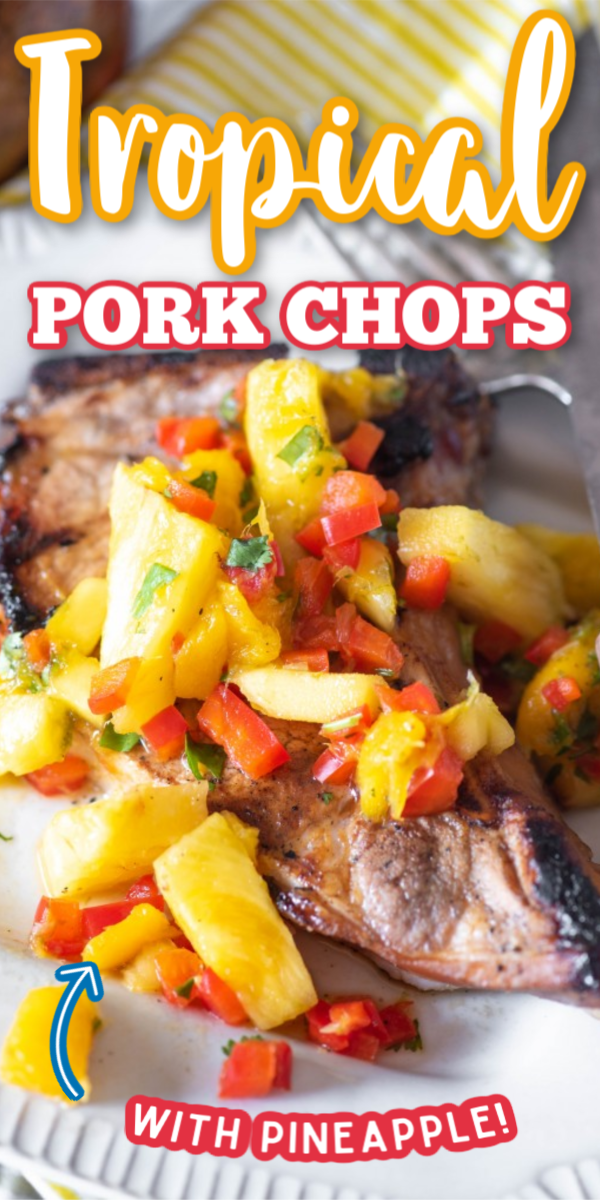 When it comes to summer, there's no better way to cook pork chops than firing up the grill! These grilled pork chops soak in the best marinade, and get topped off with a salsa that will whisk you away to the tropics!
This post done in partnership with Ohio Pork. All thoughts and opinions are my own.
I have a new favorite way to make grilled pork chops!
I have to be honest here- growing up, I was never a huge pork chop fan. My mother came from the era where everyone thought you had to cook pork to death.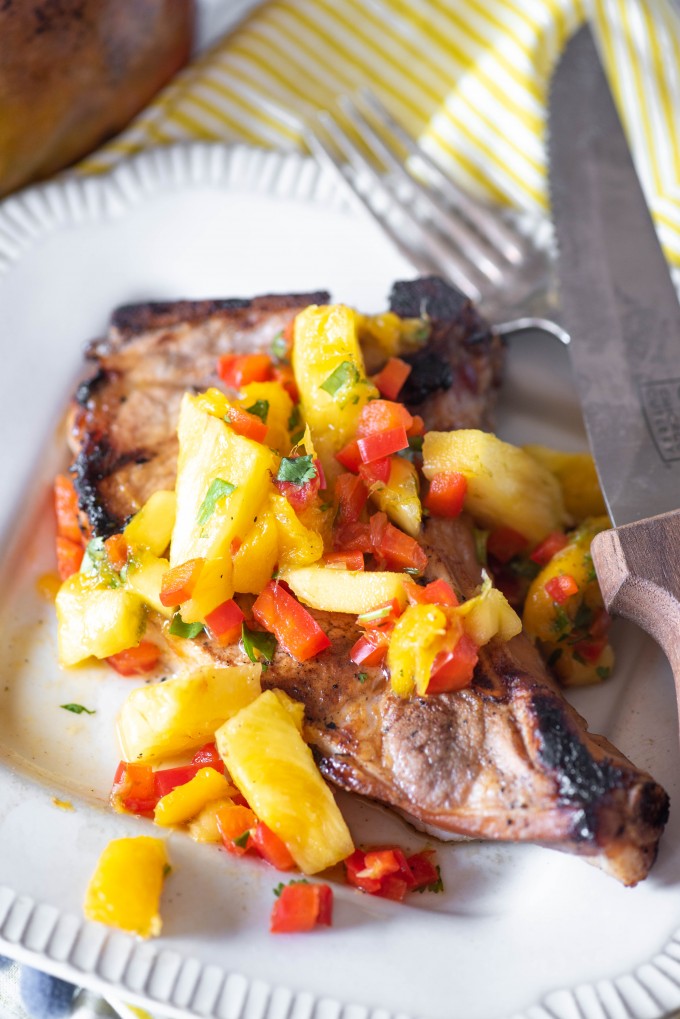 Do you know what over cooking pork does? Like everything else, it dries it out!
One of the beauties of the different loin cuts of pork is how lean they are- making them a healthy option for a dinner protein. However, you need to take care not to overcook, so you can retain the tender juicy flavors.
As an adult, I took note of this and ended up discovering that I actually adore pork. Goes to show you- proper cooking makes all the difference!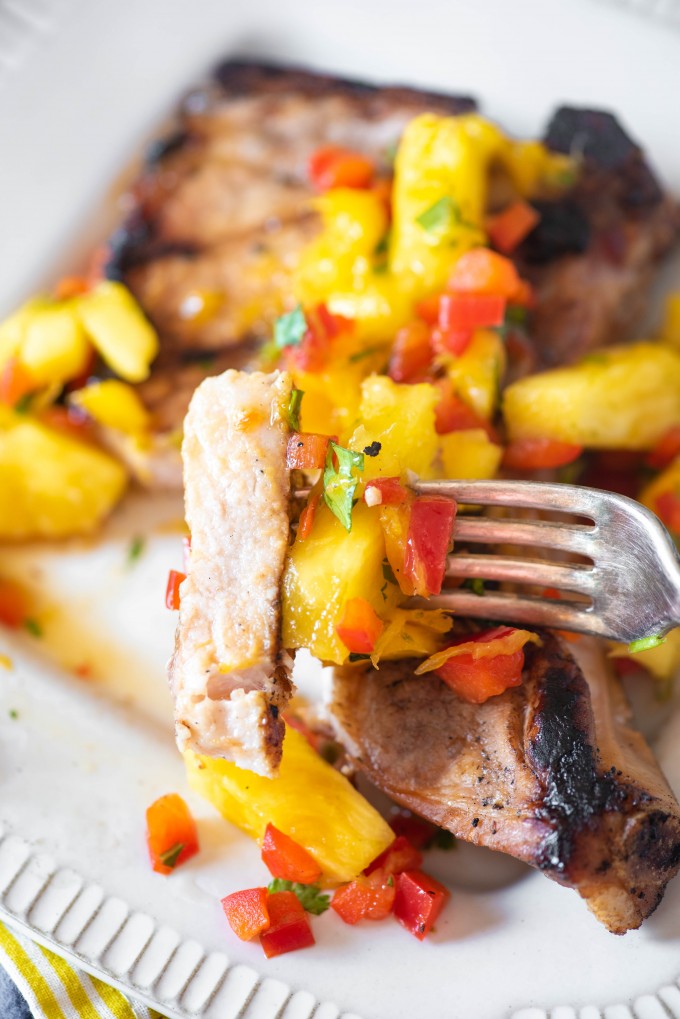 One of the things that I like best about pork is how it is a blank canvas for a variety of cuisines and flavors. In this recipe, I have created a fusion of tropical flavors for the best marinade for grilled pork chops- just a few basic ingredients that I almost always have in the house already.
I topped it with a simple salsa of grilled pineapple (grilling pineapple caramelizes the naturally-present sugars and add an amazing level of flavor)e, fresh mango, finely diced red pepper, chopped cilantro and plenty of lime.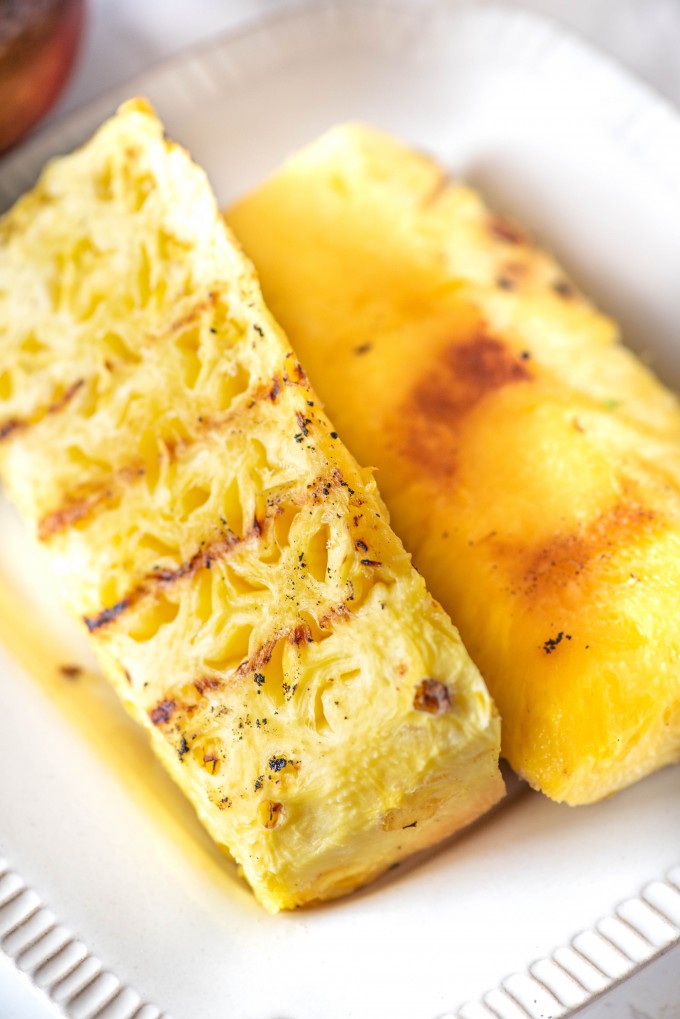 Grilled Pork Chops Recipe Tips:
I personally prefer bone-in pork chops to boneless chops. I find that they have more flavor and retain their juiciness better than the boneless chops. It's all personal preference!
This salsa over the top really brings out the flavor, but its not mandatory. You could also add in some red onion and avocado as well!
I used a peach-orange-mango juice in this marinade, but you could use any combination that you liked.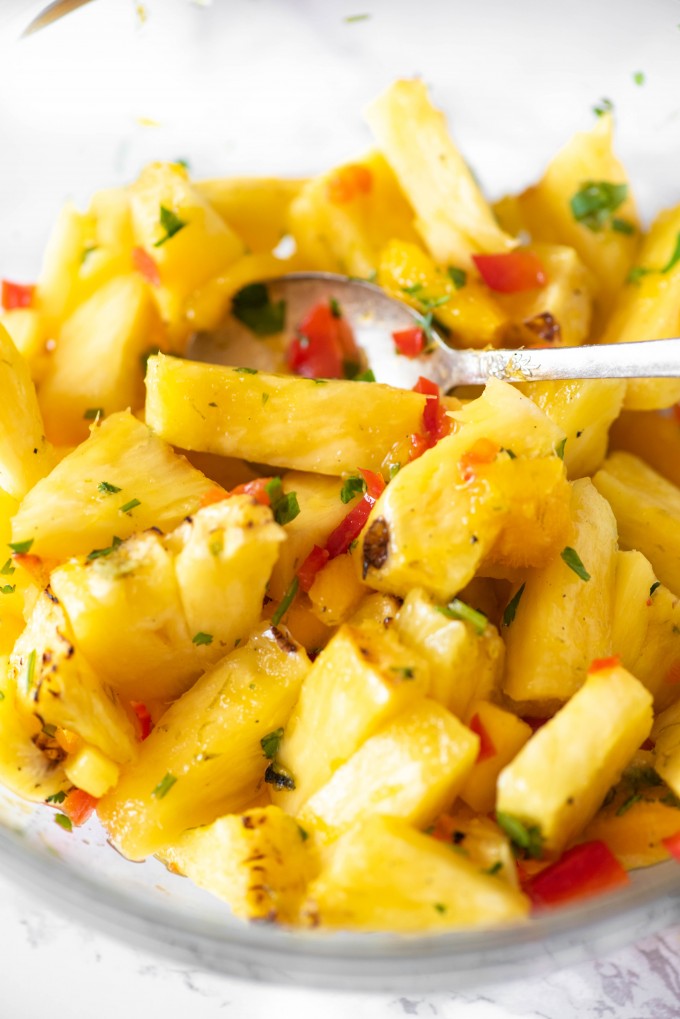 Cook your pork to a temperature of 145 F- this may not take remarkably long, depending on the thickness of the chops you buy. I recommend pulling them off at 140 F, then covering them with foil and allowing them to rest while I finish up dinner. The chops continue cooking while they rest, so you should end up with perfectly cooked pork chops.
Use a [easyazon_link identifier="B01GE77QT0″ locale="US" tag="gogogogo03-20″]digital instant read thermometer[/easyazon_link] for accurate cooking temperature. I love the one that I have- it has a secondary bluetooth enabled receiver, so I can walk away from the grill and keep an eye on my cooking temperature.
Ohio pork wants to know more about what you want when it comes to cooking pork! Please take a second to complete this VERY basic survey– you can even win a Thermapen meat thermometer- a $100 value! Take the survey here.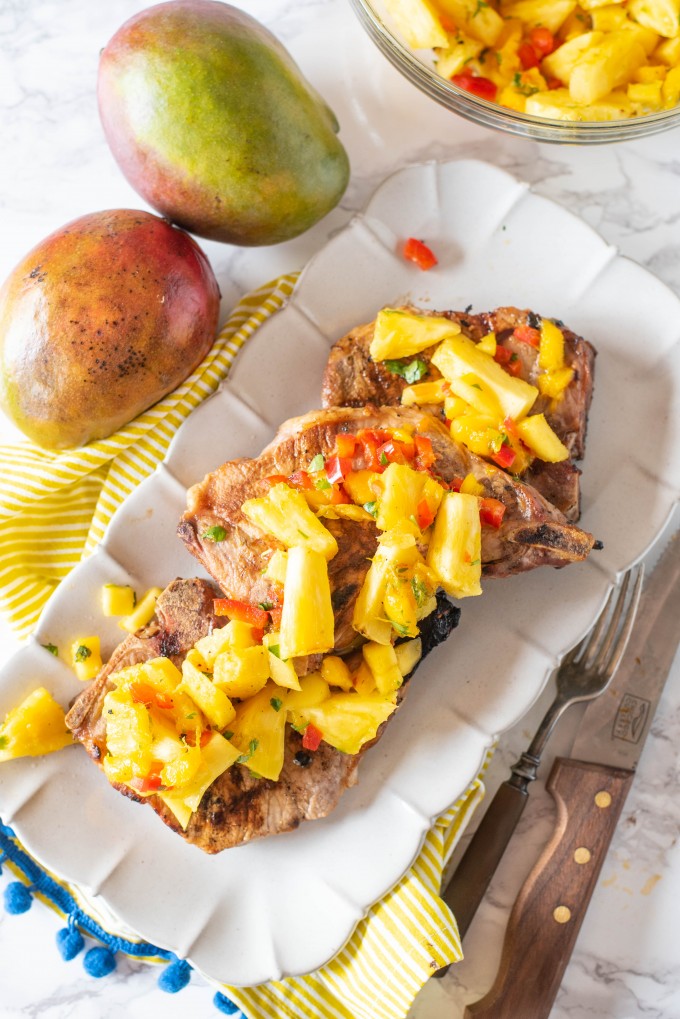 If you liked this easy dinner recipe, check out these other great pork recipes:
Easy Grilled Pork Chops with Tropical Salsa
When it comes to summer, there's no better way to cook pork chops than firing up the grill! These grilled pork chops soak in the best marinade, and get topped off with a salsa that will whisk you away to the tropics!
Ingredients
4-6

bone-in pork chops

1/2

cup

brown sugar

1/3

cup

soy sauce

1/4

cup

apple cider vinegar

1

cup

orange pineapple juice

1

pineapple

peeled, cored and quartered

1

mango

peeled, halved and chopped

1

red pepper

seeded and minced

1/4

cup

chopped fresh cilantro

1

lime

zested and peeled
Instructions
In a small mixing bowl, whisk together the brown sugar, soy sacuce, vinegar, and juice.

Place pork chops in a plastic zip top bag. Pour the marinade over the pork. Squeeze as much air as possible out of the bag, then seal the bag. Marinate for at least 4 hours.

Preheat a grill over medium high heat and lightly oil the grates.

Add the pork chops to the grill, along with the pineapple. Turn the heat to medium low under the pork (pineapple can remain at a higher temperature). Grill until the pork has nice grill marks and is browned, 4-5 minutes.

Flip the chops and the pineapple and repeat on the other side. Check the temperature of the pork and remove at 140 to a plate. Tent with foil while you prepare the salsa.

For the salsa: Chop the grilled pineapple into small, bite sized pieces (think diced tomatoes). Add to a medium sized mixing bowl. Add the mango, red pepper and cilantro, and drizzle with the lime juice and zest. Stir together.

Serve the pork topped with the salsa.