This post brought to you by Martin's Famous Potato Rolls and Bread. The content and opinions expressed below are that of Go Go Go Gourmet.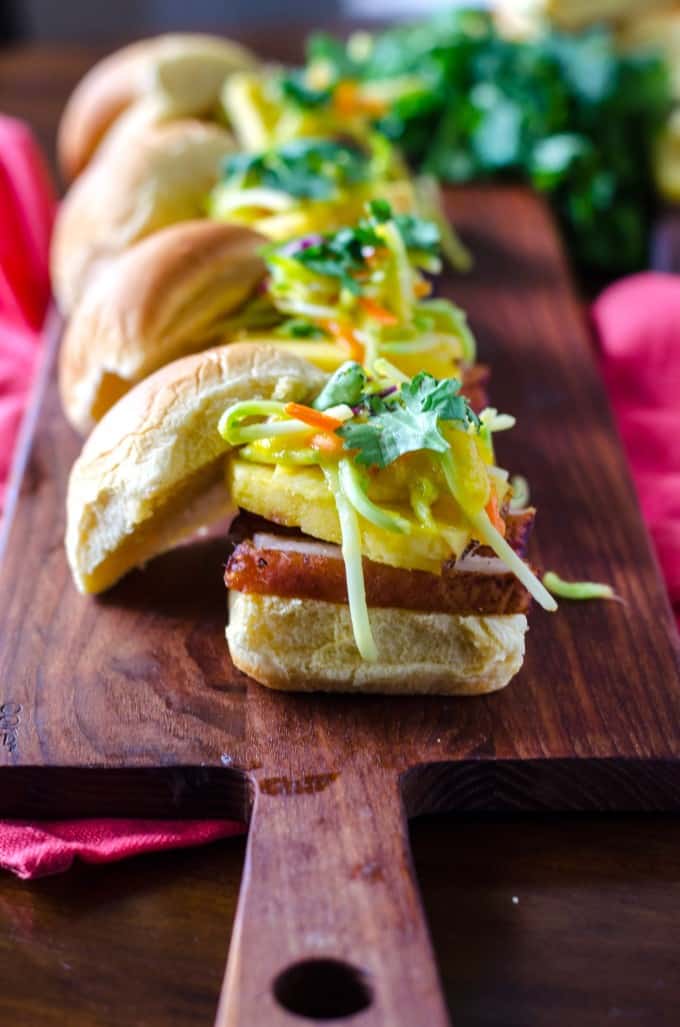 "This is one of the best things you've made in awhile. I mean like taste wise."
I'm not sure if that's technically a compliment, but I think Dave was trying to tell me that he really liked these blackened pork belly sandwiches.
I am having a little bit of a love affair with pork belly right now. In fact, my Crispy Asian Pork Belly is one of my more popular pins on Pinterest. There is just something about a really tender, almost meltingly soft, piece of meat contrasted with crispy skin. I just can't get enough!
So when I had the idea for these sandwiches, I couldn't wait to make them. I love blackening seasoning, and thought that it would do really well on pork belly. To contrast with the spice and heat from the seasoning (which actually ends up being almost none at all since its only rubbed on the outside of the meat), I paired it with a sweet and crunchy slaw featuring the tropical flavors of mango and pineapple. I loved these and thought that they would be a great party sandwich- you can prepare a lot of pork belly at one time, and the slaw is easily made in advance. The flavors remind me of Hawaii, eating these as you watch the waves crash on shore- but eating these as you get out of the pool is probably just as good!
I actually made these two different ways- the way you see pictured, and then the "cheater" way we had them the next day. Dave liked them so much that he asked to have the leftovers for lunch on Sunday. I reheated the pork, but didn't have any slaw already made up. The baby was fussing around, Jonathan was whining for a peanut butter sandwich, and I really just didn't want to make the whole thing up again. I used the rest of my bag of broccoli slaw and tossed it with some tangerine honey dressing that I happened to have in the fridge. Then I put the pork on a Martin's Long Potato Roll, along with slices of fresh pineapple and mango, topped it with the quick-made slaw and cilantro. Dave even added some sriracha to his for some extra heat. They were great, and I'm not convinced that the hot dog bun construction isn't superior for this sandwich construction.
Speaking of, I never knew that potato bread is evidently one of Dave's favorite things. We have been together for 10 years, but I never knew this until I brought home some Martin's Potato Rolls, a family owned and operated company that is pretty much the gold standard when it comes to potato bread. I have honestly never seen him so excited about bread before. I wasn't sure that I had ever had it before, but I definitely know now why he likes it so much- they are so fluffy and soft, but yet somehow sturdy enough to support everything that was going on in this sandwich. I also love that they have removed artificial dyes, ADA and GMOs from their ingredients- to me, thats about the next best thing to homemade! We all loved them, and I've been buying them ever since. They even supported pulled pork like a champ. They have tons of
products
, ranging from hamburger and hot dog buns, to regular bread, to dinner rolls, to cinnamon raisin bread and even stuffing!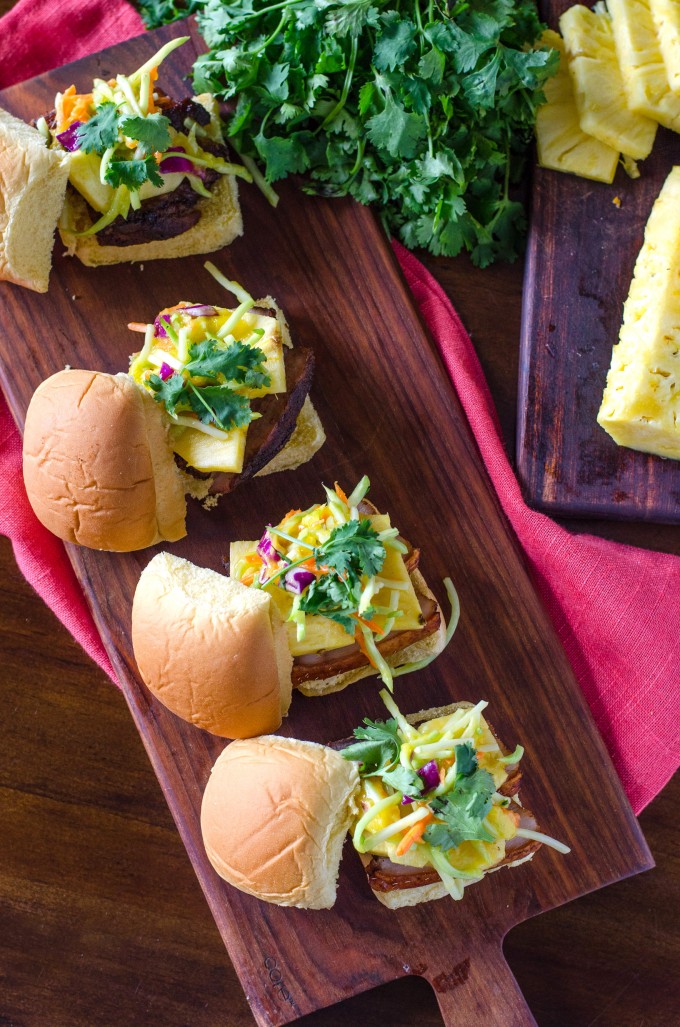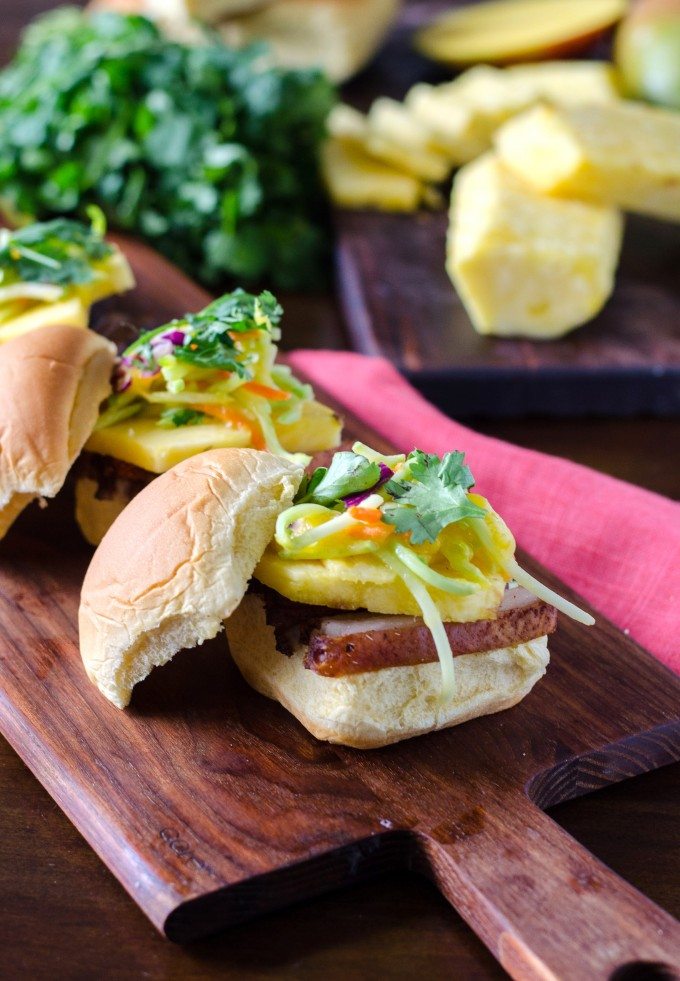 The best part of summer is spending it with your friends, having a great time. Martin's wants to make it even easier for you to get together with your favorite people, so they are FULLY SPONSORING a Martin's Makes Waves (#MartinsMakesWaves) party for one lucky reader!! This prize package will be featuring products from their Famous Potato Rolls line, plus party supplies (!), so you have no excuses! Enter below for a chance to win. Giveaway runs from June 30, 2016 through July 15, 2016. You must enter via the PromoSimple form below. By entering this giveaway, you agree to be added to the newsletter for Go Go Go Gourmet. Winner will be chosen randomly via the PromoSimple form and contacted via the email address they use to enter. Bonus entries are available by following on Instagram (2), Pinterest (1) and Twitter (1). No purchase necessary to enter or win, void where prohibited. Open to US Residents only. Go Go Go Gourmet is not responsible for the delivery of party package.
Blackened Pork Belly with Mango Pineapple Slaw
Ingredients
2.5

lb

slab meaty pork belly

3-4

T

blackening seasoning

12

oz

bag broccoli slaw mix

or coleslaw mix

1

mango

preferably slightly overripe

1

pineapple

peeled. cored, cut into quarters lengthwise, then sliced horizontally into 1/2" slices

2

T

pineapple juice

3

T

apple cider vinegar

cilantro

1

bag Martin's Sandwich Potato Rolls
Instructions
The night before you plan to make these, score the skin: use a serrated knife to make crossways cuts through the skin (do NOT cut through the meat) about 1" apart. Rub the meaty of the pork belly (not the skin) with blackening seasoning. Dry the skin with a paper tower. Place in fridge uncovered.

An hour before cooking, remove from fridge.

Preheat an oven to 425F. Pat the skin dry with paper towel again. Place on a wire rack set inside a baking tray (lined with foil for easier cleanup).

Transfer to oven and roast for 30 minutes. Reduce oven heat to 350, sprinkle skin with blackening seasoning. Cook for an additional 30 minutes.

Remove from oven and let rest for 15 minutes.

While the pork is resting, make the slaw. Peel the mango and finely chop. Add it to a bowl large enough to toss the slaw in, and mash with a fork. Add the pineapple juice and apple cider vinegar; stir to combine. Add the slaw mix and toss until evenly combined.

Slice the pork into 1/2" slices. To assemble: Place 2 slices of pork on a potato bun, Top with 2 slices of fresh pineapple and a pile of slaw. Add a couple sprigs of cilantro and top with the other bun.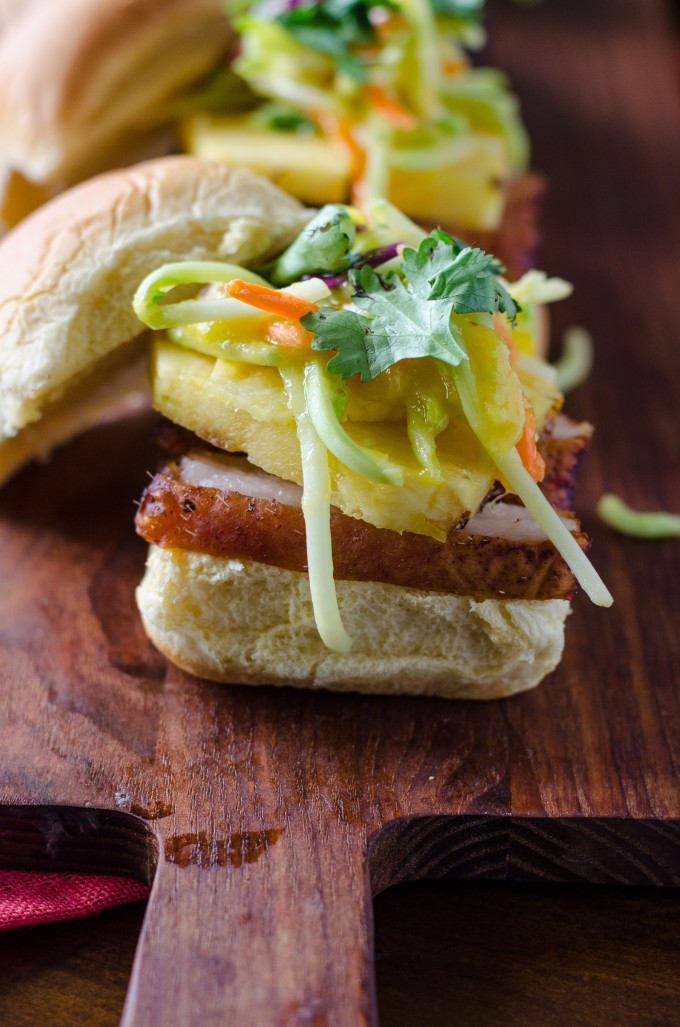 SaveSave