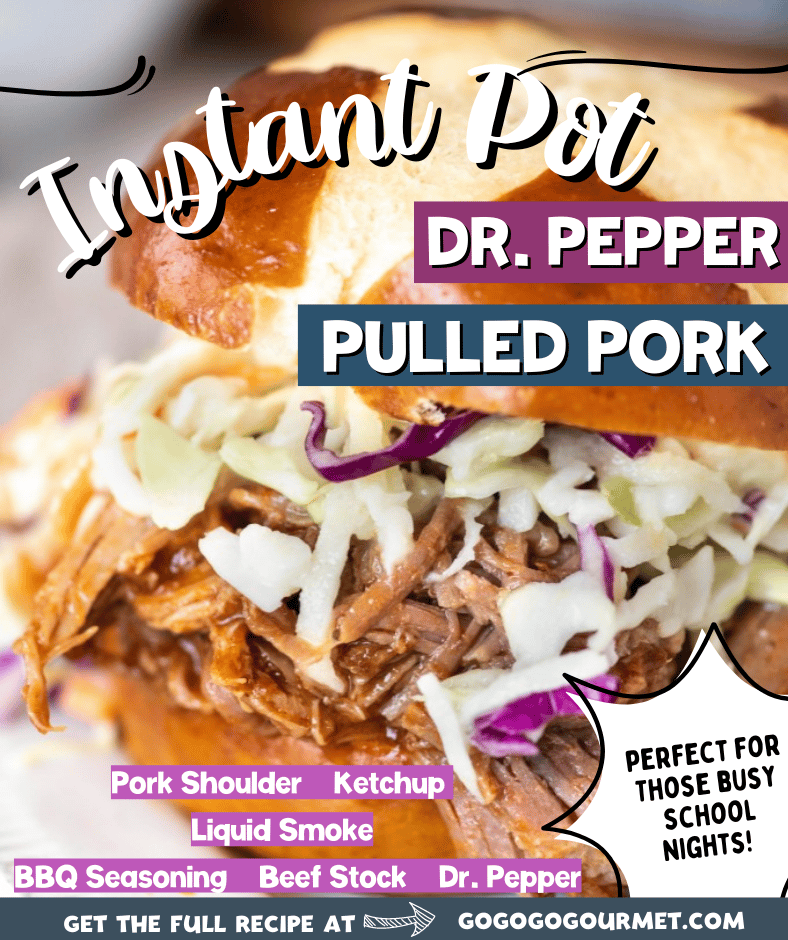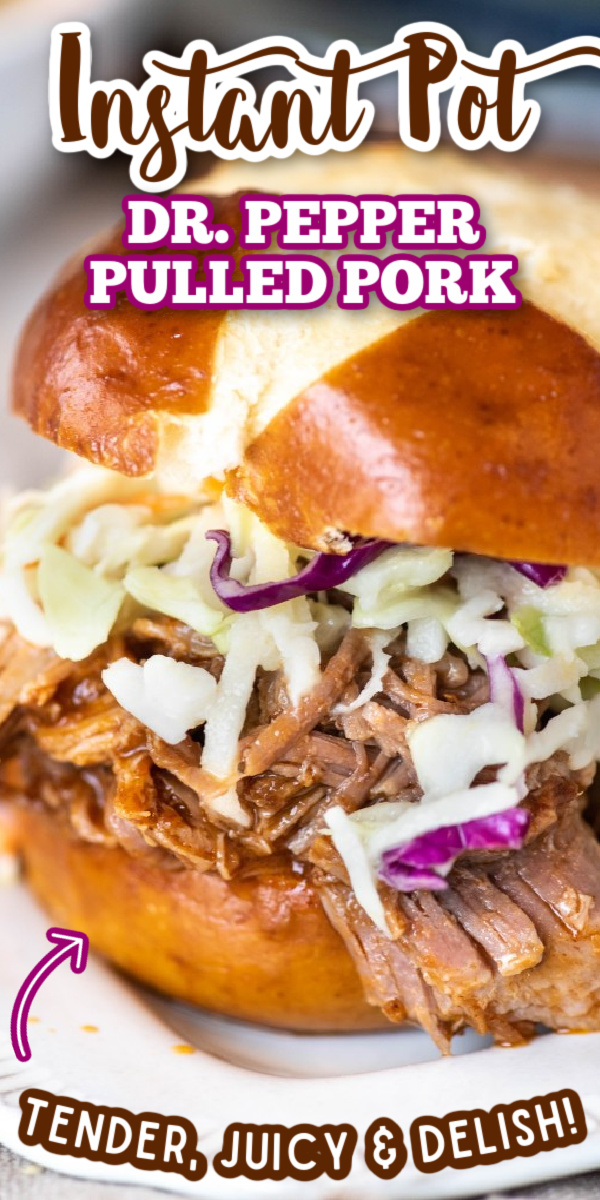 This Instant Pot Pulled Pork is made super simple by letting the flavors of Dr Pepper do all the work! Tender, juicy and smothered in a tasty BBQ sauce made from the drippings, this sandwich filler is absolutely killer!
This post brought to you by the Ohio Pork Association. All opinions and statements, as always, are my own.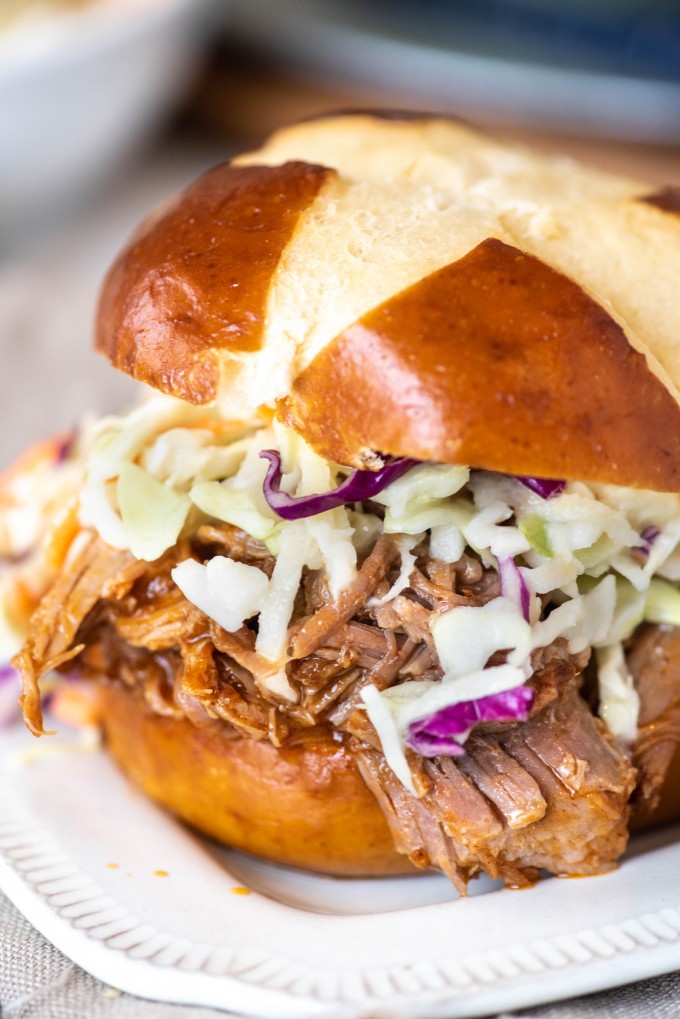 This is another great beginner recipe for the Instant Pot! So many of my family members got Instant Pots for Christmas this year, and our family group chat is now just an exchange of questions, tips and recipes that we've tried that night.
One of my favorite things to make in the Instant Pot has ALWAYS been a bone-in pork shoulder. If you want to get specific about it, this is actually my favorite cut of pork in general, but I think it really shines in the Instant Pot!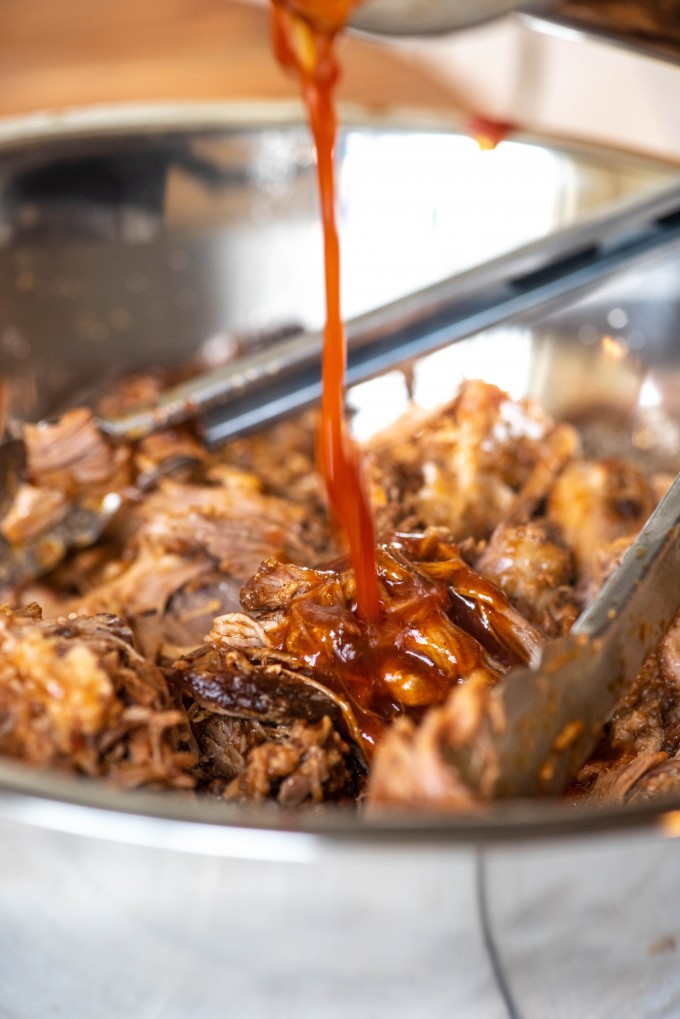 Normally, something like this would require an all-day bath in a slow cooker, but the Instant Pot is going to give you melt-in-your-mouth results in just about an hour and a half. You just can't beat that!
As I do with my Slow Cooker Pulled Pork, I made a sauce with the dripping and cooking liquid from this recipe- they were just too good to waste! If you don't want to do this, just top it with your favorite barbecue sauce.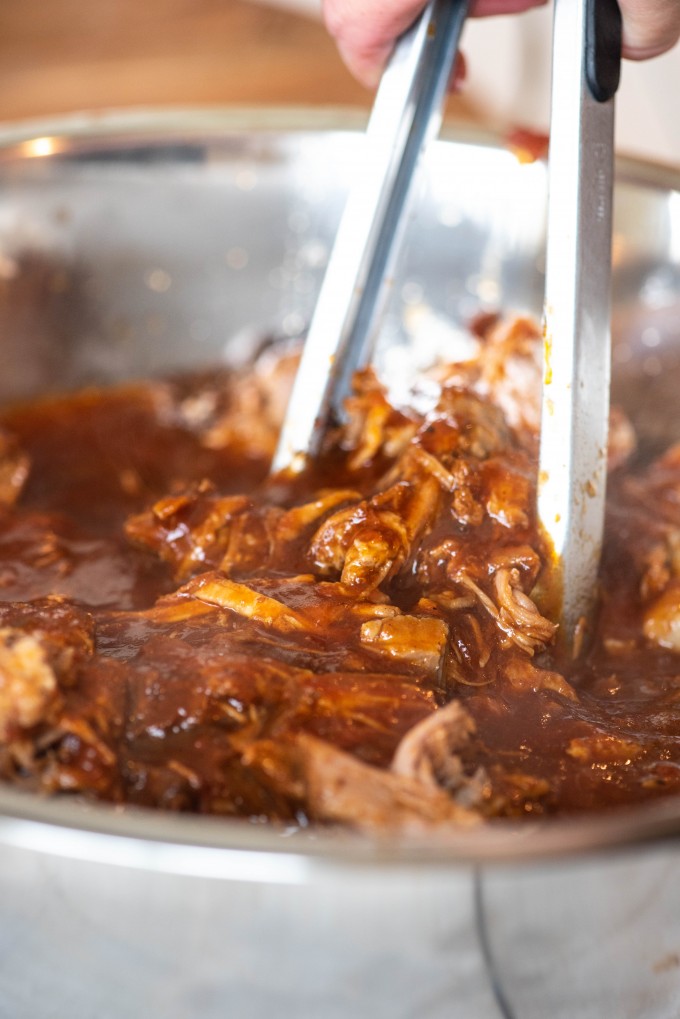 Recipe Tips:
Slow Cooker Instructions– Don't have an Instant Pot? Have one and still afraid to use it? No worries. You can make this in the slow cooker too. Omit the beef broth, stir together the Dr Pepper and ketchup, and pour it over the pork from the get-go.
One of the biggest determining factors for cooking time when it comes to pressure cooking is the SIZE of what you're making. We aren't talking about total weight here, more like individual piece size (think length x width x height). I started with a three pound pork shoulder here and cut it into about 6 pieces. The cooking time, had I not cut it up, would have been well into the 3 hour mark. I was comfortable setting my IP for 75 minutes after cutting the shoulder up, and it was perfect.
I far from consider myself an Instant Pot expert, but I've never had something not turn out or gotten a burn notice, so there's that. Being cautious, I didn't mix together the Dr Pepper and ketchup in the initial cooking step because I was worried about the sugar in both caramelizing and burning on the bottom of the pot. I always tend to be more cautious because when I get frustrated when cooking something…. well, let's just say you should run!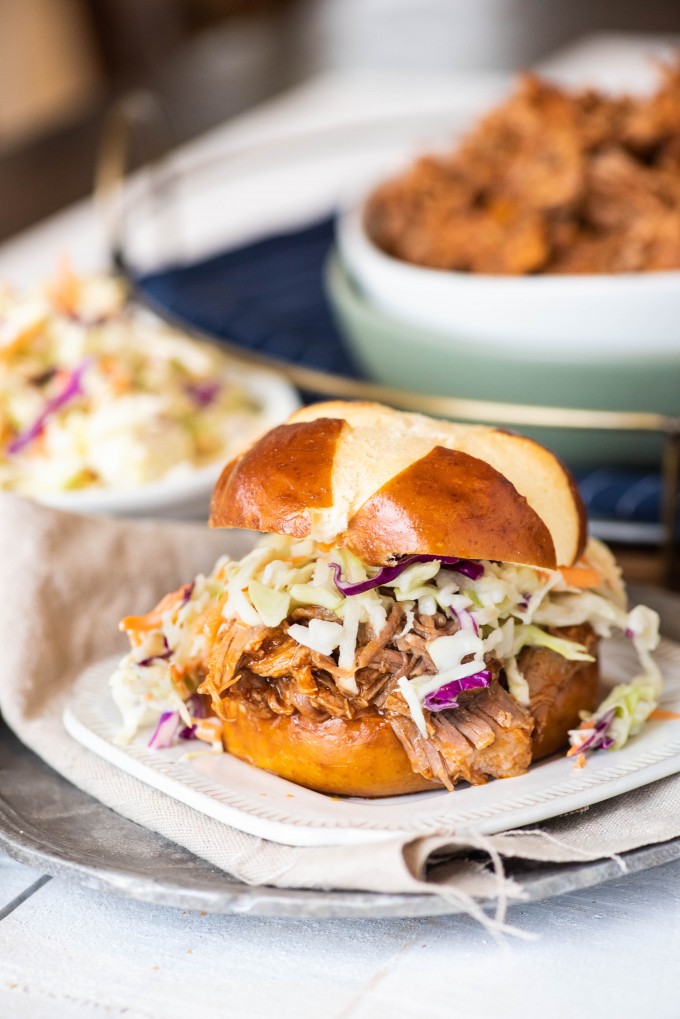 Equipment needed to make this Instant Pot BBQ Pulled Pork:
An Instant Pot or other pressure cooker. I have the 8 Qt DUO and it was JUST big enough for the pieces of this 3 lb roast.
A fat separator. I'd call this a necessity if you're making the sauce from the drippings. This baby will release a *LOT* of fat as it cooks, and you don't want to end up with a greasy sauce that just wants to separate out on you.
If you liked this Instant Pot Pulled Pork recipe, check out these ones:
Instant Pot Dr Pepper Pulled Pork
This Instant Pot Pulled Pork is made super simple by letting the flavors of Dr Pepper do all the work! Tender, juicy and smothered in a tasty BBQ sauce made from the drippings, this sandwich filler is absolutely killer!
Ingredients
3

lb

bone-in pork shoulder

BBQ Seasoning

at least 1/4 cup, either store-bought or homemade

1/2

cup

beef stock

2 1/2

cups

Dr Pepper

3

cups

ketchup

divided

2

teaspoons

liquid smoke
Instructions
Cut the pork roast into 5-6 pieces, making them as equal as possible. Season generously with barbecue seasoning.

Turn the Instant Pot onto SAUTE. When the pot reads "HOT," add 1 tablespoon olive oil to the inner pot. Add 2-4 pieces of pork to the pot in a single layer and sear on all sides. Repeat with remaining pork.

Deglaze the pot with the beef broth, using a wooden spoon or spatula to get any remaining browned bits off the bottom. Pour in the Dr Pepper, add the trivet to the pot. Lay the seared pork pieces on the rack. Pour 2 cups of the ketchup over the top.

Place and lock the lid on the pot. Make the sure the valve is turned to "SEAL" and set pot for 75 minutes at HIGH pressure.

When the pot finishes cooking, natural release for 15 minutes, then quick release the rest of the pressure. Use tongs to remove the pieces of pork to a large bowl and shred.

Use a gravy separate and carefully pour the drippings through the strainer. Do this until you have 6 cups of drippings (may take more than once, depending on the size of your separator.

Press CANCEL/OFF, then SAUTE. Pour the drippings back into the inner pot and whisk in the remaining cup of ketchup, as well as the liquid smoke. Bring the mixture up to a simmer and cook until reduced and thickened into a sauce. Pour over the shredded pork and stir to coat.