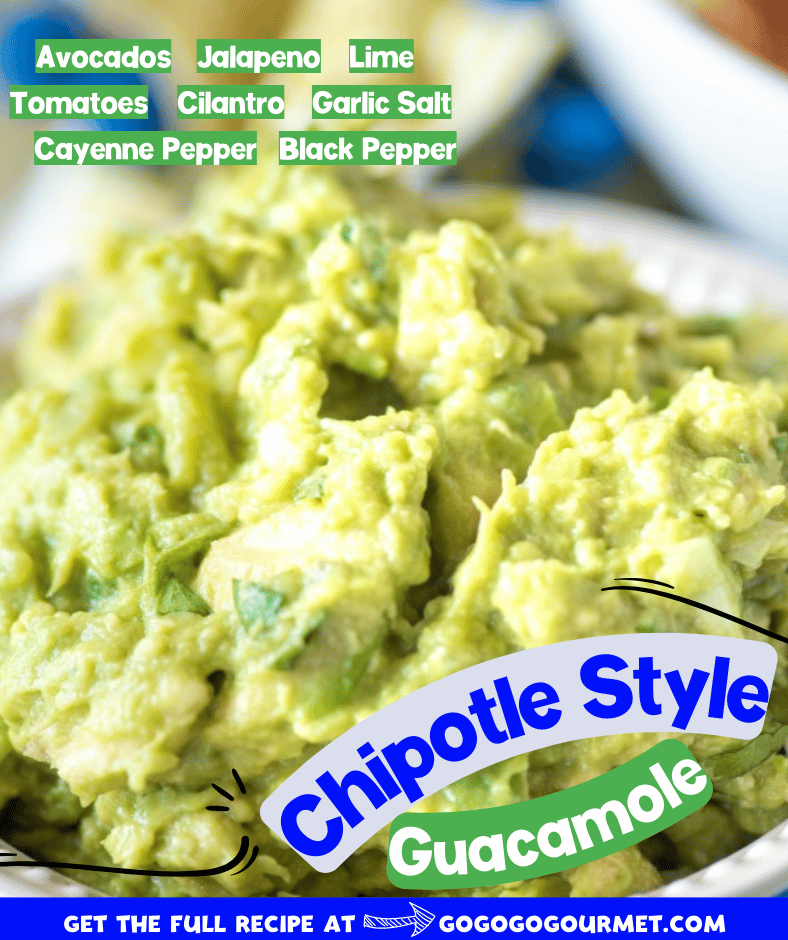 This easy guacamole recipe is the best! If you're baffled at how to make guacamole, look no further- we've got you covered in this all-in-one guide. So simple and easy with just five basic ingredients, its perfect for snacks, dinners and get togethers.
Sometimes getting back to "reality mode" "can be difficult. Case in point-Monday night. Dave worked all weekend, I drove back on Sunday. I spent yesterday going to the grocery store, going to the dry cleaners, going to the bank, and going to Sam's Club. After doing laundry and cleaning the house, I didn't feel much like cooking.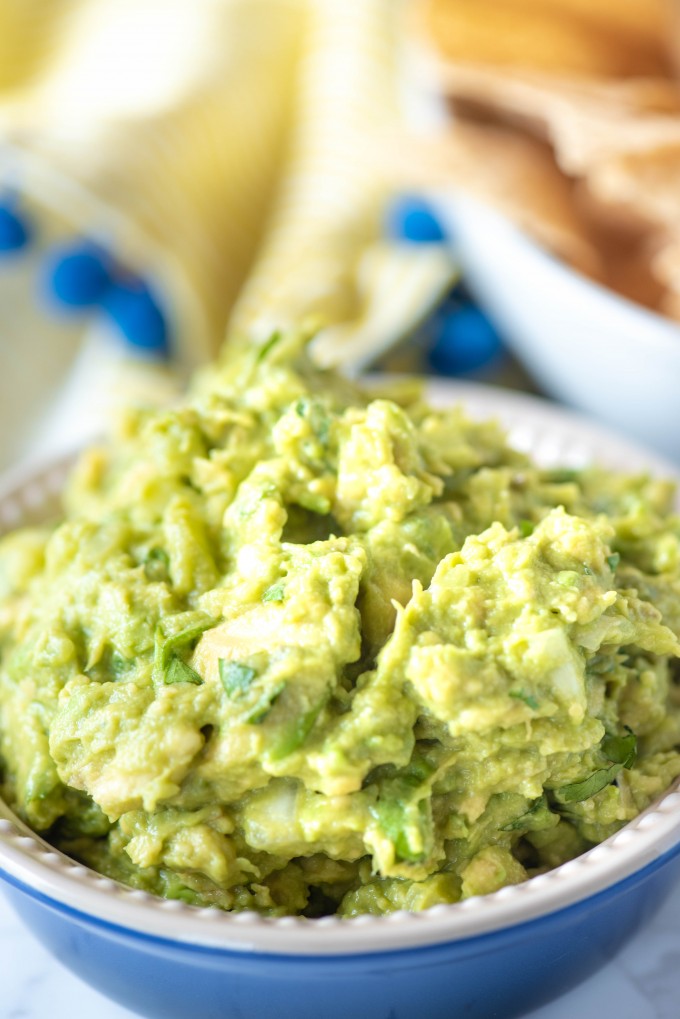 Everyone seemed to be clamoring for a snack around 5:30, so I decided to make some guacamole. I joined a great fruit and vegetable co-op in town, and it seems as though avocados are always in the basket. These avocados are totally different from what I'm used to.
No brown skin Haas avocados here, these are all large and with bright green outer skin. The first time I saw one, I actually thought it might be a papaya! The other thing I discovered is, as best I can tell, they don't brown. I don't know what kind of Florida witchcraft that is, but I can definitely get behind it.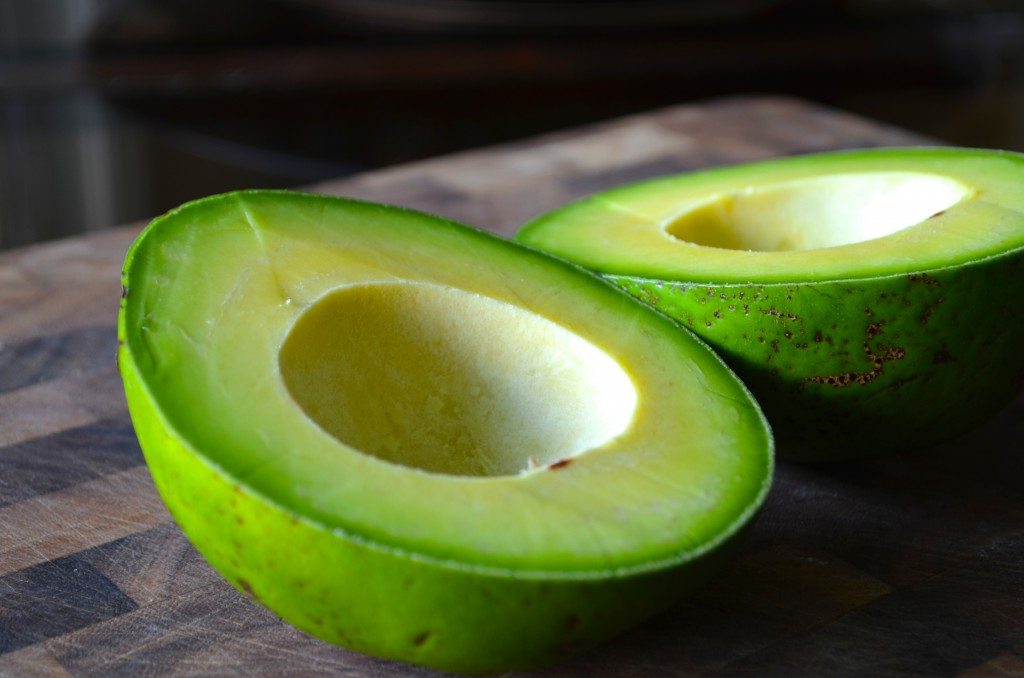 I didn't even think I LIKED avocados or guacamole until my bridal shower 6 years ago. My sister in law is a guacamole QUEEN- to the point where I made the theme of her bridal shower "Holy Guacamole, Lauren's Getting Married!" (I do have to tip my hat to David for coming up with that. Wasn't going to, but I knew I'd hear about it if I didn't.), and has gone to urgent care for stitches after depitting an avocado a little too enthusiastically.
But the girl's love of avocados has led her to whip up some damn good guacamole and get me hooked on it. I'm appropriating her less-than-exact recipe of "a little of this, a little of that" to the best of my ability, and I've got to be honest- I think it's pretty awesome. In fact, it remind's me a lot of Chipotle's guacamole.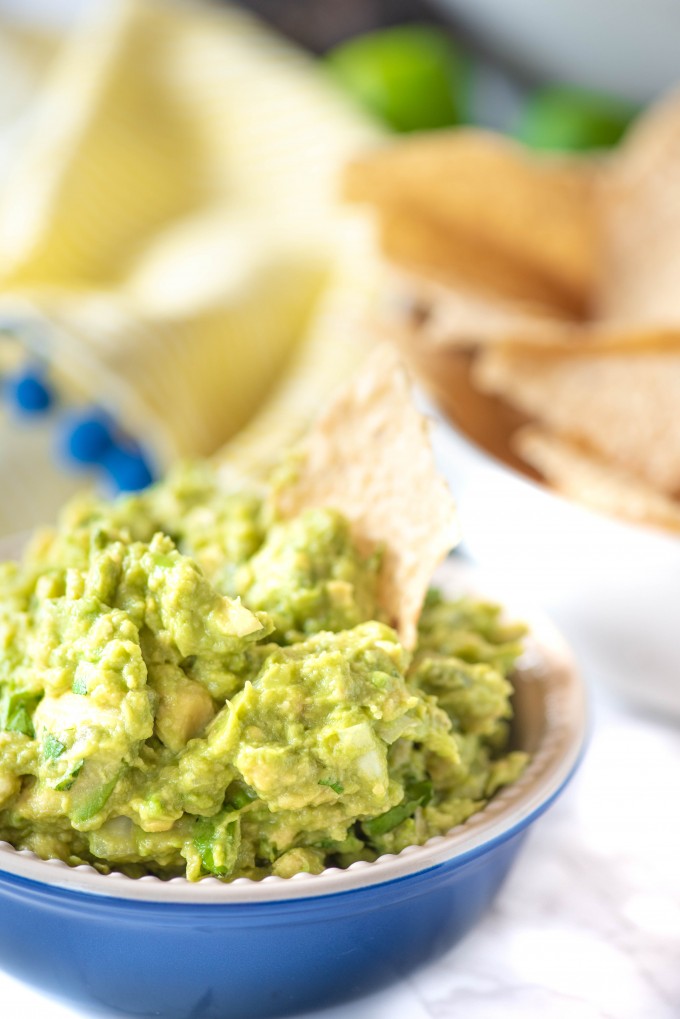 Recipe Tips:
You can use the green skin avocados that I talk about above, but you only need two. If you are using the traditional Haas avocados, you'll need three.
You can sub the garlic and salt that I call for with garlic salt. That's what the Guacamole Queen does. It's good both ways.
There are approximately 132,234 theories on how to keep guacamole from turning brown- putting the pit back in, squeezing lime over the top. Personally, I plan on just making enough for what I need for an afternoon or evening. Homemade guacamole isn't a great "leftover" food. The best way that I have found is pressing Saran Wrap against the surface of the guac to prevent air from getting in.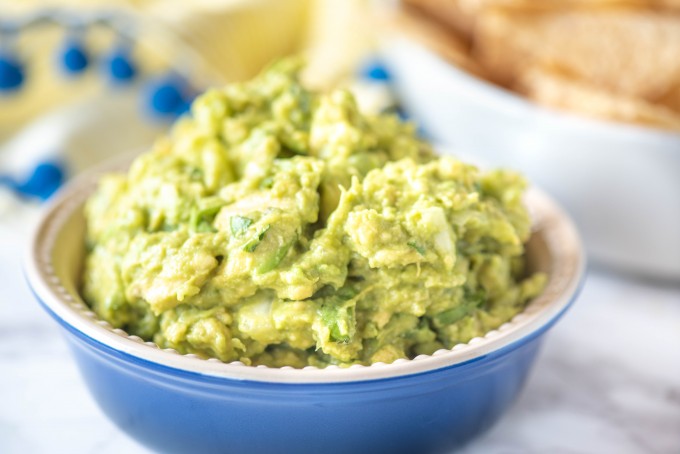 What you need for guacamole:
[easyazon_link identifier="B01HTYH8YA" locale="US" tag="gogogogo03-20″]Mixing bowl[/easyazon_link] bowl for obvious reasons. Bonus points if you use the traditional and beautiful [easyazon_link identifier="B001J3ZZ4I" locale="US" tag="gogogogo03-20″]molcajete[/easyazon_link].
[easyazon_link identifier="B06XKB6BG7″ locale="US" tag="gogogogo03-20″]Garlic Press[/easyazon_link]
[easyazon_link identifier="B002CGRVKW" locale="US" tag="gogogogo03-20″]Potato Masher[/easyazon_link]- stay with me here. The Guacamole Queen insists on it and has this one, which is pretty much the coolest potato masher I've ever seen to begin with. It sounds odd, but it really does do a great job mashing the avocado.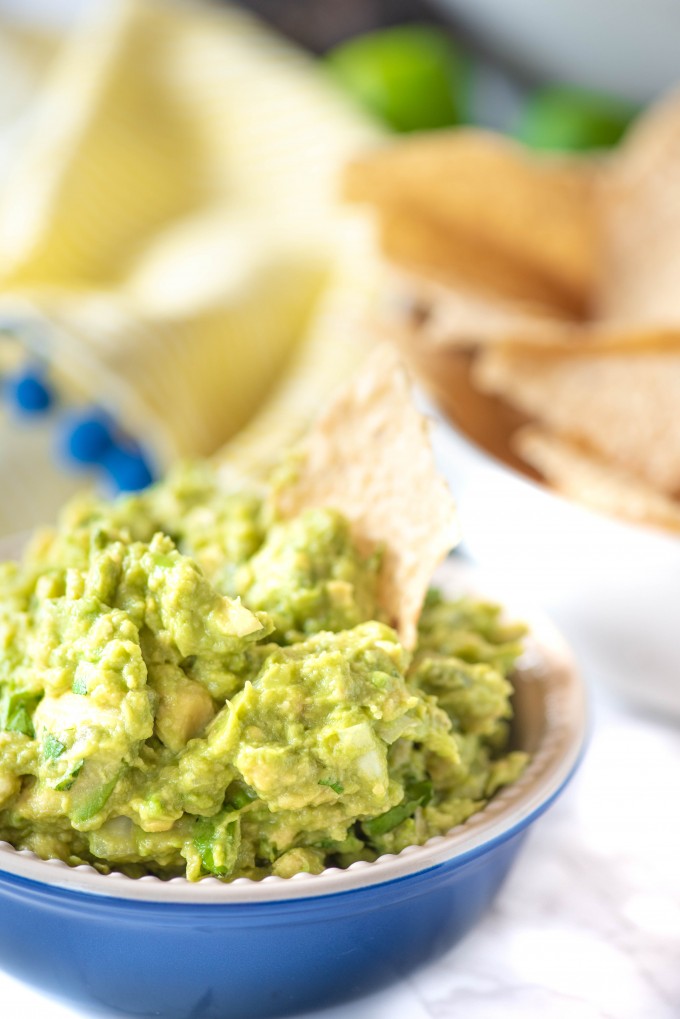 If you liked this chunky guacamole recipe, check out these other easy dips:
Guacamole
Ingredients
2

large ripe green-skinned avocados

pitted and scooped out

1/2

large tomato

seeded and chopped

1

jalapeño

chopped and seeded (or unseeded if you really want it to have some kick!)

1/4

c

chopped cilantro

1

lime

juiced

~1 tsp garlic salt

or to taste

1/2

tsp

cayenne pepper

or to taste

Freshly ground black pepper
Instructions
In a large bowl, coarsely mash the avocado. Add in cilantro, tomato, jalepeno and lime juice. Mix in seasonings according to taste. Serve with tortilla chips.

To store: Cover with plastic wrap, pressing it against the surface of the dip to prevent browning.
SaveSaveSaveSave