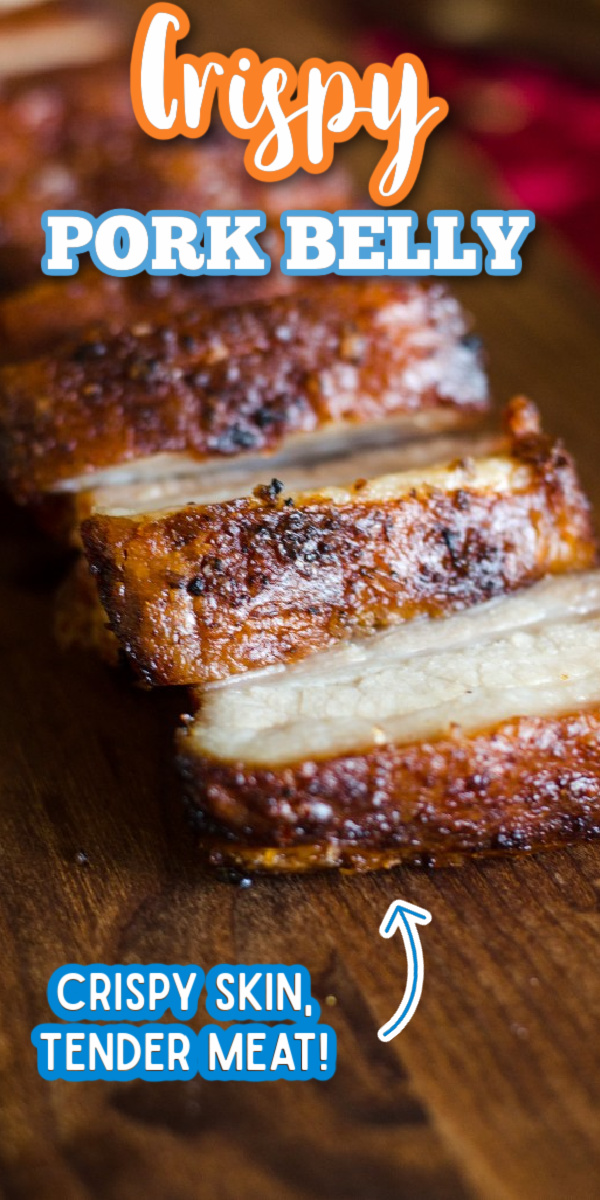 This Crispy Pork Belly recipe is marinated in Asian flavors, then roasted with a salt crust for crispy skin and tender meat. No scoring required!
Crispy pork belly is one of my new favorite foods for a variety of reasons:
The crunchy skin
The salty skin
The ungodly tender meat
It's usually dirt cheap
Its low-maintance
These are all the reasons that I'm sure you're going to love it as well. If you've never had it before, pork belly is the same cut of pig that bacon is made from. Cooked low and slow, the fat slowly melts into the meat, leaving behind tender meat that practically melts in your mouth.
It's incredibly easy- all you do is marinate it for awhile, sky the skin, top it with salt and then slow roast it for a couple hours. Not only does this make it a great dinner option, it makes a FANTASTIC party appetizer- you have the ability to prepare a lot of it at once without a lot of hands-on muss and fuss, leaving yourself open to do other things.
As far as meat goes, it's also on the cheaper side- about $3/lb or less. When shopping for your meat, make sure that you ask for a piece that has a decent amount of meat on it- some pieces can be mostly fat, not leaving you with much to eat when you're done.
How to Make Crispy Pork Belly
Now let's talk about the salt crust. I've prepared this a few different ways over the past couple of years- you can score the skin (a necessity, or the skin will pucker while cooking and be very difficult to cut) or do a salt crust. Although perhaps a salt crust sounds as though it might be complicated or leave your food crazy salty, I'm here to assure you that neither is true. Doing a salt crust simply involves spreading a large amount of salt over the surface of your meat, then removing it after a couple of hours. It will lift off in one nice, solid piece, leaving behind a nicely seasoned skin. If you have any salt stragglers, just brush it off.
Both methods work; in fact, I cut my pork in half and prepared each half differently. Both pieces turned out deliciously, but I think I may have preferred the salt crust preparation just a little more. If you're uncomfortable attempting the salt crust, you'll have perfectly fine results with by scoring the skin. If you're scoring the skin, rub it with a little sesame oil and season with salt before baking.
Either way, AND THIS IS IMPORTANT, make sure the skin is dry before it goes into the oven. This is absolutely essential, or the skin will basically turn into leather. When you are marinating the meat, do so in the fridge so that the skin is exposed to air and the marinade does not reach the skin. Overnight is best here, but you can get away with 4 hours.
Like what you see? Subscribe to Go Go Go Gourmet's weekly newsletter to keep up on what's going on around here and get a free ebook on how to simplify your weeknight dinner making. You can also follow me on Facebook, Pinterest and Instagram to see what I'm up to!
What you'll need for this recipe:
Baking dish-

These [easyazon_link identifier="B00N1BYMLS" locale="US" tag="gogogogo03-20″]Glass Baking Dishes[/easyazon_link]

are great for using to marinade your pork overnight.

Half sheet pan-

This

[easyazon_link identifier="B000G0KJG4″ locale="US" tag="gogogogo03-20″]Baker's Half Sheet[/easyazon_link]

is great for any kind of cooking. You'll get some great use out of it!

Wire rack-

I recommend using a

[easyazon_link identifier="B00OY91N90″ locale="US" tag="gogogogo03-20″]Baking Rack[/easyazon_link]

for cooking your pork and easier clean up!

Basting brush-

This [easyazon_link identifier="B015COKN5A" locale="US" tag="gogogogo03-20″]Silicone Basting Brush[/easyazon_link] will come in handy for spreading sauces in your recipes!
If you like this Crispy Pork Belly recipe, check these out:

SaveSave
SaveSave