This post brought to you by Fresh from Florida. The content and opinions expressed below are that of Go Go Go Gourmet.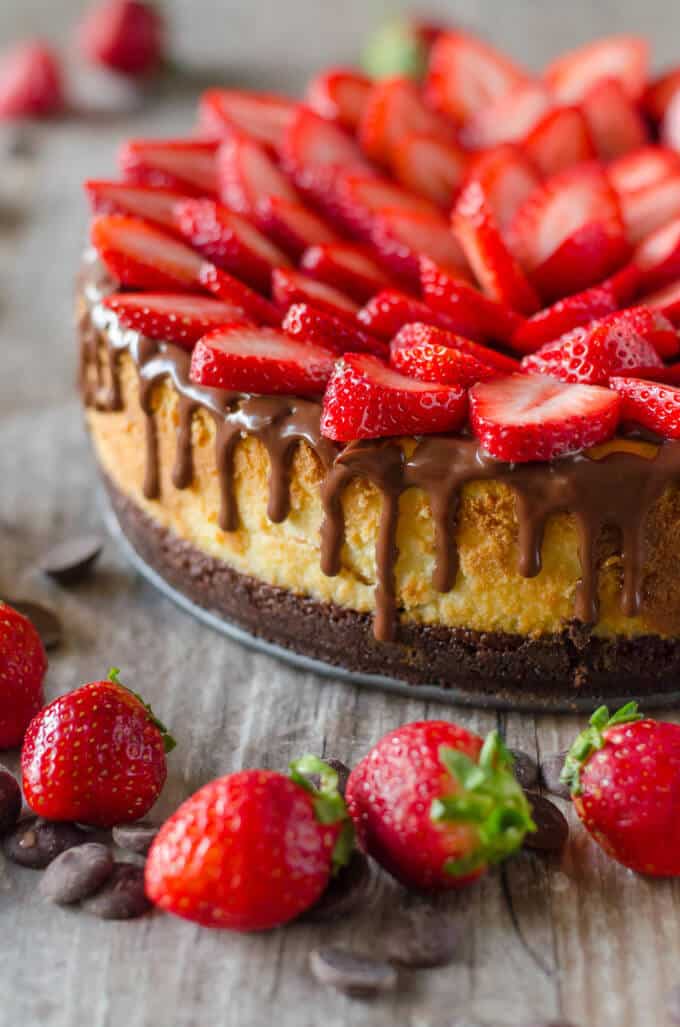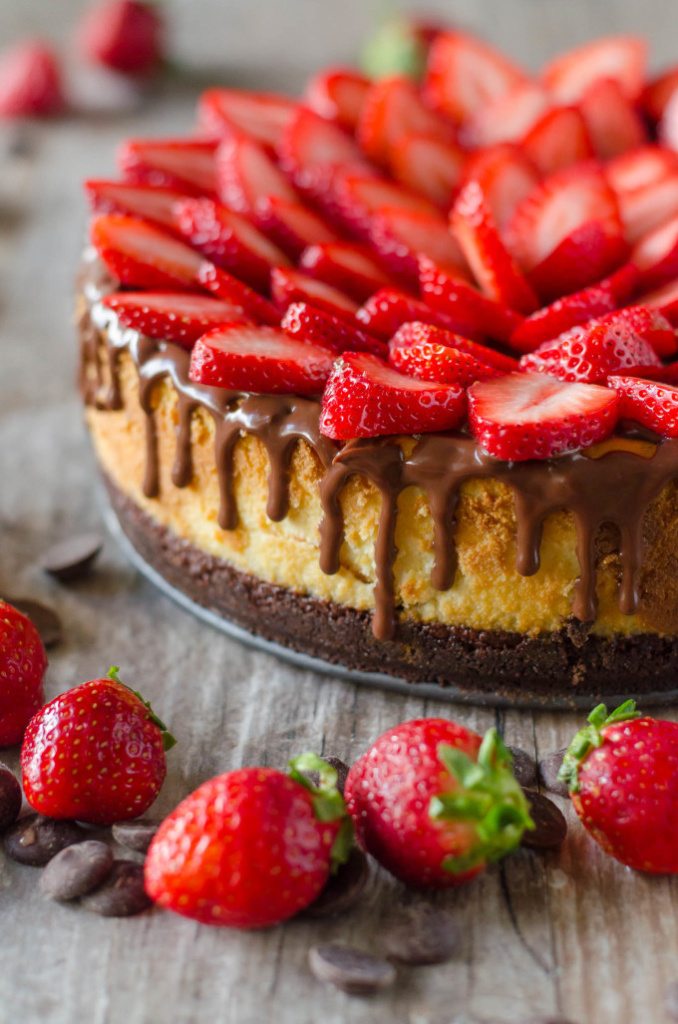 This cheesecake. It might as well be a work of culinary art- at least in my opinion. You might find it interesting that it has taken me two years to post a cheesecake recipe. The reasons for this are two-fold.
I am not generally a cheesecake person. It makes me feel like I need to call my primary care doctor and apologize after I eat a piece. I tend to find them overly sweet, overly dense, and I can rarely finish a slice.
I think they are too finicky to make. Use a water bath, use room temp ingredients, don't overmix, let it cool gradually in the oven. I do all of that and then I still end up with huge cracks on the top. I don't have time or patience for that kind of foolishness.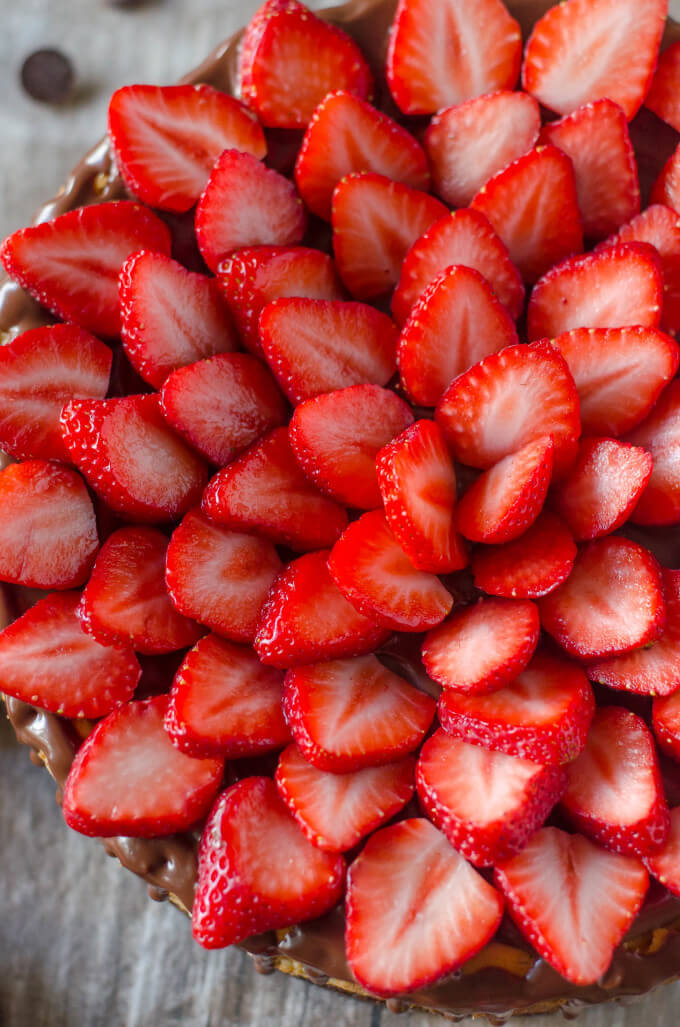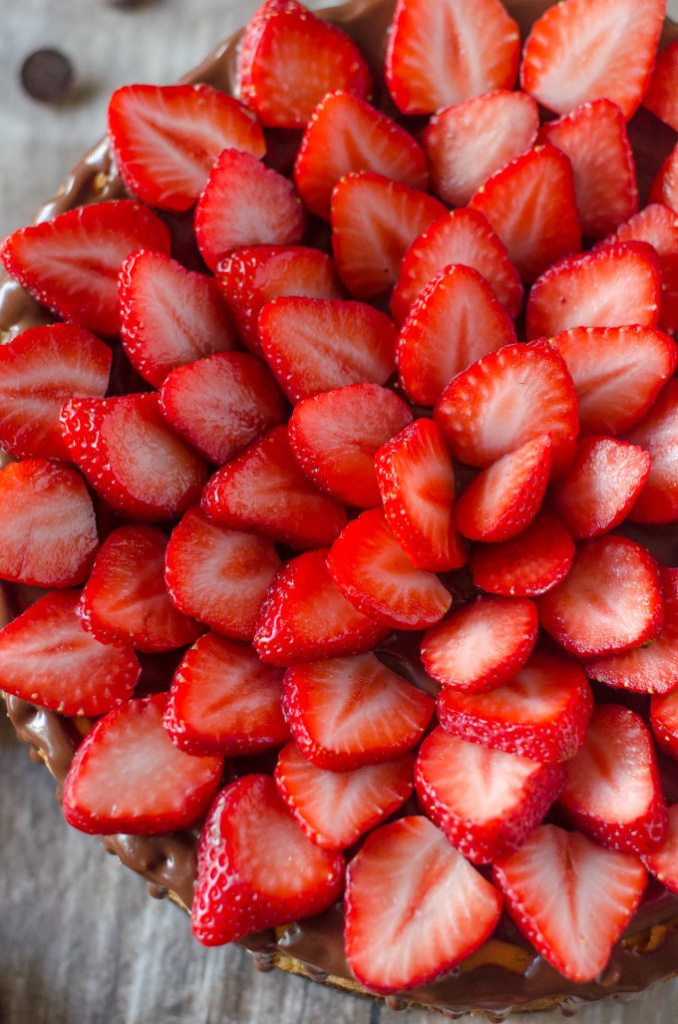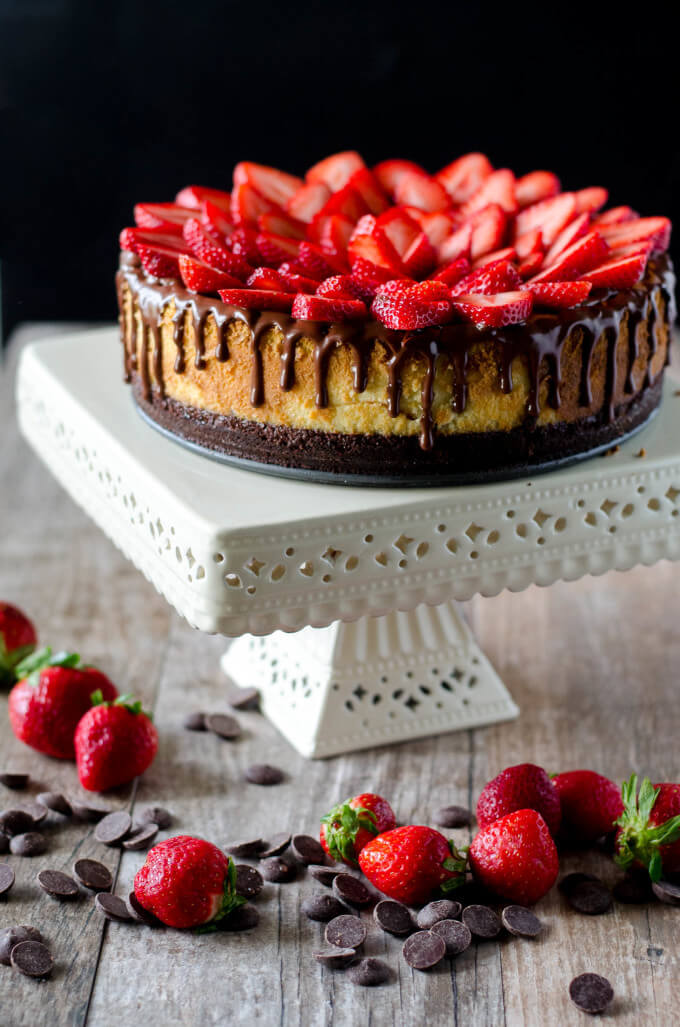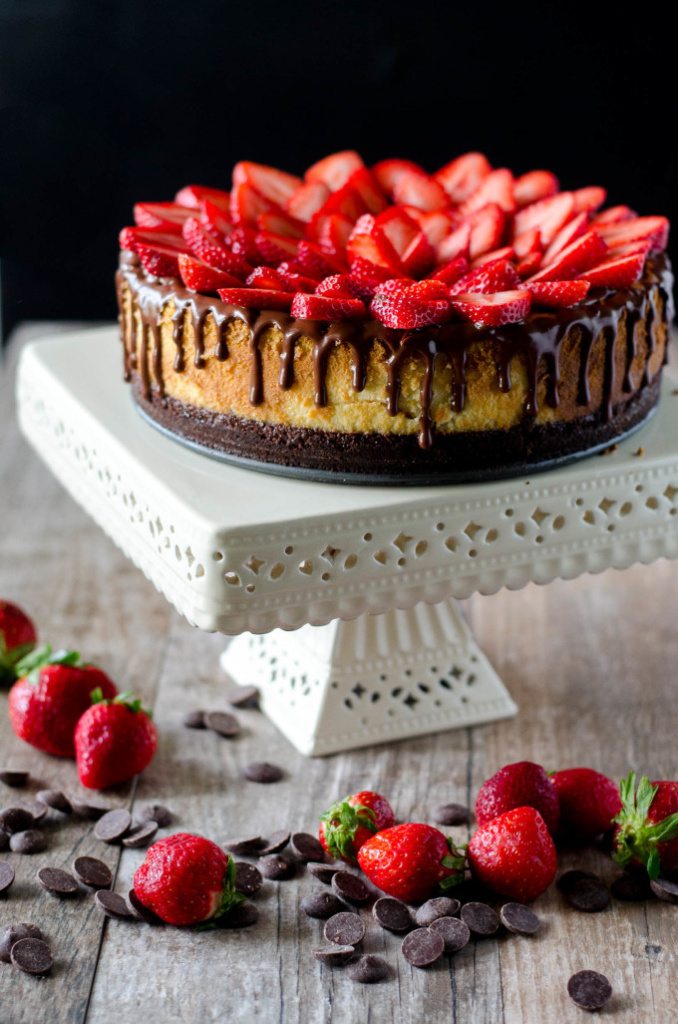 Interestingly, however, I am super in the mood for cheesecake (who are we kidding, ALL desserts) during this pregnancy. After a lot of skulking around on the internet, I came up with this cheesecake filling. I've used it three times now, and it hasn't failed me yet. It is incredibly simple, not temperamental, fluffy and not give-you-diabetes sweet. I love it. I came up with an incredible version for our holiday party this past December, and wanted to do the same for Valentines Day.
The strawberries in season right now in Florida are amazing- before moving here last year, I had no idea that strawberries were grown in Florida, let alone that they are a HUGE DEAL. There are a few things that make winter in Florida preferable over winter in the Midwest- and fresh strawberries are one of them!
What is super popular for V-day? Chocolate covered strawberries. Luckily, there is an abundance of Fresh from Florida beautiful strawberries around right now, so I made this beauty. There is a chocolate graham crust, topped with a layer of chocolate ganache, my new favorite filling, then topped with more chocolate ganache and succulent strawberries. Feel free to fall in love.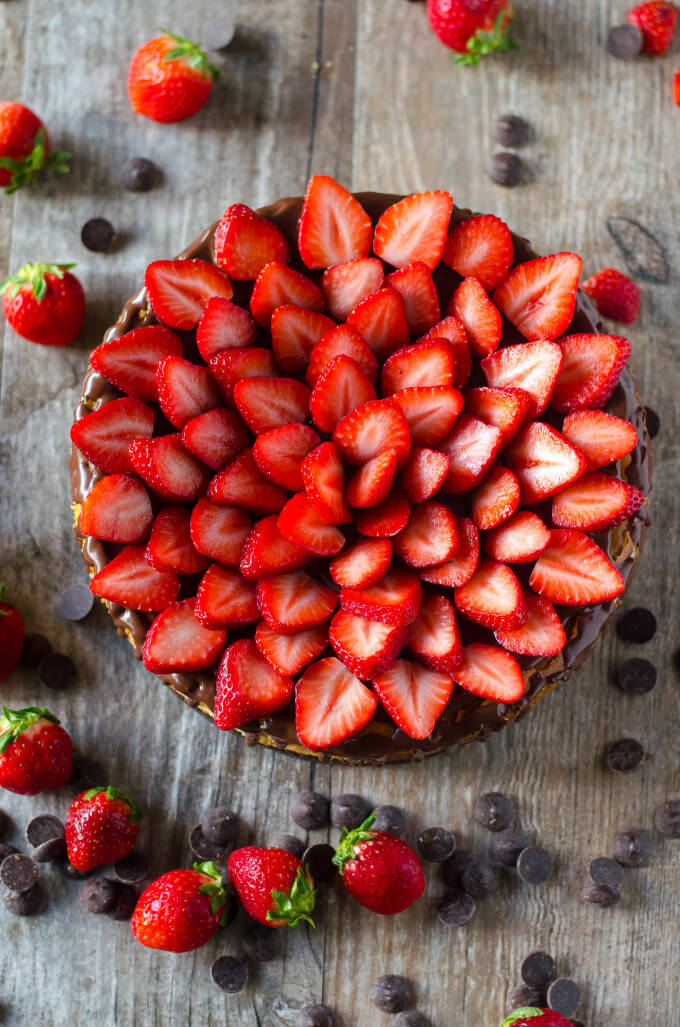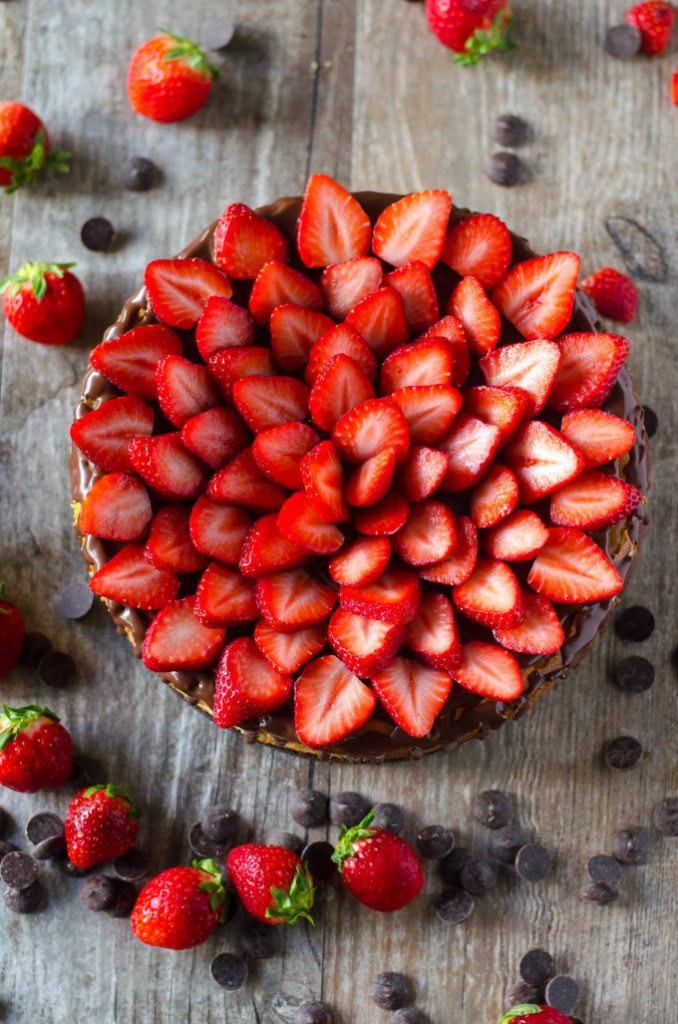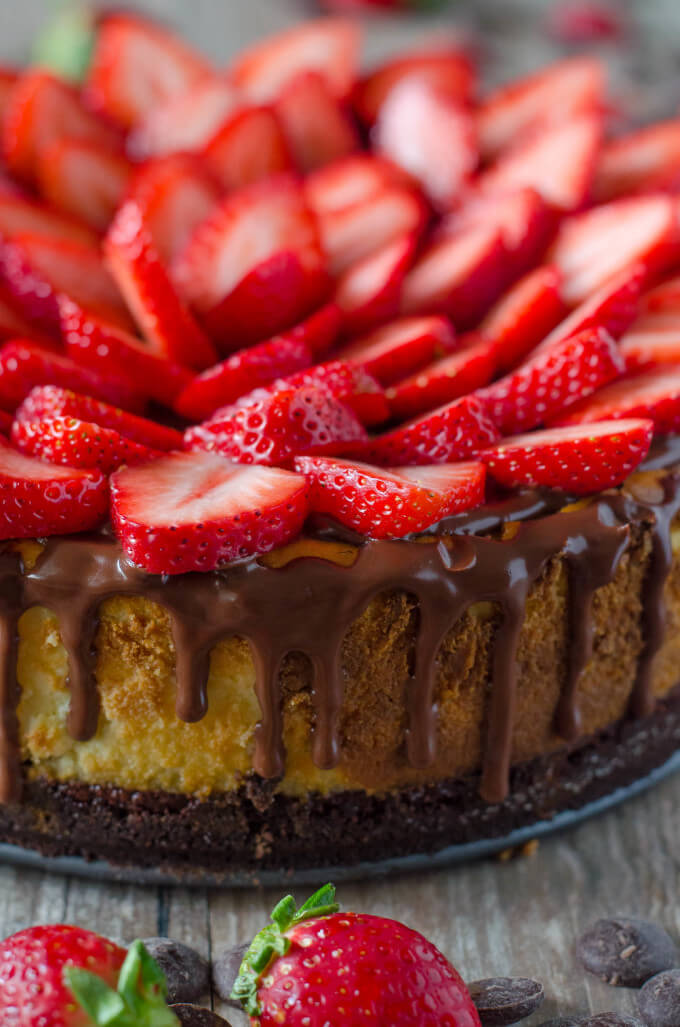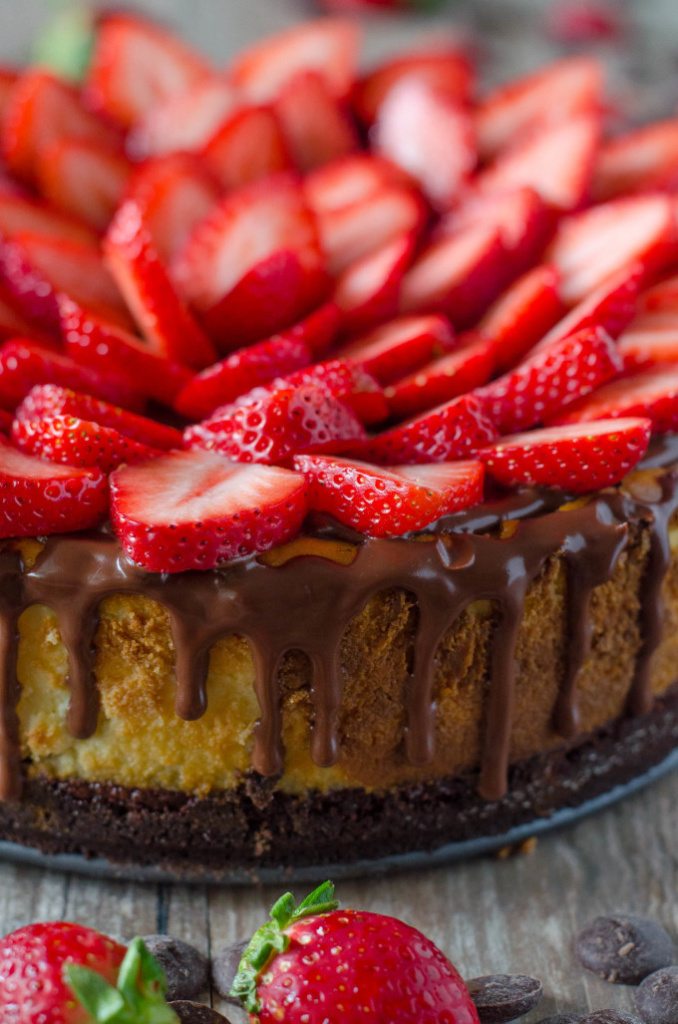 Chocolate Covered Strawberry Cheesecake
Ingredients
18

chocolate graham crackers

3/4

cup

butter

melted

1

cup

cream

8

oz

chopped bittersweet chocolate

4- 8

oz.

packages cream cheese

room temperature

1 1/2

cups

sugar

6

eggs

room temperature

2

tsp

vanilla

For the topping:

1/2

cup

cream

3

oz

bittersweet chocolate

1

pint

strawberries

sliced
Instructions
Preheat the oven to 350F.

Place the graham crackers in the bowl of a food processor. Run until finely ground, then pour in the melted butter with the machine running. Scrape down the sides and pulse a few extra times to make sure that the crumbs are evenly coated. Press into the bottom of a 9 inch springform pan.

For the ganache: Heat the cream in the microwave for 90 seconds. Pour over the chocolate and let sit for 1 minute. Stir until creamy and melted, with no lumps remaining.

Pour the chocolate over the cookie crust in the pan; spread to edges. Place in freezer for 30 minutes.

In the bowl of a stand mixer, beat together the cream cheese and sugar until fluffy. Add the eggs, one at a time, scraping the bowl between eggs. Add the vanilla and beat on medium speed for 1 minute.

Pour into prepared pan and place on a baking sheet. Bake in preheated oven for 60-70 minutes, until the top is lightly browned and the middle is just a little jiggly. Turn off the oven and open the oven door. After ten minutes, remove from oven and cool for another 30 minutes. Place in refrigerator until cool.

For the topping, repeat the process used for the ganache: microwave the cream for 60 seconds, pour over chocolate, let sit, then stir. Pour over the top of the cooled cheesecake, allowing it to drip down the sides. Arrange sliced strawberries over the top before the chocolate hardens.
Looking for other strawberry ideas?
I made an amazing Strawberry Ice Cream last year that has a secret ingredient in it to keep it scoopable!
Feeling thirsty? The Strawberry Muddle features fresh strawberries and champagne!
Beautiful Strawberry Napoleons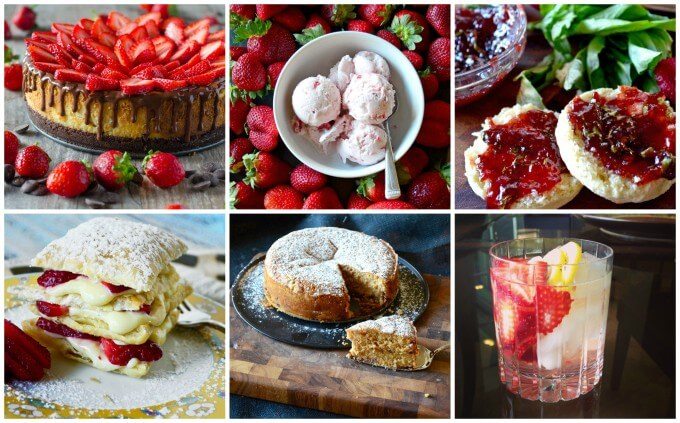 You can also follow Fresh from Florida on Facebook and Fresh from Florida on Twitter to get even MORE ideas! Head to the store and pick up some of these beautiful berries ASAP and look for the Fresh From Florida logo when you are out shopping or dining at local restaurants!