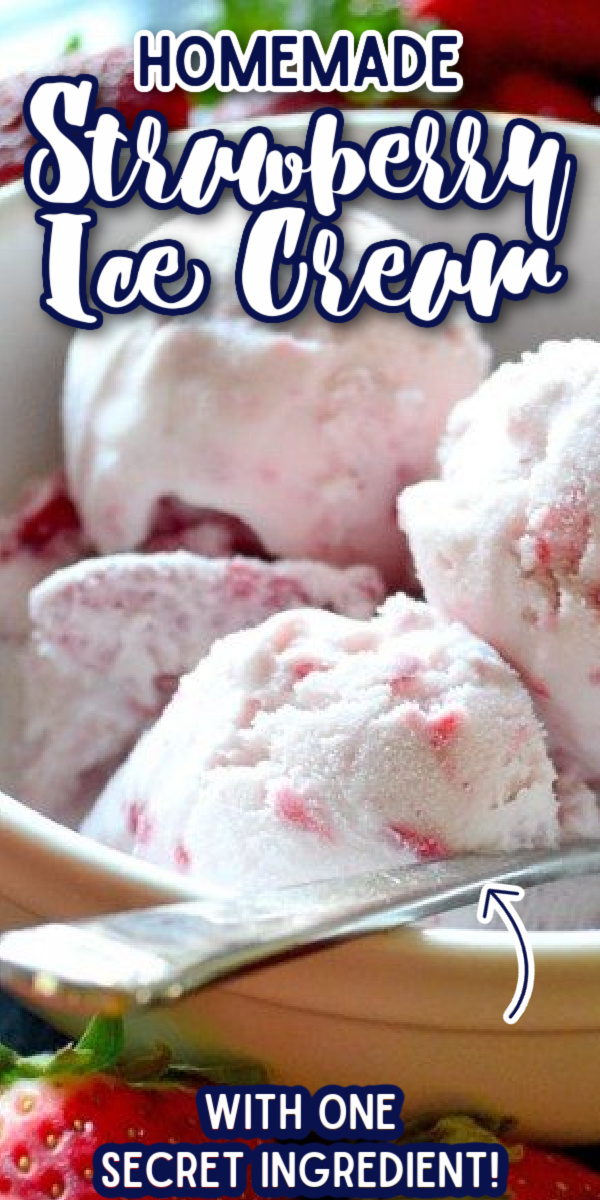 With fresh strawberries and simple ingredients, you can make your own Strawberry Ice Cream at home! Plus check out my secret ingredient for soft, scoopable ice cream!
I found another casualty of our move.
I had decided to make some homemade strawberry ice cream with some of the in season strawberries. I made a base, chopped up and puréed some strawberries, mixed it together and poured it into the freezer bowl for my ice cream maker. I switched it on. There is a horrible loud, grinding motor sound and the bowl did not turn. I tried again. Nothing.
I was instantly annoyed, because if you have ever used an ice cream maker before, you know that the mixture starts to freeze IMMEDIATELY. I quickly changed direction and scraped it out of the freezer bowl and into a regular freezer-safe container. I thought maybe I could get away with not churning it.
Can I? The short answer is that I'm not really sure. It was delicious, but hard as a freaking rock! This didn't really surprise me, because homemade ice cream (especially strawberry ice cream) tends to do that regardless- and for my re-do, I was going to try and find a fix for it.
So after I scooped up a replacement machine, I did some reading- there were various potential solutions involving the milk vs. cream content, eggs, sugar, etc, but what really caught my idea was the idea of using a VERY SMALL of alcohol to keep it from freezing totally. I figured this was the easiest theory to test, and it seemed like the most logical one to me- you know, since alcohol doesn't freeze. Duh. Why didn't I think of that?
Worked like a charm! The ice cream was scoopable and delicious- absolutely perfect!