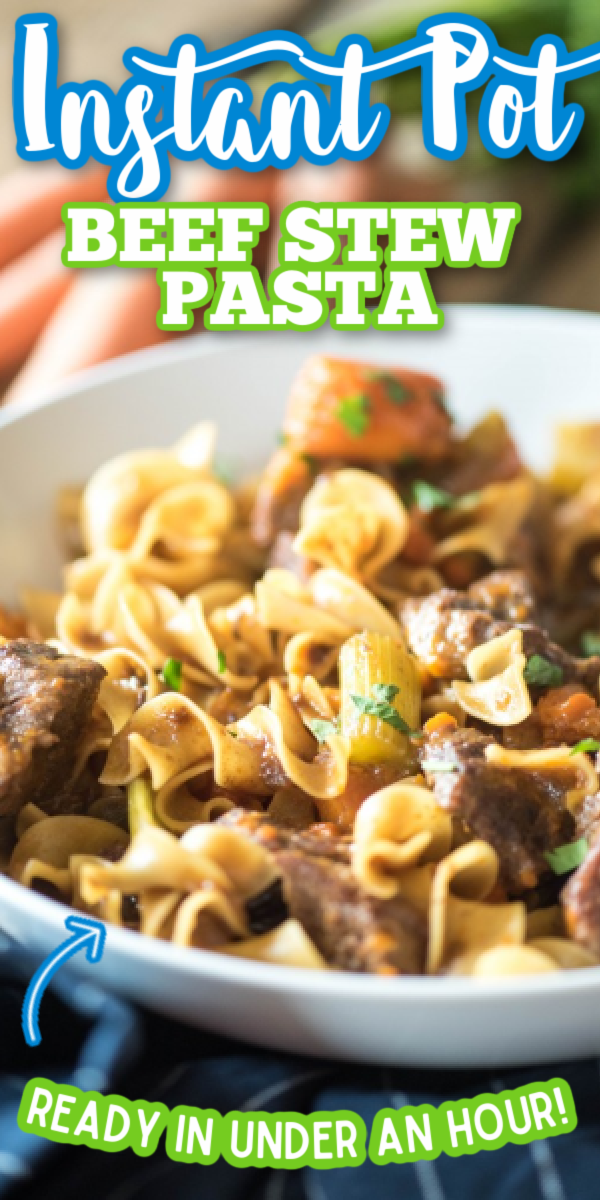 This Instant Pot Beef Stew Pasta is a fabulous way to combine the flavors of warm and comforting beef stew with the heartiness of beef and noodles.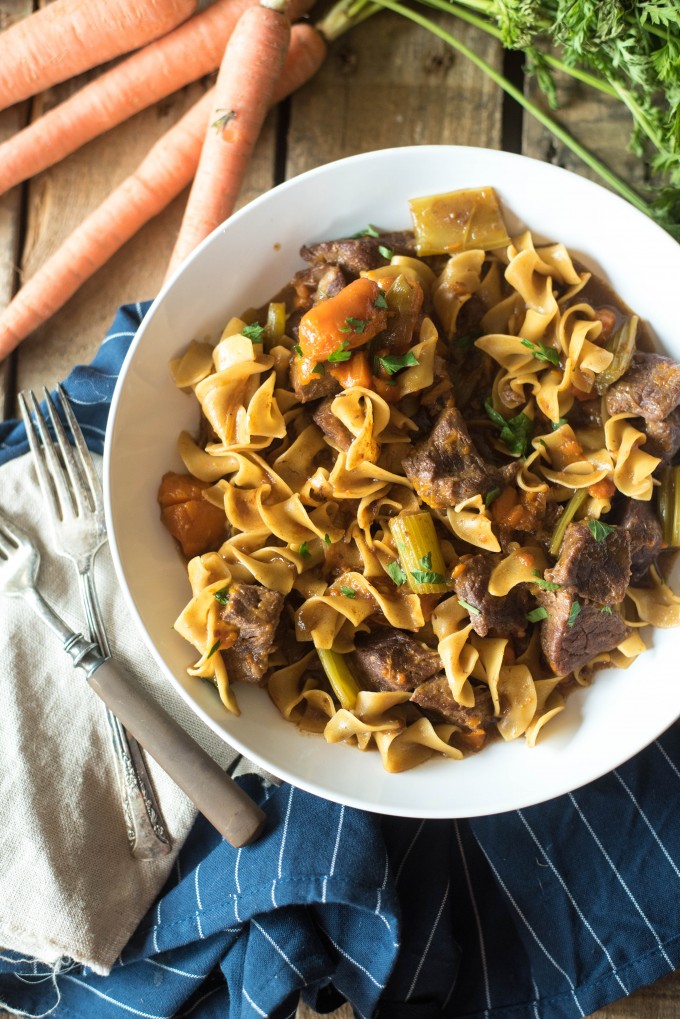 I learned a couple of things last week:
People really love beef and noodles. Like, a lot.
People have a strong will to defend the word "Amish," and don't like when you use a slow cooker or any premade ingredients in a recipe with that in the title;
People have never combined noodles and mashed potatoes before. Therefore, they haven't really lived.
My Slow Cooker Beef and Noodles went bonkers viral on Facebook for the three reasons listed above. It was a pleasant surprise, and signaled to me that I am not the only one ready to see a nip in the air.
It dipped into the mid-60s here the last two days, and even though I'm sure many people were staunchly unhappy about that, I was thrilled. I am so ready for the end of summer. I have been locked into a perpetual summer for three years and I can't wait for the change of seasons.
I can definitely feel it creeping in.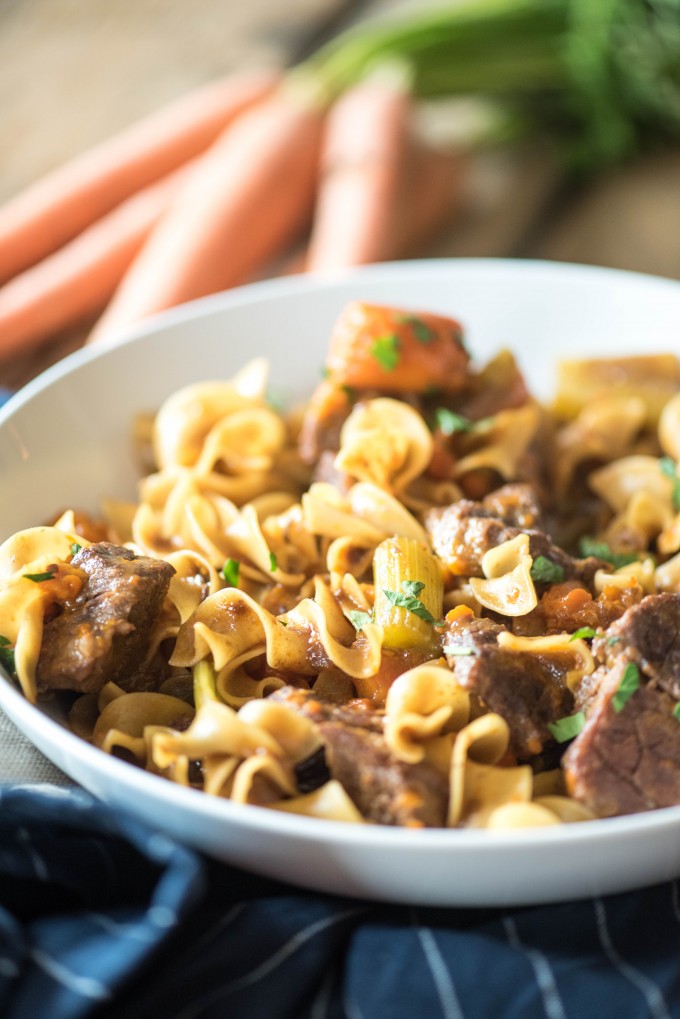 I got my[easyazon_link identifier="B00FLYWNYQ" locale="US" tag="gogogogo03-20″]Instant Pot[/easyazon_link] on Amazon Prime Day, and have loved getting familiar with it. I'm still learning how to use my pressure cooker, but I'm less convinced that I'm going to blow my kitchen up than I was, and I definitely love the results that I am getting from it so far. This recipe DEFINITELY included.
[easyazon_infoblock align="none" identifier="B00FLYWNYQ" locale="US" tag="gogogogo03-20″]
I had the idea to make a combination of beef stew and pasta awhile back. I had originally intended to do it in my slow cooker, but once I started playing around with the Instant Pot, I decided to figure out how to do this Instant Pot Beef Stew Pasta instead.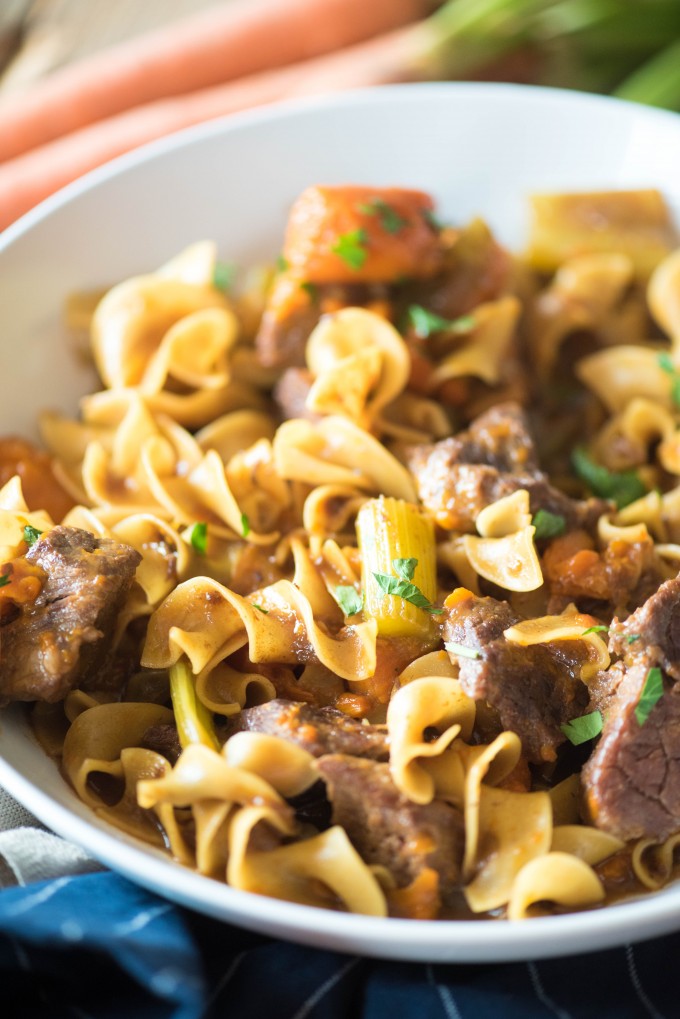 I am so glad that I did, because it turned this meal into something that I could do in under an hour- and those are my favorite kinds of meals. I packed half of this up and took it over to my in-laws as a thank you for watching the kids. They were really grateful to not have to cook that night, and sent me a text the following morning to let me know how phenomenal the dish was.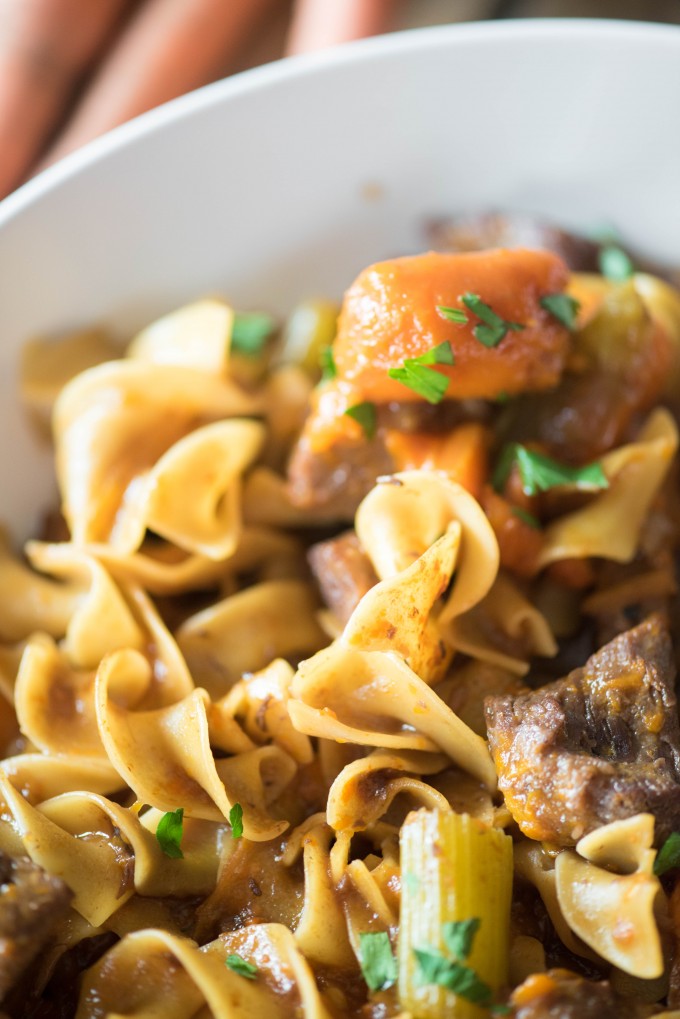 The concept behind the dish is quite simple- all the flavors of a great beef stew, with minimal ingredients and time, plus pasta (because everyone in this family loves their carbohydrates). The two soup bases provide great flavor to the beef, and cooking the egg noodles right in the broth makes them absorb everything in the dish as well.
David described the dish as "rich," which I interpreted to mean "seasoned," and he was right- it had very bold tastes, without being overly anything, including salty. A definite repeater!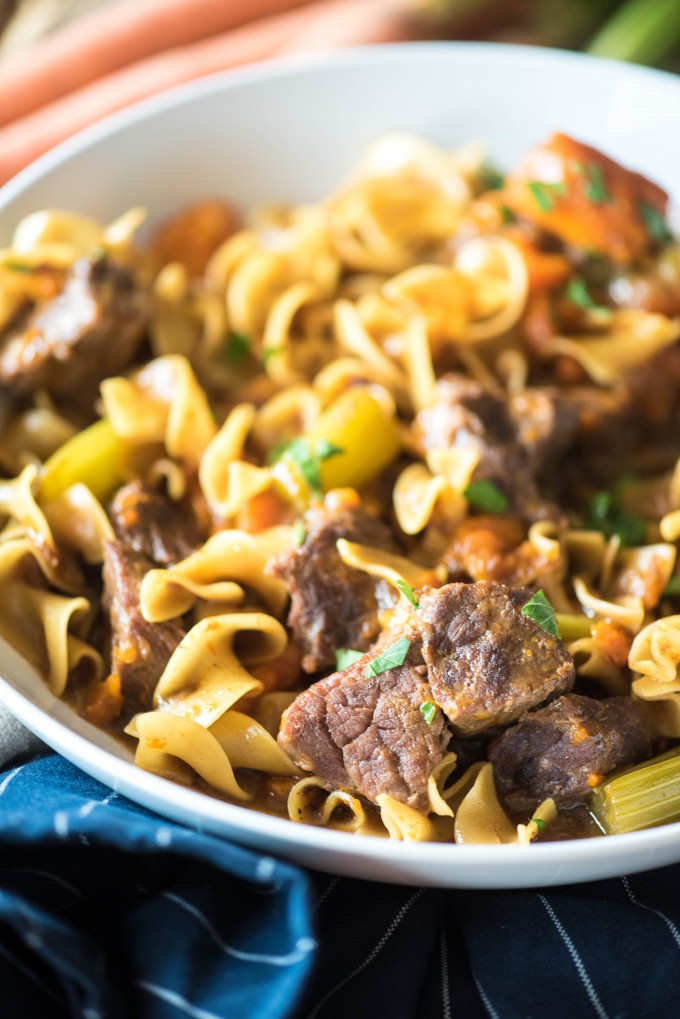 If you like this Instant Pot Beef Stew Noodles, check out:
Note: In the video, you will notice that I stir in the noodles first, then the brown gravy mix. I have changed this in the recipe- I felt like the carrots broke up too much when trying to stir in the thickener with the noodles. I recommend stirring that in first, then carefully folding in the noodles.
Instant Pot Beef Stew Pasta
Ingredients
1 1/2

lbs

stew beef

cubed

salt and pepper

1

tablespoon

olive oil

5

carrots

peeled and cut into 1

4

ribs celery

cut into 1

1

can condensed French onion soup

1

can condensed beefy mushroom soup

1

cup

water

1

package brown gravy mix

8

oz

egg noodles
Instructions
Heat 1 tablespoon olive oil in the inner pot on the Saute setting. Add beef to pot, season with salt and pepper, and brown on all sides.

Add the carrots, celery, soups and water to the pot. Set on "Meat" for 25 minutes, then natural release for 10 minutes.

Stir in the brown gray mix, then carefully stir in the noodles, trying to minimize the amount you break up the carrots. Set to "sauté" and cook for another 5 minutes, loosely covered with the lid, until the noodles are tender.