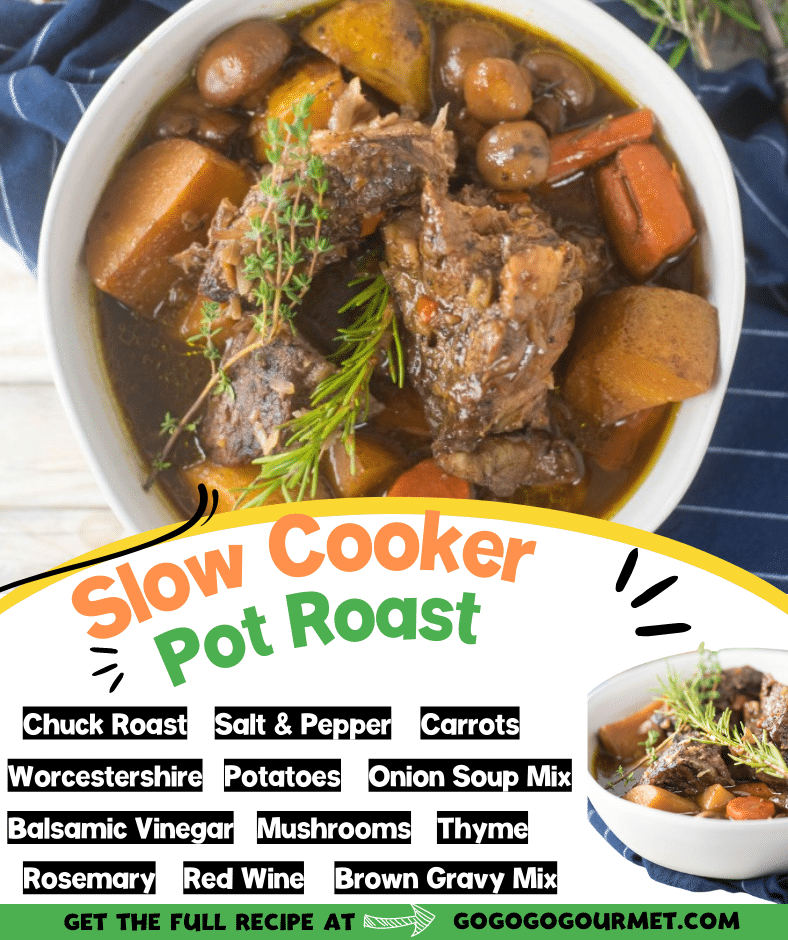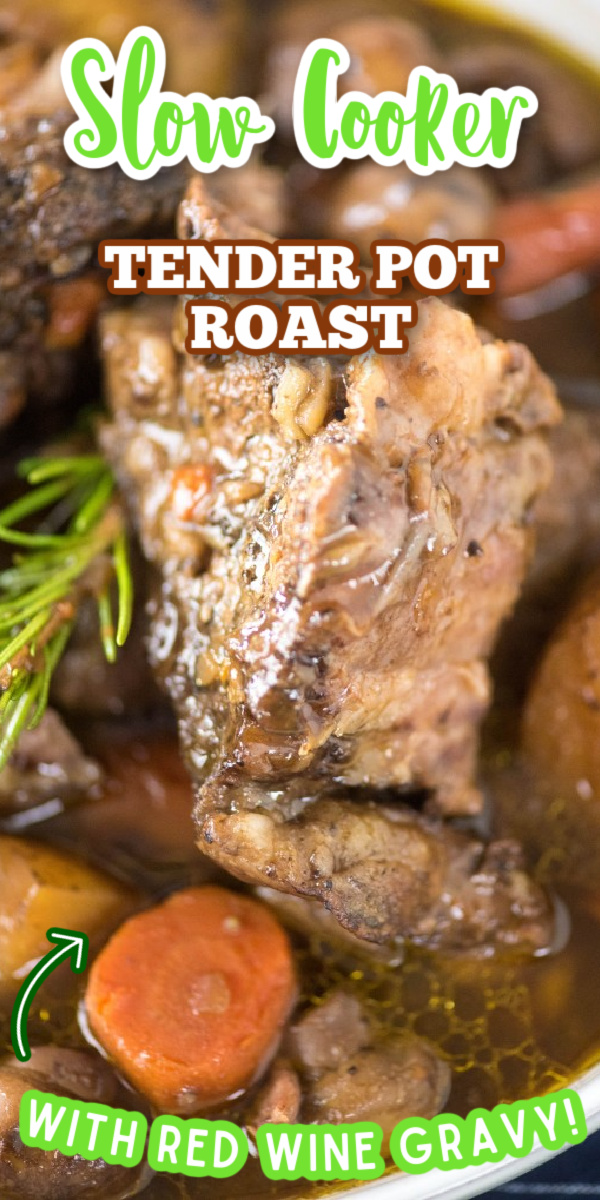 This Slow Cooker Pot Roast recipe is the best one out there! Throw a seasoned chuck roast in the crockpot and cook it all day long with potatoes, carrots, mushrooms and a delicious broth that turns into a gravy. Unbelievable!
I am always looking for new recipes for a chuck roast. This one for a Slow Cooker Pot Roast might just be my new favorite.
If you're a beef eater, have a busy life, not cooking inclined, or just kind of lazy (no judgement here!), or even a combination of all of those, chuck roasts should be your best friend. They are made for throwing into a slow cooker with a few basic ingredients and being left alone all day.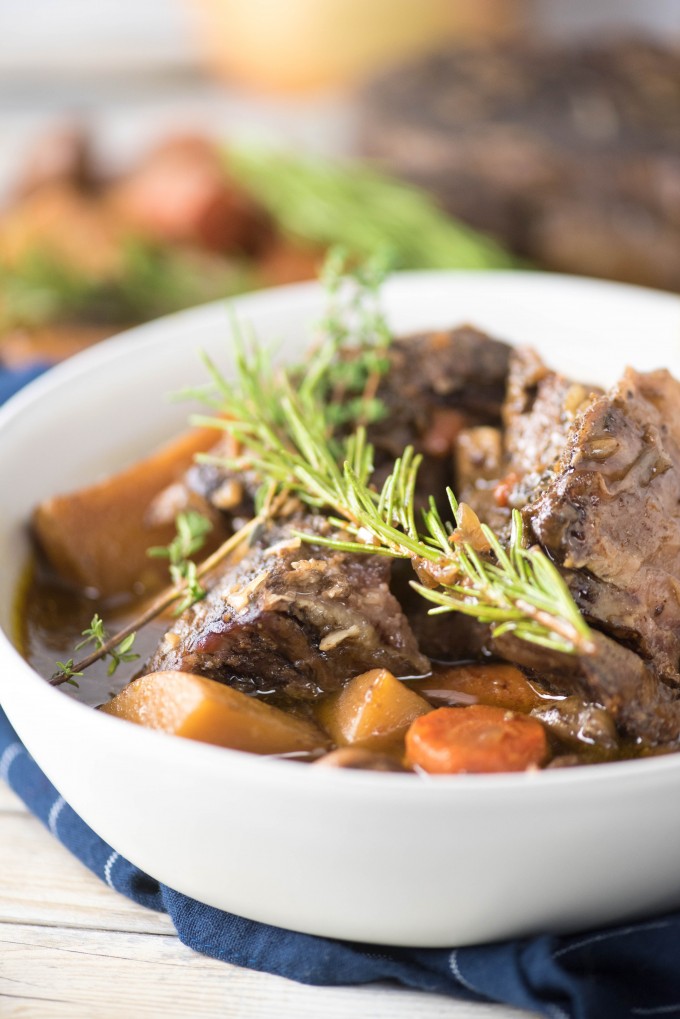 There is no shortage of ways to dress a chuck roast up, but pot roast is one of my personal favorite. There are a million ways to make pot roast, but I love the fact that it's flexible. Throw onions in there, carrots, celery, potatoes, mushrooms- it is a great way for me to use up herbs and cold-weather vegetables that I'd like to use before they go bad.
Same goes with the sauce. This has a simple sauce made of red wine, beef stock, balsamic vinegar and worcestershire, but I've made pot roast with white wine, cream of mushroom soup, consommé, etc. Thicken it with either a little cornstarch at the end or a packet of brown gravy mix (if desired), and you're good to go.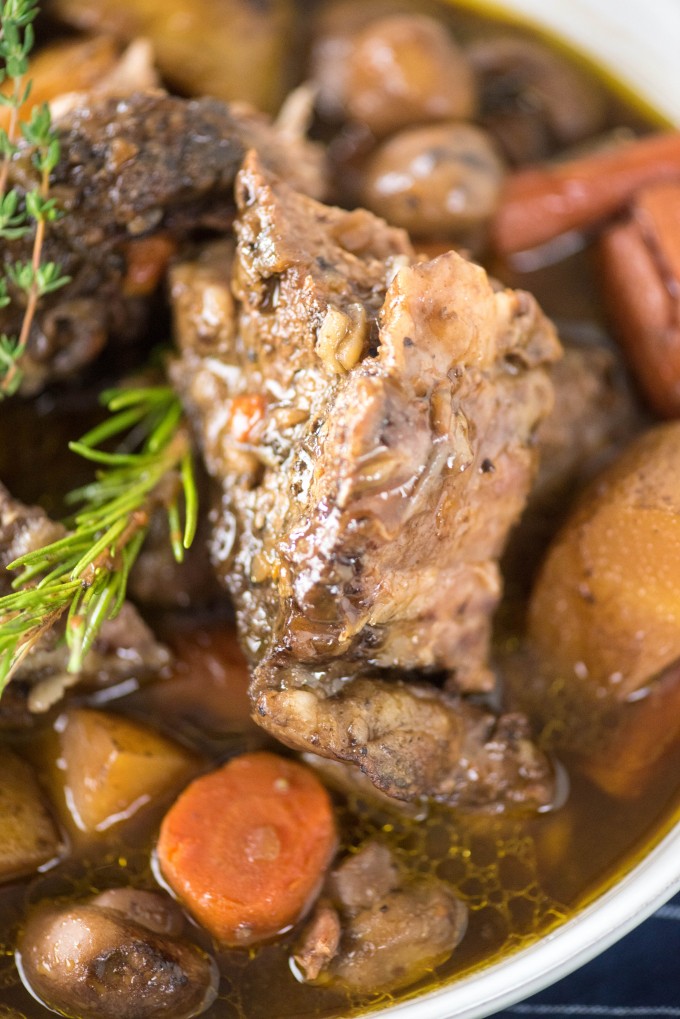 All in all, if you find yourself with a chuck roast, you're in luck. You can work with just about anything in your house to come up with a delicious dinner in about 8 hours.
This Slow Cooker Pot Roast recipe is all flexible in its leftover capabilities. If you get sick of eating pot roast leftovers, you can toss it with a little barbecue sauce and pile it on a sandwich, or sauté up some mushrooms and onions and layer it with some melty provolone for a great steak sandwich.
The possibilities are endless.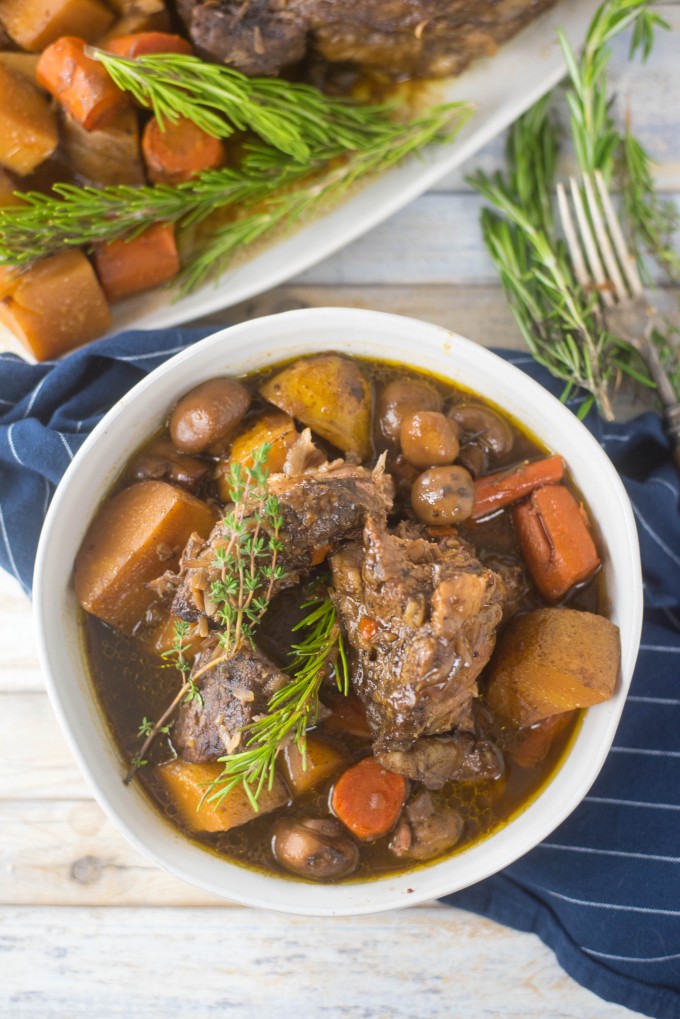 Equipment needed for Slow Cooker Pot Roast
A [easyazon_link identifier="B004P2NG0K" locale="US" tag="gogogogo03-20″]crockpot[/easyazon_link] or [easyazon_link identifier="B0053WRWX8″ locale="US" tag="gogogogo03-20″]multi cooker[/easyazon_link]- I always prefer my multi cooker because I can brown right in the insert. Don't forget that [easyazon_link identifier="B01NBKTPTS" locale="US" tag="gogogogo03-20″]Instant Pot[/easyazon_link]s have this capability and more, so I'm inclined to recommend it.
[easyazon_link identifier="B00G2XGC88″ locale="US" tag="gogogogo03-20″]A large skillet[/easyazon_link]- for browning the chuck roast if you can't do so in your slow cooker. Cast iron is the best for browning things, in my opinion.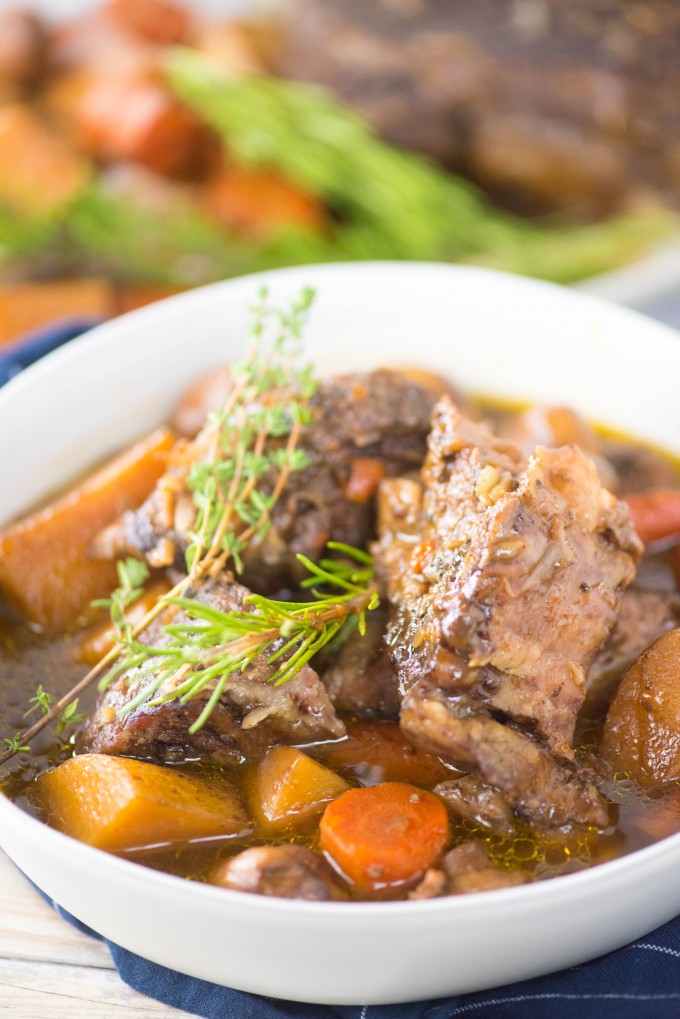 Other easy chuck roast recipes like this Slow Cooker Pot Roast:
Slow Cooker Pot Roast
Ingredients
6

lb

chuck roast

1

teaspoon

salt

1/2

teaspoon

pepper

1

teaspoon

garlic powder

2

cups

beef stock

2

tablespoons

balsamic vinegar

1

tablespoon

worcestershire

5

potatoes

cubed into 1

4

large carrots

cut into 1

3

small bottles of mushrooms

1

envelope onion soup mix

2

sprigs fresh rosemary

2

sprigs fresh thyme

1

cup

red wine

1

packet brown gravy mix
Instructions
Pat the chuck roast dry and season on both sides with salt, pepper, and garlic powder.

In the insert of a multicooker or in a large skillet over medium high heat, brown the chuck roast on both sides, approximately 4 minutes per side. Set aside.

Pour the beef stock into a 2 cup measuring cup. Add the vinegar and the Worcestershire sauce and stir together.

Add the potatoes, carrots and mushrooms in the bottom of the slow cooker insert. Top with 1 sprig each of rosemary and thyme, and sprinkle half of onion soup packet over top. Place with browned chuck roast.

Pour the beef stock mixture and wine over top of the chuck roast and vegetables. Top with remaining herb sprigs and soup mix.

Cover and cook on LOW for 8-10 hours.

Remove pot roast and vegetables to serving platter or cutting board. Cover with foil to keep warm.

Pour juices into saucepan and whisk in brown gravy packet. Simmer until thickened. If you are using a multi cooker, you can do this in the slow cooker pot/insert on the "Sauté" setting.

Serve hot.
SaveSaveSaveSave