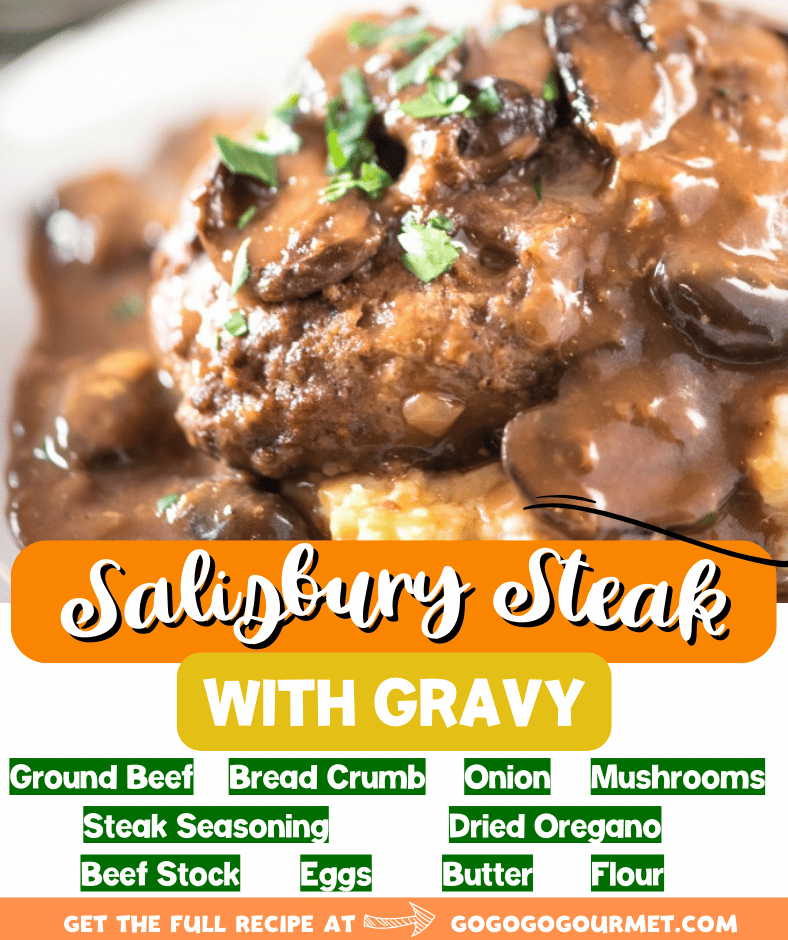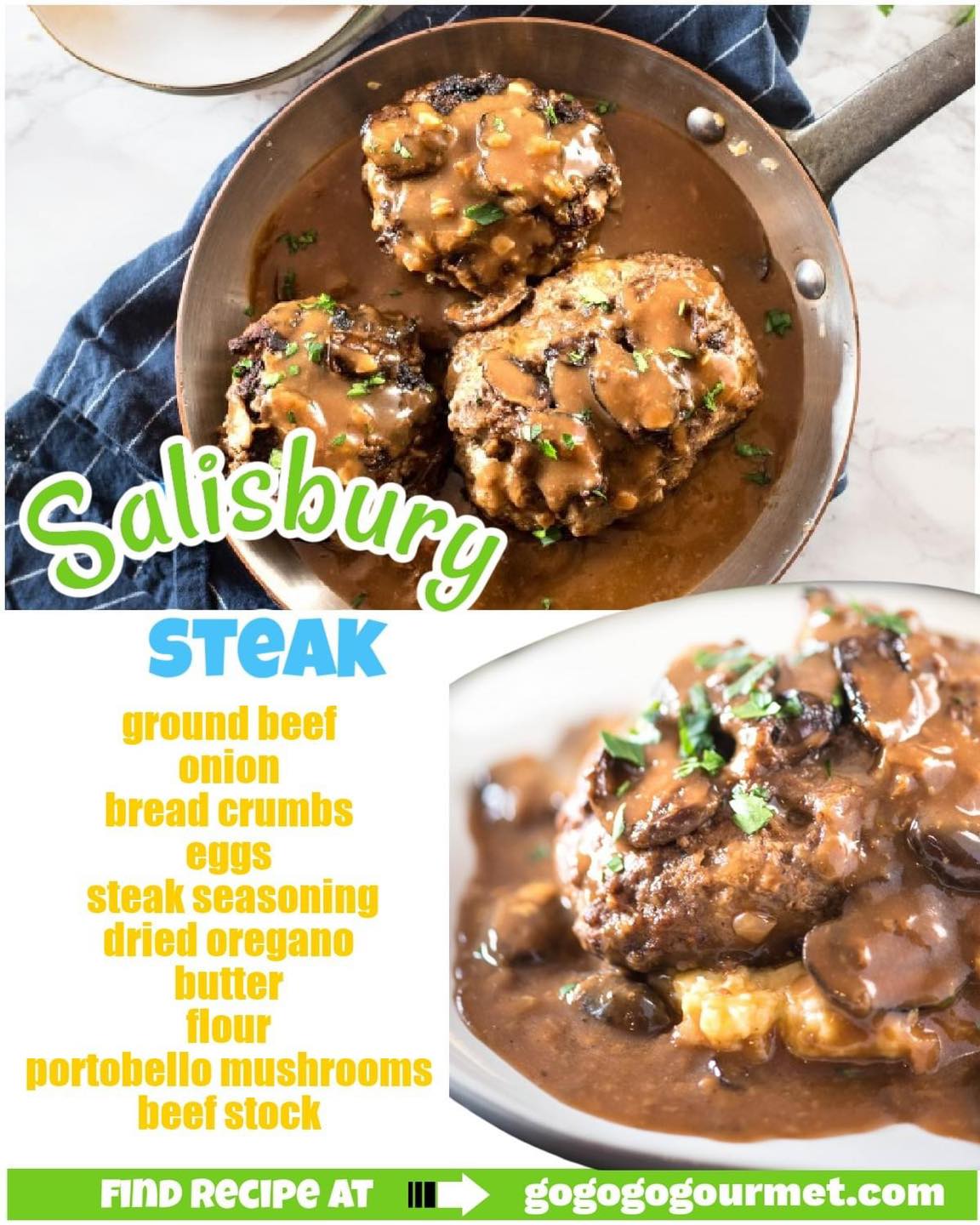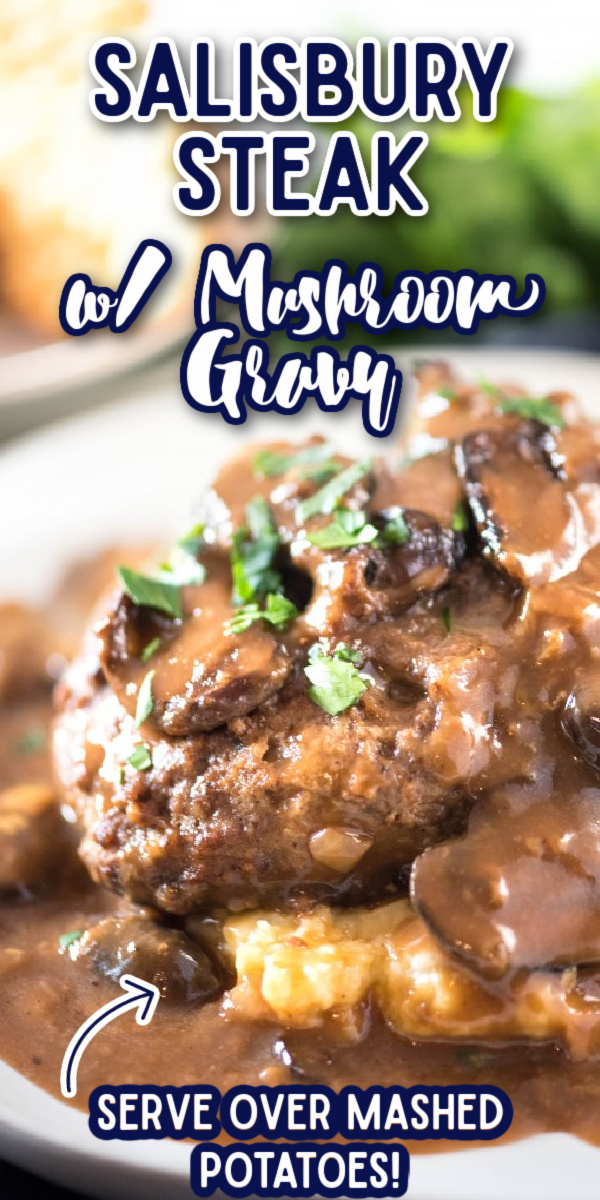 Wondering how to make Salisbury steak? This easy recipe is about to become your new favorite! Tender, flavorful, and absolutely delicious smothered in a creamy gravy, it's absolutely perfect over mashed potatoes.
I absolutely adore Salisbury steak. Smothered with sautéed mushrooms and a creamy gravy, served over fluffy mashed potatoes? Forget it. It's pretty much heaven.
However, I never remember to make it. Is that weird?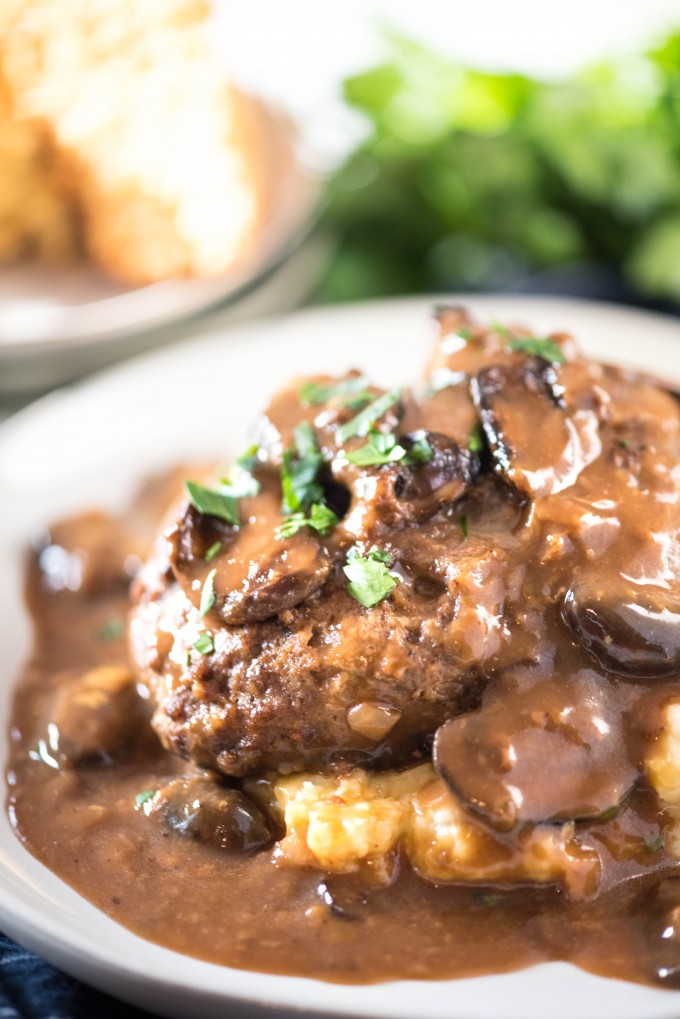 Probably. Especially since I always buy ground beef and then have no idea what to actually make with it. (Here are 17 other easy ideas of what to make with ground beef).
What is Salisbury steak, exactly?
Well, it's not steak. I mean, I guess it might be steak in a technical sense since it's beef, but its not steak in the traditional sense. Think of Salisbury steak as part meatloaf, part meatball- a combination of ground beef, bread crumbs, eggs and seasonings is mixed together, shaped into patties, and panfried. Then mushrooms get added to the pan and sautéed until buttery and golden, are a based for a divine gravy recipe that will have everyone begging for more.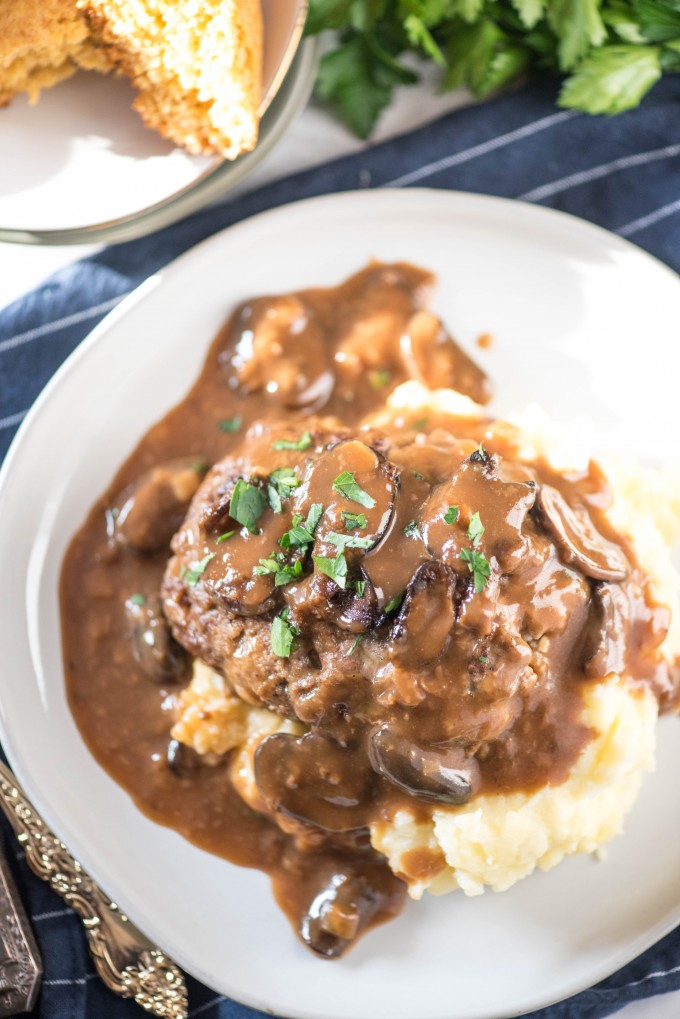 What do I need to make this wonderfully easy Salisbury steak recipe?
Not much, really. A large skillet. I like to use my [easyazon_link identifier="B00006JSUA" locale="US" tag="gogogogo03-20″]cast iron skillet[/easyazon_link] for as much as possible, just make sure to watch your heat. A large nonstick or stainless steel skillet would also work just dandy.
A large mixing bowl.
I really like this [easyazon_link identifier="B000SSXIOE" locale="US" tag="gogogogo03-20″]small, short spatula[/easyazon_link] for flipping over my patties. It lets me have more control and I spatter less.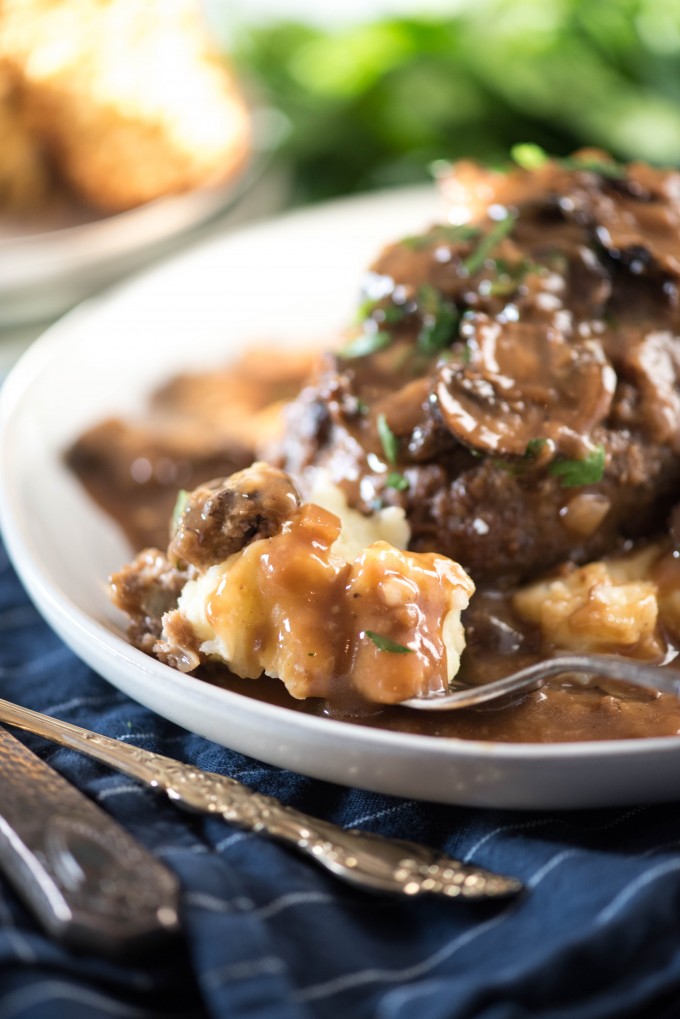 Tips for this recipe
Not many.
The biggest one is to make sure that you don't overwork the beef mixture- just like with doughs, that's what makes it tough.
And no one likes tough steak, salisbury or otherwise.
Don't crowd your pan. Everything likes to have personal space, even food.
My other recommendation is to treat these like hamburgers when you're cooking them- seared high for a nice crust, then turned down to a medium heat and cooked until medium (soft pink in the center).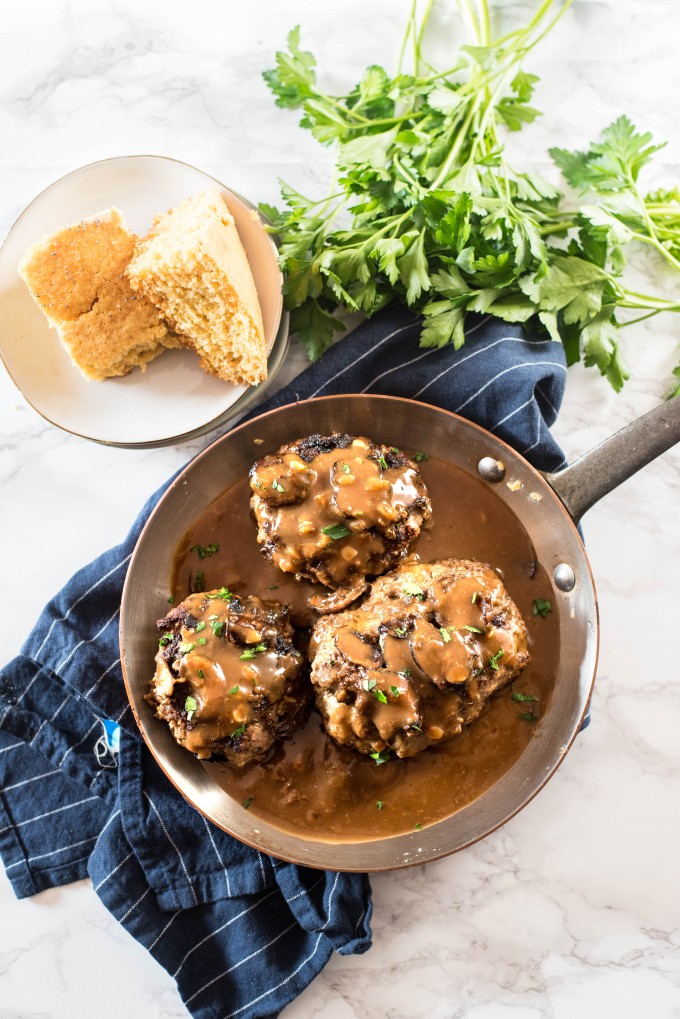 If I like this homemade Salisbury steak recipe, what else should I make?
Easy Salisbury Steak with Gravy
Ingredients
1

lb

ground beef

1/2

onion

finely chopped

2/3

cup

bread crumbs

2

eggs

1

T

steak seasoning

1

tsp

dried oregano

3

T

butter

3

T

flour

oz.

baby portobello mushrooms

sliced

1 1/2

cups

beef stock or broth
Instructions
In a large mixing bowl, add the finely chopped onion, bread crumbs, ground beef, eggs and seasonings. Using your hands, mix the ingredients together thoroughly.

Heat a large, wide skillet over medium heat. Add 2 T olive oil to the pan.

Divide the ground beef mixture into five portions. Shape each portion into an oblong patty about 3/4″ thick.

Add the patties to the pan, and allow to brown- do not move them or attempt to turn them until a nice brown crust has formed (3-4 minutes). Flip over and brown the other side. Remove from the pan and set aside.

Add 1 T butter and mushrooms to the pan. Saute until golden brown. Add the remaining 2 T butter. Sprinkle the flour over when melted, then whisk in flour. Cook for 1 minute, then slowly add in the stock. Whisk until no flour lumps remain.

Simmer until the gravy has thickened slightly, then return patties to the pan and allow them to finish cooking in the sauce. Serve steaks alongside mashed potatoes, topped with the mushrooms and gravy.