Everyone loves these flavorful Wet Burritos, smothered in a rich sauce, and topped with tons of cheese!
My hometown isn't really much to speak of. The population is around 50,000 people. Its a pretty spread out city, set smack in the middle of a lot of farms. Its is the RV capital of the world. Its what I would describe as a typical Midwest-looking city.
But one thing is DOES have is a cult-like food following from it's residents, both present and former.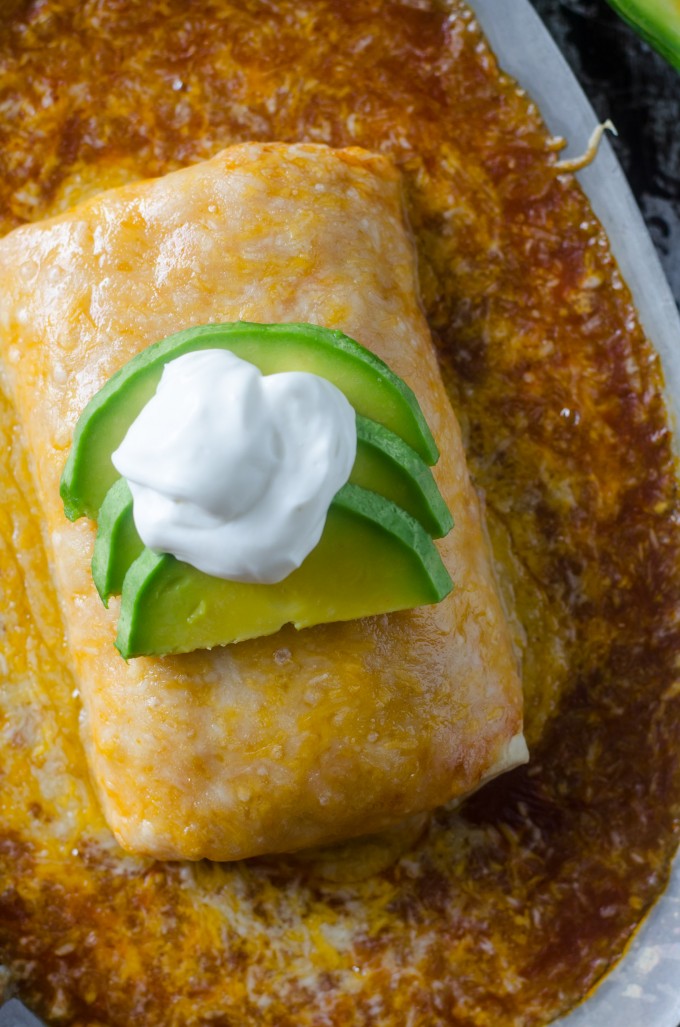 Ask anyone from Elkhart, Indiana about the food that they'd miss and I guarantee you'd hear about two things in particular. One are Volcano's breadsticks, pillowy soft breadsticks completely smothered with cheeses and herbs. The second is a Mexican restaurant called Hacienda, known for its margaritas, unique salsa (which is always mixed at the table with ranch dressing) and bottomless fresh tortilla chips- and their wet burrito.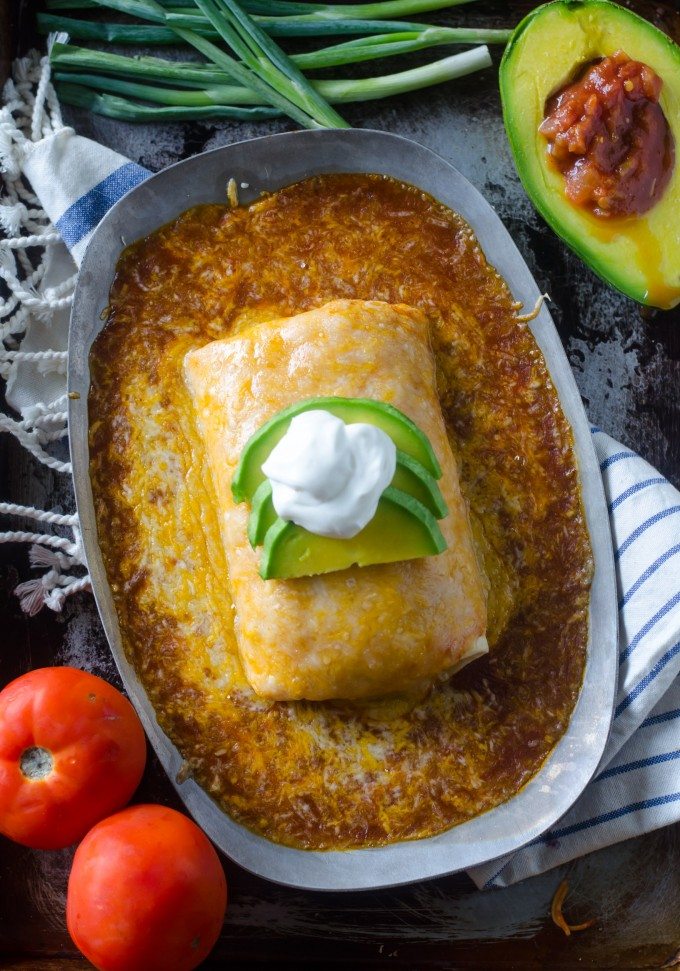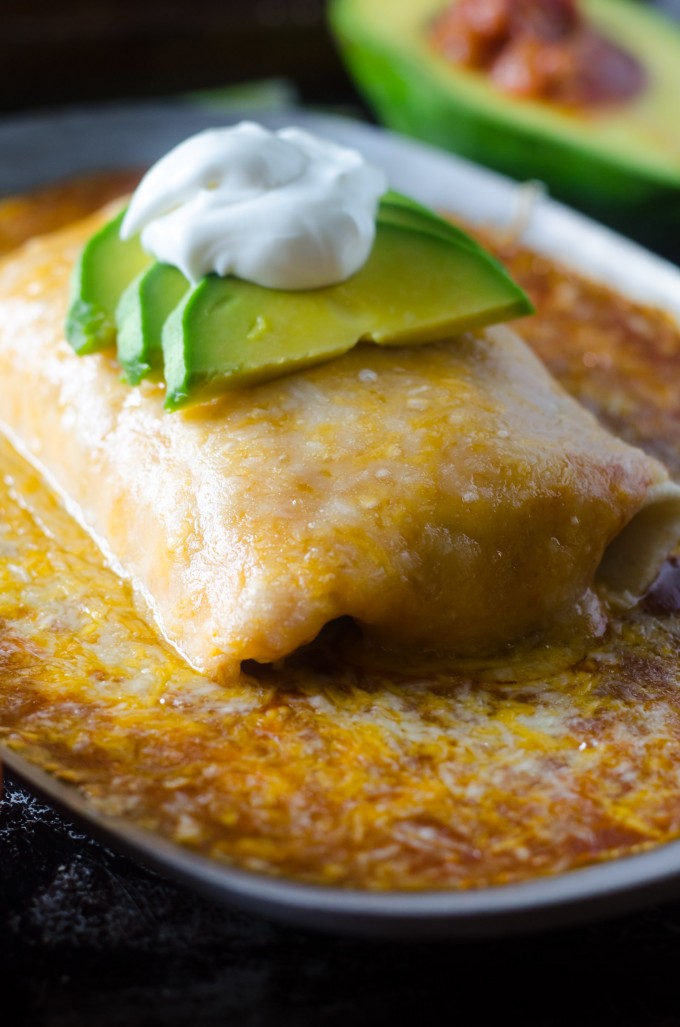 Hacienda's wet burrito is ENORMOUS. It is easily three meals for me, and it is ungodly delicious. It is packed with flavorful filling (ground beef, shredded chicken or beef, wrapped up and smothered in sauce and topped with a mountain of cheese, which is melted over top.
I'm not even a big fan of Mexican food and I dream about this thing. I crave it. I also don't go back very often anymore, so I figured that I better just figure out how to make the thing.
This burrito is incredible and turned out SO close to the original, that it will definitely satisfy any craving than I ever have for it. It was fairly simple to do- brown ground beef, throw in other ingredients and simmer. Throw sauce ingredients in pot and simmer. Fill burrito, smother and bake. Definitely file this one away in your weeknight meal arsenal.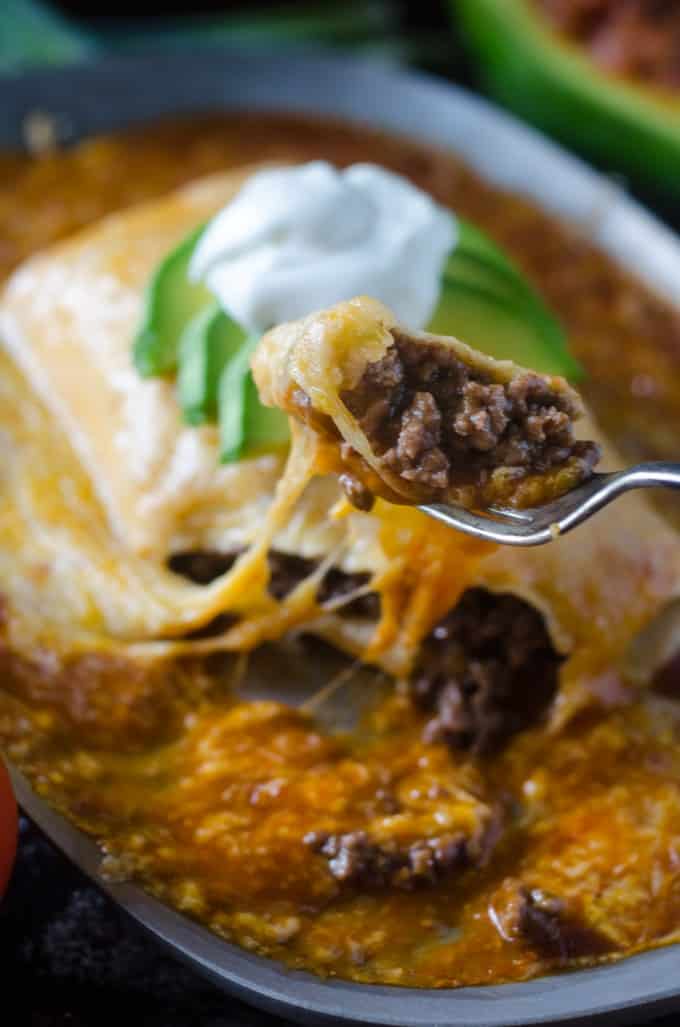 Wet Burritos, Hacienda Style
Ingredients
2.5

pounds

ground beef

1/3

cup

taco seasoning

1

beef bouillon cube

1 12

oz

bottle beer

used: pilsner

1

cup

beef stock

3

tablespoons

butter

2

tablespoons

flour

1 1/2

cups

beef stock

1 19

oz

can red enchilada sauce

1

beef bouillon cube

1

teaspoon

chili powder

4

large burrito-size tortillas

3

cups

shredded Mexican blend cheese

Suggested serving accompaniments: lettuce

beans, sour cream, salsa, guacamole
Instructions
Preheat oven to 350F.

In a large skillet over medium heat, add the ground beef and brown. Drain fat.

Stir the taco seasoning into the meat, along with the bouillon cube. Pour in the beer and beef stock, stir to combine. Bring to a simmer and cook until the liquid is almost gone. Be mindful towards the end to stir so you don't scorch the pan.

Meanwhile, in a small saucepan, melt the butter over medium heat. Whisk in the butter and cook for 1 minute. Slowly whisk in the stock, then the enchilada sauce and chili powder. Simmer until thickened.

Spoon 1/4 of the beef into the center of a tortilla. Wrap the burrito up and place on an oven-safe plate. Pour sauce over the top and top with 3/4 cup shredded cheese.

Bake in preheated oven for 10-12 minutes. Serve immediately.