This Slow Cooker Bolognese cooks all day long in the crockpot. Hearty and rich, it's full of incredible authentic Italian flavors, and coats every strand of pasta perfectly.
This Slow Cooker Bolognese is a dish that'll warm your heart and soul from the inside out.
I hesitate to say that it's authentic Italian, because if I know anything it's that people get very upset when you assign a specific dish to a specific group of people, unless it is 100,000% the way that somebody's great-great-great-great-great-grandmother made it.
I learned this very strongly with my Slow Cooker Amish Beef and Noodles, which everybody took to mean that I said that the Amish are actually making it in slow cookers.
Now, I don't know whether the Amish slow cookers or not at this stage in the game, but I know that I grew up in Indiana eating Amish Beef and Noodles/Chicken and Noodles, and I wanted to make a slow cooker version. And frankly, that's all. Plus, I can't call it just Beef and Noodles, because that is something else entirely.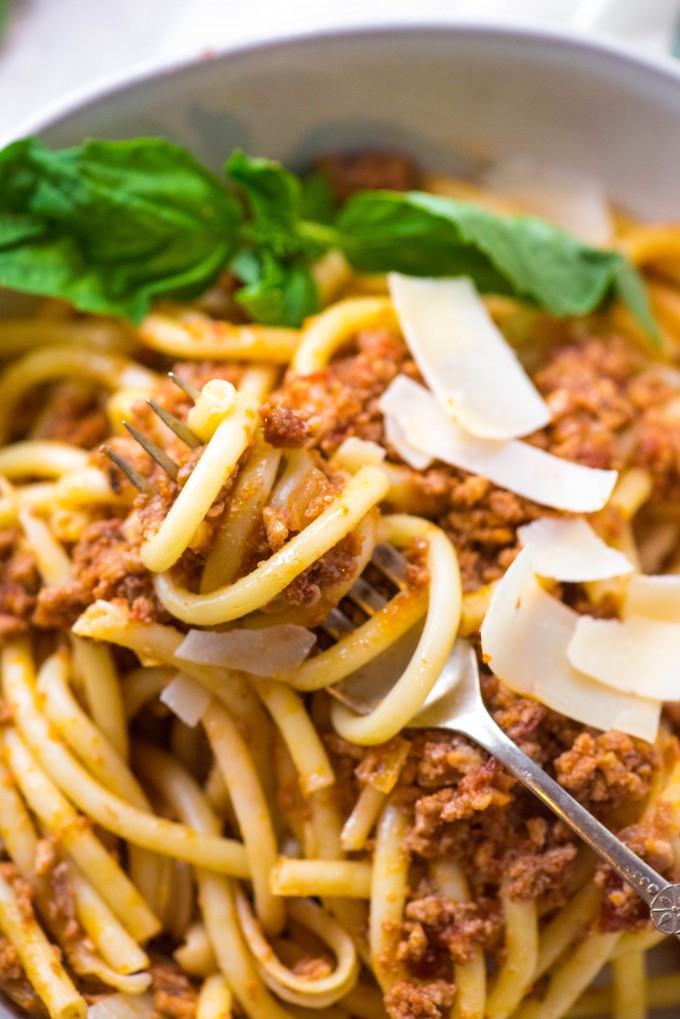 So, I hesitate to say that this is authentic Italian because it's made in the slow cooker. I'm sure whenever I get around to posting the video on Facebook, I will be inundated with comments all the way from Italy telling me that this decidedly is NOT Italian and I'm doing it wrong.
Joke is on them though, because the more they comment, the more Facebook will show it to more people. Ah, the life of a social media marketer.
So, while I am positive that this isn't going to be somebody's great-great-great-great-great-grandmother's recipe, I can tell you that this is a great Bolognese recipe for cold winter nights and busy days. I don't have hours to spend watching a sauce on the stove, and I am fairly sure that you don't either.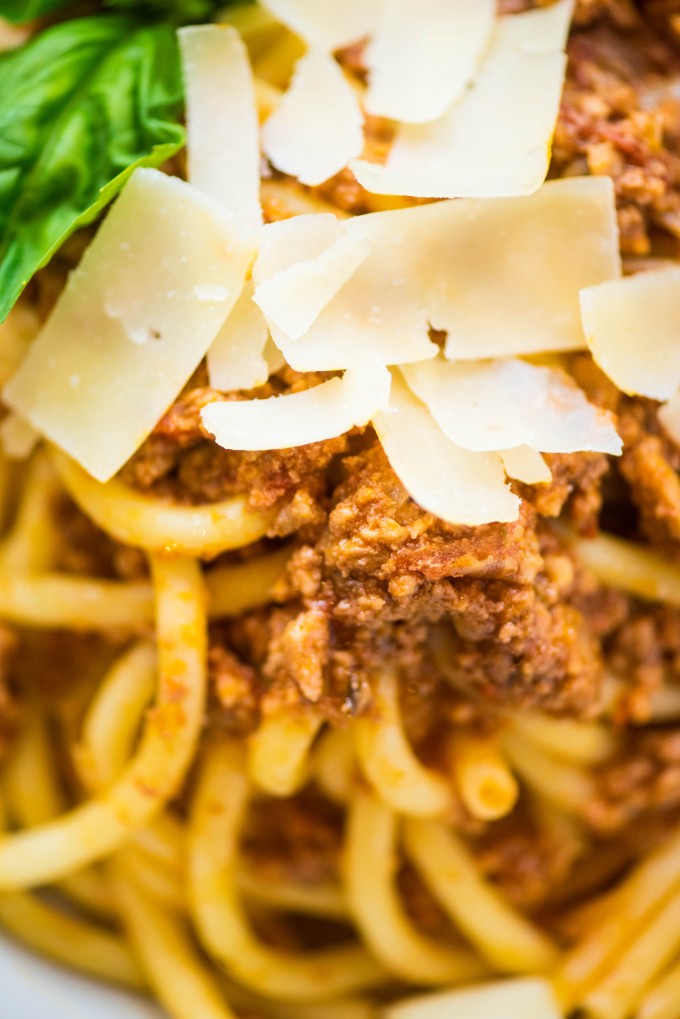 Also, here's the thing about Bolognese – It's not like any old meat sauce that you buy in a jar. A lot of the recipes that I see on Pinterest for this are not what I consider to be Bolognese sauce. For all intents and purposes, it's actually kind of unattractive looking. It's not very red because it's more of a meat-based sauce then a tomato-based sauce, as well as getting hit with a little bit of cream or milk at the very end. However, appearance not withstanding, the sauce is hearty and delicious.
I have flavored this one with a little bit of wine, some Better than Bouillon and fennel seed to add some flavor. I originally added beef stock, but found that it thinned it out too much.
The other great thing about this Bolognese sauce recipe is the volume of it – it makes a ton. The night I made this, which is also the same night as the infamous lasagna night, we had my in-laws over to dinner. Three people had papardalle with Bolognese sauce, two had lasagna, and everybody had a nice amount of sauce to take home as leftovers with them.
The sauce would also freeze really well, so perfect for those of you with smaller families, or singles that like to batch cook ahead.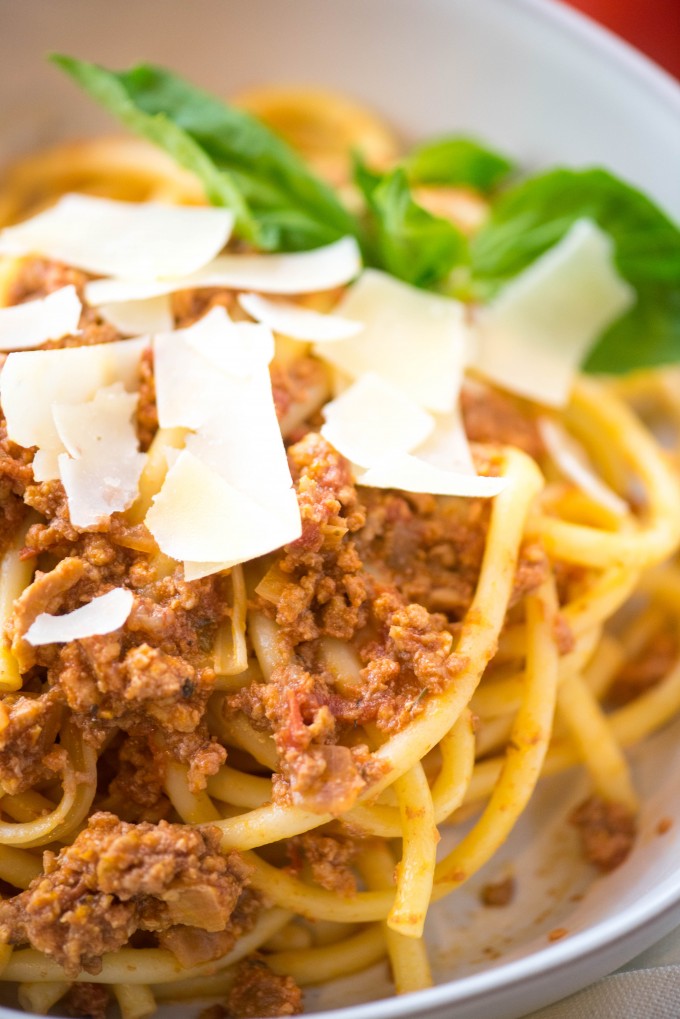 Equipment Needed for this Slow Cooker Spaghetti Bolognese:
Not much, just a slow cooker. I like using a multicooker,[easyazon_link identifier="B008YEXC22″ locale="US" tag="gogogogo03-20″]like this one[/easyazon_link], or an [easyazon_link identifier="B01NBKTPTS" locale="US" tag="gogogogo03-20″]Instant Pot[/easyazon_link]- they allow you to really turn up the heat to thicken the sauce at the end if needed.
If you like this Slow Cooker Bolognese Sauce Recipe:
Ingredients
1.25

lb

ground beef

1.25

lb

ground pork

4

cloves

garlic

minced

1 1/2

cups

chopped onion

1

tablespoon

kosher salt

1

teaspoon

pepper

1

tablespoon

Italian seasoning

1

tablespoon

fennel seed

2

tablespoons

Better than Bouillon

I used beef

1/2

cup

white wine

1 28

oz

can whole tomatoes

1

cup

crushed tomatoes

1/2

cup

heavy cream
Instructions
In the insert of a crockpot, add the ground beef and pork, garlic, onion, salt, pepper, Italian seasoning, fennel seed, Better Than Bouillon, white wine and tomatoes. Roughly break up the tomatoes using a wooden spoon. Stir together well.

Cover and cook on HIGH for 4 hours, or LOW for 6-8 hours.

Stir in crushed tomatoes and cream. Re-cover and cook for an additional 1 hour on HIGH and 2 hours on LOW.

Sauce should be thick at completion of cooking time. If it is too thin/soupy, uncover and cook on HIGH until thick (or reduce on stovetop. If sauce seems too thick/dry, add additional liquid-crushed tomatoes or beef stock.
SaveSave
SaveSave