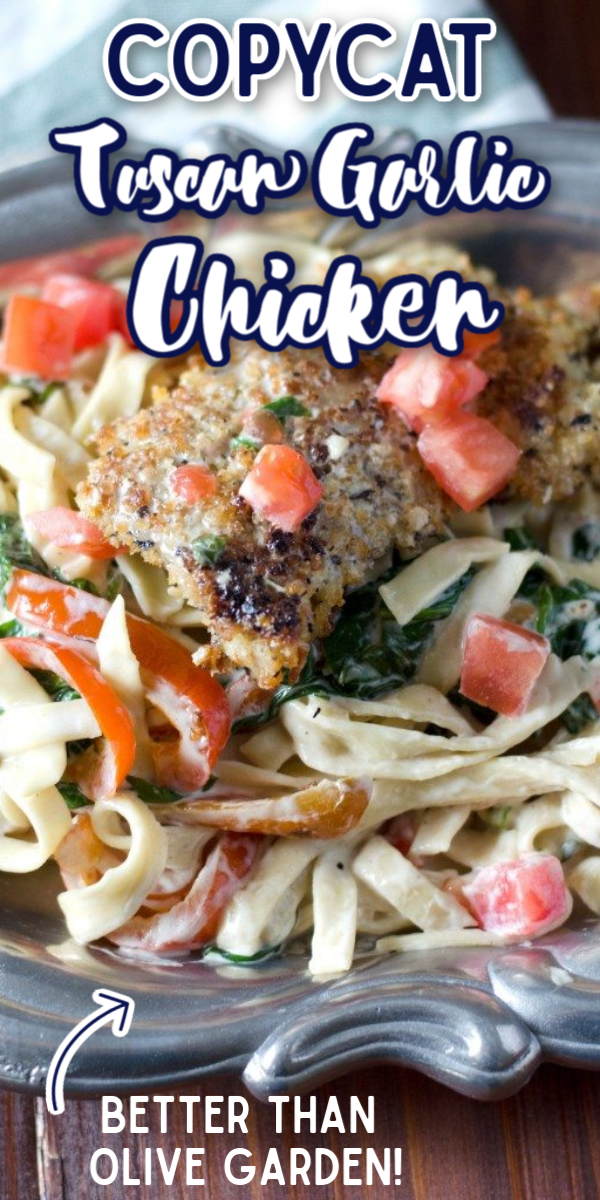 The Tuscan Garlic Chicken at Olive Garden was one of my favorites, and my copycat version is an amazing weeknight meal! Fast, easy, and always a delicious hit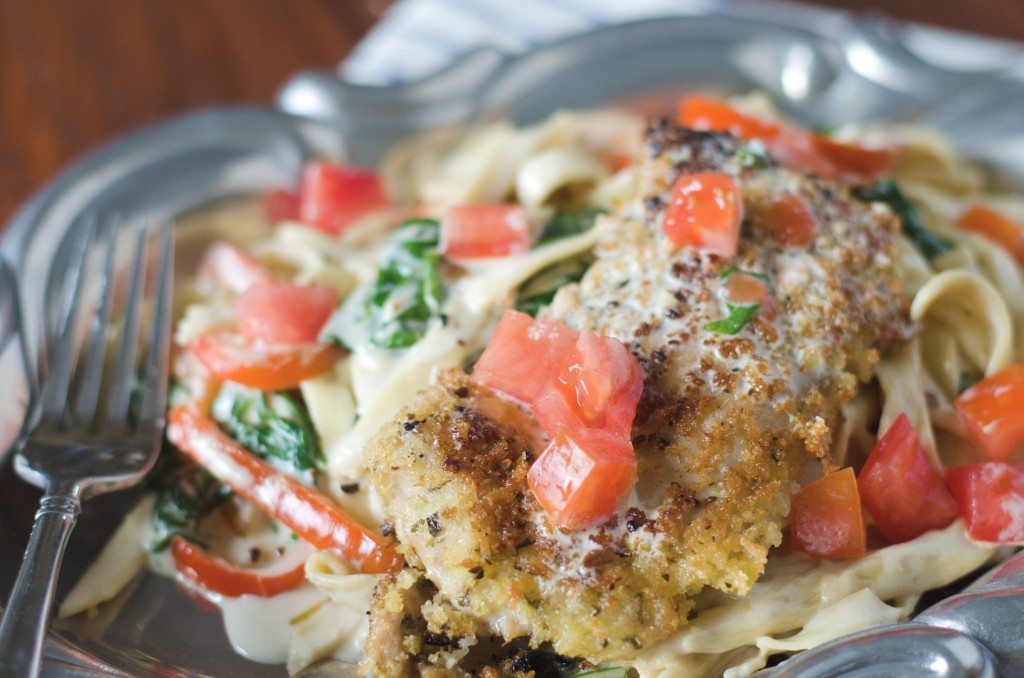 I find it incredibly unfair that I am sick AGAIN with some sort of viral plague. I just went through this six weeks ago! It's especially difficult to be sick now- there are no sick days when you're a mom. You just have to drug up and push through. But luckily for me, I had backup this time. This weekend, my husband's sister and her husband came to visit J (let's call a spade a spade here, no one comes to see my husband and I anymore). It was a great weekend, they helped so much and a great time was had by all. I am a little afraid that we may have pushed off their foray into parenthood by a couple of years though!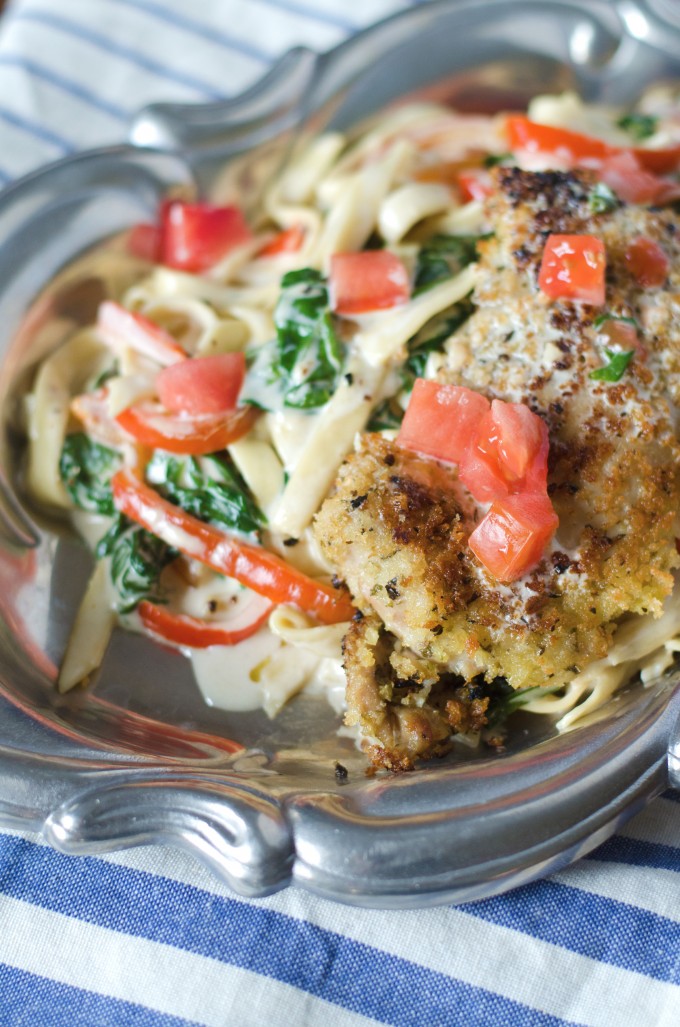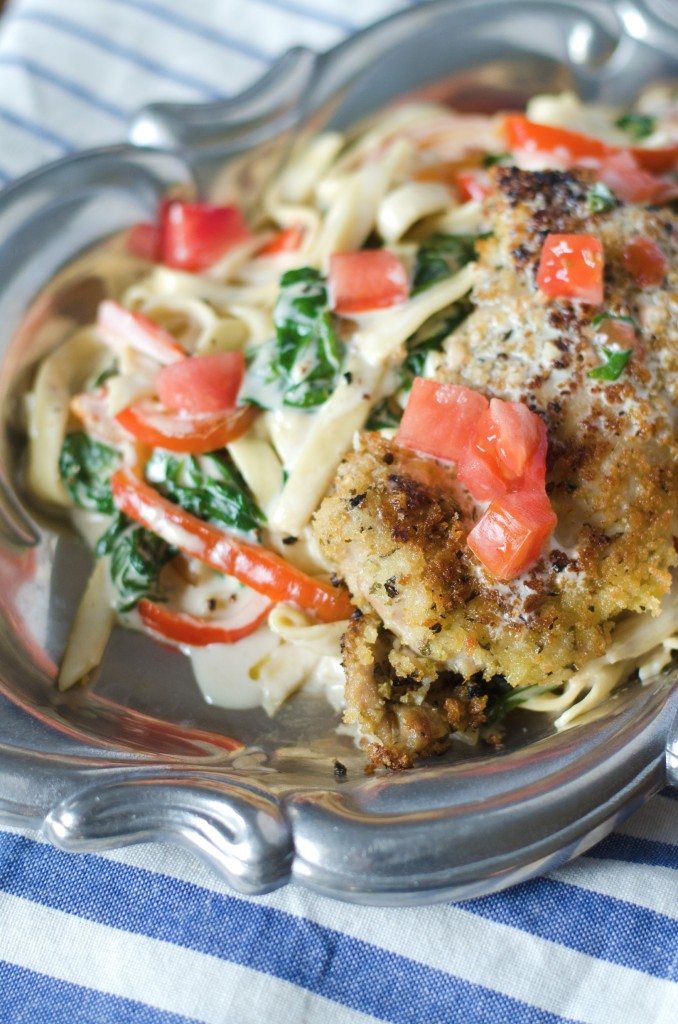 This is a copycat recipe for Olive Garden Tuscan Garlic Chicken. It's always a crowd pleaser, and this weekend was no exception. I have to say, I far prefer boneless chicken thighs to breasts. I think they have so much more flavor and are more tender. They come in packs of six at my grocery store- the recipe for the other half of the package will be following in a day or two.
Note: I apologize for the general lack of humor in this post. All of my energy is going into simply functioning, there's nothing left to devote to being funny! Frankly, I'm just hoping I didn't miss something when writing up this recipe.



If you liked this recipe, check out these ones:
Tuscan Garlic and Chicken Fettuccine
Ingredients
1

lb

fettuccine pasta

3

boneless

skinless chicken thighs

1

cup

Italian-seasoned panko

1/2

red bell pepper

sliced into 1/4" strips

3

cloves

garlic

minced or pressed

2

T

butter

2

T

flour

1/2

c

white wine

1 

c

cream

1 

c

half-and-half

1 

c

grated parmesan cheese

1

bag baby spinach

Or 3 large handfuls
Instructions
Bring a pot of salted water to a boil, cook fettuccine until al dente.

Meanwhile, preheat skillet over medium heat.  Season chicken thighs with salt and pepper. Coat with panko. Add 2 T olive oil to your pan, allow to heat up, then add your chicken, cooking until browned on both sides and cooked through, approximately 10 minutes, flipping half way through. Remove from pan.

Add red pepper and garlic to the pan, sautéing until red pepper has softened slightly and garlic has browned, approximately 2 minutes. Melt butter in pan, whisk in flour and cook for 1-2 minutes. Slowly pour in the wine, bring to a boil, scraping up browned bits from the bottom of the pan. Slowly pour in cream and half-and-half, stir to combine. Bring to a simmer and allow to cook until slightly thickened. Stir in parmesan and spinach. Sauce is finished when spinach is fully wilted. Slice chicken thighs. Serve pasta with sauce and topped with chicken.