This Creamy Chicken and Wild Rice soup is incredibly easy to make- making it perfect for lunches and quick dinners. The Instant Pot has this soup ready in under 30 minutes. It freezes beautifully too!
I have to admit, it was a rough first winter back for us ex-Floridians, but soup always helps.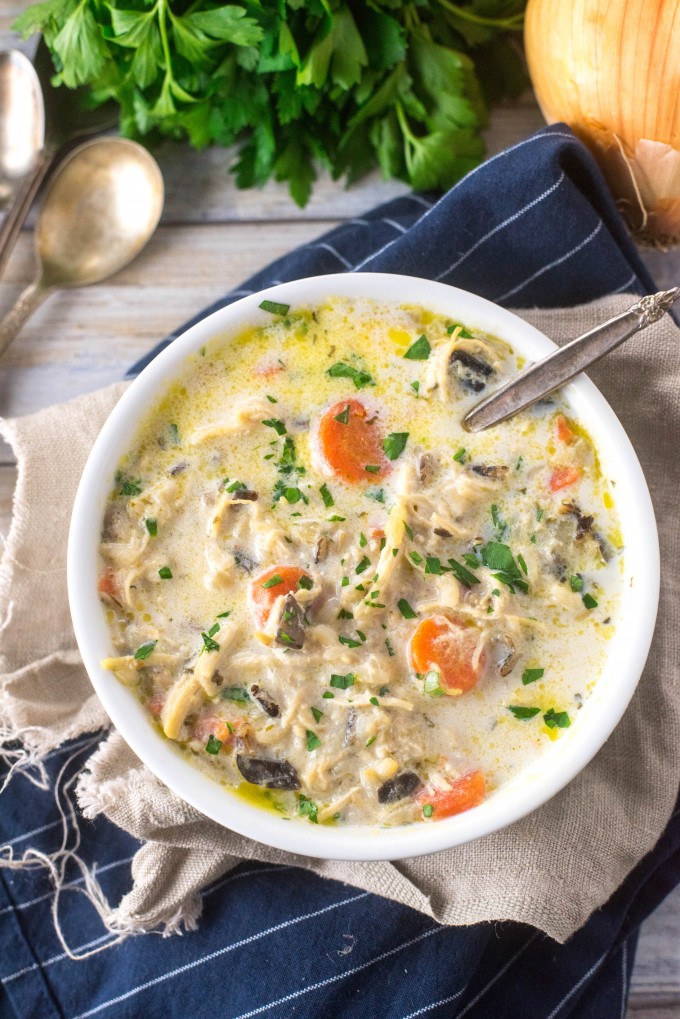 They started framing our new house right after the start of the new year, and that is when winter REALLY decided to show up. I felt so bad for these guys freezing their butts off, so when I would recipe test, I would head over to the new house with the piping hot fruits of my labor.
The first time, I showed up with my Instant Pot Chili and Honey Cornbread. I had asked them a few days prior if it was something that they'd like me to do (I figure it never hurts to butter up the people building your house, right?!). They said absolutely.
I don't think they were expecting me to actually do it, but pull up with bowls, spoons, a huge pot of chili and a skillet of cornbread I did.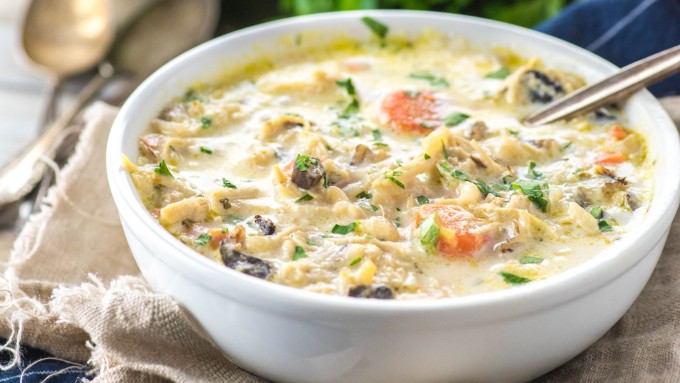 They loved it. So one other blustery cold day (not exaggerating, it was 9 degrees outside), I ran home after pre-K drop off and decided to make another soup to warm them up.
I just really love feeding people. It feeds my soul!
So , here I'm adapting one of my favorite soups- a stovetop Creamy Chicken Wild Rice soup, which is a pretty good Panera copycat, if I do say so myself.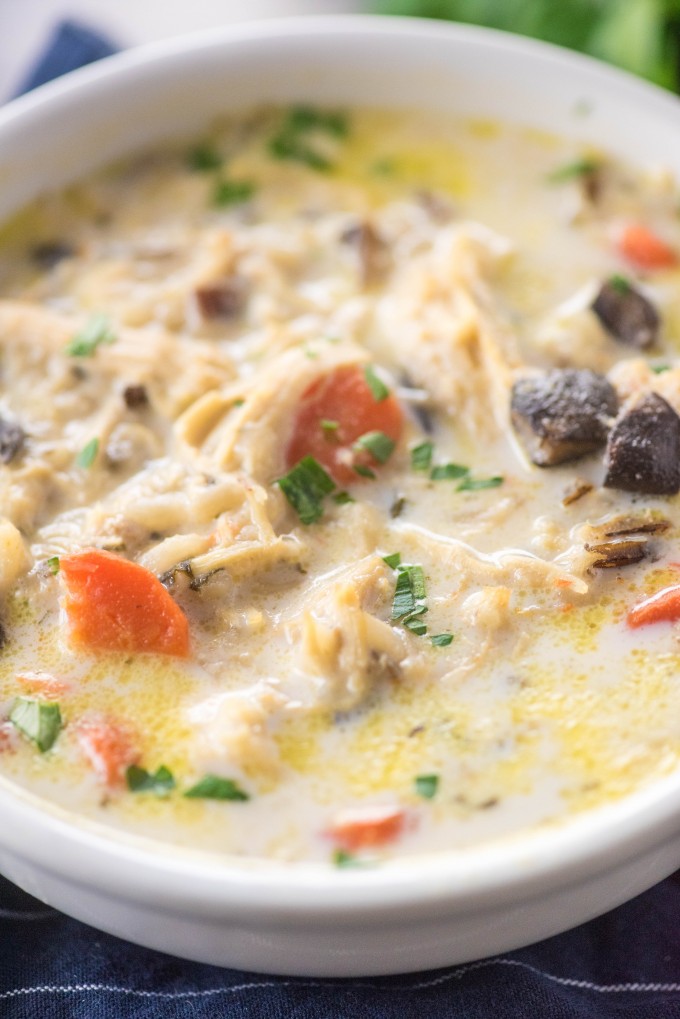 Recipe Tips:
For this recipe, I used boneless skinless chicken breasts because that's what I had in my fridge, but you can definitely feel free to use a whole cut up chicken. Using boneless skinless chicken breasts also decreases the cooking time.
If you use chicken breasts and don't care about dirtying another dish, I thoroughly recommend using a handmixer or stand mixer to shred your chicken, like I do in this recipe video here. It is SO much faster and you don't end up with any burned fingertips.
I love using the Uncle Ben's wild rice for these recipes. I use the seasonings included to flavor the soup, so most of the work is done for me!
Similar Recipes to this Instant Pot Creamy Chicken and Wild Rice Soup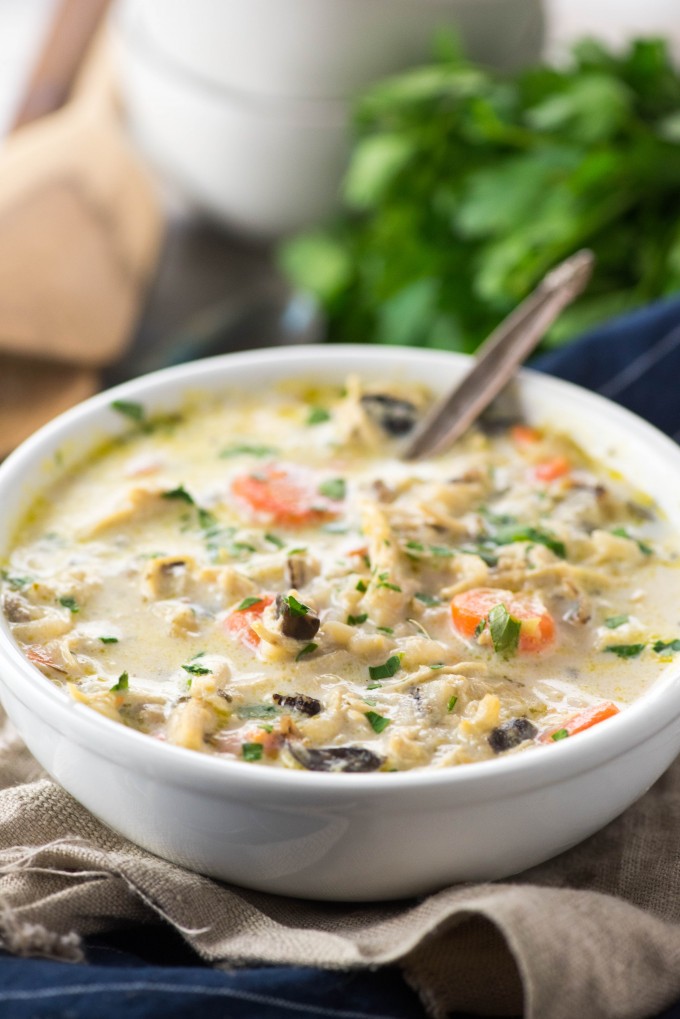 Instant Pot Creamy Chicken and Wild Rice Soup
Ingredients
2 tablespoons olive oil
8 oz sliced portobello mushrooms
1 medium onion, chopped
2 cloves, garlic
4 ribs celery, sliced in half lengthwise
1 carrot, chopped
2 tablespoons Better than Bouillon Chicken
4 boneless, skinless chicken breasts
1 quart chicken stock
3 T butter
3 T flour
3 cups milk
1 cup cream
2 boxes Uncle Ben's Original Recipe Wild Rice
Directions
Heat an Instant Pot on the SAUTE setting. Add the olive oil to the insert, then the mushrooms, onion and garlic. Saute until golden.
Add in the celery and carrot, then stir in the Better than Bouillon.
Pour in the chicken stock, rice, and seasoning packet, then place the chicken breasts in the pot. Secure the lid, set the valve to Vent and turn on Soup mode for 20 minutes.
When Instant Pot is done, allow to naturally vent for 5 minutes, then manually vent the remaining pressure.
Add the butter to a 2 cup microwave safe measuring cup. Melt in microwave, then stir in the flour with a fork. Stir in cream.
Remove chicken breasts from the pot and shred. Pour in the cream/butter/flour mixture, along with the milk and shredded chicken and stir to combine. Replace the cover for 5 minutes to let the soup warm and thicken before serving.
Loading nutrition data...