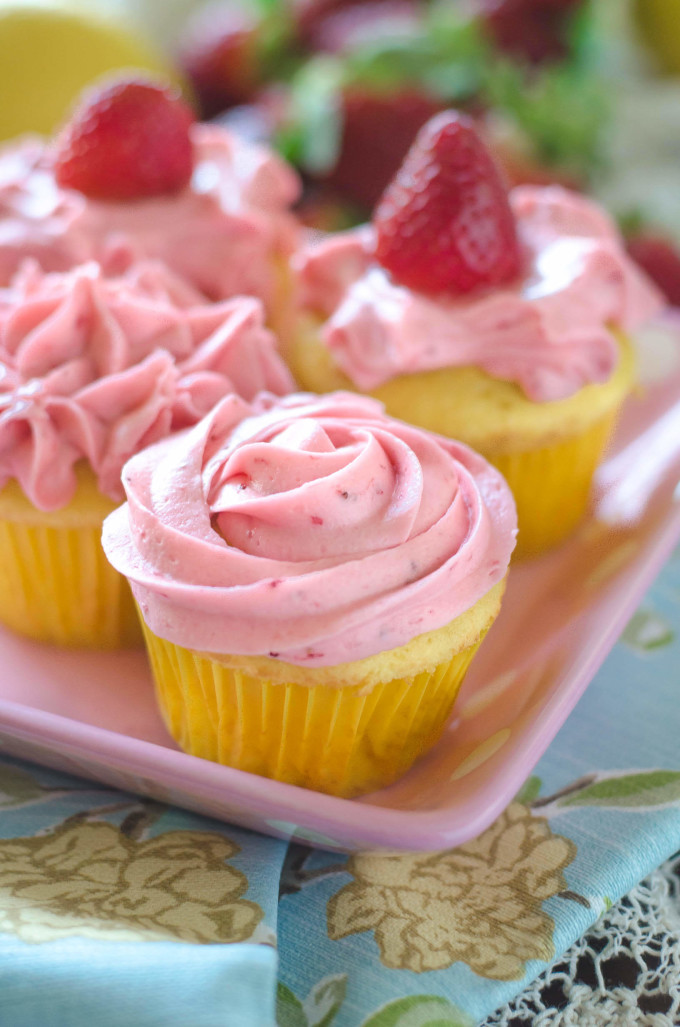 If you follow me on Instagram (which I'm sure you obviously do), you might have caught a little dance party between Jonathan and I a few weeks back. This is the recipe that inspired that dance-a-thon of joy. There aren't that many times where a recipe makes me silly with happiness, but this was one of them.
These cupcakes are delicious.
I dressed up a simple lemon boxed cake mix with some lemon curd (5 minutes homemade curd can be found here) and then topped them with the most fresh-strawberry-tasting buttercream that's ever been made.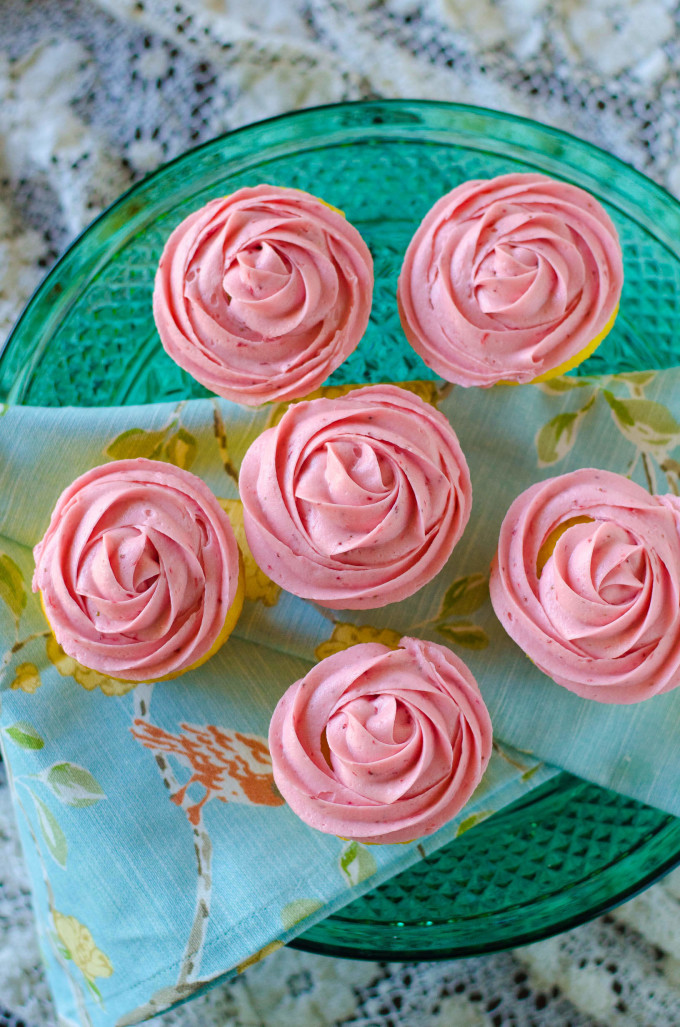 Strawberry Lemonade Cupcakes
Ingredients
1

box lemon cake mix

2/3

cup

lemon curd

1/2

cup

chopped strawberries

1 1/2

T

sugar

4

T

butter

softened

4 1/2

cups

powdered sugar

Strawberries

for garnish
Instructions
Prepare cupcakes according to package directions. Let cool completely on wire rack.

In a bowl, combine the chopped strawberries with the sugar. Let sit for 15 minutes.

Poke large holes (1/2" diameter, approximately the size of your pinky) through the top of the cupcake to about halfway through. Spoon the lemon curd into a small Ziploc bag and cut the tip off.

Put the cut off corner of the lemon curd bag into the hole you poked, and fill it. Repeat with remaining cupcakes.

Use a masher, blender, or immersion blender to blend the strawberries mostly smooth (no major chunks).

In a large mixing bowl and using a mixer, blend the softened butter into the powdered sugar. Add the blended strawberries until desired consistency is reached (the whole amount, for me).

Frost the cupcakes using either a piping bag or knife. Garnish with additional strawberries if desired.
Looking for other ideas?
I made an amazing Strawberry Ice Cream last year that has a secret ingredient in it to keep it scoopable!
Chocolate Covered Strawberry Cheesecake
Feeling thirsty? The Strawberry Muddle features fresh strawberries and champagne!
Beautiful Strawberry Napoleons