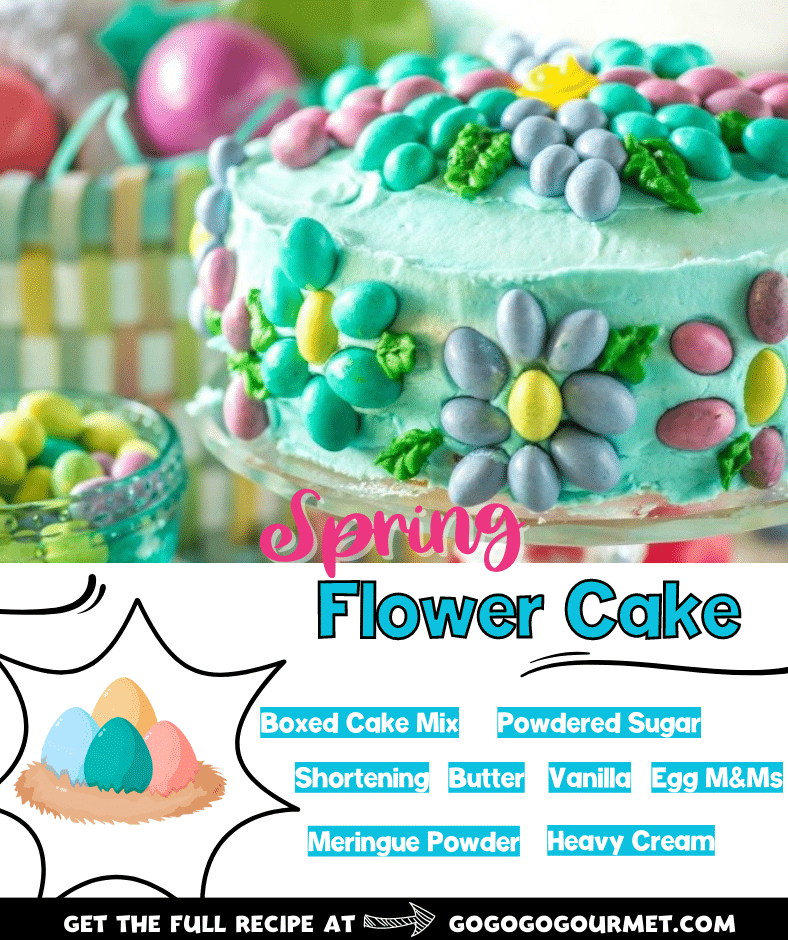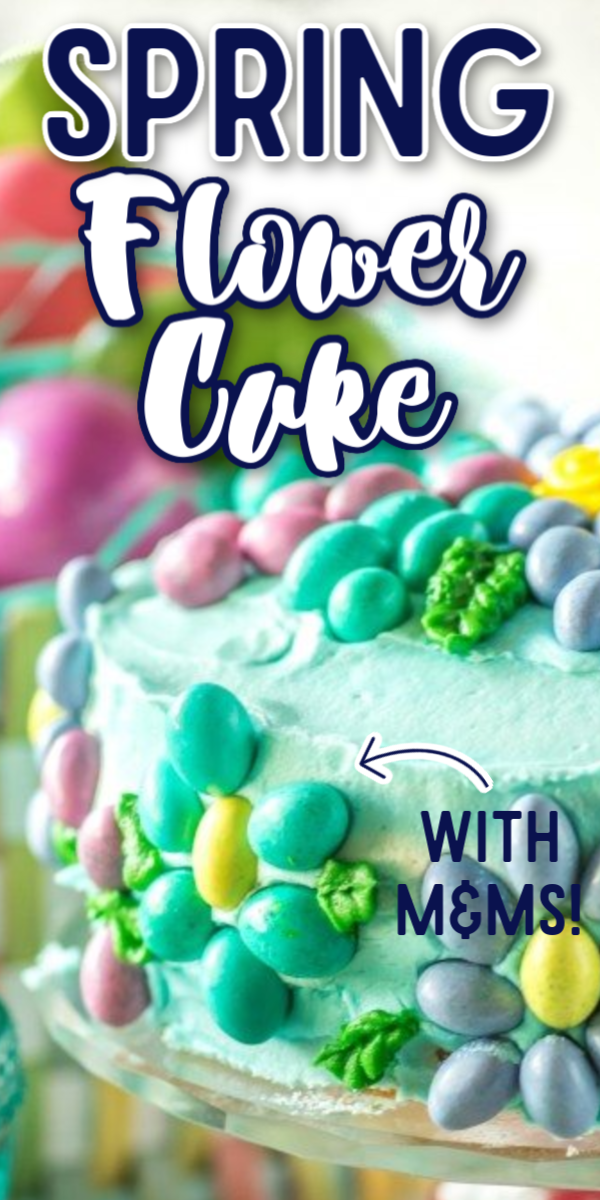 This post has been sponsored by MARS, Inc. All opinions are my own.
This Spring Flower Cake is super easy to make using your favorite candy and a few simple cake decorating basics. Learn how to "watercolor" a cake!
I just love this Spring Flower Cake!
I find it immensely satisfying to take a boxed cake mix and turn it into something really fun. I've done this quite a few times with my Snowy Christmas Tree Cake and all the cakes I did for Valentine's Day, and now I've done it again for Easter!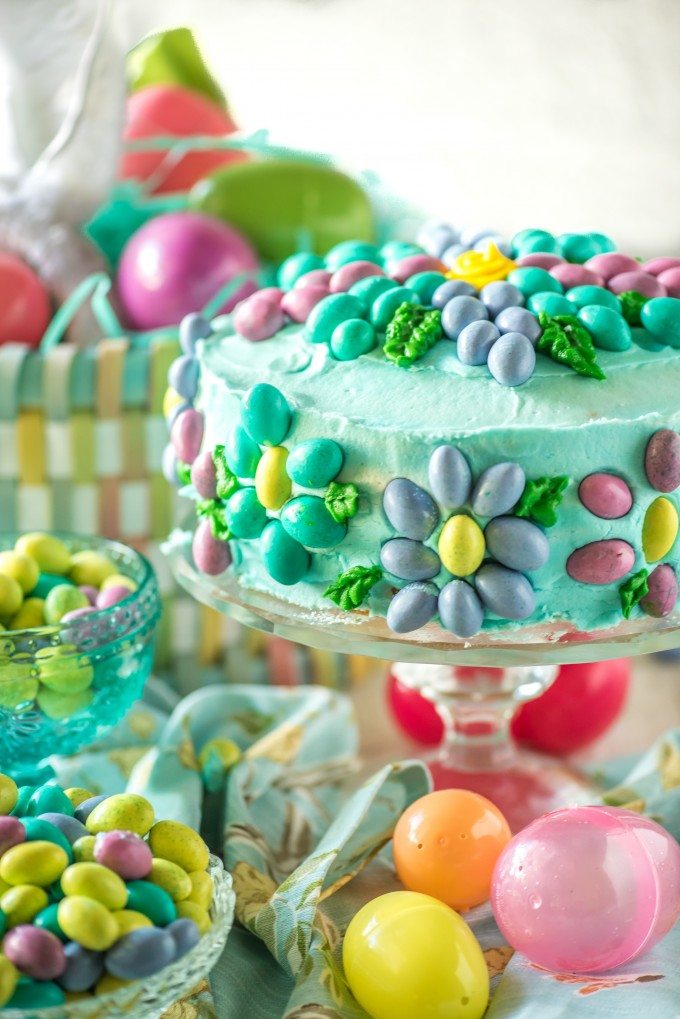 Each time, I've tried to come up with an idea that combines some easy, different, and fun cake decorating ideas with some actual cake decorating fundamentals. In the past, thats been rosettes and what I affectionately refer to as "frosting dabbing," where you put dabs of frosting around your cake, then smooth it to create sort of a watercolor affect. It's very cool- in this case, I used it to create subtle clouds against a blue sky background.
Then I used these fun new egg shaped M&M's® to create a design of spring flowers around the outside and top of the cake. My new technique for this cake? Making leaves! Truly, I feel sort of ridiculous for having avoided them for so long. They are ridiculously easy. I did two practice ones and then started doing them right on the cake. The tip does it all for you!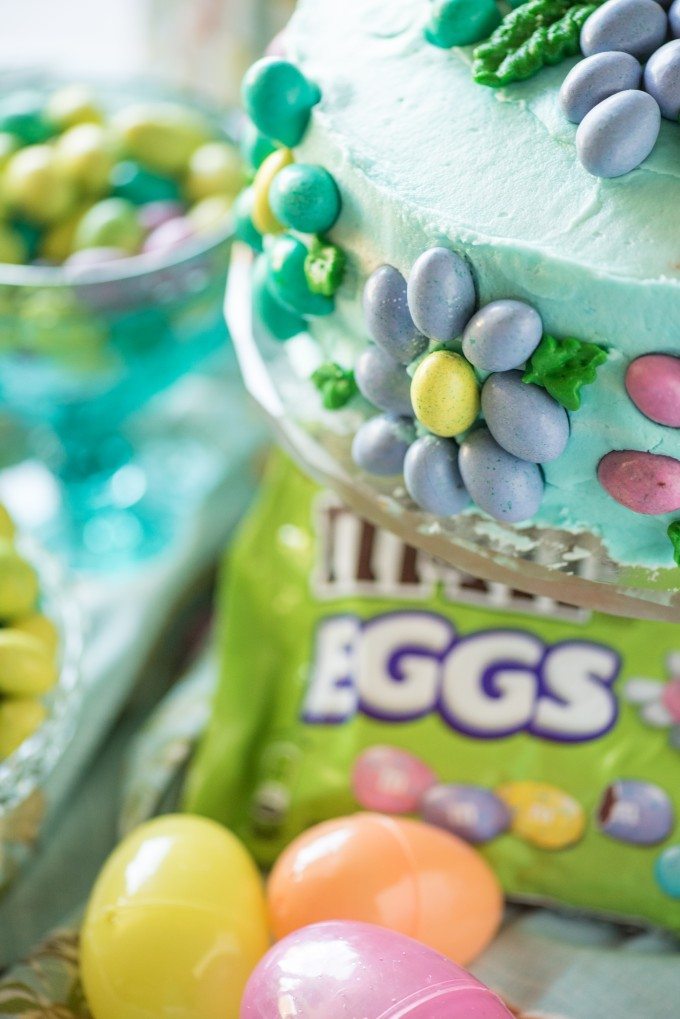 I feel like I like Easter more than most people do, which has only been amplified since I now have small children. I love putting together Easter baskets (which yes, are probably bordering on "over the top") and hiding eggs all over.
Easter egg hunting in my family has always been a "thing." My dad used to play the "hot and cold" game with me to find the eggs when I was young (it honestly always amazed me how he was able to spot SO MANY just sitting on the couch. Eye roll. So naive.), but as my brother and I grew up, my parents certainly knew how to keep the Easter spirit alive. They started hiding money in eggs in various denominations- a bunch of 1's and 5's, a couple 10s and 20s, a 50 and a 100.
Dave spent one Easter morning with us and just stood there sort of ambling around looking, while my brother and I ran around, tackling each other and ripping apart the couch cushions, all while my dad chuckled and enjoyed the show. Dave said he had never seen anything like it.
Just what Easter is all about. By the way, I was at least 24 when this happened. I had no money. I still feel that my behavior was justified.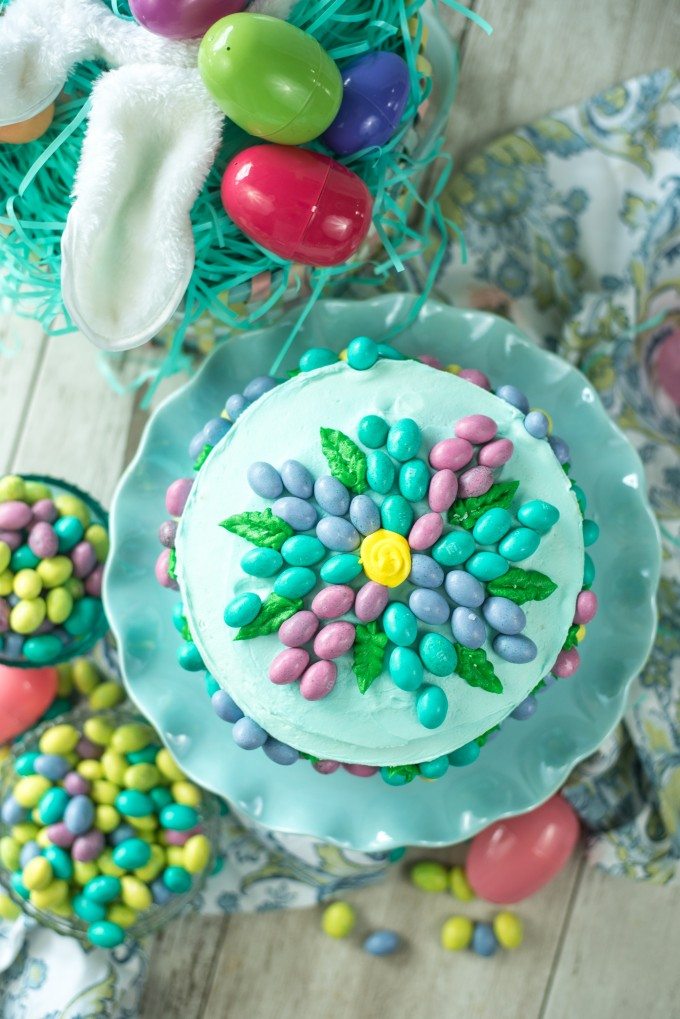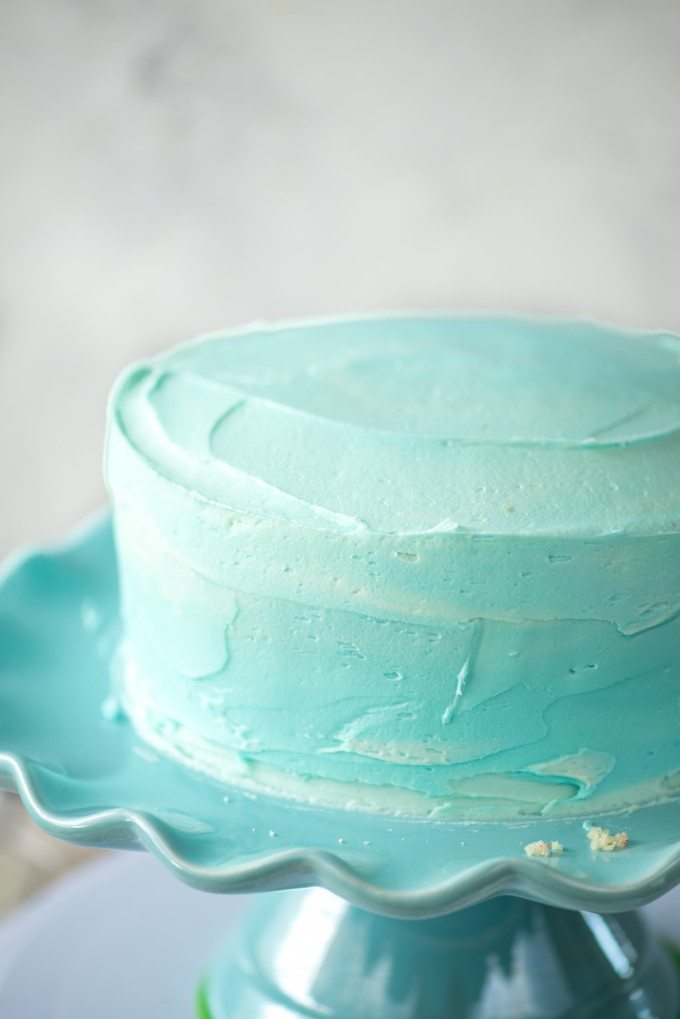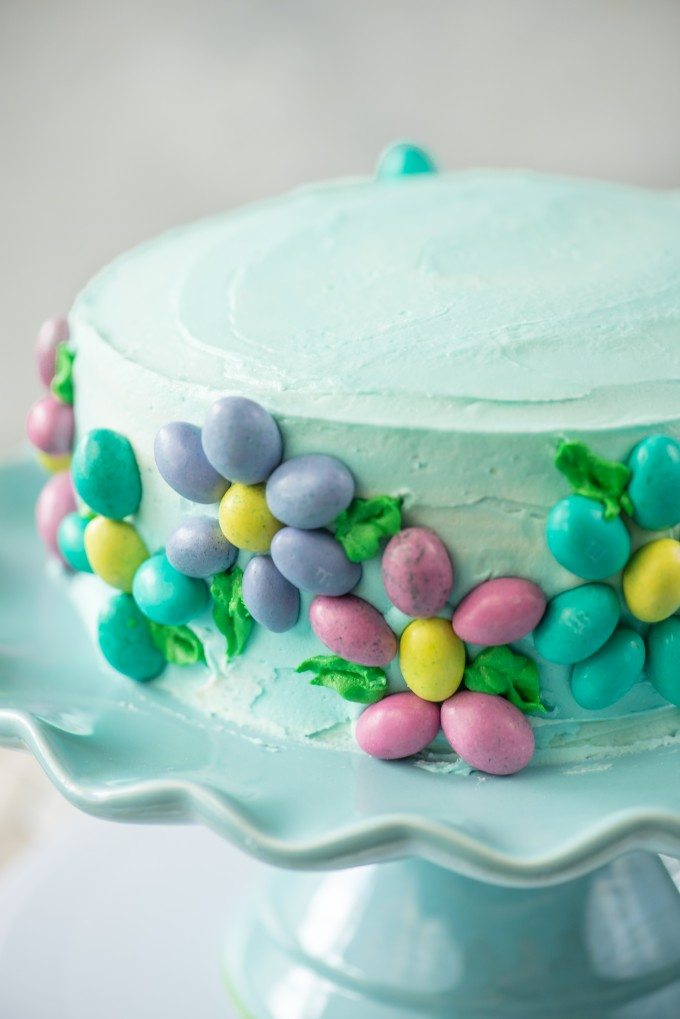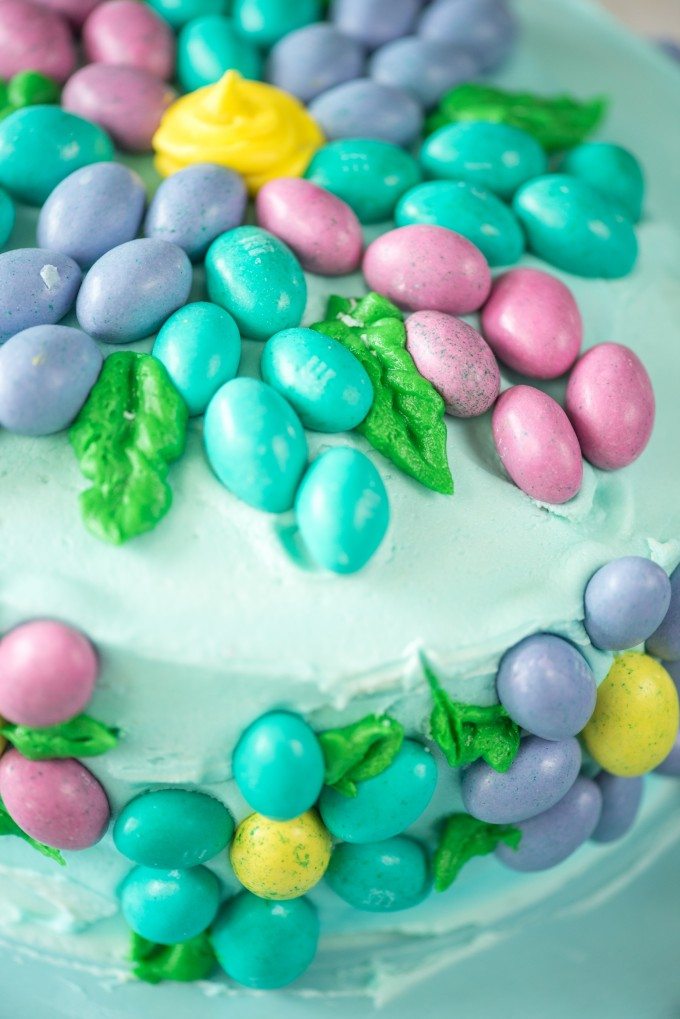 I didn't use my normal favorite buttercream recipe here, but not on purpose. Oftentimes when I am working on similar recipes close together, they get jumbled in my head (this also happens when I am scaling recipes- I am famous for not scaling some ingredients. But I did get amazing waffles out of it!). In this case, I had made my Chocolate Fudge Frosting for a cake on Valentine's day. I sort of accidentally combined the two frosting recipes in my head, combining the powdered sugar amounts from one and the remaining ingredients from the others. In a super fortunate twist of fate, I ended up with a really great spreadable frosting. This was nothing short of a small miracle, since I had no more powdered sugar and on that particular day, a run to the store was NOT in the cards.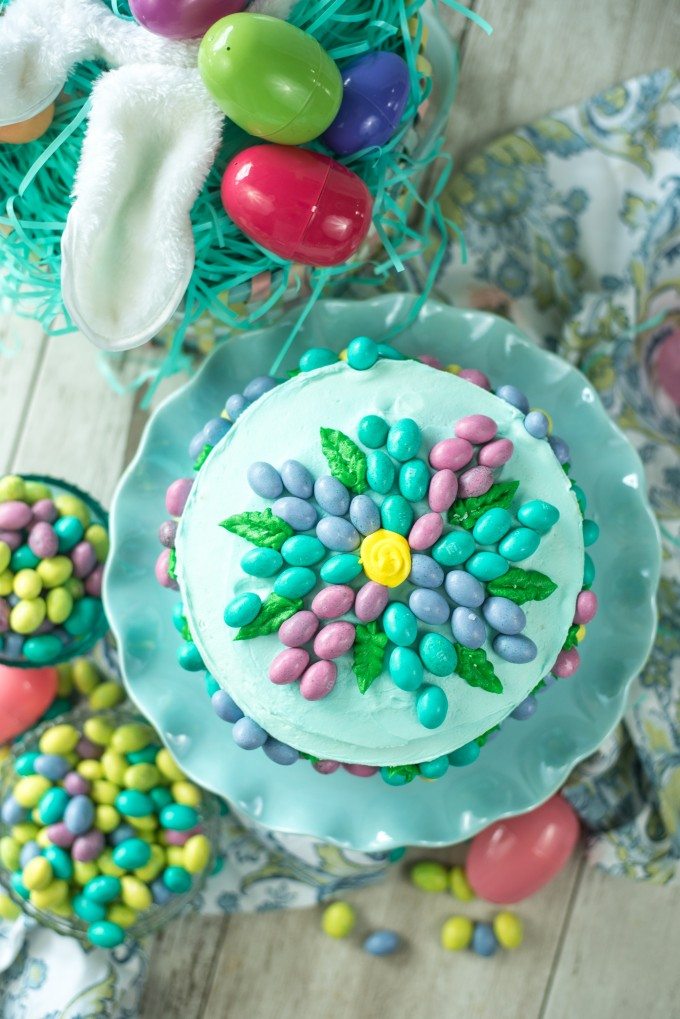 These M&M's® eggs are available at Kroger, in their Easter "eggstravaganza" aisle (it has been far too long since I made one of my ridiculous food puns), along with TONS of other stuff to put together an amazing Easter basket for the people in your life. Not only do they have everything that you need to put together this Spring Flower Cake, you'll definitely find inspiration to make other fun Easter themed desserts and baked goods, You can find your closest Kroger here.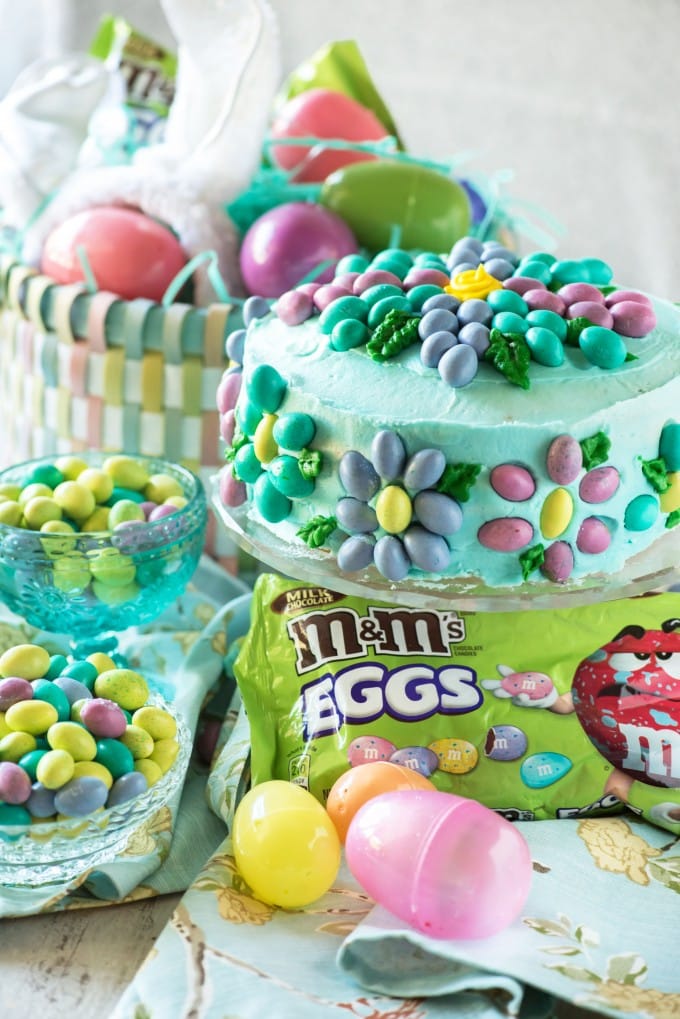 What you'll need for this recipe:
Stand mixer – Having a stand mixer really comes in handy for making that perfect fluffy frosting. Be sure to grab this [easyazon_link identifier="B000R4LD1Y" locale="US" tag="gogogogo03-20″]Classic Stand Mixer[/easyazon_link] to get your recipes made right!
Icing tips – Get this [easyazon_link identifier="B01EOK9OHQ" locale="US" tag="gogogogo03-20″]4 Piece Flower Icing Tip Set[/easyazon_link] to have your frosting looking exactly the way you want it!
Cake stand – This [easyazon_link identifier="B01MT18S1K" locale="US" tag="gogogogo03-20″]Multifunctional Serving Platter and Cake Plate[/easyazon_link] is great to have in your kitchen!
If you enjoyed this Spring Flower Cake Recipe, be sure to check out these:
Slow Cooker Peach Cobbler Cake
Spring Flower Cake
Ingredients
1.5

lbs

powdered sugar

1/2

cup

butter

softened

1/2

cup

shortening

softened

2

teaspoons

vanilla

2

teaspoons

meringue powder

2

tablespoons

heavy cream
Instructions
In the bowl of a stand mixer, add the powdered sugar, butter and shorting. Fit the mixer with the whisk attachment. Run the mixer on low until the butter and shortening is worked in.

Add in the vanilla extract and meringue powder. With the mixer running, add cream in small amounts until frosting consistency is reached. Whip the frosting on medium-high speed until fluffy.