If you're planning a Pixar birthday party, these Pixar Party Ideas are for you! From cupcakes to decorations, this is the best Pixar Birthday Party!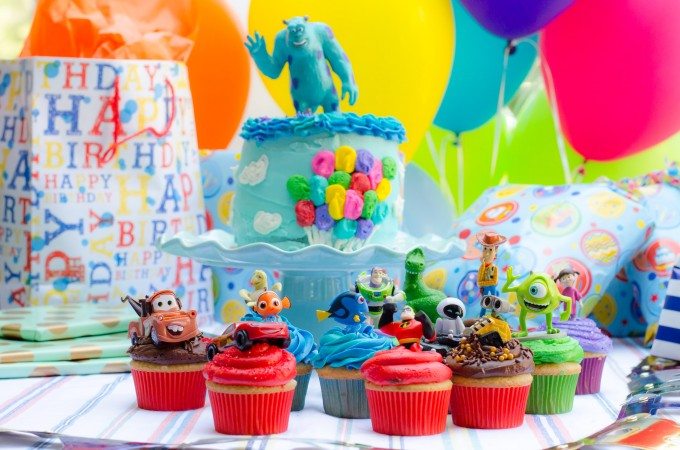 My child is obsessed with watching movies lately. Specifically the ones from Pixar.
We have left the Peter Pan and Robin Hood stage and are firmly in the midst of Toy Story, WALL-E, Up!, The Incredibles, Finding Nemo, Cars, and Monsters, Inc.
I have seen Toy Story 3 8 times in the past 10 days. That's not me being a drama queen and exaggerating. That's a stone cold fact.
I did the shopping for his birthday a few months ago- I wanted to get it done before I had the baby, because I figured it would be exponentially more difficult to do once I had to tote both of them around (Thank God I had that foresight). I ended up falling in love with the Pixar aisles at Toys R Us, buying an EVE interactive toy, a remote controlled WALL-E robot and a Buzz Lightyear gun (not sure what I was thinking there). As his birthday drew closer, I couldn't for the life of me figure out what I wanted to do for his cake- he had so much love for so many Disney movies, I wasn't sure what direction to go.
So I did what I always do when I'm faced with a choice that I don't make. I don't make it at all- I do it all!
Yes, I decided to have a cake featuring ALL of his favorite Pixar characters. I planned on just ordering a cake from Sam's Club or Publix, because I honestly think their cakes are totally delicious and reasonably priced, but the more that I looked around and was thinking about what I wanted it to look like, I knew there was no way they were going to want to do what I needed.
You know what they say, right? If you want something done right, you've got to do it yourself.
SO, I made a 6″ cake and 13 cupcakes (I had 14 figurines that I wanted to use). Each character had their own cupcake that went with their theme, with a big Sulley on top of the cake (he was way too big for a cupcake!).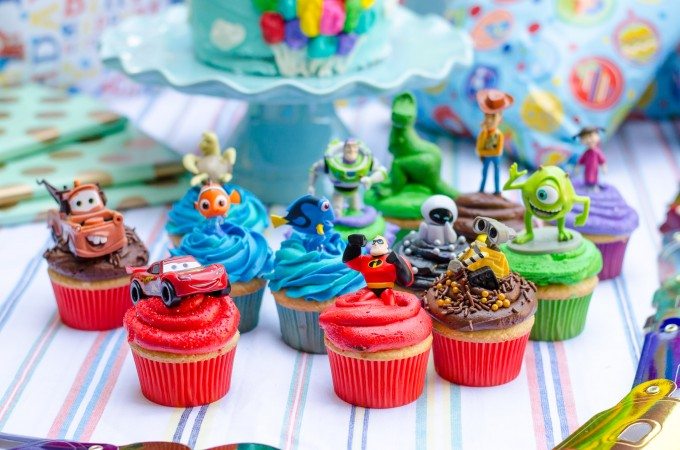 I'm in love with these 6″ pans– I used them to make my mom's birthday cake a few days prior and loved them so much that I used them again for this. I absolutely detest cutting cakes into layers. They never end up even or straight. This set has five small pans, so it's taken all the guesswork out for me. I am obsessed with them, and the possibilities for use are endless. Its very likely that I am going to get the 8″ set and the loaf set as well.
I did a chocolate cake with my favorite chocolate icing in between the layers for the cake, and white cupcakes with I am baker's Decorator Buttercream. I've had a buttercream recipe that I've used for the past couple years, but I'm kind of sick of it. I've always thought that it needed just something more. I decided to try out one of hers, and I swear to God, I will never use another one. I initially used it on the cake I made for my mother, who went nuts over the frosting and declared it was the best she's ever had. It was really easy to work with for decorating, which I suspect has something to do with the addition of the meringue powder in it.
A Pixar Birthday Party
Ingredients
1

cup

butter

softened

1/2

cup

shortening

6

cups

powdered sugar

1

tsp

vanilla

1

tsp

lemon juice

2

tsp

meringue powder
Instructions
In the bowl of a stand mixer, cream together the butter, shortening, and powdered sugar until light and fluffy.

Add the extract, lemon juice and meringue powder and beat for another 1-2 minutes.

Add coloring, if desired, and frost.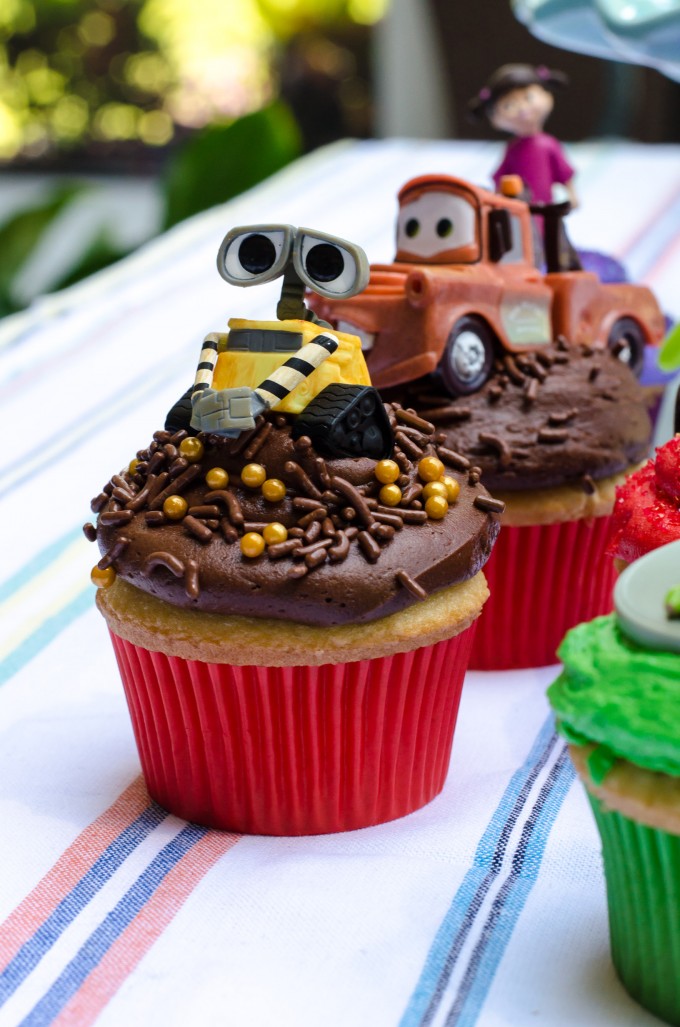 For WALL-E, I used my chocolate frosting, chocolate sprinkles and gold pearls to fit in with the barren dirt and rubble. I used my large open tip, but you could just snip the corner off a pastry bag.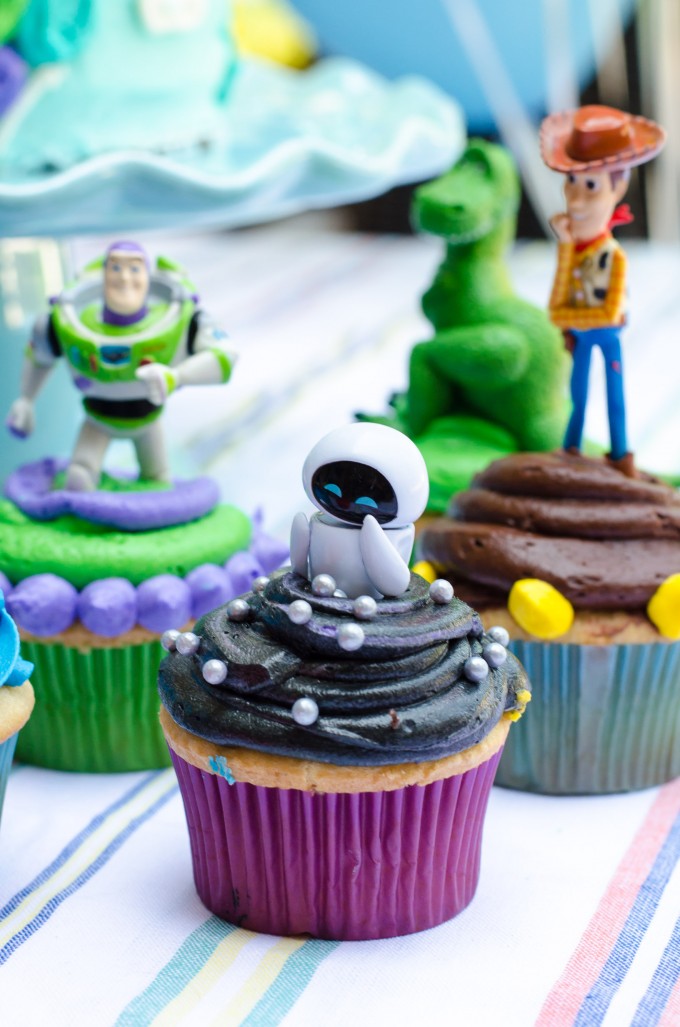 For EVE, I used silver pearls to represent the stars in space. I did a swirled icing using bright violet and black frosting. She was my favorite! You can see Woody in the background- chocolate frosting and yellow "points" for a sheriff's star!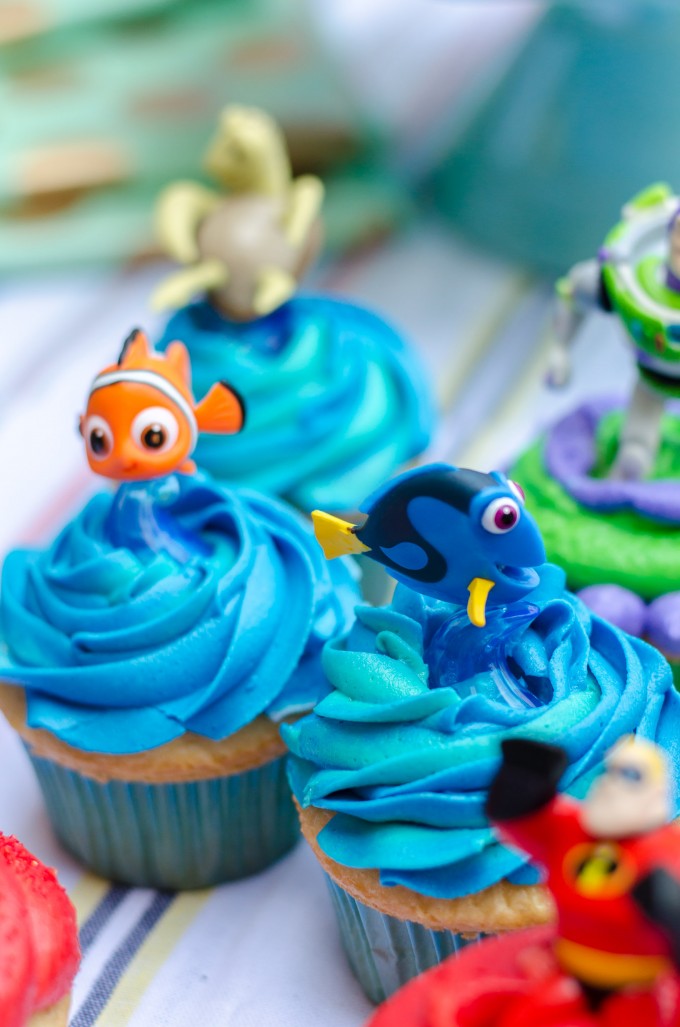 I loved the Finding Nemo cupcakes. I did a swirl of Teal and Royal Blue frosting, and used a 1M tip to make it look like ocean waves.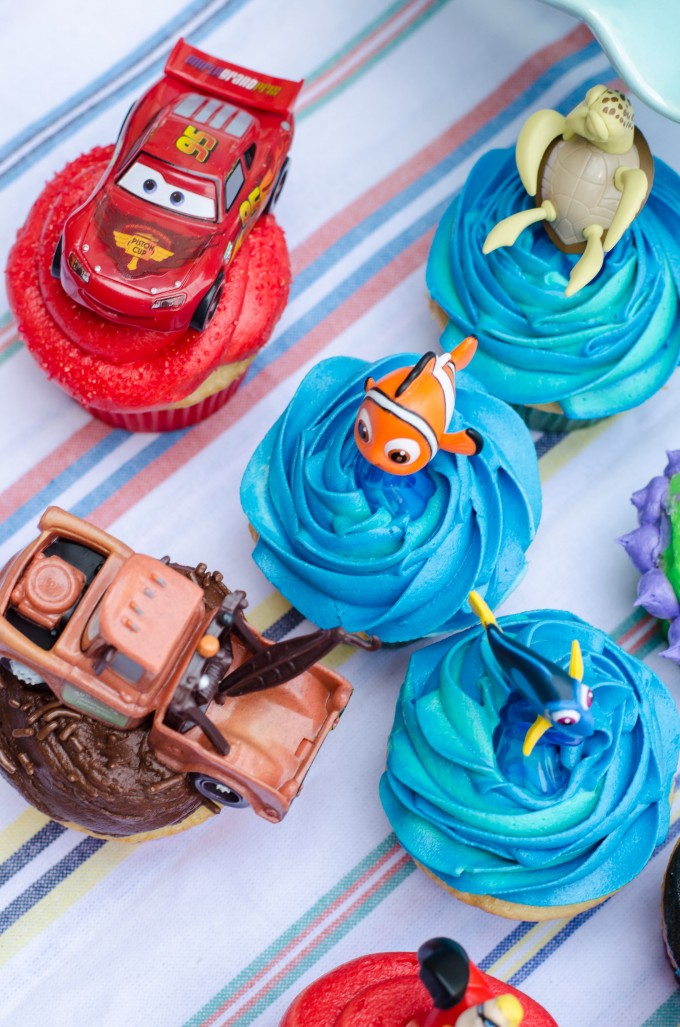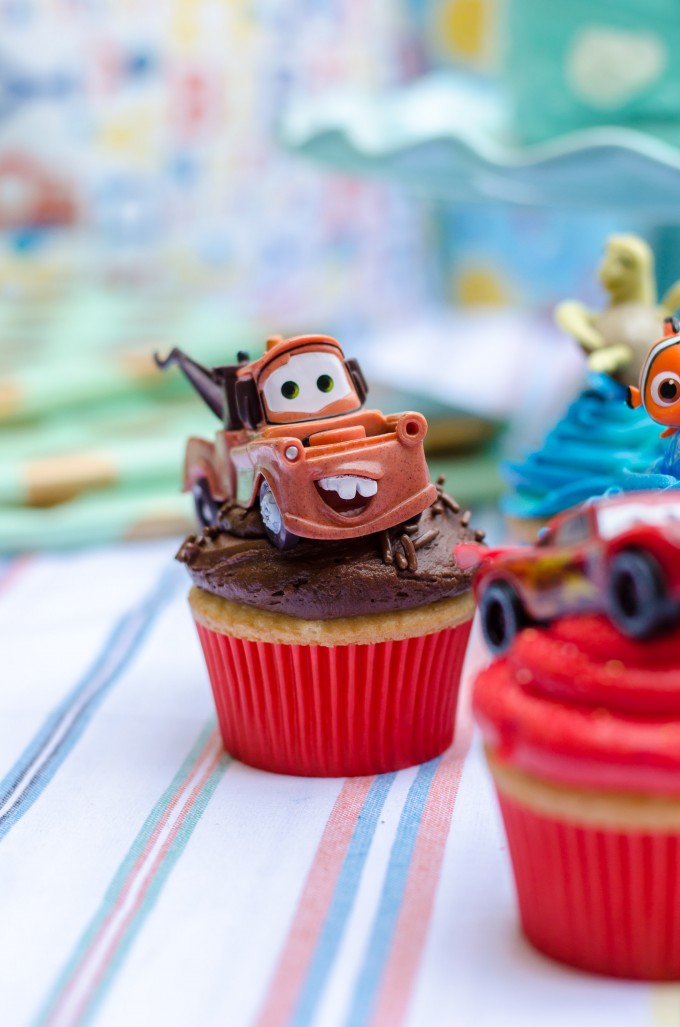 For Cars, I chose to use Mater and Lightning McQueen. Mater used chocolate frosting and chocolate sprinkles, while Lightning used a bright red frosting dusted with red sugar, to emulate his flashy red paint.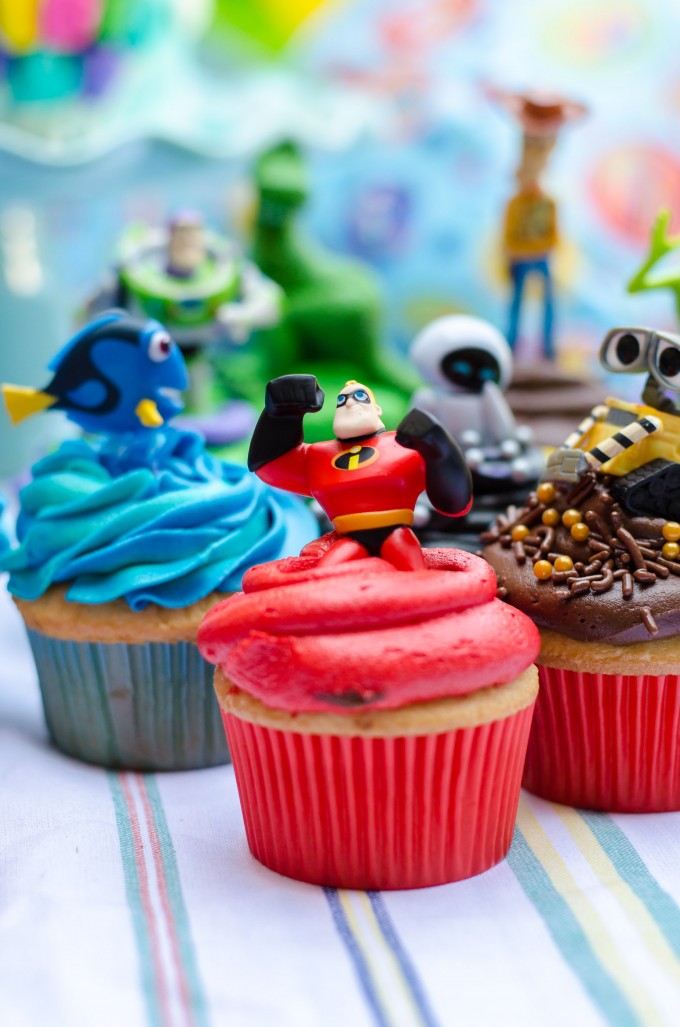 Bright red for Mr. Incredible!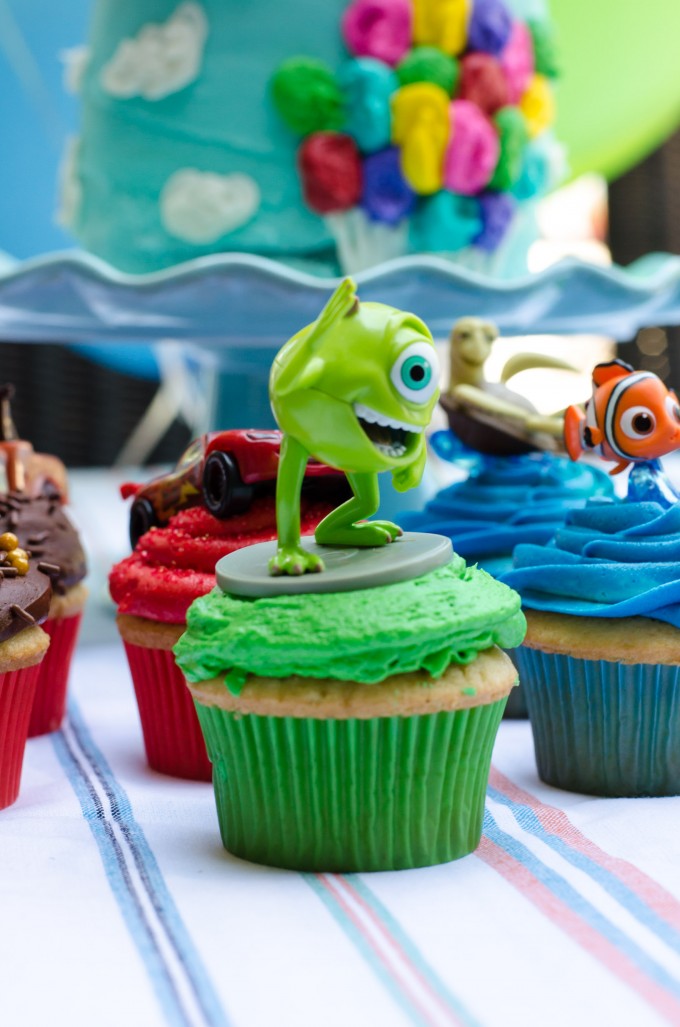 Bright Green for Mike Wazowski, and purple for Boo (not pictured)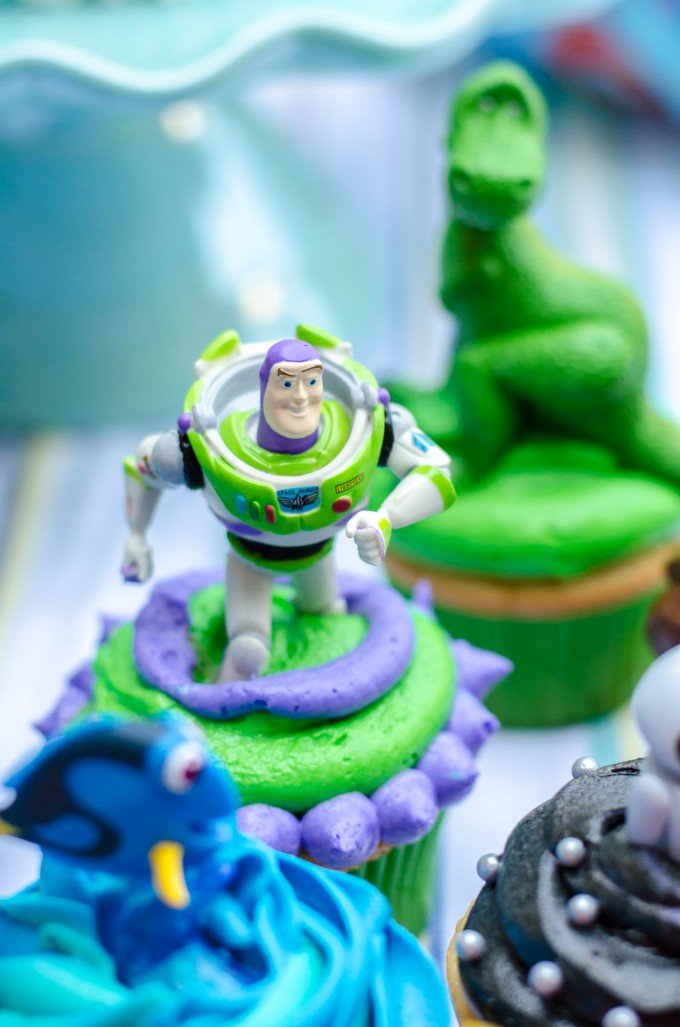 Buzz got a bright green and purple bullseye topping.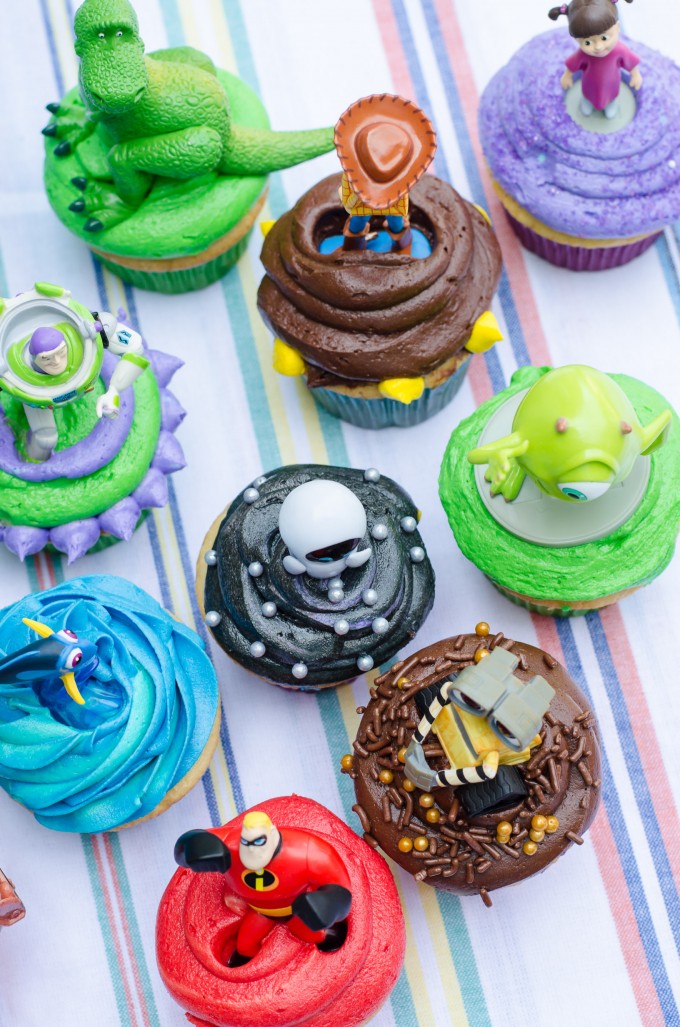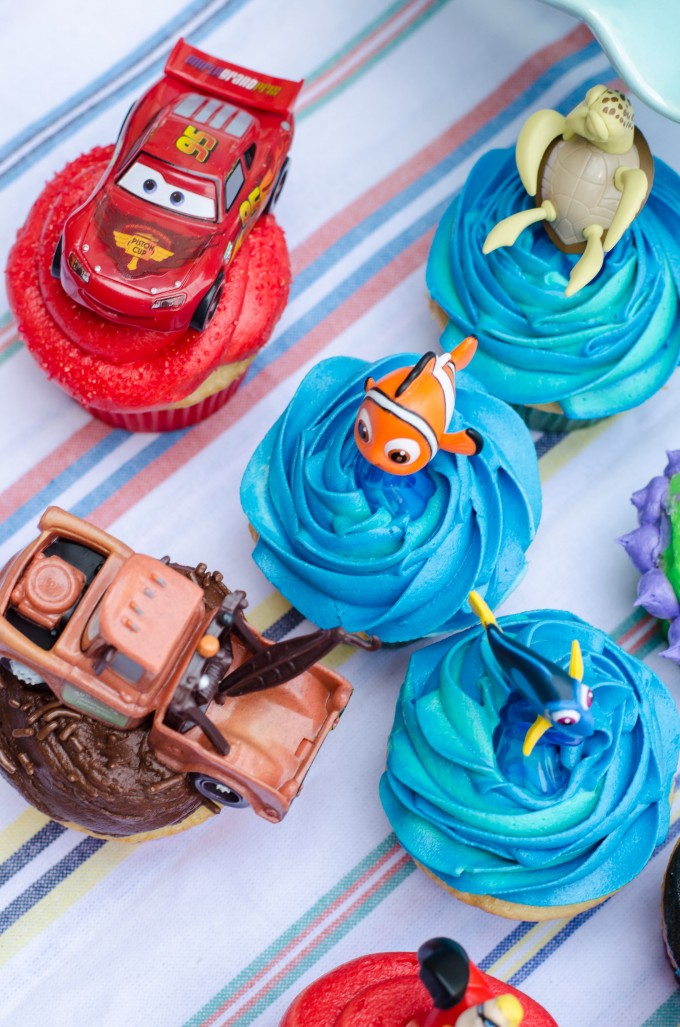 I thought these were just so cool.
It took me awhile to figure out what I wanted to do to the cake. Originally my plan was to make it look like the infamous "Pixar ball," but once I learned that Sulley had to go on top of the cake, I had to switch my plan up. I decided to do a bunch of balloons for UP! and then do the top in a teal-and-purple-spots "fur" using Wilton Special Tip #233. I also added the Toy Story clouds around the sides. The top border was done with the same bag as the Finding Nemo Cupcakes- teal/royal blue swirl with a 1M tip.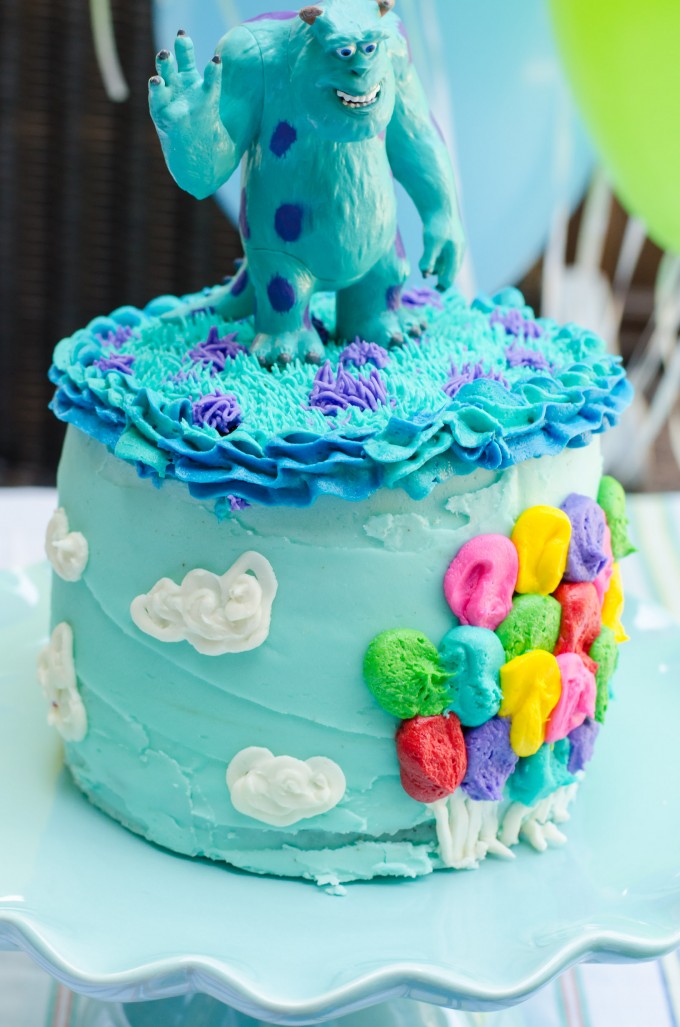 Wish I would have spent more time to make the cake perfectly smooth, but it was late and certain newborn babies are not sleeping through the night yet.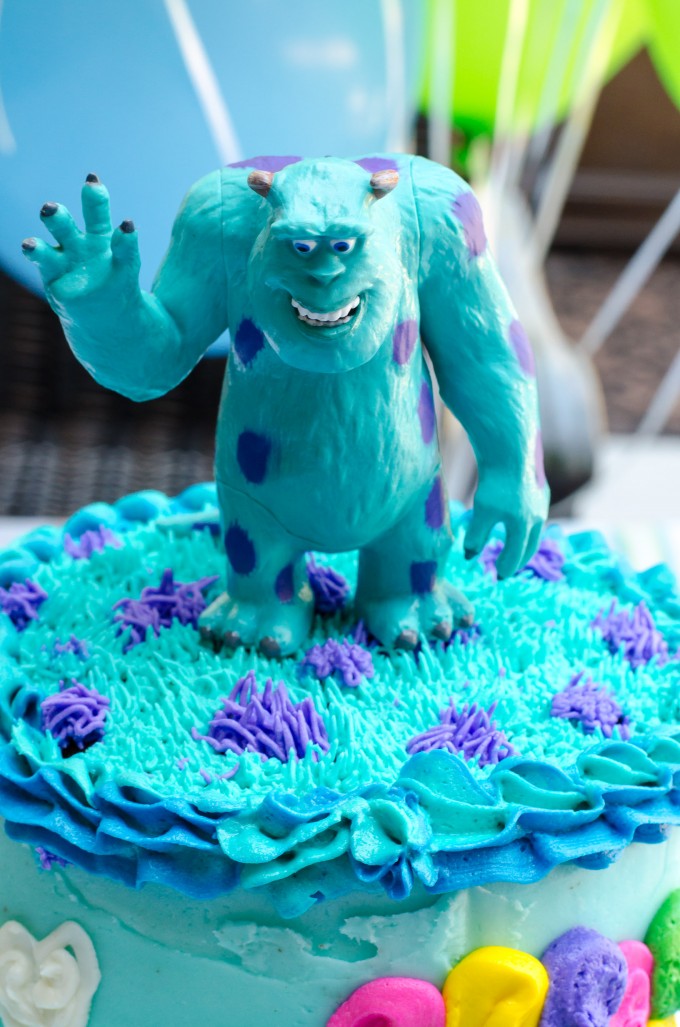 Jonathan could not have been more thrilled. He was totally in awe when he saw them.
This Pixar birthday was set up so that he walked out to it all after his nap. I found a great album for a background soundtrack, Disney/Pixar Greatest. I don't know about you, but I have always loved the music from Pixar movies. It really pulls on my heartstrings, so I was super happy to find this album with some of my favorites:
You've Got A Friend In Me (Toy Story)
If I Didn't Have you (Monsters, Inc)
Life Is A Highway (Cars)
Define Dancing (WALL-E)
Down To Earth (WALL-E)
Monsters, Inc (Monsters, Inc)
Nemo Egg (Main Title) (Finding Nemo)
First Day (Finding Nemo)
Carl Goes Up (UP!)
If you liked this Pixar birthday party, check out these other festive cake recipes: