These Witch Cupcakes are an adorable Halloween cupcake idea! Super easy to do with candy eyes and favorite Halloween treats!
Today's post is just a little short and sweet tutorial on how to make these cute(? Spooky? Combination of both?) Halloween witch cupcakes, absolutely perfect for all your Halloween get-together and upcoming school parties. They are crazy simple to do.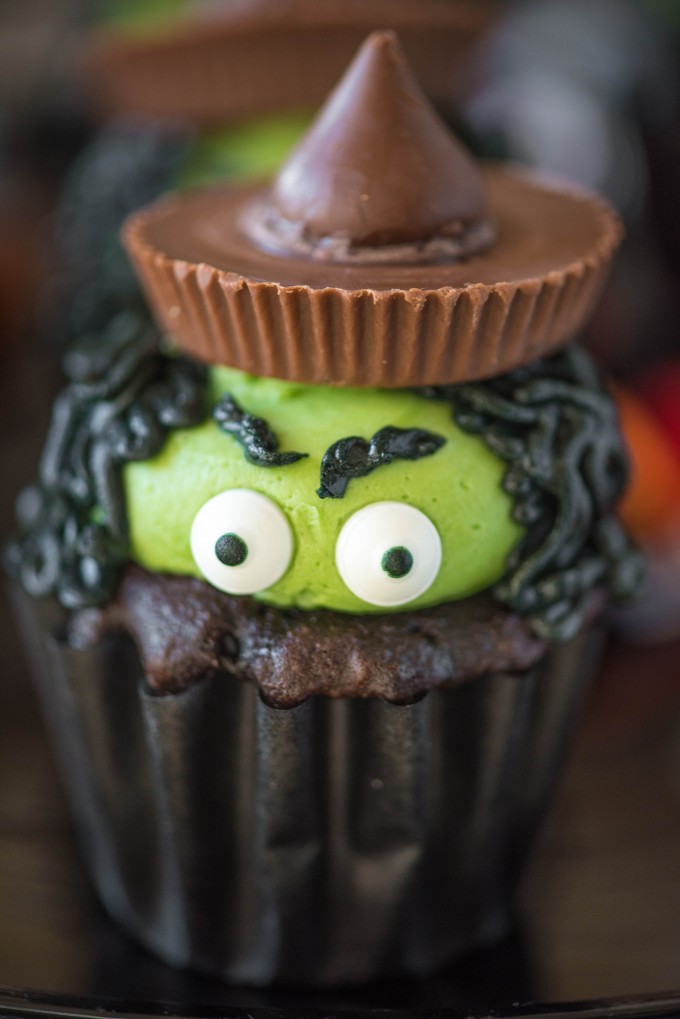 I know these witch cupcakes aren't my normal wheelhouse sort of post – in fact, when I sent them to my sister-in-law, she didn't even think that I had done them. Dave says, "well, they just aren't the sort of thing that you normally do!"
Listen, I do what I feel I want to do on any given day. Sometimes that's beautiful food, sometimes it's comfort food, and sometimes it's cutesy desserts that I foresee making for Jonathan's Pre-K Fall Party.
So I was bopping around Target the other morning, as one does when it's across the street from your son's school, and peering out the Halloween section for ideas- ideas for anything really. I spied some Reese's cups and thought about how I only ever buy them at Halloween and what a shame that is because they are so good and oh! I bet I could make a super cute witch hat out of them with a Hershey Kiss.
Well, you see how we ended up here. It's all Target's fault really.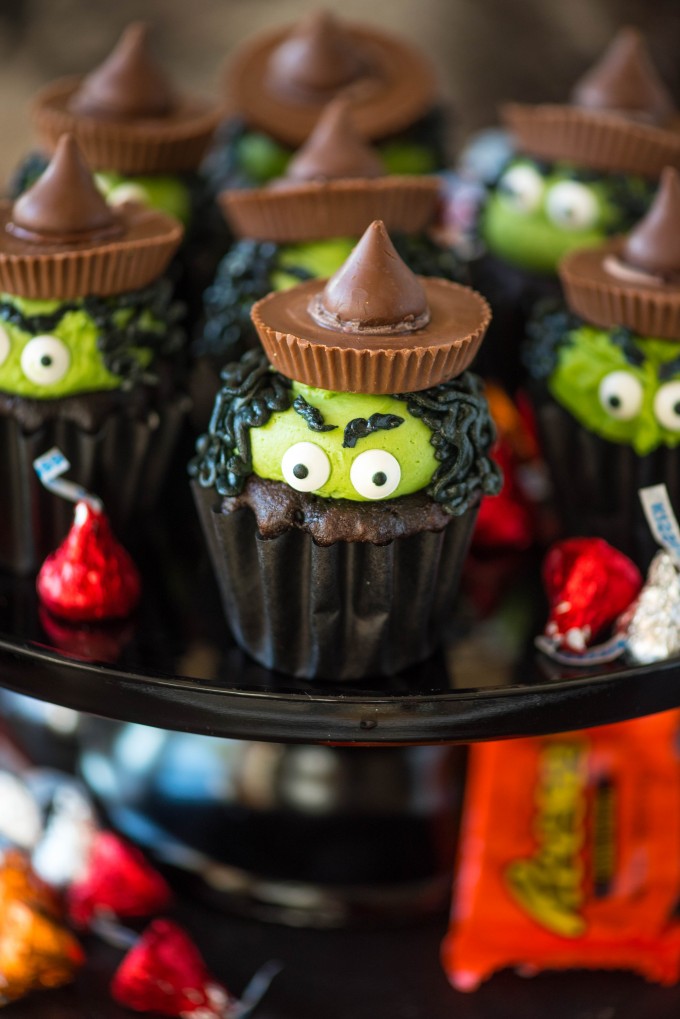 What you need to make these Halloween Witch Cupcakes:
Piping Bags
Wilton Moss Green Gel Food Coloring
AmeriColor Black Gel Food Coloring; get it in a set here.
Wilton Candy Eyeballs
Reese's Peanut Butter CupsREESE'S Peanut Butter Cups
Hershey's Kisses
Chocolate ChipsChocolate Chips
Black Cupcake Liners
You'll also need 24 chocolate cupcakes (baked in the liners) and a batch of buttercream frosting. This one here is my favorite, it makes about 6 cups.

How to Make Halloween Witch Cupcakes:
Divide your frosting and separate out 1/4 of your batch. You'll tint this black and scoop it into a piping bag with the very tip cut off, so there is a SMALL hole in the bag. Tint the remaining frosting green and spoon into a second bag. Cut off the bottom of the bag so there is about a 3/4″ hole.
Melt about half a cup of chocolate chips in the microwave and unwrap 24 Reese's cups and Hershey's Kisses. Dip the very bottom of the Hershey's Kiss, shake off the excess, and press into the top of the Reese's cup to make your hat
Pipe a small dome of green icing onto the top of the cake, and press in two small candy eyeballs towards the base of the frosting. Use the black frosting to draw on "angry eyebrows," then top with your candy witch hat. Use your black frosting again to draw on crazy squiggly hair around the sides of the cupcake (you can also do the back of the cupcake if you're feeling particularly inspired and motivated.
And that's it! You're done. So easy, right?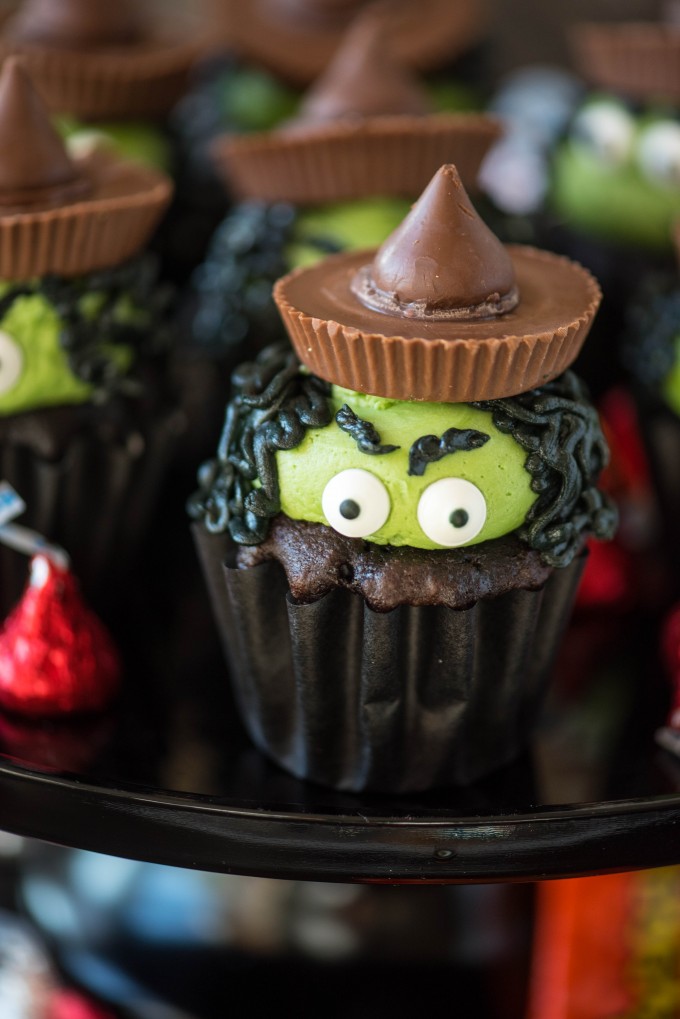 SaveSave
SaveSave