These Crockpot Spicy BBQ Cocktail Meatballs are WAY better than the grape jelly ones! Make your own BBQ Sauce right in the slow cooker; these are perfect for game day!
This post is done in partnership with Sir Kensington's. All opinions and statements are my own.
If you haven't had crockpot meatballs at a football party before, then you are hanging out at the wrong parties.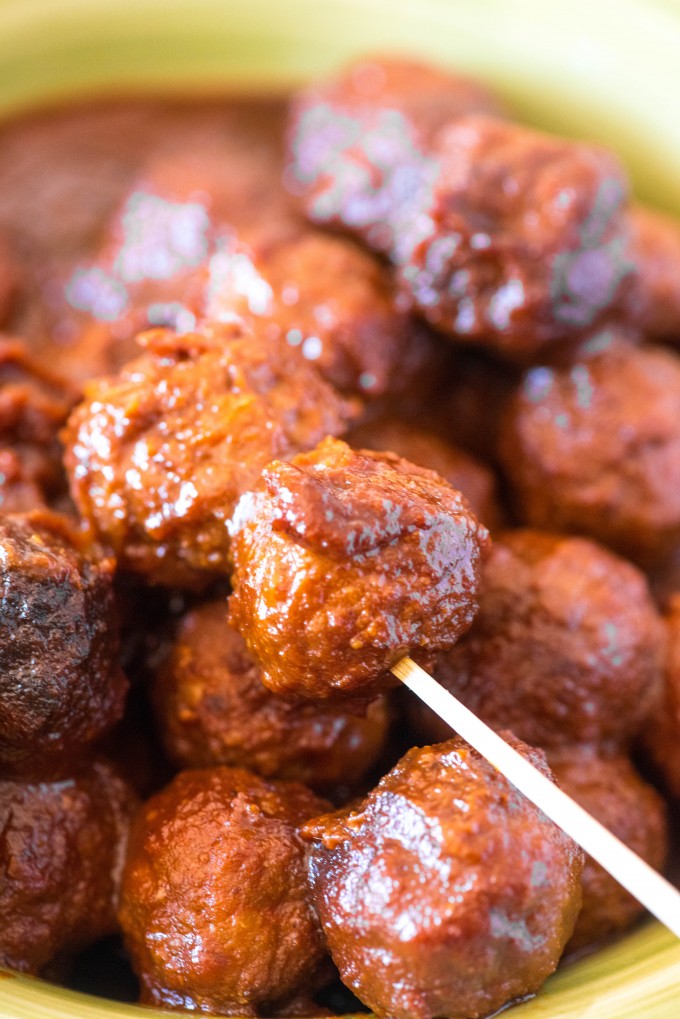 Variations of these have been around for a LONG time, the most popular of which usually contains grape jelly. Now, while I'm sure I've had them before and not known it (and probably thought that they were delicious), I think we can do better than that particular combination.
Right?
So let's talk about the condiments at use here, and the wonder that is Sir Kensington's.
Over the summer, if you are an avid reader and follower of this site, you may remember the Sweet & Smoky Candied Bacon Burger that I did for a burger contest for Sprouts. One of the secondary sponsors was Sir Kensington's, a company which I was unfamiliar with, but made condiments.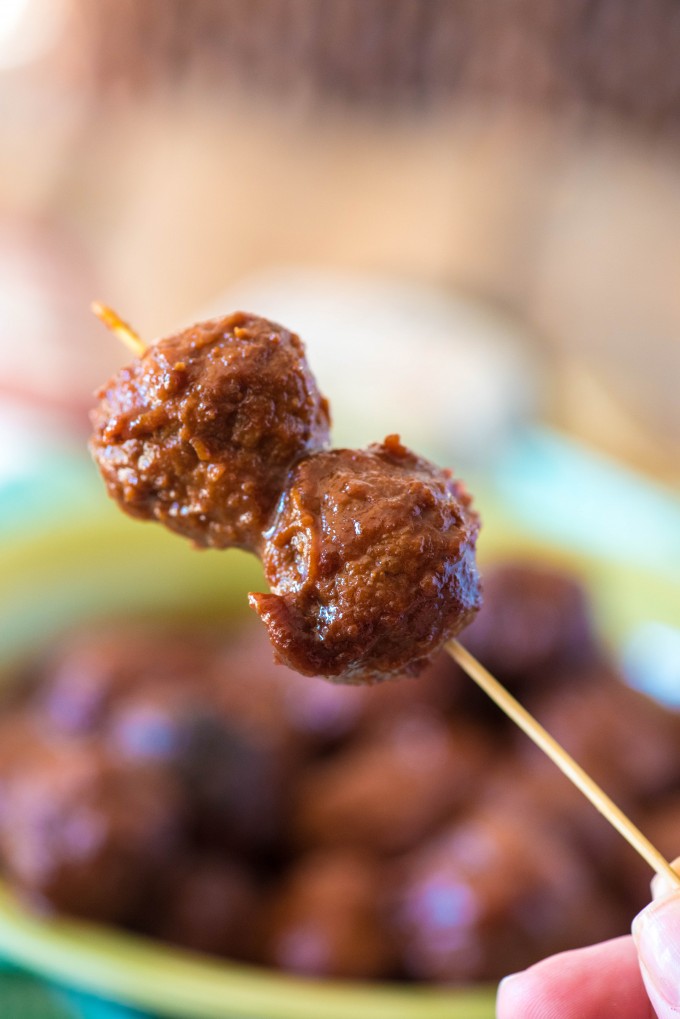 Now, I'm not much of a loyalist when it comes to condiments- I always just grab the store brand when it's on sale.
However, for that burger I used their "Special Sauce"- and thought it was incredible.
Once that burger actually ended up WINNING the entire contest (woohoo!), I came home one day to find cases of mayo, spicy brown mustard, ketchup and yellow mustard. Holy cow, I thought, that's a lot of condiments.
So one by one, they got opened. The mayo was first, and I couldn't believe how different it was from all the other jarred mayonnaises that I had tried in the past, so rich and creamy, not at all gelatinous.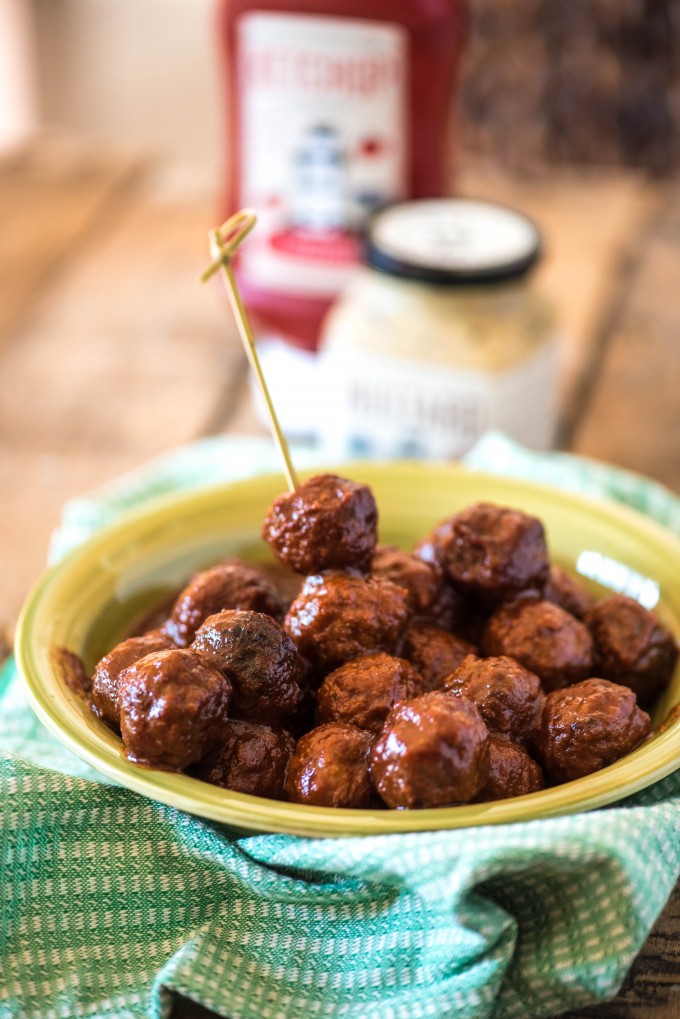 And then I had the ketchup, and I might as well have just died and gone straight to heaven. The flavor is SO RICH, so unlike anything that I had ever tasted in a ketchup before. I used it to make my Root Beer BBQ Sauce video and David actually asked me what I did differently, because as he put it – "You managed to take something that was already really good and make it awesome."
Guess what I used as the base? You better believe it was the Sir Kensington's ketchup!
So it is also what I used in the base for these AMAZING crockpot spicy BBQ meatballs. I blended the ketchup with spicy brown mustard for a kick, then added molasses, apple cider for a little fall flair, vinegar, sugar and spices. A quick whisk together and it was ready to pour over frozen meatballs and cook away in the slow cooker for a few hours. Then?? It's party time!
If you like these Crockpot Meatballs, try these: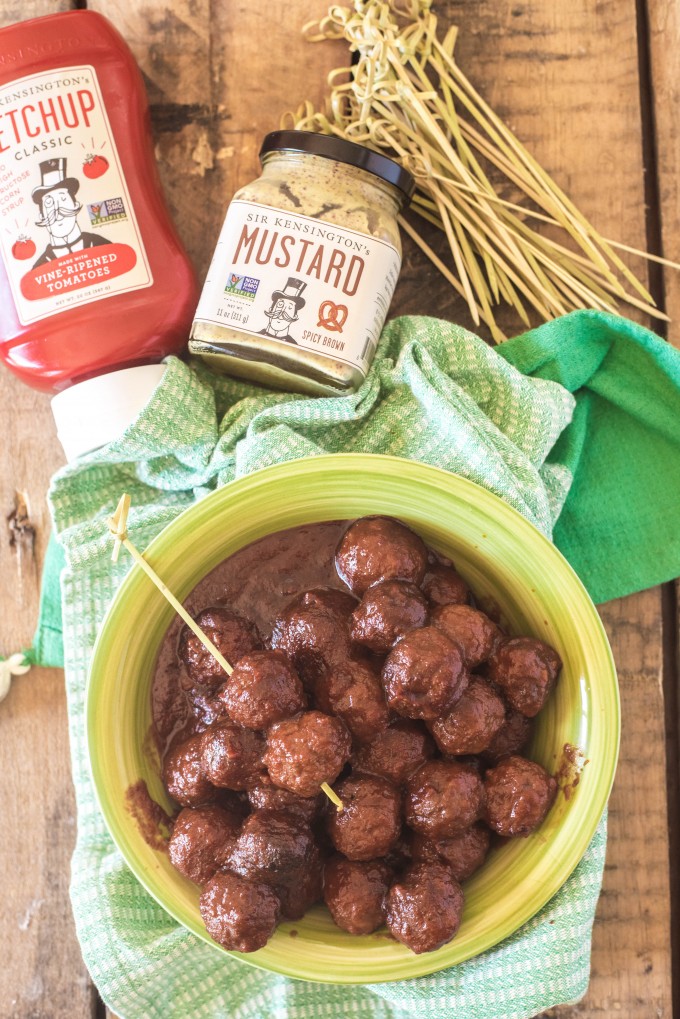 Find out more about the Sir Kensington's Condiments with Character here and find their incredible products here!
Crockpot BBQ Meatballs
Ingredients
1

lb

frozen cocktail meatballs

1

cup

ketchup

1/4

cup

spicy brown mustard

1/4

cup

molasses

1/2

cup

apple cider

1/4

cup

apple cider vinegar

1/3

cup

packed brown sugar

1

teaspoon

garlic powder

1

teaspoon

onion powder

1

tablespoon

worcestershire

1

teaspoon

liquid smoke
Instructions
Place meatballs in the insert of a slow cooker.

Whisk together remaining ingredients in a separate bowl until fully combined.

Pour BBQ sauce over meatballs. Cook on HIGH for 4 hours, stirring occasionally.
SaveSave
SaveSave
SaveSave
SaveSave