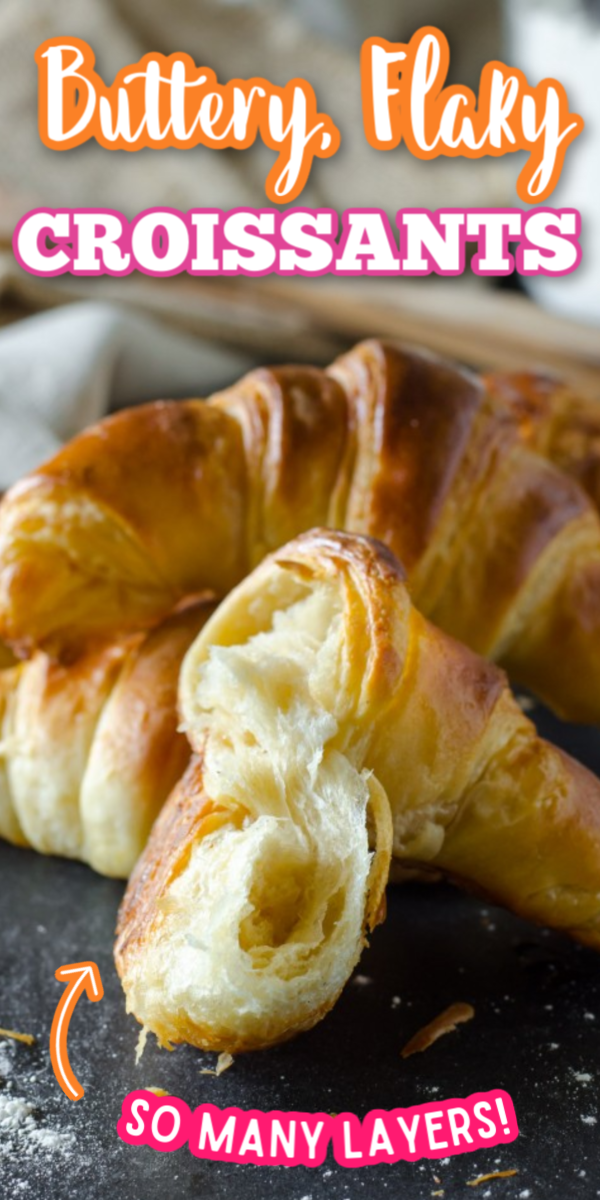 These Flaky Butter Croissants make for a great breakfast treat! This French pastry is so delicious, you'll never wonder how to make butter croissants again!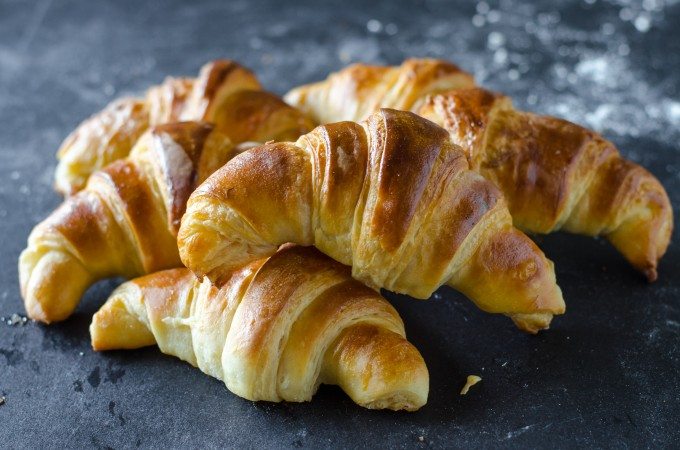 This is my second attempt at making croissants. While the first one didn't QUITE turn out the way that I had hoped, the second one was fabulous.
Unsurprisingly, one of my favorite trips that I ever took was when David and I went to Paris in 2012. We had gotten married the year before, and he was itching to start our family. I was adamant that I wanted to go to Paris before we had kids, so guess what- we went to Paris.
Although we spent most of our time running around, going to cathedrals and museums, you had better believe that I spent plenty of time eating. While I'm sure it is possible to find bad food in Paris, it wasn't a stumbling block that we faced. Everything that we ate- including the steak frites that we ate while waiting in line at the Cathredal de Notre Dame and the prosciutto and mozzarella pressed sandwich on fresh baguette, eaten on the banks of the Seine, were incredible and still among the best I've eaten today.
I'm definitely not romanticizing it at all. But just know that when David and I go back, I'm going back to sit and eat. And that may be all.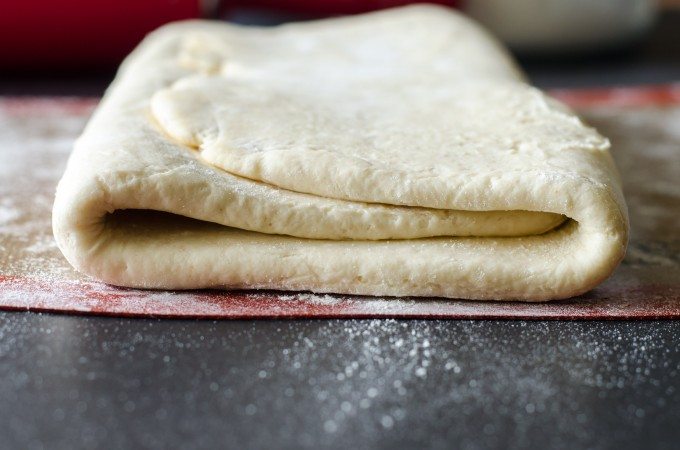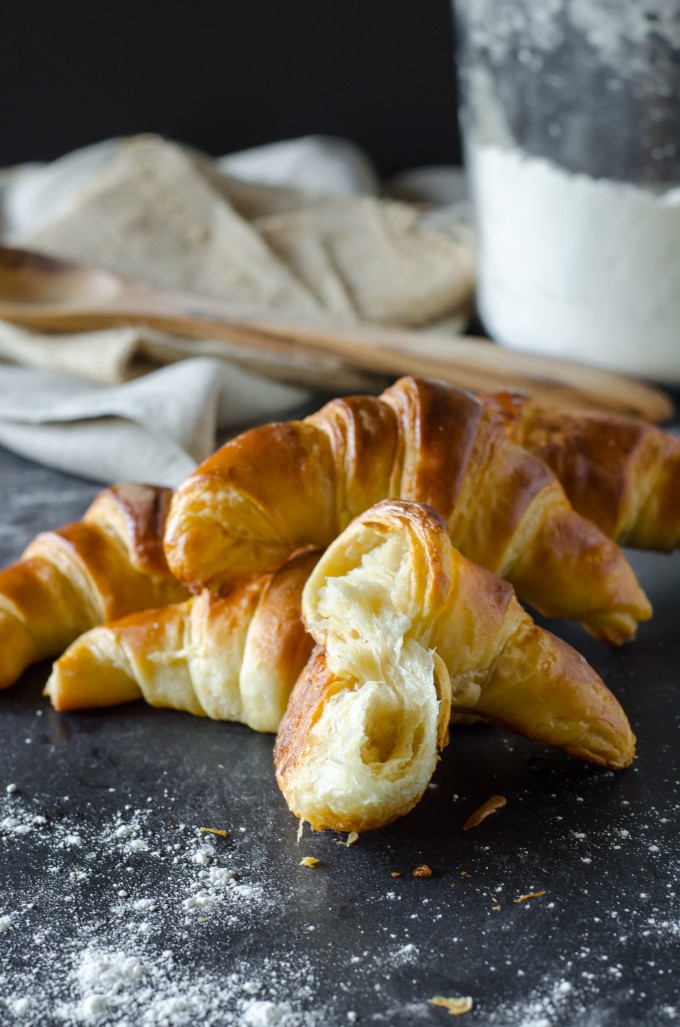 Where the French really shine is their pastry- and it is EVERYWHERE. I've made a few attempts to duplicate a delicious French croissant in the last 4 years, but never been fully satisfied. I used this recipe on Epicurious for my second attempt, and couldn't have been happier with the final result. One bite and I was back walking along the Champs-Élysées.
Again, just like the homemade crescent rolls, there's not much active work involved- although it does require a good amount of elbow grease! Most of the time required for these is from the chilling time- and if you have made my crescent rolls, it follows nearly the same procedure. The biggest difference between the two recipes is the butter- in order to achieve the flaky laminated dough for croissants, you need to keep that butter COLD!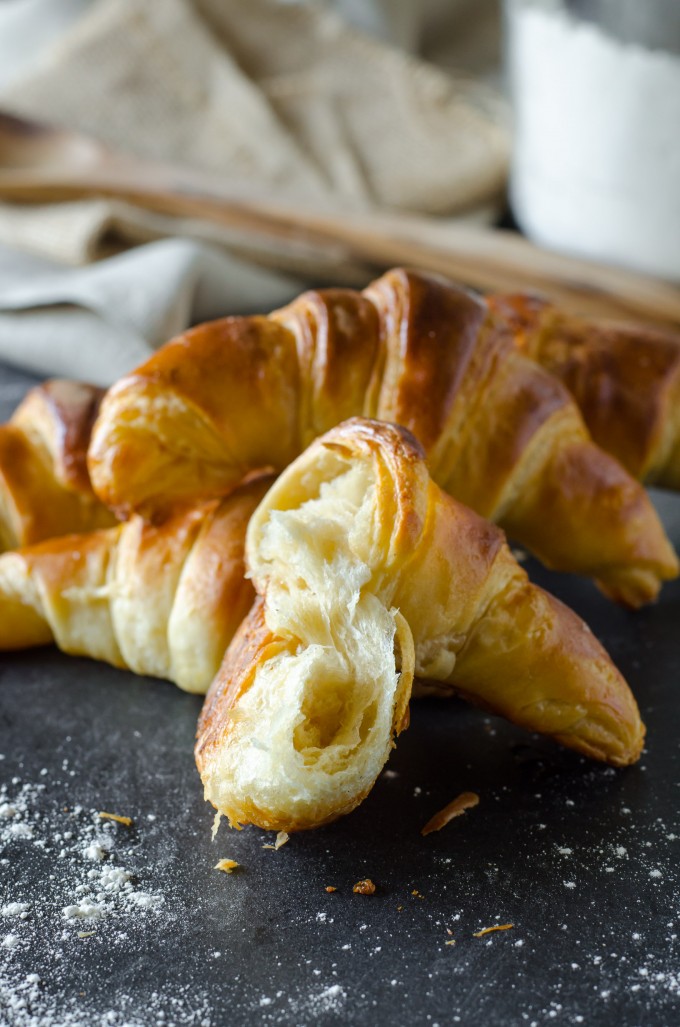 If you liked these authentic gourmet butter croissants, check out these other breakfast pastries:
Flaky Butter Croissants
Ingredients
1 1/2

cups

whole milk

heated to warm (105°F–110°F)

1/4

cup

packed light brown sugar

1

tablespoon

plus 1/4 teaspoon yeast

3 3/4 to 4 1/2

cups

all-purpose flour

1

tablespoon

kosher salt

3

sticks

1 1/2 cups cold unsalted butter

1

egg beaten with 1 T whole milk
Instructions
In the bowl of a stand mixer, combine the milk, sugar and yeast. Let stand for 5 minutes until foamy.

Attach the dough hook to the mixer and add the salt and 3 3/4 cups of flour. Mix together until the dough comes together into a smooth and sticky mixture. Turn out onto a floured surface and knead for a few minutes until the dough forms a ball. Pat into a 1 1/2" thick rectangle, wrap in plastic wrap, and refrigerate for an hour.

Make the butter block: On a sheet of plastic wrap, lay the sticks of butter side by side. Use a rolling pin to roll and smack the butter until it is approximately 8 x 5". Chill while you roll out the dough.

On a lightly floured surface, roll the dough into a 10 x 16" rectangle, stretching and shaping as necessary. With a short side facing you, place the butter in the center of the dough so that the long side of the butter runs parallel to the short side of the dough. Fold the bottom third up over the dough, then fold the top 1/3 down (letter fold).

With the short side of the dough facing you, use a rolling pin to press down and make horizontal impressions in the dough at even intervals.

Roll out to a 15 x 10" rectangle, being careful not to roll over the ends (butter will come out). Repeat the letter fold- bottom third folded up, top third folded down. Wrap in plastic wrap and return to the fridge for 1 hour.

Repeat the previous step an additional three times, sprinkling with flour as necessary to keep from sticking. After the last fold, refrigerate for 8-18 hours.

To make the croissants: Halve the dough; refrigerate one half. Roll dough out to a 16 x 12" rectangle, trimming the edges and corners to square.

With the short side facing you, cut in half horizontally and return one half to the refrigerator. Cut remaining dough portion vertically into thirds (rectangles), then cut diagonally into triangles.

Line two baking sheets with parchment paper or silicone mats. Working with one triangle at a time, stretch the dough by about 50%, then roll from the wide end to the pointed tip. Place on baking sheet so tip is on the bottom, and slightly curve them into the classic croissant shape. Repeat with remaining triangles and dough.

Allow to rise for 2 hours. Preheat oven to 425F; position racks in the top and bottom thirds of the oven. Brush pastries with beaten egg.

To bake: Spritz the inside of a hot oven with water; close door. Place pastries into oven, spritz oven again with water, close door and reduce heat to 400F. Bake for 10 minutes. Rotate pans, lower oven temperature to 375 and bake for an additional 10 minutes. Remove from oven and allow to cool slightly before serving.