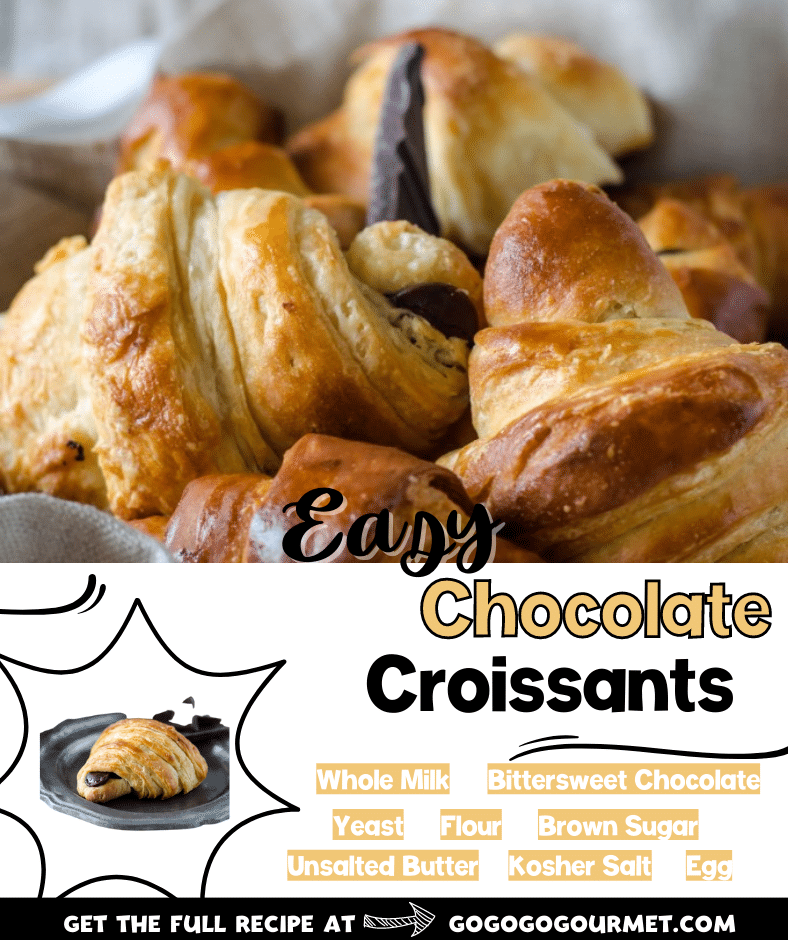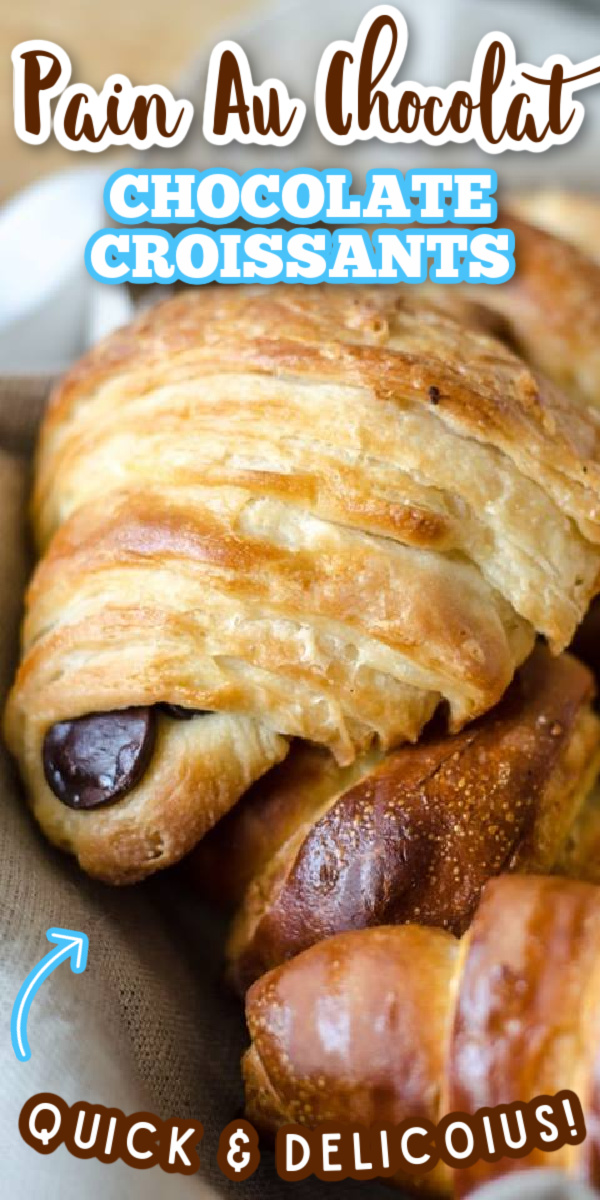 This Pain au Chocolat Recipe is a quick and delicious pastry that will bring the feel of France right to your home!
The best part about making your own croissant dough, which you just can't find in the grocery store, is making your own chocolate croissants.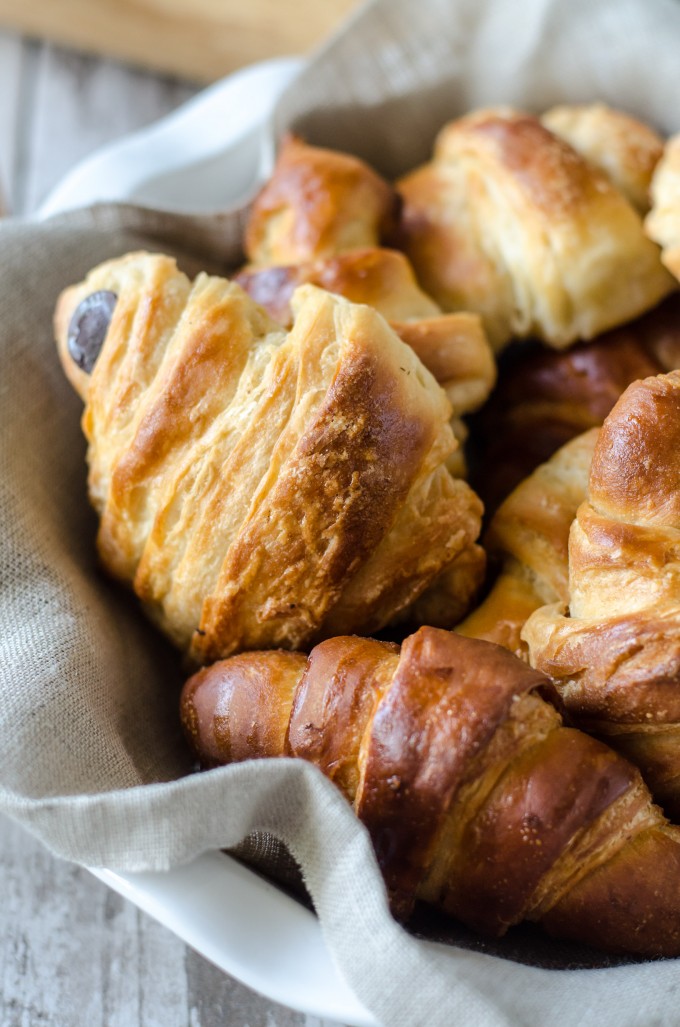 I fell in love with pain au chocolat over in Paris, and then both of my parents got hooked on them when they went to Italy last year. I can't blame them. They are nothing short of amazing and wonderful indulgence. How can you beat layers of flaky pastry wrapped around bittersweet chocolate?
This recipe uses the Flaky Butter Croissant Dough, with the exact same ingredients and baking procedure, just the addition of some lovely bitter sweet chocolate before rolling up. I'm torn on my recommendation here- I did two batches of these, one using approximately 1/3″ x 3″ pieces of bittersweet chocolate bar (shown) and then some using bittersweet chocolate chips. Using the chocolate chips made for easier shaping, but using the bar chocolate seemed to give it a bigger chocolate kick.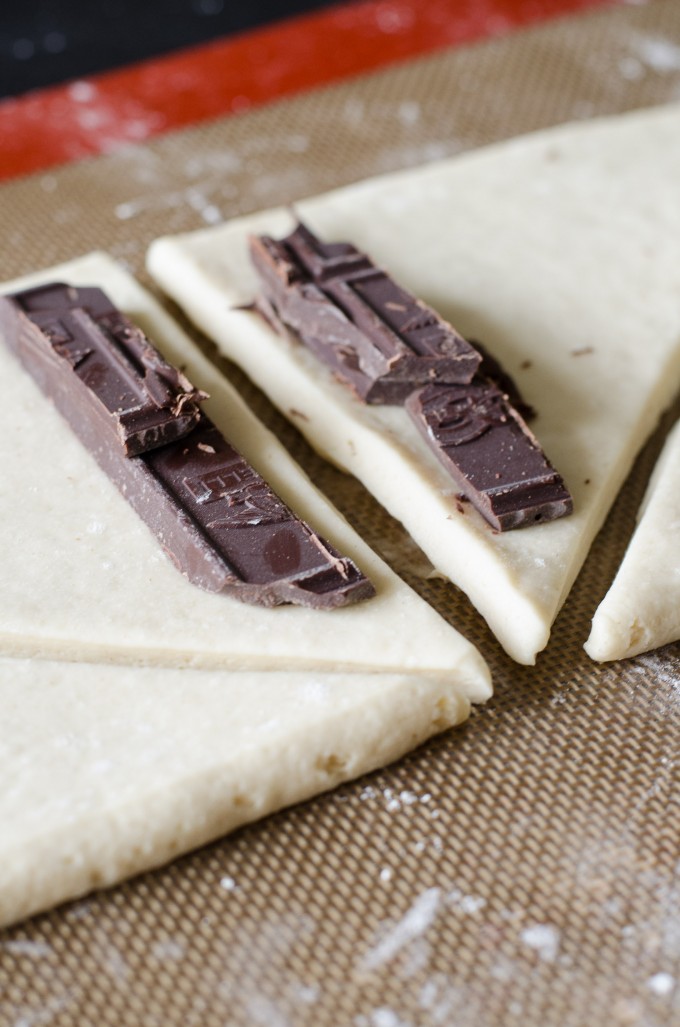 In my humble opinion, these are better than you can buy in any store or most chain restaurants. Definitely worth the work (and really, I still maintain that there isn't that much "active" work!)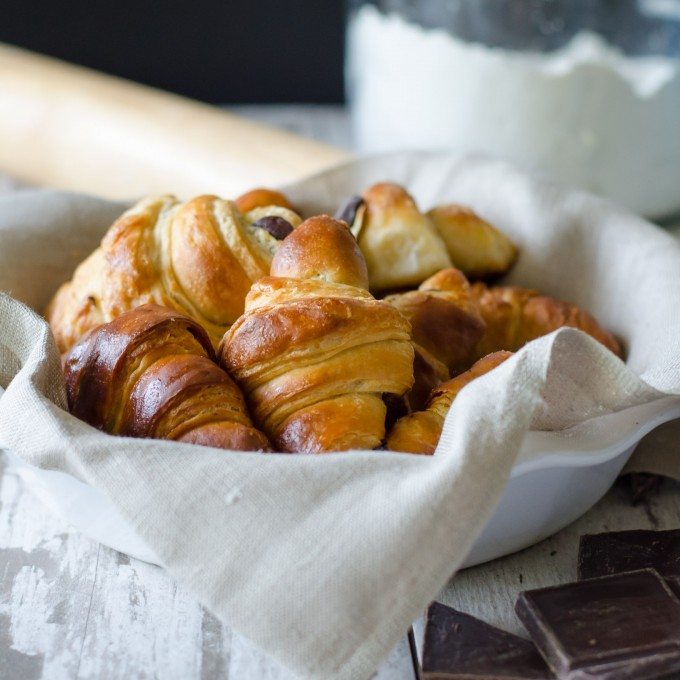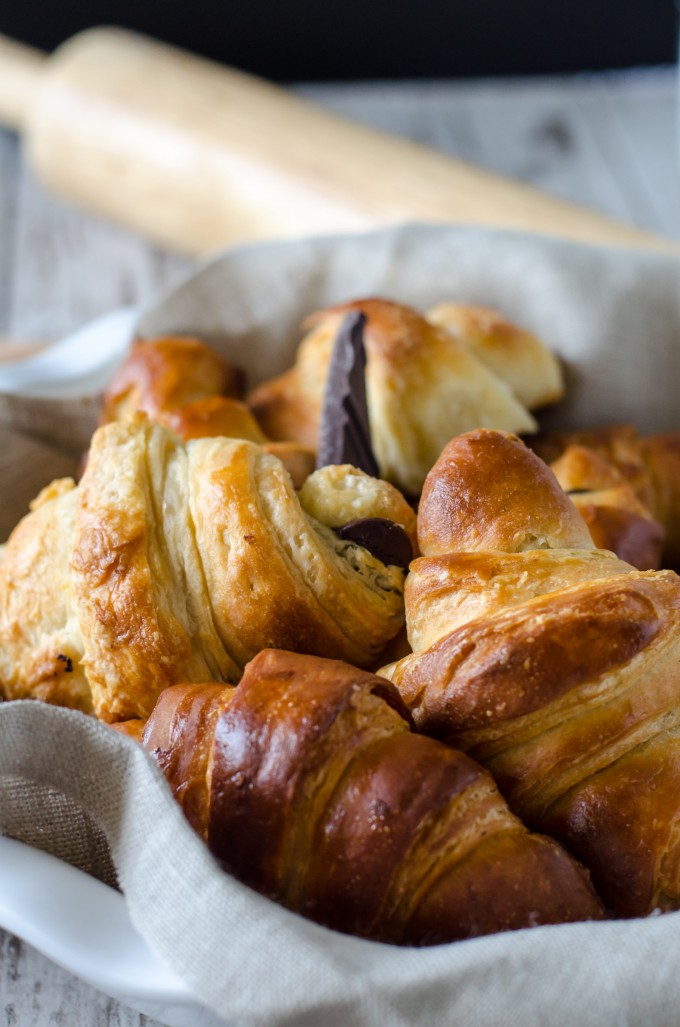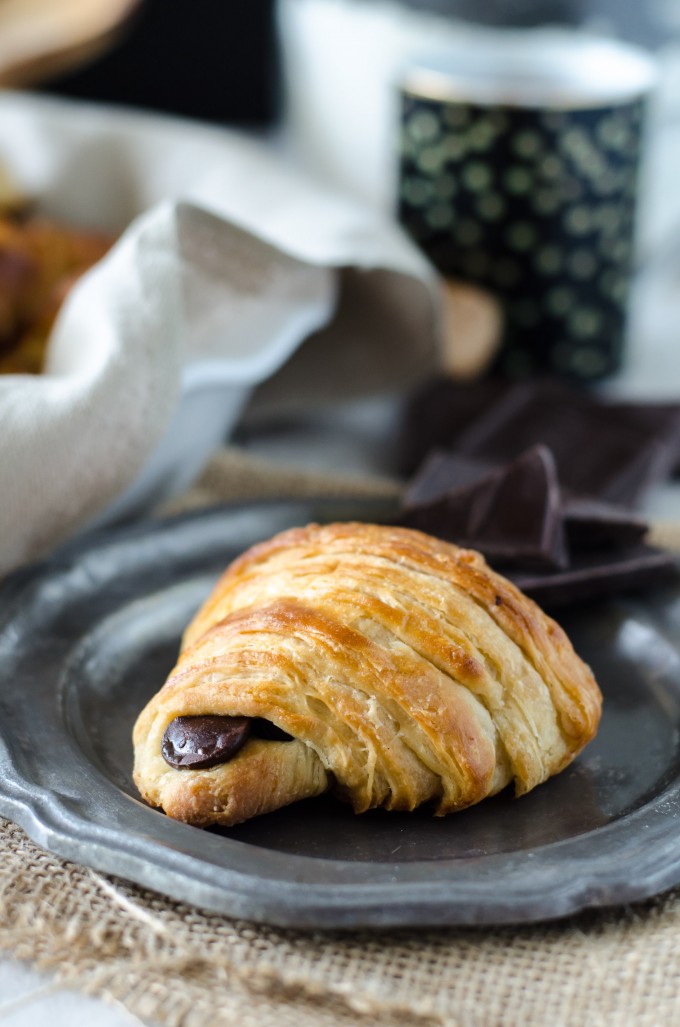 What you'll need for this recipe:
Baking mat – I recommend using a [easyazon_link identifier="B00629K4YK" locale="US" tag="gogogogo03-20″]Silicone Baking Mat[/easyazon_link] for nonstick baking and easy clean up!
Baking sheet – This [easyazon_link identifier="B00XBC3T6Q" locale="US" tag="gogogogo03-20″]Baking Sheet Set[/easyazon_link] is great for any kind of baking. You'll get some great use out of them!
Mixing bowl – These bowls are perfect for mixing up any recipe and even come in three different sizes. Get your [easyazon_link identifier="B00LGLHUA0″ locale="US" tag="gogogogo03-20″]3-Piece Glass Mixing Bowl Set[/easyazon_link] here.
If you enjoyed this Pain au Chocolate recipe, try these:
Pain au Chocolat (Chocolate Croissants)
This Pain au Chocolat Croissant Recipe is a quick and delicious pastry that will bring the feel of France right to your home!
Ingredients
1

recipe Flaky Butter Croissant Dough

4

oz.

bar bittersweet chocolate

or approximately 1 1/2 cups bittersweet chocolate chips
Instructions
Prepare dough as directed in linked recipe through step 7.

To make the croissants: Halve the dough; refrigerate one half. Roll dough out to a 16 x 12" rectangle, trimming the edges and corners to square.

With the short side facing you, cut in half horizontally and return one half to the refrigerator. Cut remaining dough portion vertically into thirds (rectangles), then cut diagonally into triangles.

Line two baking sheets with parchment paper or silicone mats. Cut chocolate into ⅓" wide pieces that are about the width of the wide end of your dough triangles.

Working with one triangle at a time, stretch the dough by about 50%. Place chocolate at the end, then roll from the wide end to the pointed tip. Place on baking sheet so tip is on the bottom, and slightly curve them into the classic croissant shape. Repeat with remaining triangles and dough.

Allow to rise for 2 hours. Preheat oven to 425F; position racks in the top and bottom thirds of the oven. Brush pastries with beaten egg.

To bake: Spritz the inside of a hot oven with water; close door. Place pastries into oven, spritz oven again with water, close door and reduce heat to 400F. Bake for 10 minutes. Rotate pans, lower oven temperature to 375 and bake for an additional 10 minutes. Remove from oven and allow to cool slightly before serving.