This will revamp your typical Rotisserie Chicken Salad recipe, and transform it into a whole new delicious taste with a light flavor and texture! It's a great way to cool off after a long hot day!
I'm starting to think that the percentage of people that buy grocery store rotisserie chickens and  just cut them into pieces for dinner is very, very low. I do occasionally, or use them that way as Jonathan's lunch, but I would say more often than not I use them to dismember them, shred them up, and use them in other dishes. I should probably do one of those "50 uses for a rotisserie chicken" kind of post.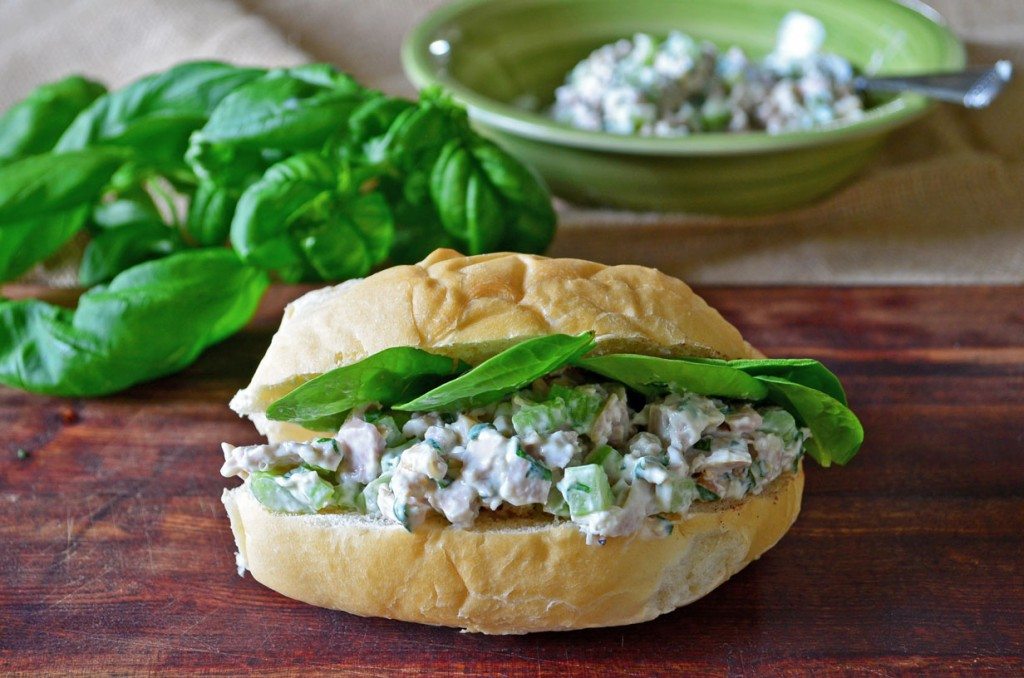 Since spring (and really, almost summer) is here,I figured I would keep do a rotisserie chicken salad recipe- a light, cool, and crisp dish to cool you off on a hot day. I have loved chicken salad for as long as I remember – my mom suggested that I try it at Subway at once, and I was totally hooked from then on. I don't understand how somebody could not love it- and that includes my husband. I have a slight obsession with getting him to like things that he tells me that he doesn't care for, because in my head I'm just simply firmly believe that he just hasn't had a good one of [insert dish] before.  Chicken salad is always a bit of a hard one for me to get him to like, because he has so many damn requirements!
It can't have too much celery, it gets too crunchy.
It can't have too much mayonnaise, I have a good "thing" with mayonnaise.
And on and on.
I had half a chicken left that needed to be used, so I decided to go for chicken salad. Since I had just made the
Waldorf salad
with the yogurt-mayonnaise dressing and couldn't taste as much of a difference as I would've thought, I decided to try it out with the chicken salad as well. The addition of the yogurt for in lieu of half of the mayonnaise, along with being lightly dressed, gives you a much lighter flavor and texture, which isn't a bad thing at all.
Even the chicken salad critic ate it and liked it (supposedly).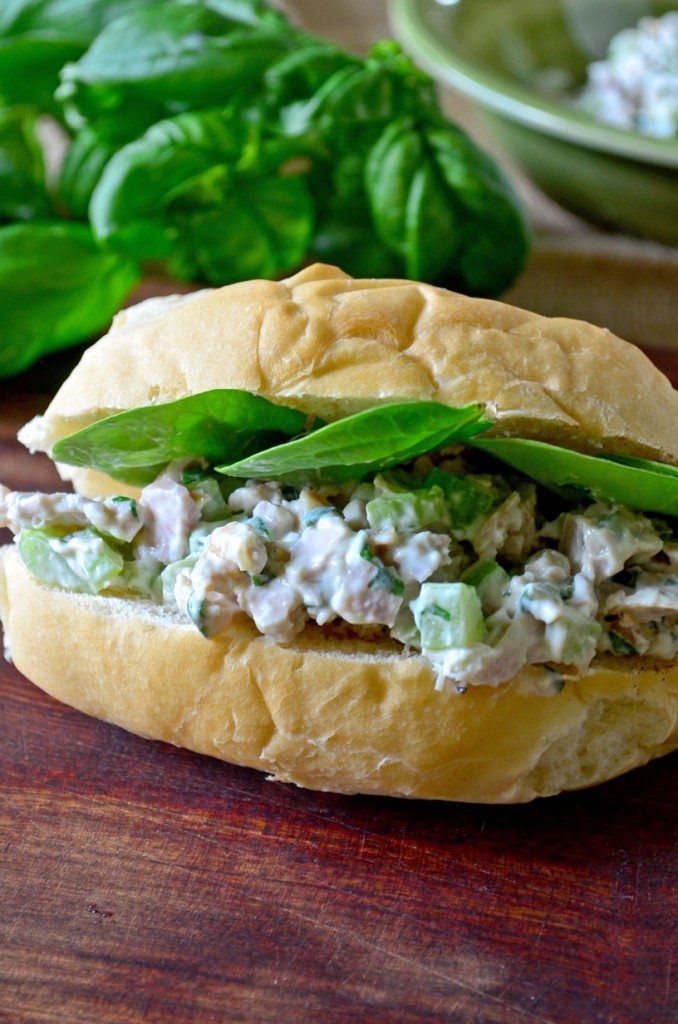 With the arrival of warm weather and sunshine, we are heading into a glorious time of year- picnics, barbecues and outdoor potlucks! A few of my blogger friends and I got together to compile a round up of recipes perfect for your summer get togethers. Make sure to check them all out, and enjoy!
Rotisserie Chicken Salad from GoGoGo Gourmet // Pina Colada Fruit Salad from Life a Little Brighter
Seafood Tortellini Salad from Three Kids and a Fish // Grilled Fingerling Potato Salad from Cooking and Beer
Firecracker Krispy Treats from Sunny Side Ups // Bacon and Cheese Cornbread Salad from The Seasoned Mom
What you'll need for this recipe:
Mixing bowl- These bowls are perfect for mixing up any recipe and even come in three different sizes. Get your 3-Piece Glass Mixing Bowl Set here.
Spatula –  You always need a good set of spatulas in your kitchen to use for any recipe. This Silicone Spatula Set is perfect for mixing and they are dishwasher safe!
Chicken shredder – These Meat Shredder Claws make this step go from a chore to something you'll have fun doing!
If you enjoyed this Rotisserie Chicken Salad Recipe, be sure to check out these:
Rotisserie Chicken Salad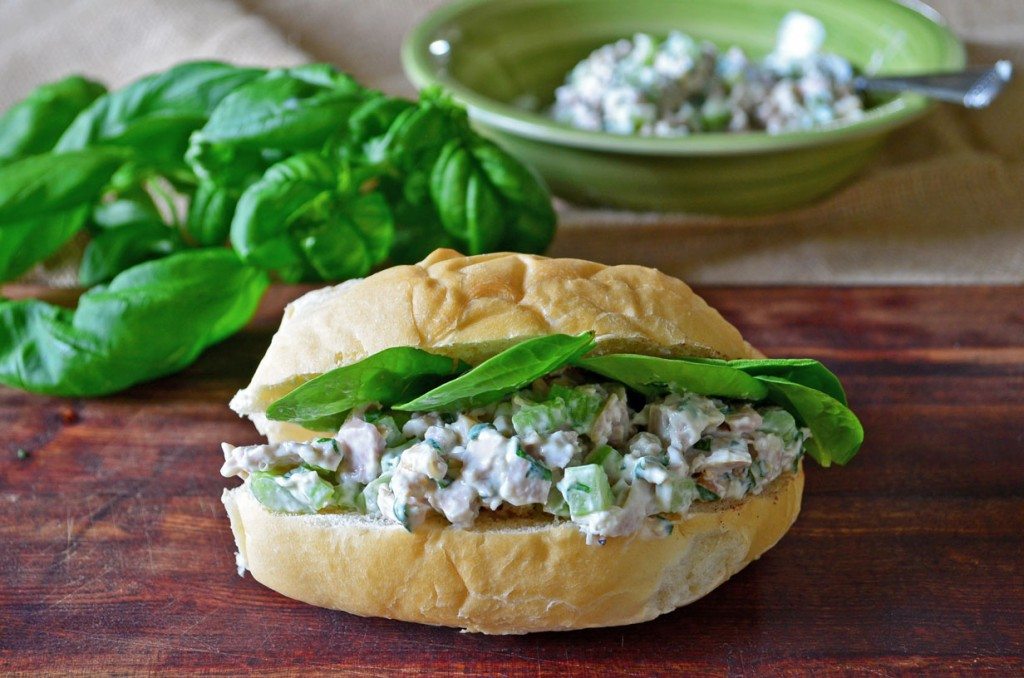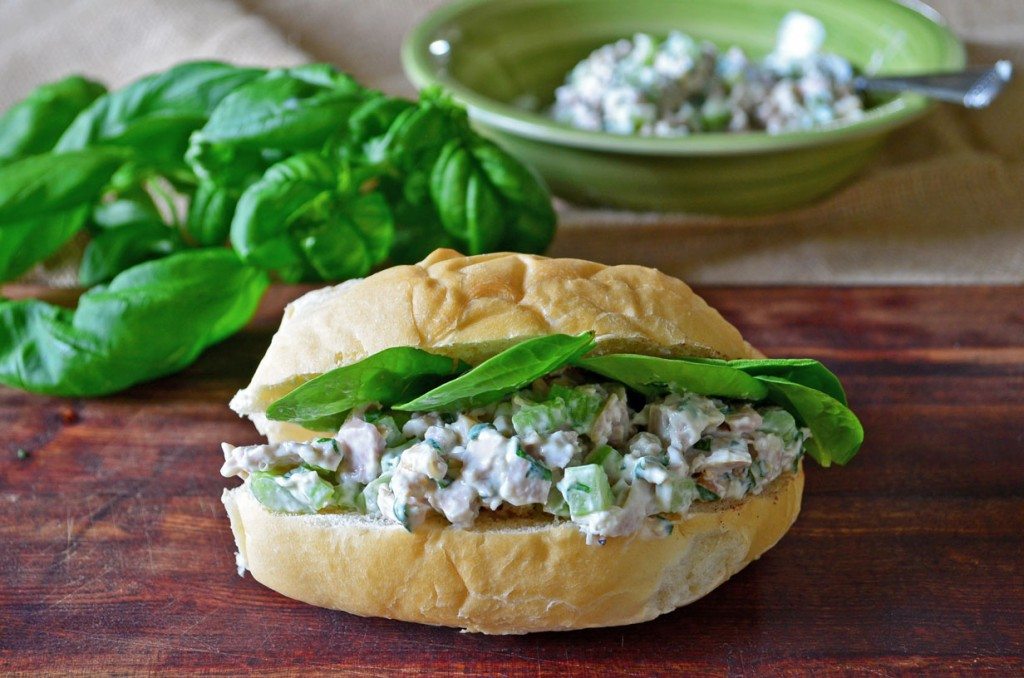 Ingredients
1/2 rotisserie chicken, shredded and finely chopped (approximately 2 cups)
1/4 cup low-fat mayonnaise
1/4 cup plain low-fat yogurt
3 ribs celery, finely chopped
1/4 cup fresh basil, chiffonade
3/4 tsp garlic salt
Directions
Mix all ingredients together in a large mixing bowl.
Serve on fresh bread or in a crisp lettuce wrap.
Recipe Notes
Loading nutrition data...