With premade meatballs and only a handful of ingredients, you can have this EASY Italian Wedding Soup recipe on the table in no time!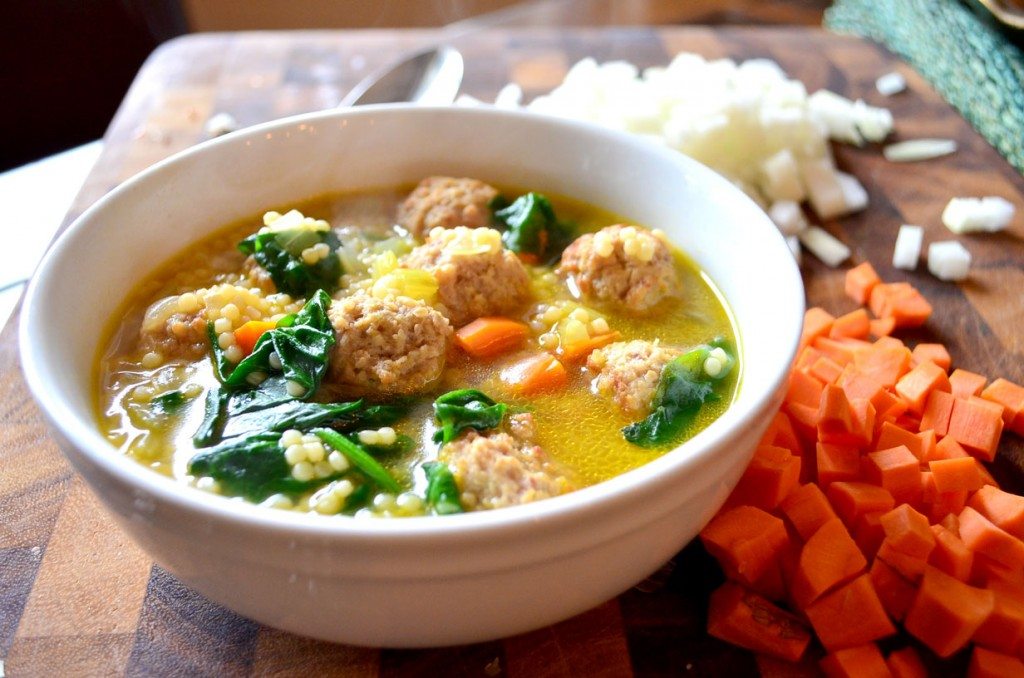 We love a good soup recipe around here. When it's cold outside and I just don't feel like cooking a whole dinner, a quick and easy soup with a nice salad on the side is usually our go to. This soup recipe in particular is one of our favorites. I can have it on the table in under under an hour, and everyone loves it- even J!
The best part about writing up Italian Wedding Soup for The Wise Baby is the fact that I pulled J onto my lap last night while I was writing my post and editing photos. He looked at the computer screen, pointed, and very excitedly said "Meebaw! Meebaw!"
I guess "meebaw" will be joining "hot dog" on his list of favorite food words. Kid knows what he likes.
How to Make Italian Wedding Soup
First you want to sauté the vegetables until they are soft. This should take about 7-10 minutes. Once they are slightly softened, and in the garlic and sauté for another 1-2 minutes.
Next add in the broth and the meatballs (it's ok if they are still frozen,) bring everything to a simmer and cook until the meatballs have thawed and are warmed all the way through. For reference, this should take about 15 minutes.
Next add in your pasta and cook according to the al dente directions on the box (which should be about 10 minutes if you are using the acini de pepe.) Now all that's left is to stir in the spinach until it is wilted, and voila! This is probably one of the easiest soup recipes you've ever made!
If you'd rather have something a little quicker, check out my Instant Pot Italian Wedding Soup! But the recipe for this unbelievably fast, unbelievably easy, unbelievably delicious family favorite is below!
More homemade soup recipes:
Wise Baby Dish of the Week: Italian Wedding Soup
Ingredients
4

stalks celery

diced

1

carrot

diced

1

medium

or 1/2 large onion, diced

2

cloves

of garlic

minced

2

quarts

chicken broth or stock

1

lb

ready made frozen meatballs

1

cup

acini de pepe pasta

1 8

oz

bag spinach
Instructions
In a large pot over medium heat, heat 2 T olive oil. Add the celery, carrot and onion; saute until the vegetables have begun to soften 7-10 minutes. Add the garlic and cook for an additional 1-2 minutes.

Add all the stock and the meatballs. Bring to a simmer and continue to cook until the meatballs have thawed and warmed through, about 15 minutes.

Add the pasta and simmer until al dente, approximately 10 minutes. Stir in the spinach until wilted.

Ladle into bowls and serve.