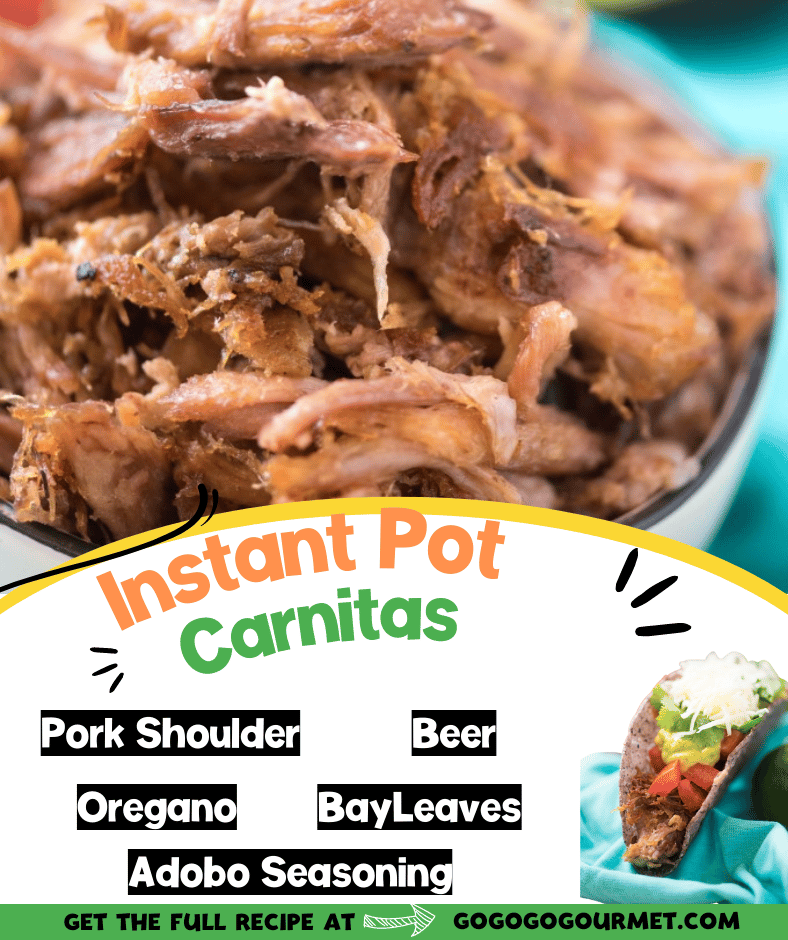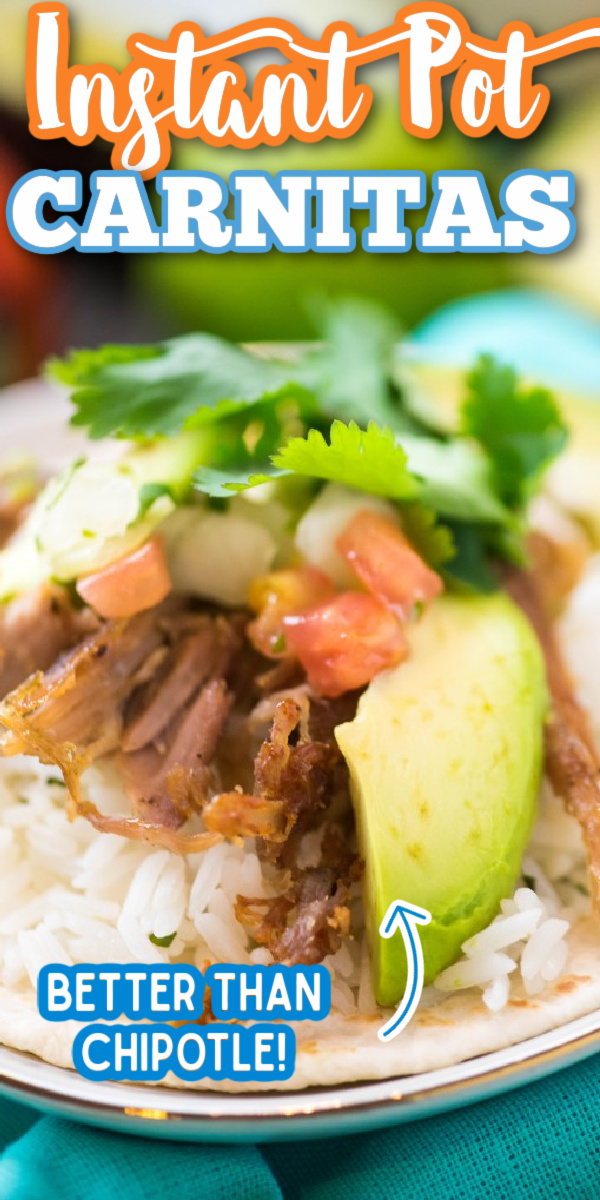 Carnitas are even better when made in the pressure cooker! I use my Instant pot to make the juiciest, most tender, absolutely heavenly carnitas shredded pork in just over an hour. Chipotle, I'm coming for you!
Pork is maybe my facvorite thing to make in my Instant Pot. The first thing that I made successfully was ribs. Then I botched up some chicken because I didn't know what I was doing and my Instant Pot sat idle for awhile.
But then, THEN, I had a pork shoulder that I forgot to put in the crockpot in the morning for my usual Slow Cooker Carnitas, so I threw it in the pressure cooker. Lo and behold, I ended up with the most incredible pressure cooker carnitas that I had EVER had.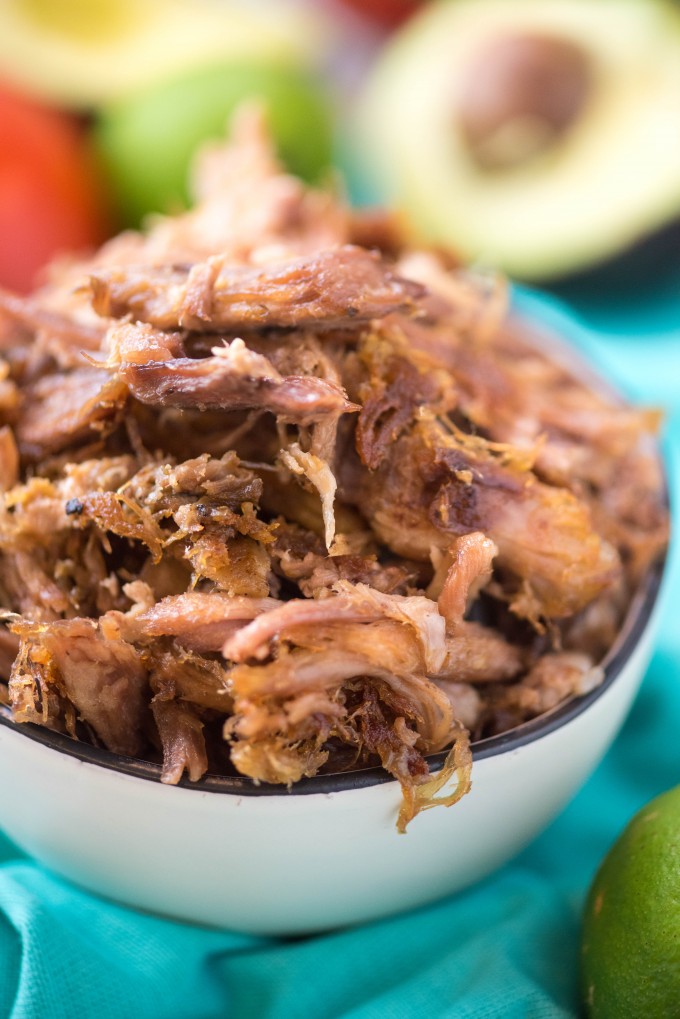 Everyone went nuts. The kids, who are annoyingly picky eaters, were hounding me over more pre-dinner bites. I served it along with yellow rice and beans. The pork was so tender it was like butter!
What you need to make this Pressure Cooker Carnitas recipe:
For this recipe, all you really need is an Instant Pot. I have this [easyazon_link identifier="B01B1VC13K" locale="US" tag="gogogogo03-20″]8-Qt one[/easyazon_link], which serves my needs well. It's a great size for soups and stews, but also is large enough to allow me to make a whole pork shoulder.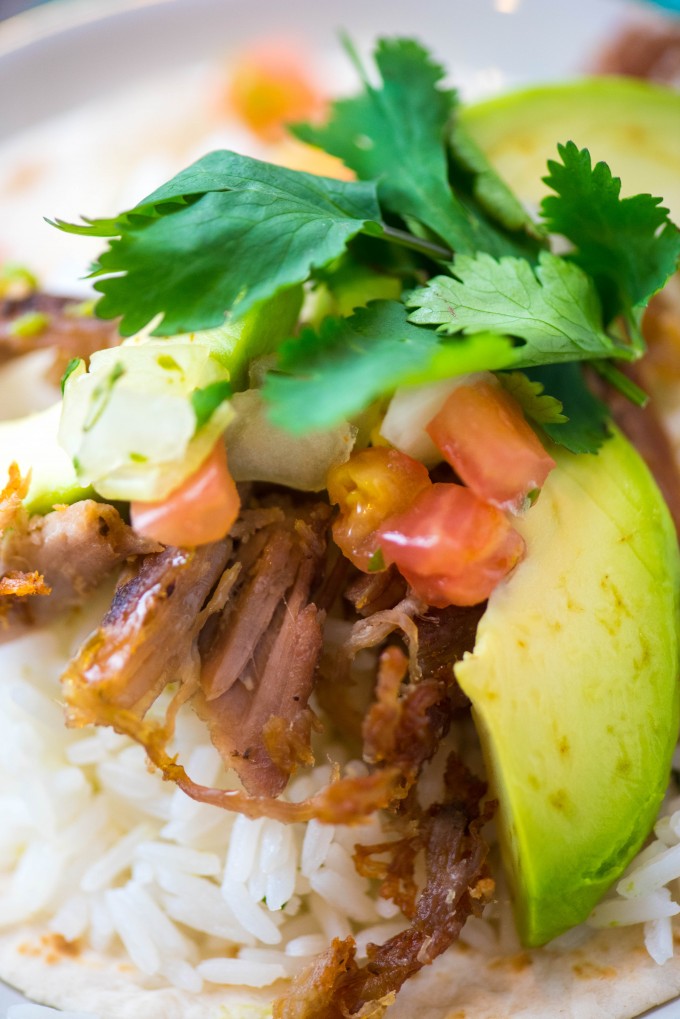 For timing on this recipe- my pot IS big enough to do a whole pork shoulder at once. However, a good rule of thumb with pressure cookers (and really all cooking in general) is "the smaller the piece, the faster it cooks." Makes sense, right?
So when I leave a small pork shoulder whole or cut a large one into two pieces to fit in the pot, I set my cooking time to 75 minutes. The next couple times that I make this, I'm going to try cutting it up into 4-5 smaller pieces for about 45 minutes to see if I can get these amazing results in even less time.
The great thing about carnitas is that you can use it for SO many different things! Tacos, burritos, nachos, quesadillas, whatever. It freezes beautifully, so I also tend to make a lot at one time. Then you can freeze the leftovers in to portions that are just enough for future dinners.
You can also mix it with some of your favorite BBQ Sauce for pulled pork sandwiches if you get tired of tacos (but who gets tired of tacos?!).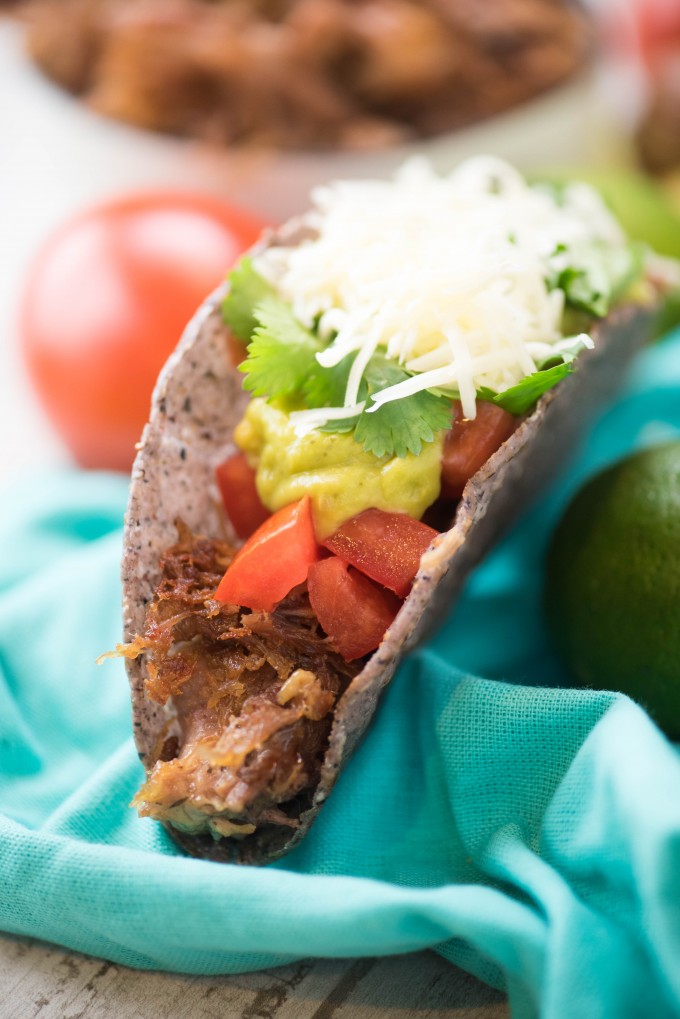 Tips for Instant Pot Beginners:
I'm far from an expert, but here are a few tips that I've picked up. Most issues are due to it not pressurizing. I can't tell you how many times I've said "WHY aren't you pressurized yet?!" Coming up to pressure has to do with two things- steam forming and the seal. Steam forming has to do with the amount of liquid in the pot, and the seal is, well, the seal. If you're not pressurized, check a couple things:
Are you set to "sealing" on the top of the lid?
Is the ring seated properly?
Is the ring clean?
And is the lip on the actual pot where the lid sits clean?
If your answer to all of those are yes, try just pressing down on the lid and seeing if that little red pressure indicator pops up. If it does, and stays up, you're golden. You might actually want to start with that and work through your question-answering-troubleshooting from there.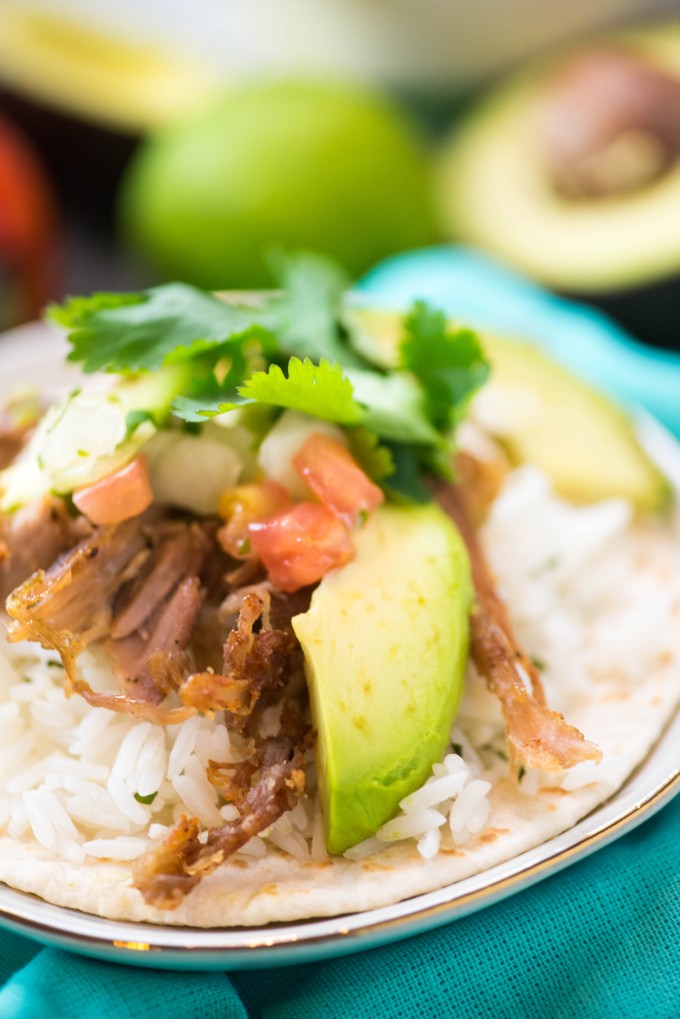 Other recipes like these Instant Pot Carnitas:
Pressure Cooker Carnitas with Instant Pot
Ingredients
7

lbs

bone-in pork shoulder

3

tablespoons

adobo seasoning

1

tablespoon

oregano

12

oz

beer

used: pilsner

3

bay leaves
Instructions
Cut the pork shoulder into 2-4 pieces. Season well with adobo and oregano.

Turn the Instant Pot on the Sauté setting. Add 1-2 tablespoons of olive oil when heated. Brown the pieces of pork shoulder all sides until golden, then remove and set aside.

Add the rack insert to the pot. Pour in the beer and add the bay leaves.

Place browned pork on the rack insert. Place and lock the lid. Turn to the "Meat" setting for 75 minutes, with the top valve set to "Sealing."

After the timer has finished, let the pressure release naturally for 10 minutes, then quick release the remaining pressure.

Transfer pork to cutting board and finely shred.

Use in tacos, burritos, quesadillas, nachos, or anything your heart desires.
SaveSave