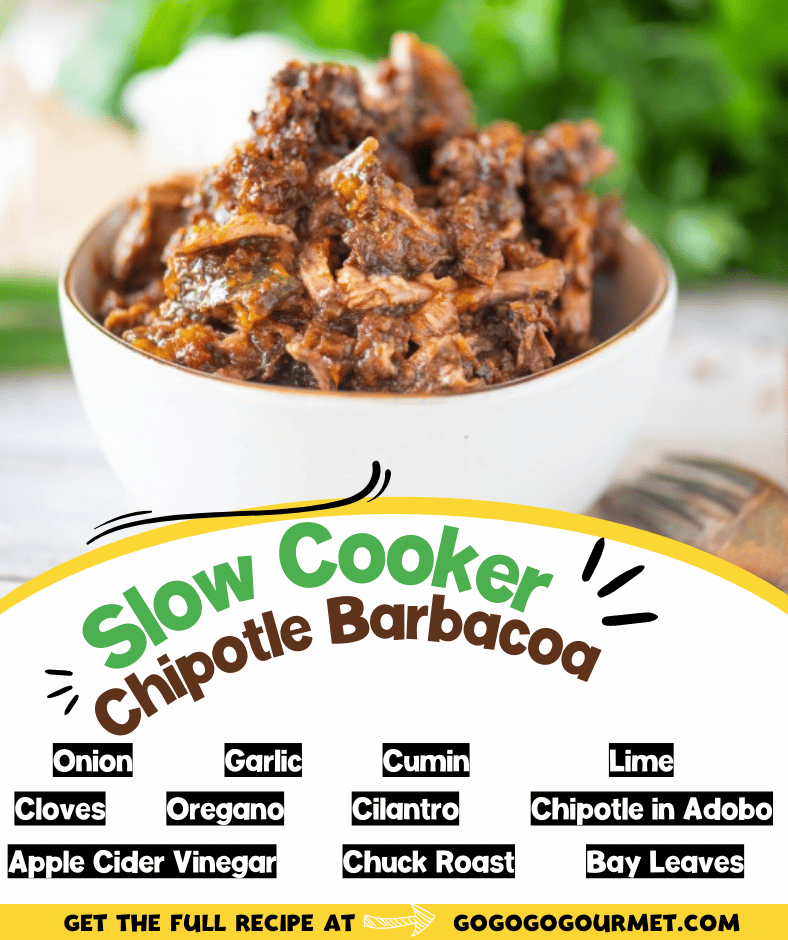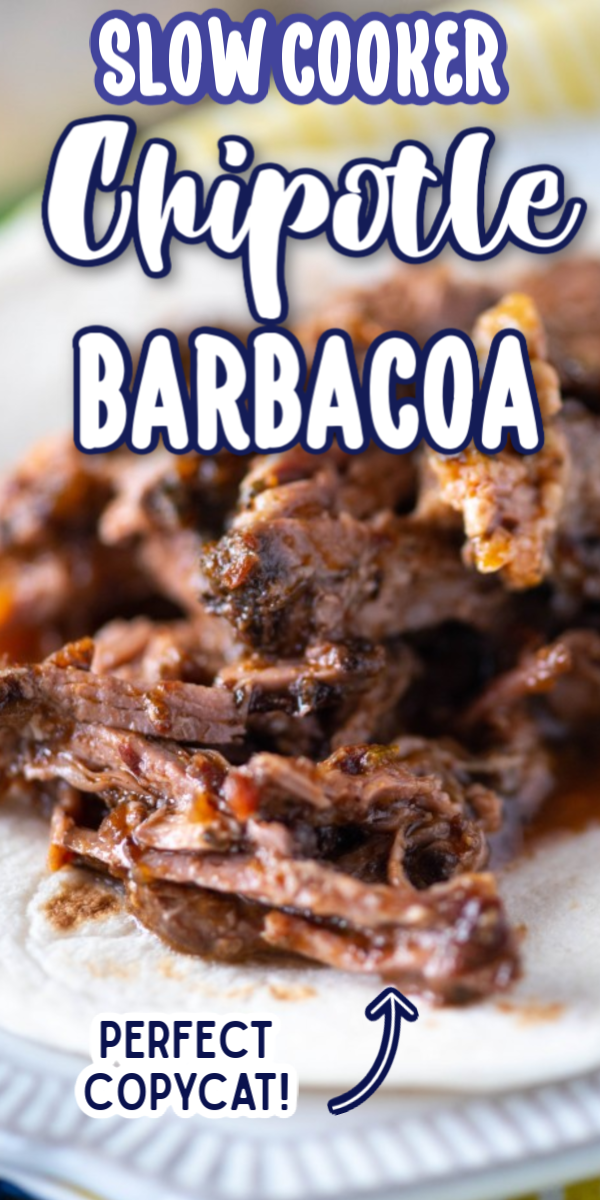 This barbacoa beef is super easy, thanks to a quick marinade and spending all day in the slow cooker! Everyone loves this recipe- a dead ringer for Chipotle Barbacoa.
Post copy from March 20, 2014. I can't bear to delete this bit of my history.
We had an open house here last Sunday. I knew I wanted to make this for dinner that night so we could have leftovers throughout the week, but I was concerned about making the house smell like chipotles and cilantro and beef. Then I came to the conclusion that if someone is offended by those smells, I don't want them living in my house anyway. So barbacoa it was.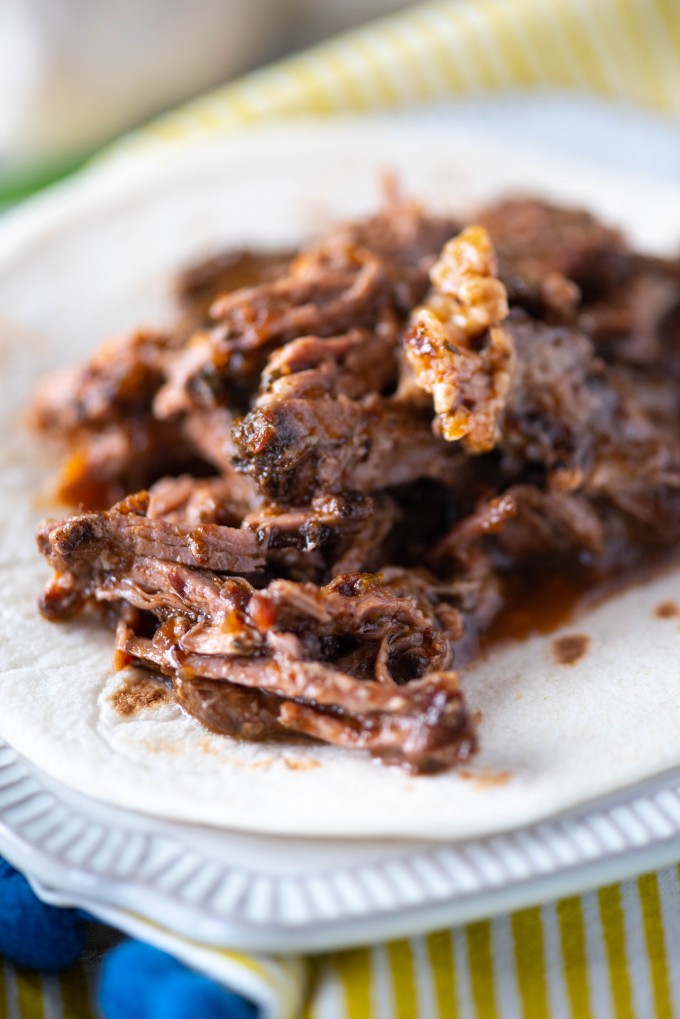 All I can say is that there must really be something to the "food smell" theory of house-selling. The person from Friday (Banana Bread) came back to the open house.
That night, she made an offer.
After some back-and-forth negotiating, a deal was struck on Monday night. Unbelievable to everyone but me– I knew this was going to happen. I knew I was going to put the house on the market early, in order to give ourselves enough time to sell it before we had to go, only to have it go in a week. It was either going to be that, or it was going to be on the market for eight months, and our family was going to have to be separated.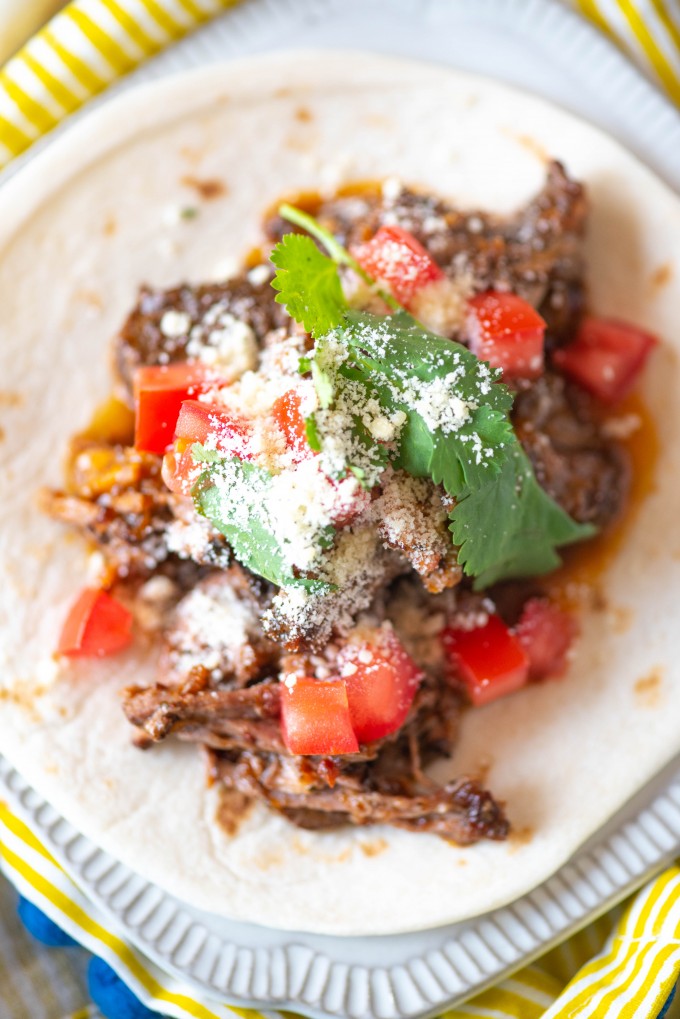 I was unprepared for how emotional this experience was going to be for me. I knew I would be sad when we actually left, but I didn't expect to cry on and off all evening after hearing that we had a deal. This house isn't just a house to me, its our home.
We built it.
I picked out every design detail in this house. We worked our butts off outside to get grass to grow in clay, and to make the blank canvas of mud transform into a truly beautiful garden where we love to spend time.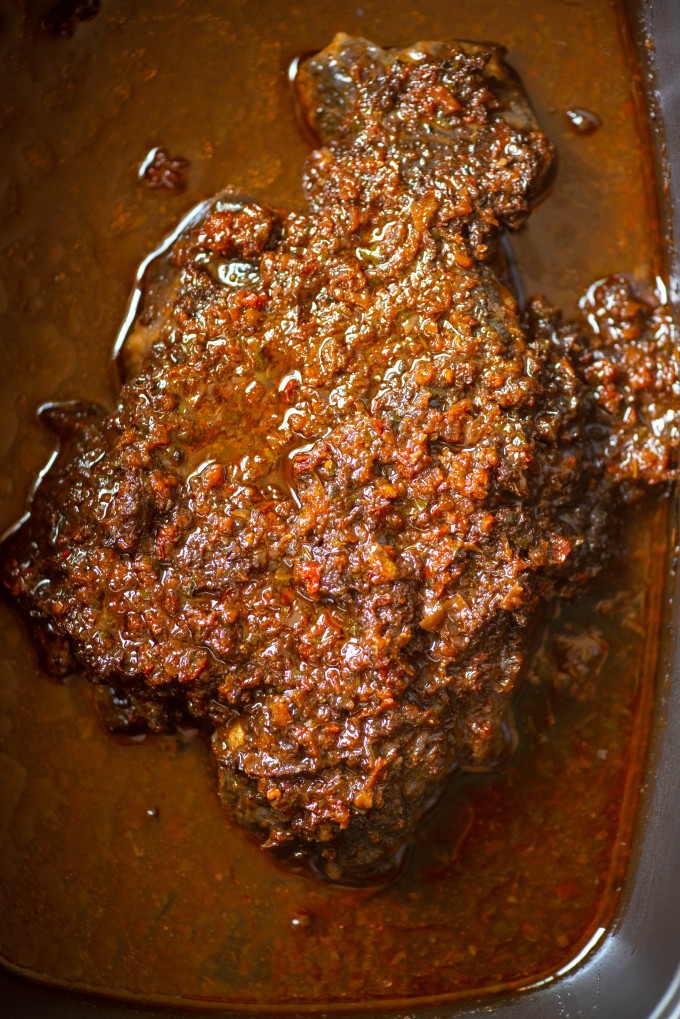 I was proposed to in our kitchen, in front of the fridge.
I told my husband we were having a baby in our living room, and we brought our son here for his first home.
I know that the memories are always with me in my heart, but right now it feels like I am leaving them all behind. We became a family here, and it honestly makes me a little sick to my stomach to think of someone else living in my home. And it will ALWAYS be my home, no matter who holds the deed.
I'm going to attempt to pull myself together now. On to the barbacoa recipe.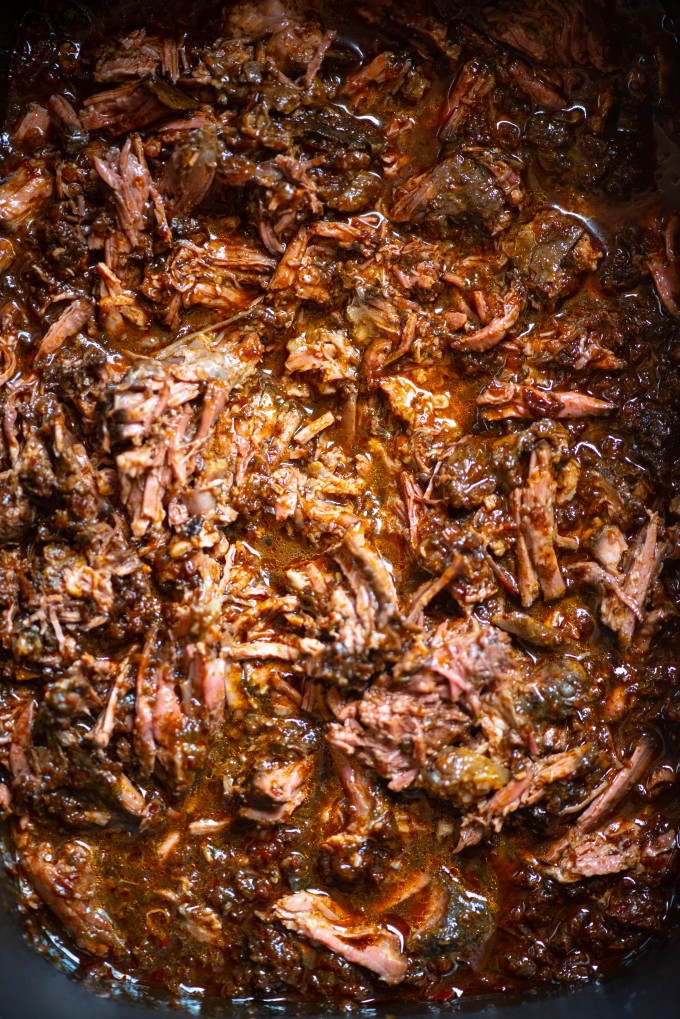 What is barbacoa?
Originating in the Caribbean, barbacoa is a form of cooking meat and actually is where the term "barbecue" comes from. Traditionally, meat is slow cooked over an open fire, but in today's world, home cooks everywhere are looking to duplicate that intense flavor in their own kitchens, without using a head of cattle (no, really). In the US, I usually see it made with beef, but pork and sheep can be used as well.
I'll stick to my chuck roasts, most likely.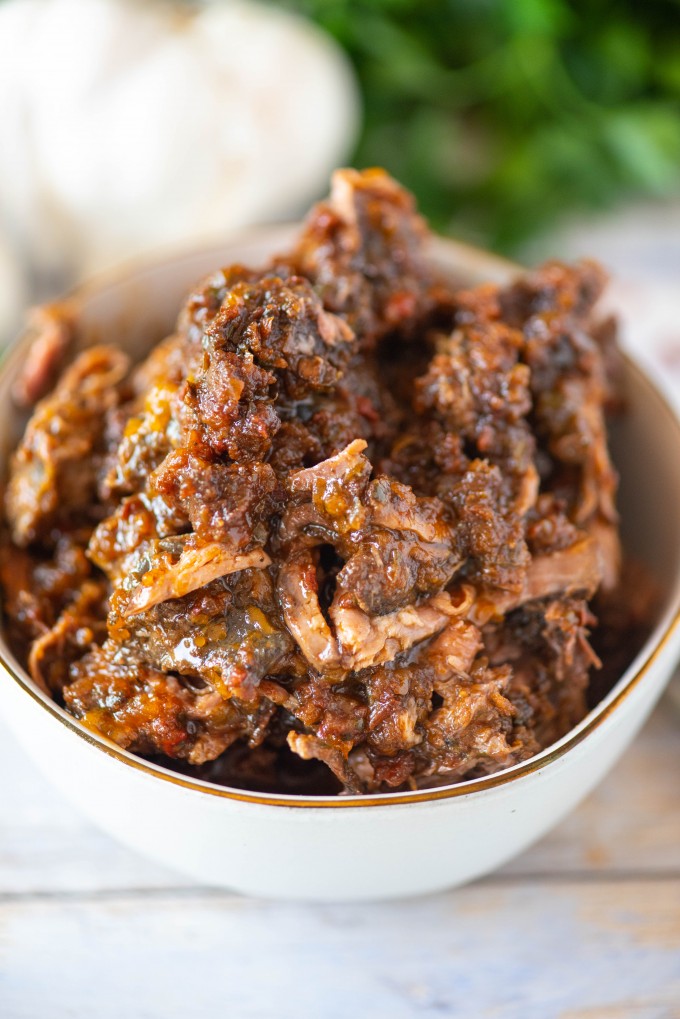 Recipe Tips:
This is very similar to Chipotle's barbacoa, and it is delicious. Forewarning, it's on the spicy side- you probably won't be needing to add any hot sauce to it!
It freezes beautifully, so feel free to double the recipe and freeze your leftovers (if there ARE any!).
Instant Pot: This recipe will adapt beautifully to the Instant Pot. Cook on "meat" for 30 minutes, natural release for 10 minutes, then quick release.
What you need:
[easyazon_link identifier="B004P2NG0K" locale="US" tag="gogogogo03-20″]Slow cooker[/easyazon_link]- obviously.
[easyazon_link identifier="B008J8MJIQ" locale="US" tag="gogogogo03-20″]Food processor[/easyazon_link]- Make quick work of the fiery sauce that brings barbacoa to life. Throw everything in there at once, run it and get a smooth sauce thirty seconds later.
[easyazon_link identifier="B00RDLQ4GI" locale="US" tag="gogogogo03-20″]Kitchen tongs[/easyazon_link]- Perfect for shredding the finished product!
Related recipes:
Pressure Cooker Carnitas with Instant Pot
Slow Cooker Carnitas Burritos
Slow Cooker Shredded Chicken Taco Cups
Man, my teary eyes have now given way to drooling at the thought of barbacoa nachos. I can't wait for dinner!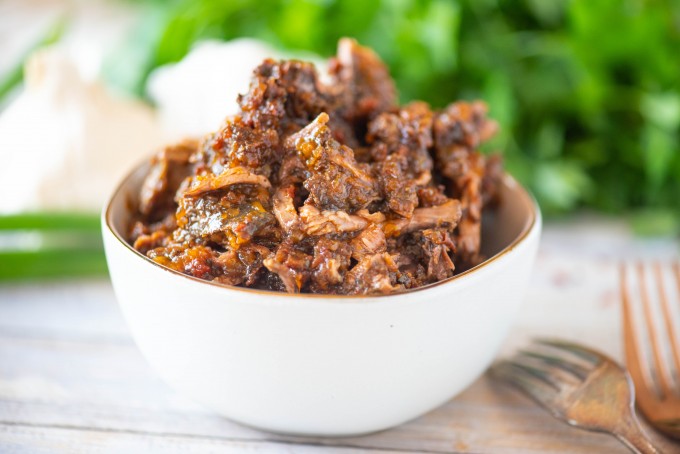 Barbacoa
Ingredients
1 7.5

oz

can chipotle in adobo

1/2

large onion

cut into chunks

3

cloves

garlic

1

tsp

cloves

1

T

oregano

1

T

cumin

Juice of one lime

Handful cilantro

1/3

c

apple cider vinegar

3.5

lb

chuck roast

3

bay leaves

I
Instructions
n a blender or food processor, combine, chipotles and sauce, onion, garlic, cloves, oregano, cumin, lime, cilantro and apple cider vinegar. Pour 1/3 of this into the bottom of a slow cooker.

Add your chuck roast on top, and pour the rest of your sauce over the top. Add bay leaves. Cover and cook on LOW for 8 hours.

When done, shred the meat. Use in tacos, quesadillas, burritos, or bowls.
My go to accompaniments: Rice with cilantro and lime, corn, black beans with cumin, lettuce, avocado, sour cream and monty jack cheese.
SaveSaveSaveSave
SaveSave
SaveSave
SaveSave