This is a sponsored post written by me on behalf of Tyson Foods, Inc., Circle Foods LLC, and Pinnacle Foods Group LLC. All opinions and text are entirely my own.
Do you know what the Holy Grail of weeknight dinners is? A recipe where you end up with no dishes at the end, except what you ate on. And good news- these Grilled Chicken Quesadilla Paninis do just that! How is this possible, you might ask, that when you end up with these crispy, juicy, zesty, cheesy triangles of deliciousness, you only have a dirty knife and spatula to contend with? Answer? Its all thanks to the ingredients and an indoor grill or panini press.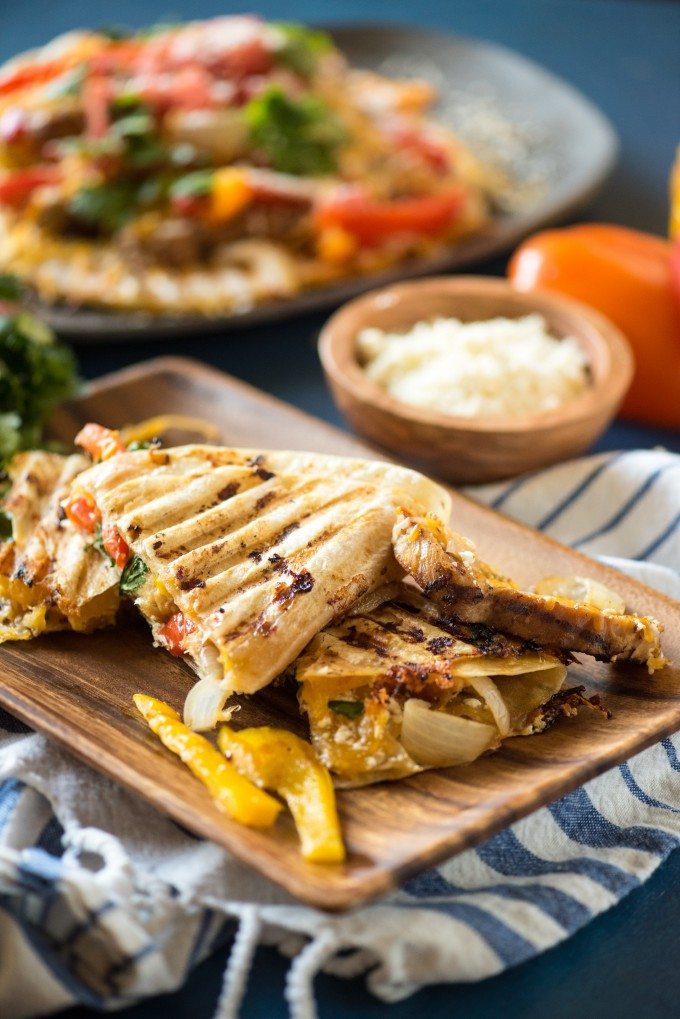 So the other morning, I headed off to Walmart after dropping J off at preschool because I needed a whole smorgasbord of things and I really didn't want to have to go all over the place- a few groceries, more storage bins (because lately I feel like I am drowning in stuff). I was taking my time and slowly wandering around looking for new food for Michael to eat (he seems to eat EVERYTHING lately), when I spied Tyson® Grilled & Ready® Chicken Strips. When it comes to Michael, especially for lunch, I seem to struggle with ideas for what to feed him. Breakfast is easy- pancakes, french toast, waffles, eggs, etc., and for dinner I can usually feed him what we are having, but lunch seems to be trickier since he is the only one eating. Unless we have some leftovers, I just don't know what to do for him. I was really excited because my initial thoughts were about having an easy option for Jonathan for lunch, but then I started running through the possibilities for the rest of the family, and I came up with the idea for these quesadillas on steroids.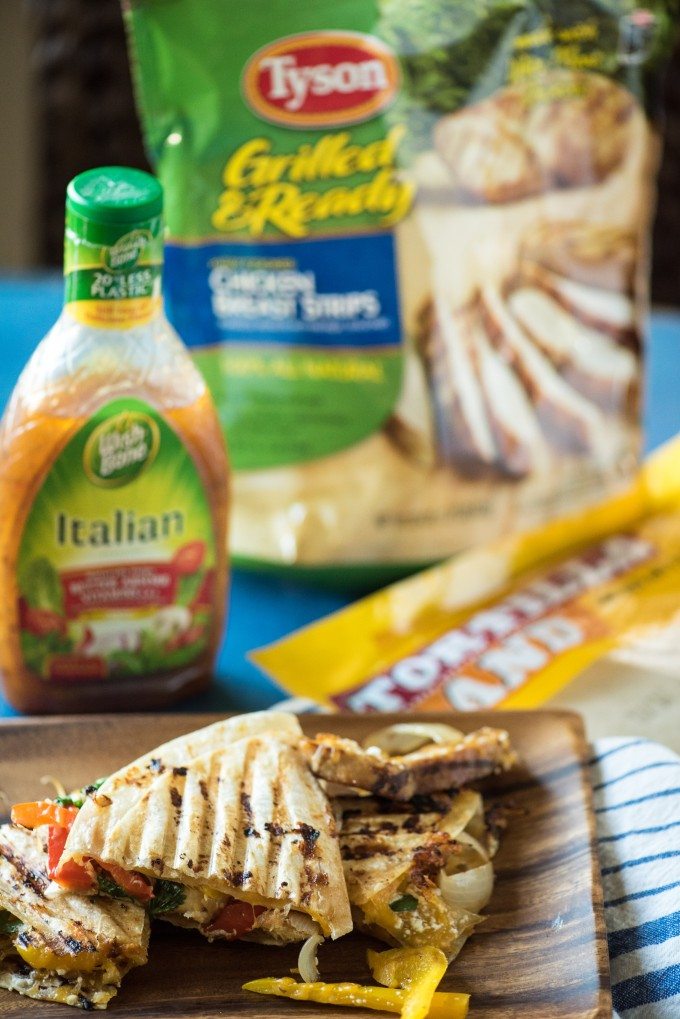 What if, WHAT IF, I could create a whole meal with no dishes? I picked up some bell peppers, onions, TortillaLand® Flour Tortillas, Wish-Bone® Italian Dressing (which is gluten free and high fructose corn syrup on top of the great flavor!) and , cojita cheese, cilantro and Mexican blend shredded cheese to go with the idea I had in my head- using my panini press, I'd cook all my fillings, seasoned with the dressing, then create a chicken fajita-style quesadilla INSIDE a cheese quesadilla. I had no idea what to call this creation in my head (I often don't when I end up thinking outside the box), but I had a sense it would be fast, easy, and totally delicious. I ended up thinking that they were basically a Grilled Chicken Quesadilla Panini.
Even better? The plan worked just like I thought it would! I ended up with a knife and spatula to wash in the end, plus the panini press. They were cheesy, full of flavor, and took me no time at all to do. They were simple and convenient, especially since the chicken was already cooked, and seasoned well thanks to the Italian dressing.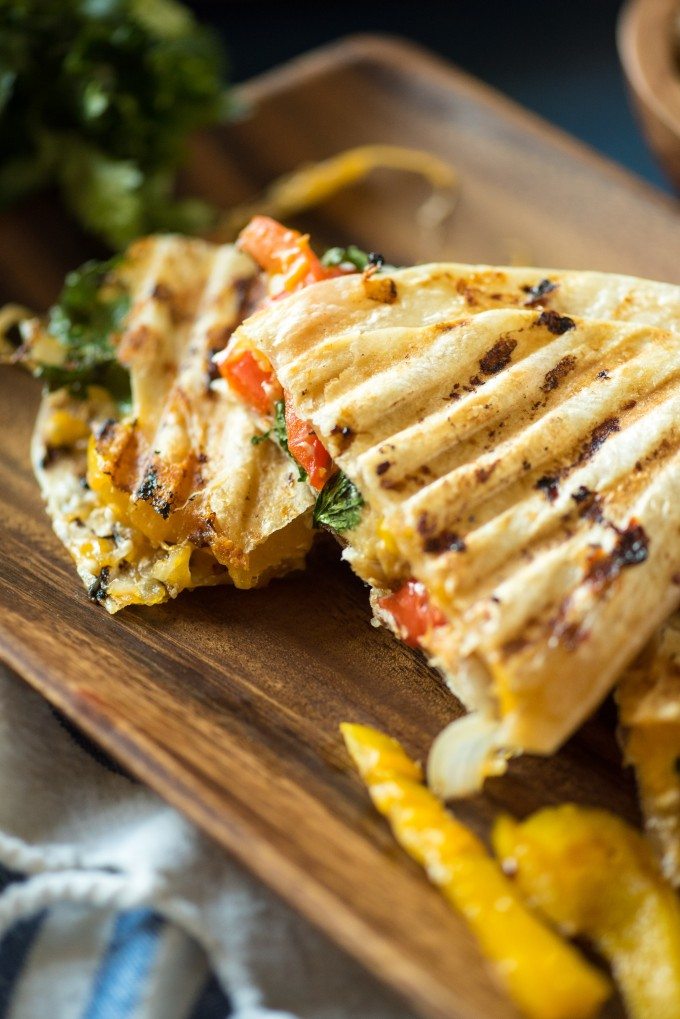 But I want to pause for a moment and talk about the tortillas. This is the first time that I've ever purchased fresh tortillas- I didn't know that they existed. I own a tortilla press, since my mother in law and sister in law have both sung the praises of making fresh tortillas. I tried. I really did. I bought masa and followed the directions. I clearly did something wrong because they just didn't seem right- they were tough and flavorless and REALLY hard to press out. My tortilla press has gathered dust ever since. BUT, now I know that TortillaLand actually SELLS fresh tortillas (in the refrigerated section), I no longer have to stress over my tortilla inadequacies. They are as close to homemade as you can get without actually making them at home.
There's also a twist to these Grilled Chicken Quesadilla Paninis- instead of pressing the cheese-stuffed tortillas only until they are soft (so you can fold it over), press it until crisp, then top with your peppers, onion and chicken strips, cheeses, tomatoes, cilantro (and anything else you want) and TADA- TOSTADA!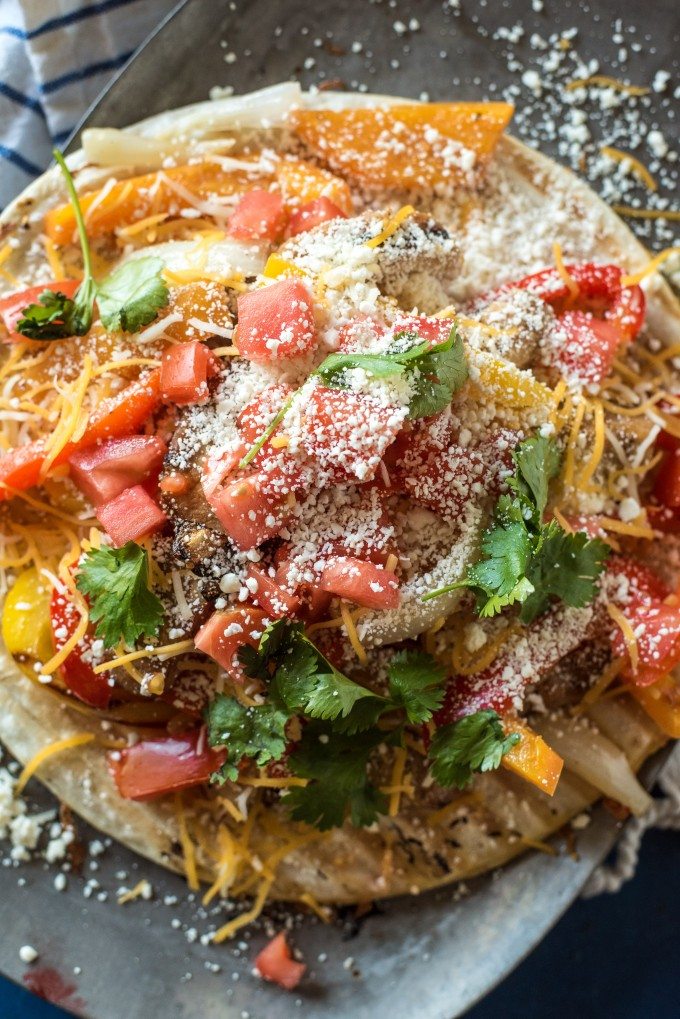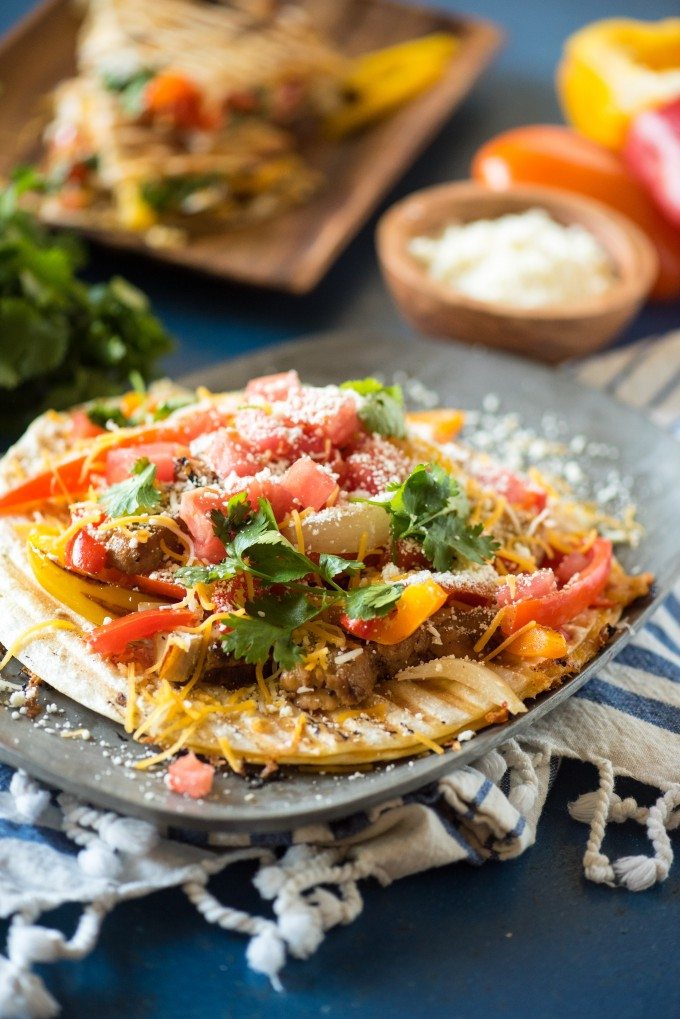 Grilled Chicken Quesadilla Paninis
Ingredients
4

TortillaLand flour tortillas

3-4

tablespoons

Wish-Bone Italian Dressing

8-10

Tyson Grilled & Ready Chicken Strips

1/2

red bell pepper

cut into strips

1/2

yellow bell pepper

cut into strips

1/2

orange bell pepper

cut into strips

1

small onion

cut into wedges or slices

cilantro

1

cup

shredded Mexican blend cheese

1/2

cup

cojita cheese
Instructions
Heat a panini press (or close-top grill) to medium heat. Arrange bell peppers and onions on the plate and close. Grill for 4-5 minutes.

Add the chicken strips to the grill. Pour the Italian dressing over top and close the top. Grill until the chicken is warmed through and the peppers and onions are soft. Remove from grill.

Working with one tortilla at a time, lay one tortilla on the grill plate. Sprinkle with 3-4 tablespoons shredded cheese, then top with a second tortilla. Close the grill and cook for 1-2 minutes, until the cheese is melted.

Arrange half of your cooked chicken, peppers and onions on one side of the tortilla and sprinkle with cilantro, more shredded cheese (1/4 cup) and cojita cheese (2 tablespoons). Use a spatula to fold over the tortilla. Close the grill and cook until the cheese is melted and the tortilla is crisp.

Remove from grill and cut into wedges. Repeat with remaining ingredients.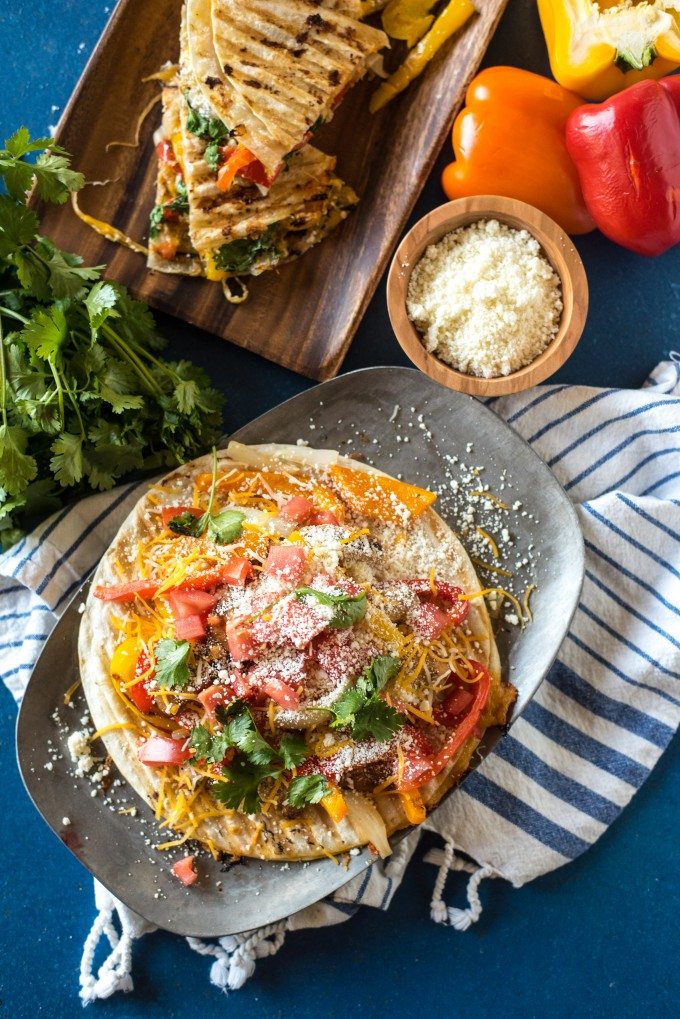 If you like Grilled Chicken Quesadilla Paninis, you might want to check out: