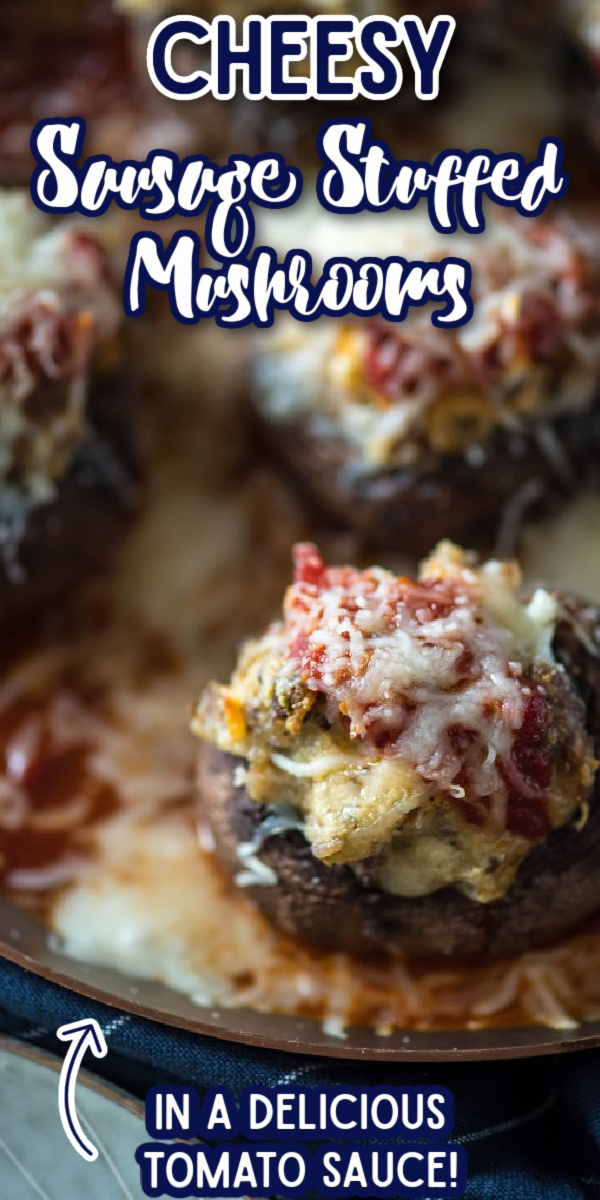 These Sausage Stuffed Mushrooms are practically "dump and bake," making them a super fast side dish or appetizer! Simple ingredients, fast prep and bake.
This shop has been compensated by Collective Bias, Inc. and ConAgra Brands. All opinions are mine alone. #MangiaTonight #CollectiveBias
Back in the days when I was learning how to cook, and Dave and I were first starting out on her own and seemingly playing house in our shoddily constructed condo in the middle of nowhere, I discovered that it can be exhausting to face cooking dinner every night when you are just really learning how (not to mention working a full time big-girl job!)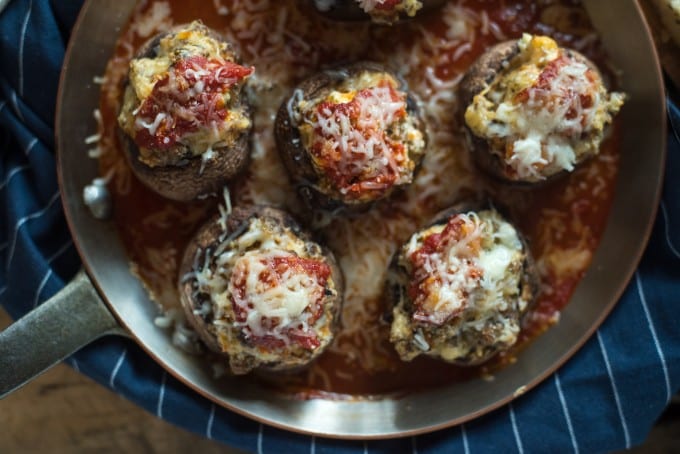 Honestly, I've been writing this blog for three years now, and would consider myself something of a "expert" when it comes to family cooking- but I still find it exhausting to cook every single night.
Dave and I started eating Bertolli® frozen meals all the way back in 2007. I would get home late from work, he would be at home studying for med school. I'd open up one of these bags, throw it in my cheap nonstick skillet on my crappy stove and in like 15 minutes or less, Dave and I would be sitting down together eating something that tasted like it had taken a lot longer and created a lot more dishes in the kitchen.
Sausage Stuffed Mushrooms
Even though now cooking comes with ease and making a meal out of whatever happens to be in the house when I'm tired is a forte, I still find myself pulling these tried-and-true workhorses out from time to time, and each time, I smile to myself thinking of those two young people, crazy in love, living in their crappy condo and just not caring because they were together.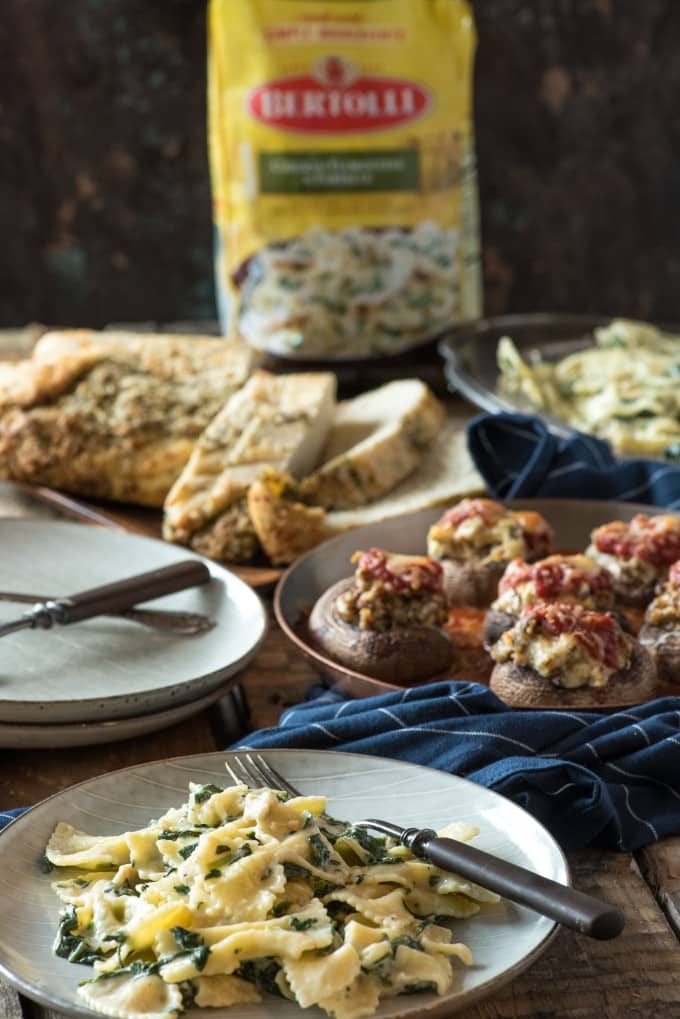 I tend to make something to go with it that's fresh, whether it's a side dish, salad, or garlic bread, etc. This time I decided to do a different type of stuffed mushrooms than I've done before. I really love mushrooms in general, but stuffed mushrooms I can always get behind.
They're incredibly versatile – just check out my lobster stuffed mushrooms and my vegetarian breadcrumb stuffed mushrooms. But they can usually be prepared and assembled ahead of time, then just thrown in the oven. These Sausage Stuffed Mushrooms are just a few basic ingredients together in a bowl and then mounted and some large portobello mushroom caps. Baked in a bath of tomato sauce and topped with cheese and a drizzle of balsamic vinegar, these are a quick and elegant way to round out your meal.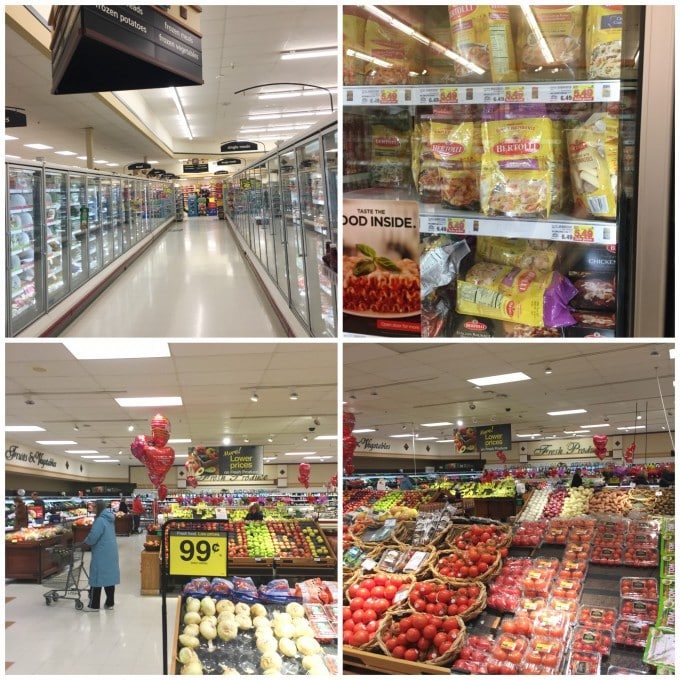 I bought the family-sized Chicken Florentine & Farfalle (one of our favorites) at Kroger. The "Meals for Two" Bertolli Frozen Meals will be their lowest price all year during the month of February.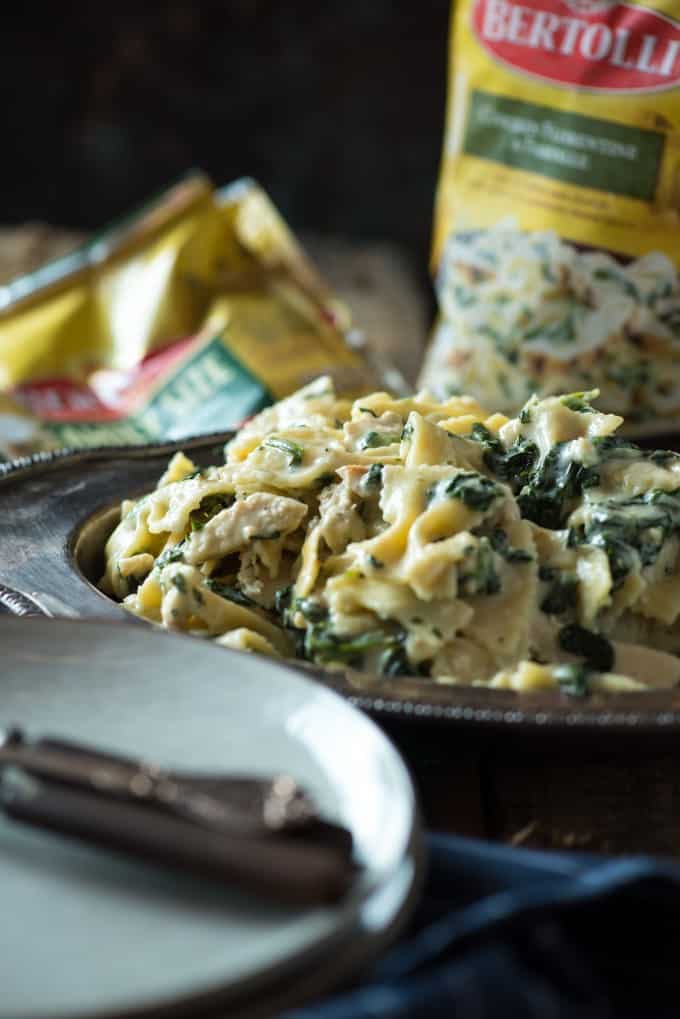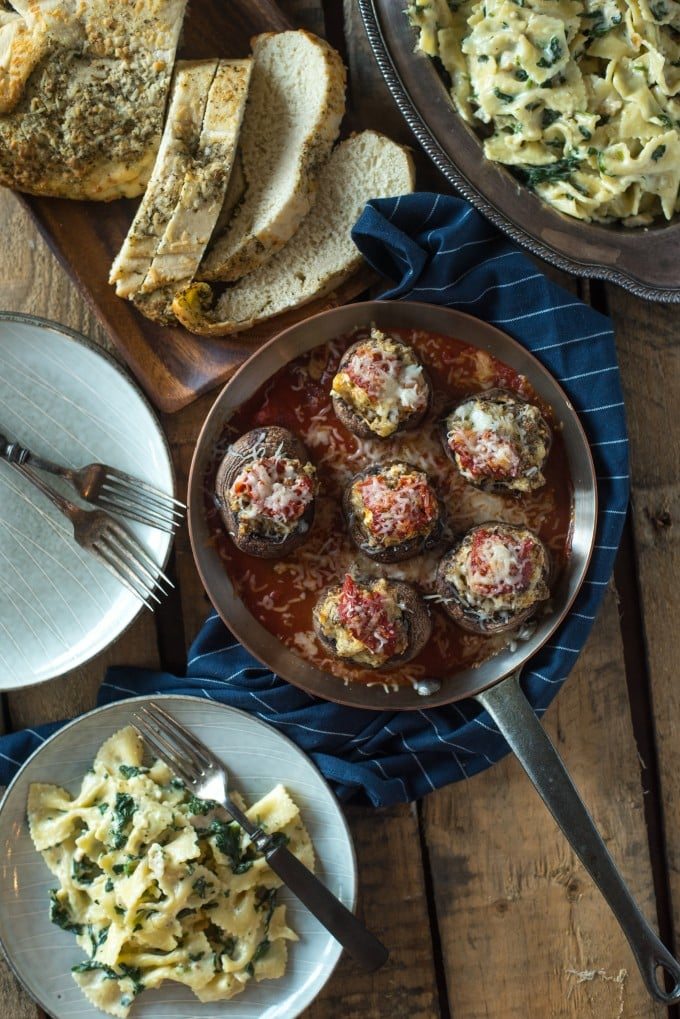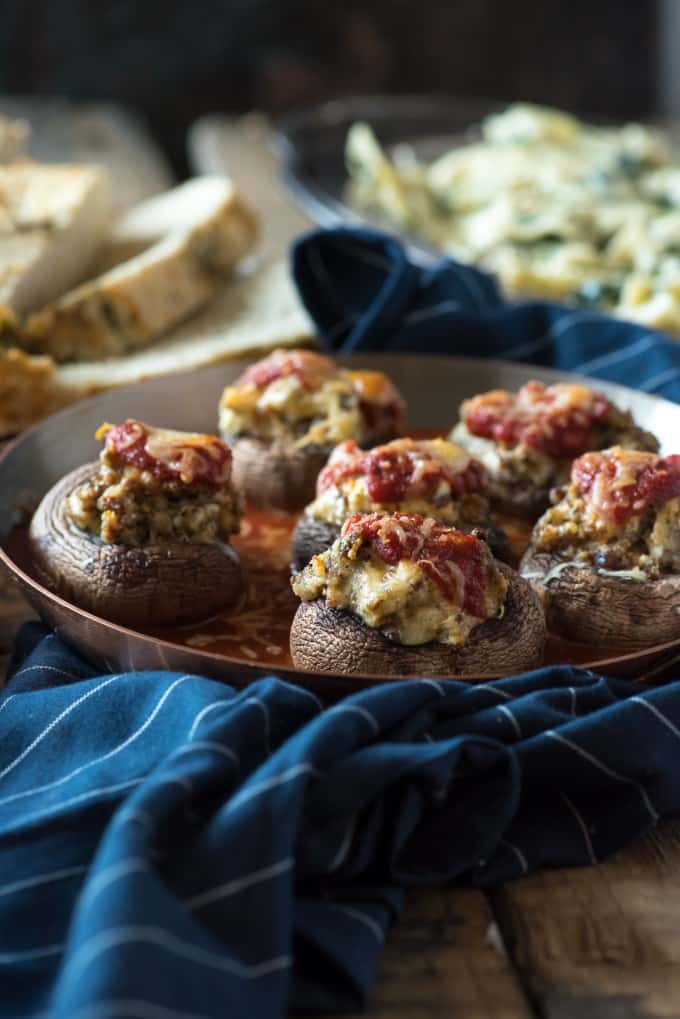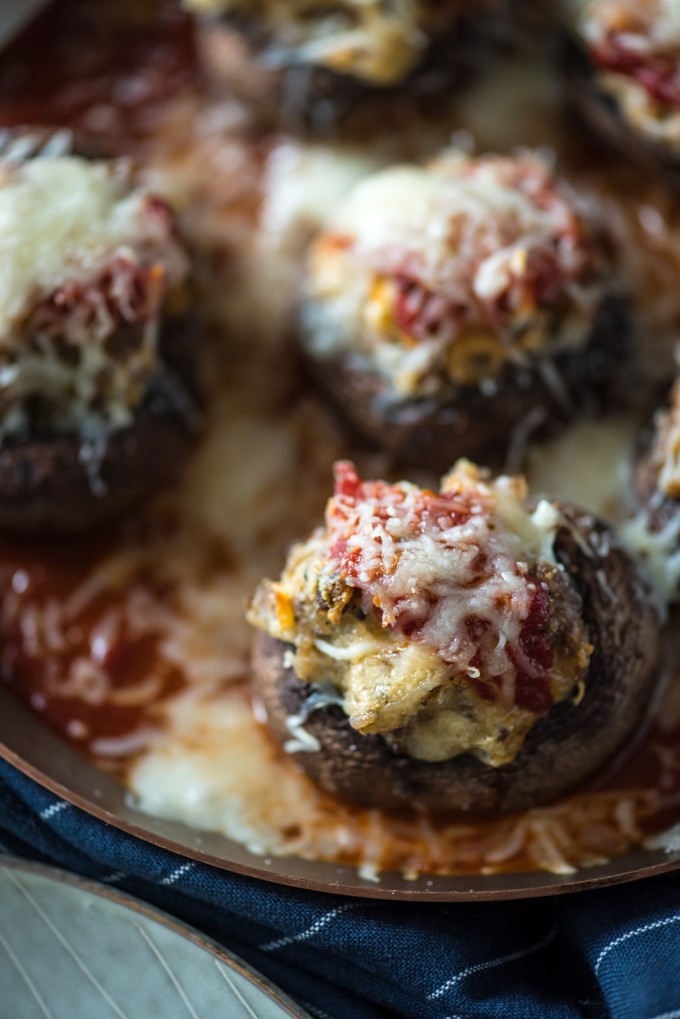 What you'll need for this recipe:
Skillet – I recommend using a deep-sided skillet for browning your meat and getting even cooking. You can grab this [easyazon_link identifier="B00006JSUA" locale="US" tag="gogogogo03-20″]Skillet[/easyazon_link] to use for this recipe and future ones!
Mixing bowl – These bowls are perfect for mixing up any recipe and even come in three different sizes. Get your [easyazon_link identifier="B00LGLHUA0″ locale="US" tag="gogogogo03-20″]3-Piece Glass Mixing Bowl Set[/easyazon_link] here.
Baking dish – This baking dish is perfect for making these Sausage Stuffed Mushrooms and is great for cooking! You can get yourself a [easyazon_link identifier="B01BWMUGY4″ locale="US" tag="gogogogo03-20″]Rectangular Baking Dish[/easyazon_link] here!
If you like these Sausage Stuffed Mushrooms, check these out:
"Bertolli® is a registered trademark of R&B Foods, Inc., used under license."

Sausage Stuffed Mushrooms
Ingredients
12

large portobello mushrooms (sometimes packaged as

1/2

pound

italian sausage

1/3

cup

ricotta cheese

2

tablespoons

cream cheese

1

teaspoon

Italian seasoning

1

cup

Italian-blend shredded cheese

1 1/2

cups

tomato sauce

Balsamic glaze

for drizzling (optional)
Instructions
Prepare mushrooms by wiping clean and removing stems.

Heat a skillet over medium heat. Add the sausage and brown, breaking up into small crumbles using a spoon.

In a mixing bowl, stir together the browned sausage, ricotta, cream cheese, seasoning and ½ cup of the shredded cheese.

Pour 1 cup of the marinara sauce in the bottom of the baking dish (9×9 should work, or whatever size you wish). Divide the mixture between the mushrooms and place the stuffed mushrooms into prepared baking dish .

Spoon a small amount (1-2 teaspoons) of remaining marinara over the top of each mushroom and divide the remaining cheese over the tops.

Bake at 350F for 15 minutes, or until mushrooms are warmed through. Drizzle with balsamic glaze, if desired.
Notes
These Sausage Stuffed Mushrooms are practically "dump and bake," making them a super fast side dish or appetizer! Simple ingredients, fast prep and bake.
Nutrition