Too hot to turn on the oven? These No Bake Blueberry Ricotta Cheesecake Eggrolls make for the perfect summer dessert!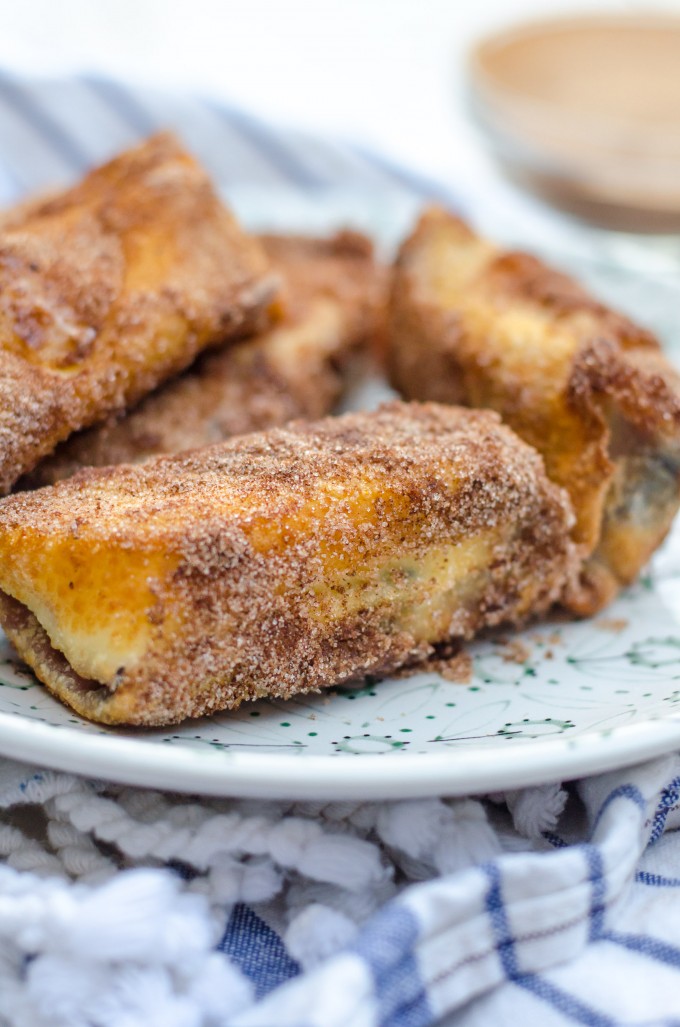 Yes, I promise this is a real thing. I think I'm getting totally out of control now. This recipe is basically a light-tasting blueberry ricotta cheesecake wrapped inside of an elephant ear.
Also, if you don't know what an elephant ear is, you need to get yourself to a fair or festival, stat.
While I wouldn't call these "finicky," they required a little trial and error. The first time I made these, one., the blueberry topping was still hot, so between that and the hot oil, the cheesecake filling became the equivalent of liquid lava. They were still delicious though.
I had much more success after allowing the blueberry topping to cool thoroughly and then throwing them in the freezer for 30-45 minutes. Much like the Fried Ice Cream I did a couple months ago, this allows the filling to stay cold and firm during the frying process. Also, make sure that your oil is hot- too much time in the oil and the filling will have too much time to melt.
Can't wait to hear what you think of this twist on cheesecake!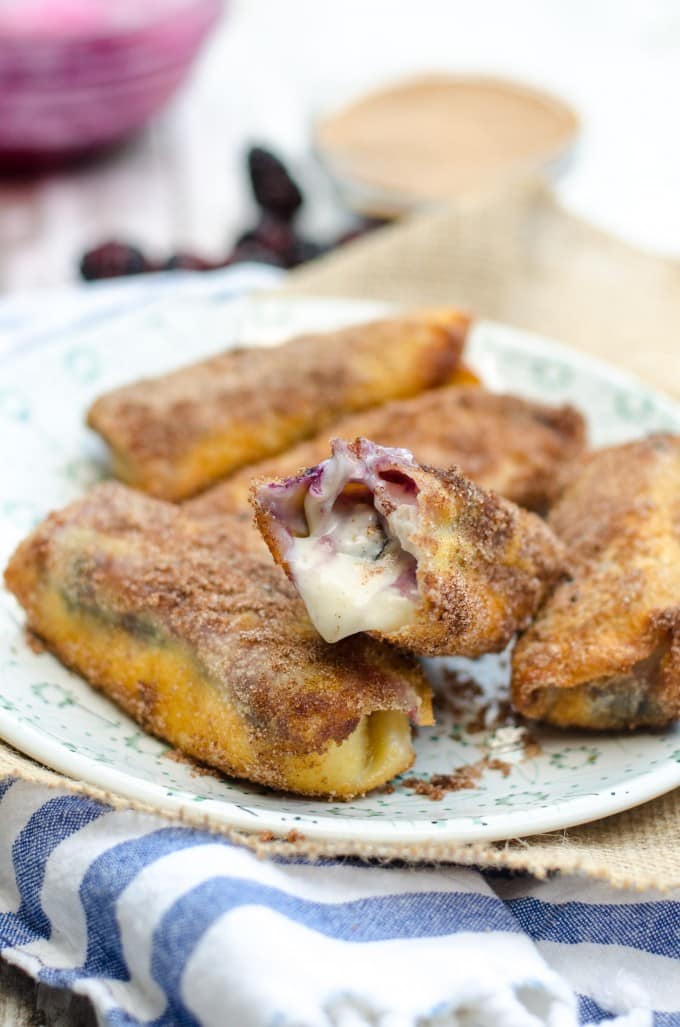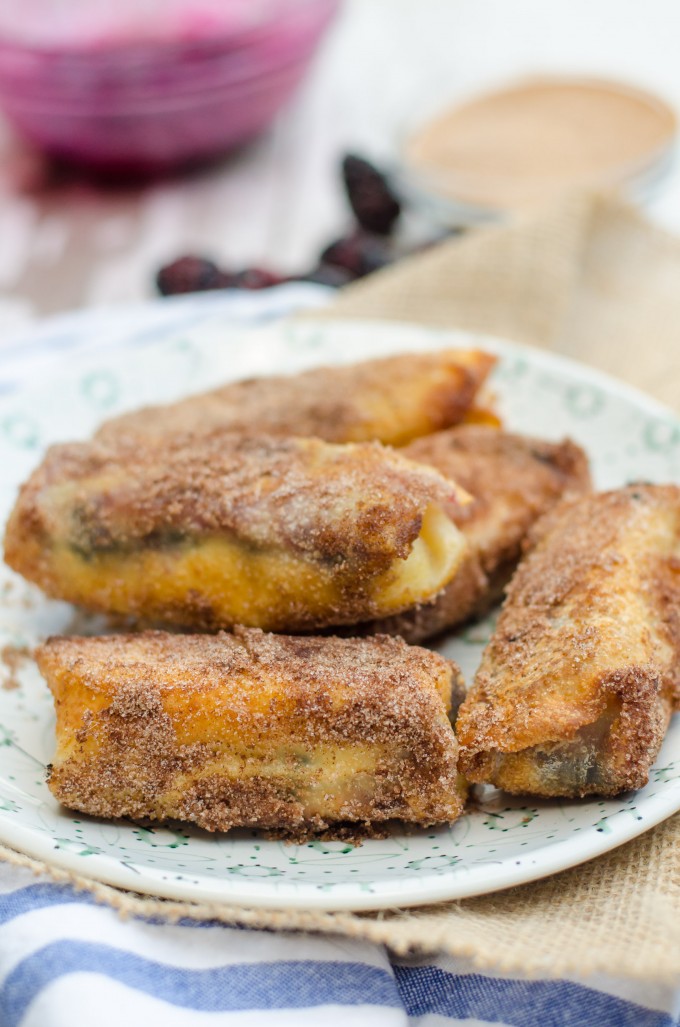 Tools needed to make this easy ricotta cheesecake eggroll recipe:
In order to melt down the blueberry and sugar mixture, a set of microwave safe bowls is good to have on hand.
You can certainly use a stand mixer, but I just prefer using a hand mixer for this recipe.
You will also need a skillet for heating up the oil to fry these Blueberry Ricotta Cheesecake Eggrolls!
If you liked this no bake dessert, check out these other no bake dessert recipes:
No Bake Blueberry Ricotta Cheesecake Eggrolls
Ingredients
1

cup

blueberries

1/2

cup

sugar

4

oz

cream cheese

1/2

cup

whole milk ricotta cheese

1/2

cup

powdered sugar

1

T

honey

1

tsp

vanilla

6

eggroll wrappers

Vegetable oil

for frying

1/2

cup

granulated sugar

1

T

cinnamon
Instructions
Toss the blueberries with the sugar in a microwave safe bowl. Place the bowl on a plate and microwave for 2 minutes. Stir and then let cool to room temperature.Add the cream cheese, ricotta, powdered sugar, honey and vanilla to a small mixing bowl. Use a hand mixer to beat until smooth. Working with one wrapper at a time, use a pastry brush to brush water along all four edges. Place approximately 3 T of cheesecake filling on the wrapper and top with 1 T blueberries, straining off as much of the liquid as possible. Roll the egg roll up according to package directions. Place seam side down on a freezer-safe plate. Repeat with the remaining wrappers and filling.

Place in freezer for 30-45 minutes, until filling is firm, but not frozen.

Heat oil in a skillet to a depth of 3/4" to a temperature of 375F. Mix together the granulated sugar and cinnamon on a plate or a shallow, wide bowl.

Remove egg rolls from freezer. Place seam side down in the oil, doing half at a time. Turn the egg rolls so that they evenly brown on all side. Remove from the oil and roll in the cinnamon sugar. Repeat with the remaining egg rolls. Serve immediately.