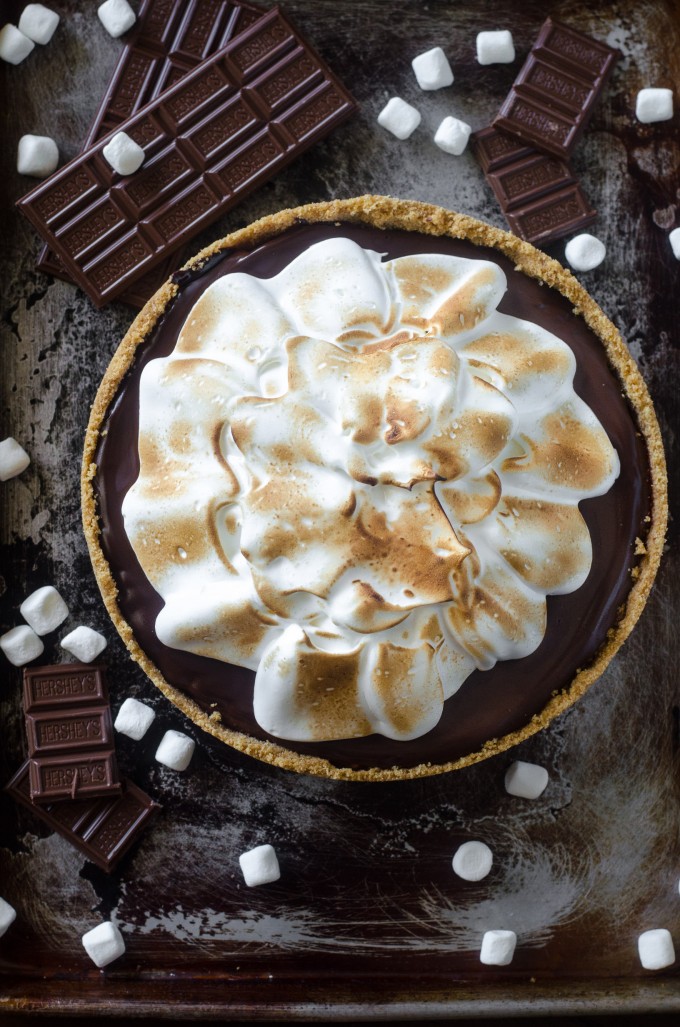 I'm usually a huge proponent of making things from scratch. To me, it just always seems easier to keep basic raw ingredients around and then use them in any matter of ways to come up with something that strikes your fancy. I've also never understood the utter fascination with "no bake" recipes- is it really that hard to just bake something if you want it? But over this past weekend, I finally got the appeal of no bake and semi-homemade. I had one of my best friends in town to meet Michael. We were having a good time, it was hot, but I had an idea for a smores pie that I really wanted to try out (she is borderline obsessed with smores flavor). Next thing I knew, I had an amazing looking pie chilling in the fridge that had only taken me about 15 minutes to make. This No Bake Smores Pie was born.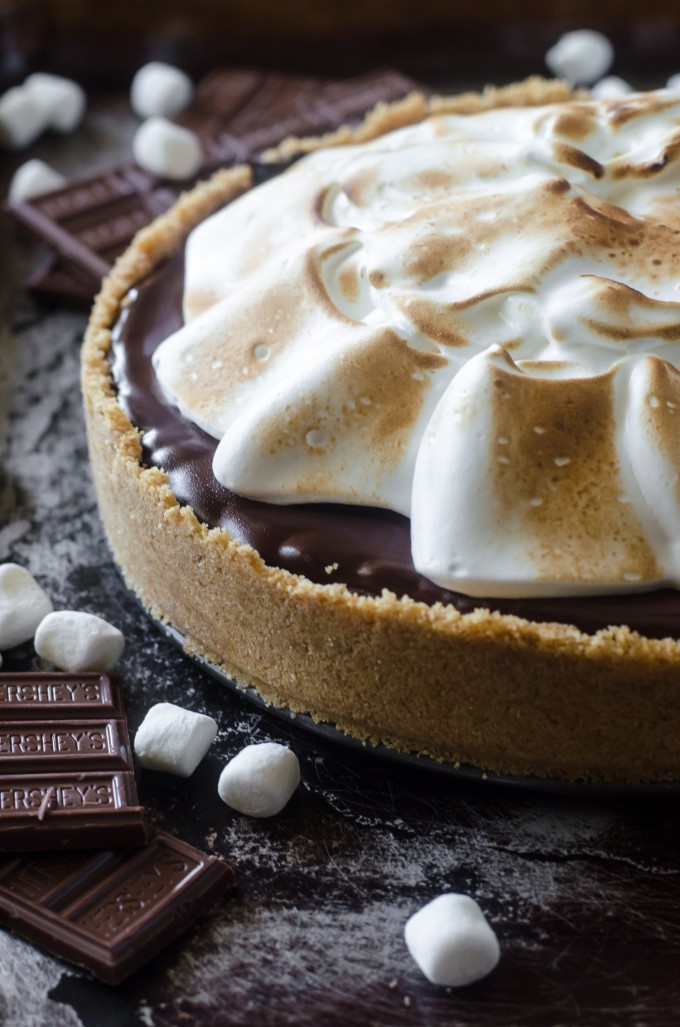 This pie, remarkably, hits some major sweet points in it (two layers of chocolate, plus marshmallow) without being overwhelming- mostly due to the fact that the marshmallow topping is a marshmallow meringue- three egg whites beaten to soft peak perfection, then beaten again with a jar of marshmallow fluff. I swirled it on top using a massive piping tip, then bruleed it with a kitchen torch. I was a little worried about it not being chocolate-y enough with just the pudding (which I turned into a "fake it till you make it" chocolate mousse), so I added a layer of chocolate ganache on top- just in case!
All in all, this was a great last minute recipe- although nothing about it tastes "last minute" or "semi homemade" about this smores pie at all.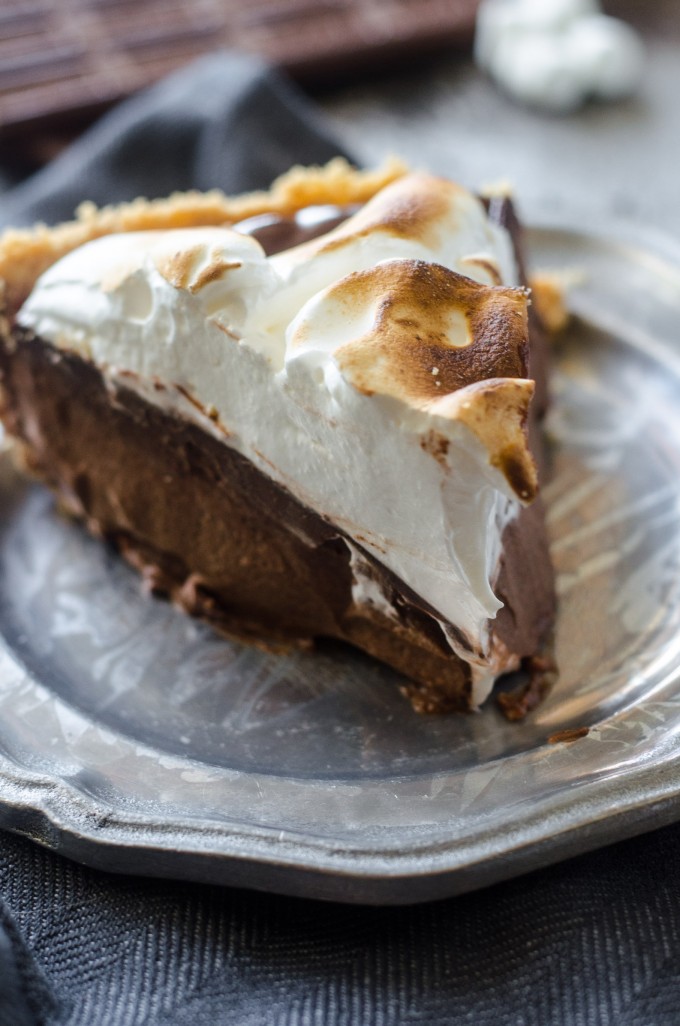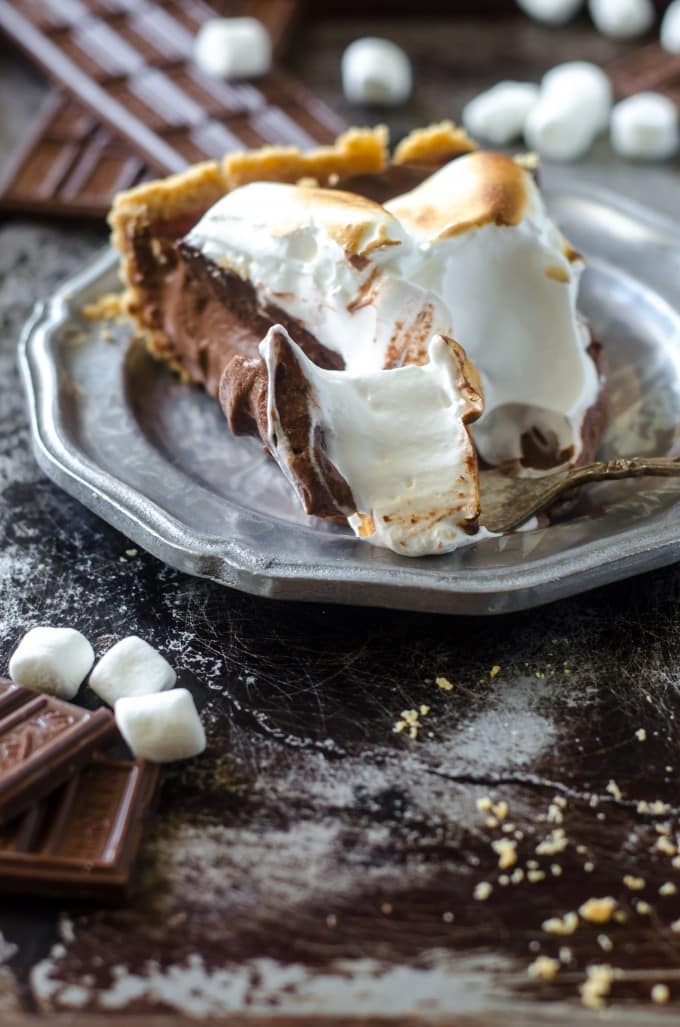 No Bake Smores Pie
Ingredients
Instructions
In the bowl of a food processor, pulverize graham crackers until fine crumbs form. Drizzle in the melted butter with the machine running and pulse until the crumbs are evenly covered in butter. Press into the bottom and 2 inches up the sides of a 9" springform pan.

In a medium bowl, whisk together the pudding mix and 2 cups milk for approximately 90 seconds. In a separate bowl, whip 1 cup of the cream using a hand mixer or immersion blender until soft peaks form. Fold into the prepared pudding, 1/3 at a time. Pour into the prepared crust.

Microwave the remaining cream for 90 seconds or until hot. Carefully pour in the chocolate chips and allow to sit for 30 seconds, then stir until chocolate chips are fully melted. Carefully pour over the mousse and smooth to the edges with an offset spatula. Place in fridge to set for one hour.

Beat the egg whites with a hand-held mixer (and clean beaters) until soft peaks form. Spoon in the marshmallow fluff, then beat on high until stiff peaks form. Remove the pie from the fridge and top with the marshmallow meringue, swirling decoratively. Using a kitchen torch, brulé the meringue to a golden brown. Serve.