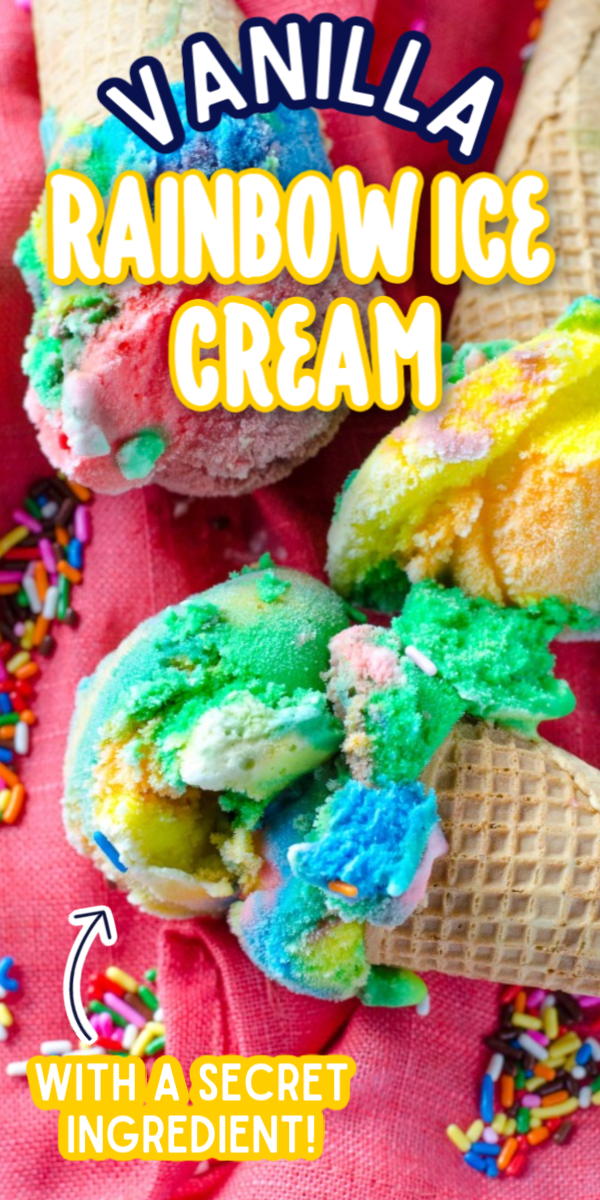 Have you ever wondered how to make rainbow ice cream? This Vanilla Rainbow Ice Cream recipe is super easy and fun to make!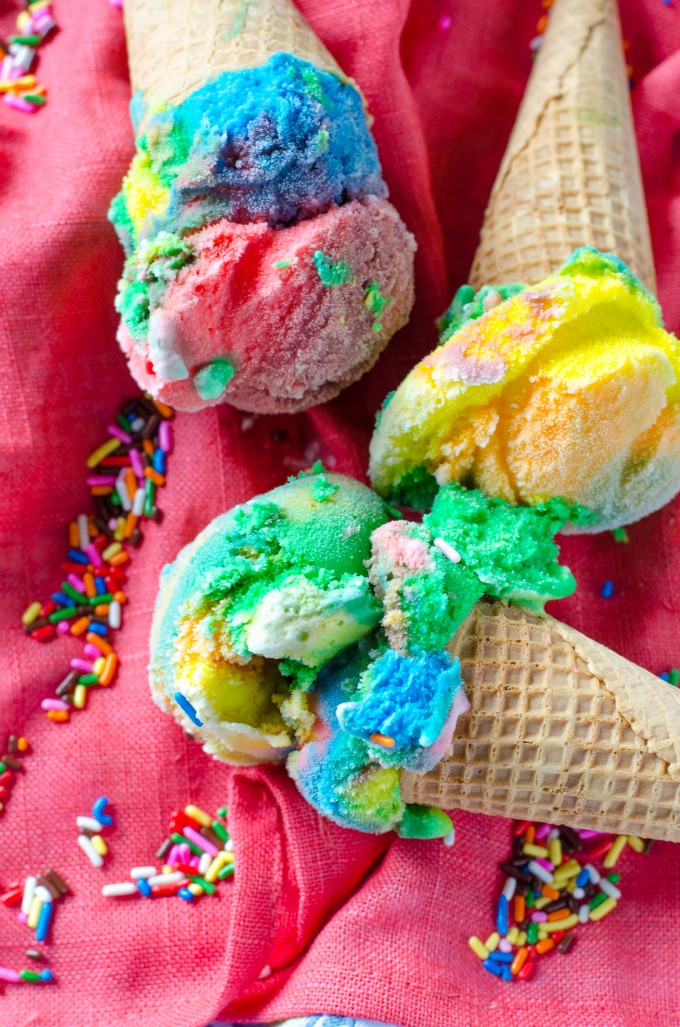 I need all the ice cream in the world right now. And wine. Ice cream and wine.
Michael has colic, which is as awful as everyone has ever made it sound, 100%. In fact, Father's Day was so bad that I texted my mother and told her that a truck could have crashed into our house and the day wouldn't have been worse. It would have just fit right in with the rest of the day.
So yeah. I need ice cream, and lots of it. Thank God for Ice Cream Week.
---
Vanilla ice cream has kind of a bad rap. It's labeled as plain, even boring.
I can assure you that this vanilla ice cream is anything but boring. Just look at that rainbow ice cream!
The ice cream itself is delicious- and even better, its totally scoopable! I struggled for a long time with making homemade ice cream because of how hard it freezes. I'm not sure that even the Hulk could manage to scoop it. But add a minuscule amount of vodka to your ice cream base, and it is just enough to keep it from going all Elsa in Frozen on you.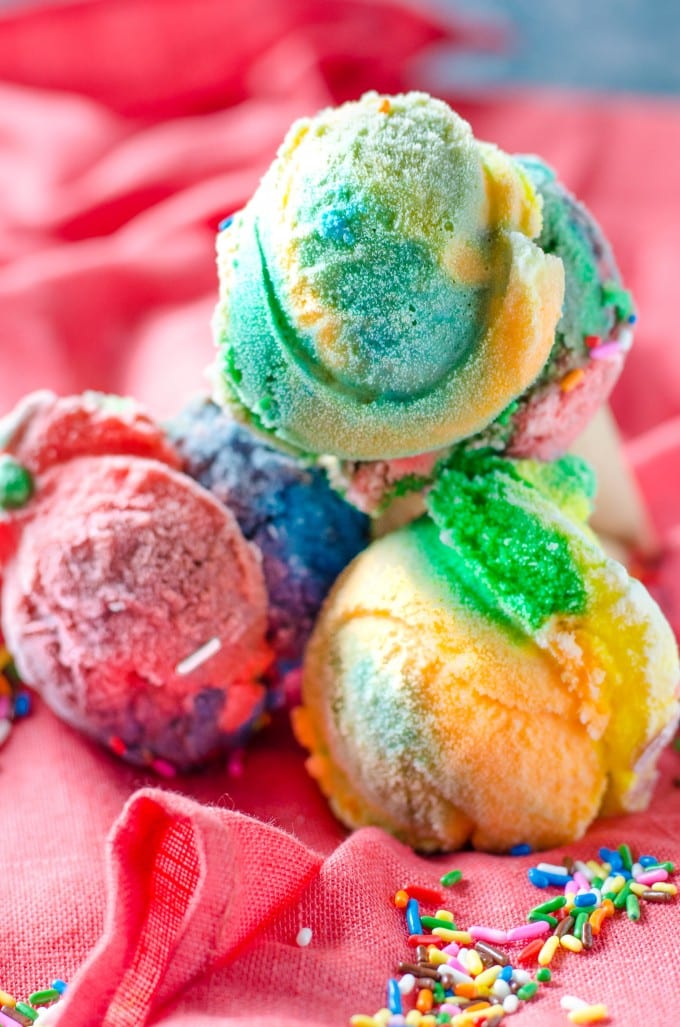 Normally, I'm not much of an ingredient snob, but in this case (since there weren't going to be any other flavors) I really wanted to use a high quality vanilla. Rodelle actually sent me some to try and it was quite lovely. You can buy it via Amazon here
Now, lets talk about all this COLOR that we've got going on here. I had this idea weeks ago and had no clue if it was going to work. Full disclosure, it is obviously more work, but its minimal and I think it's so worth it. What kid wouldn't just die over this?
It was all I could do to keep Jonathan out while I was shooting it. I finally had to placate him with a plain ice cream cone.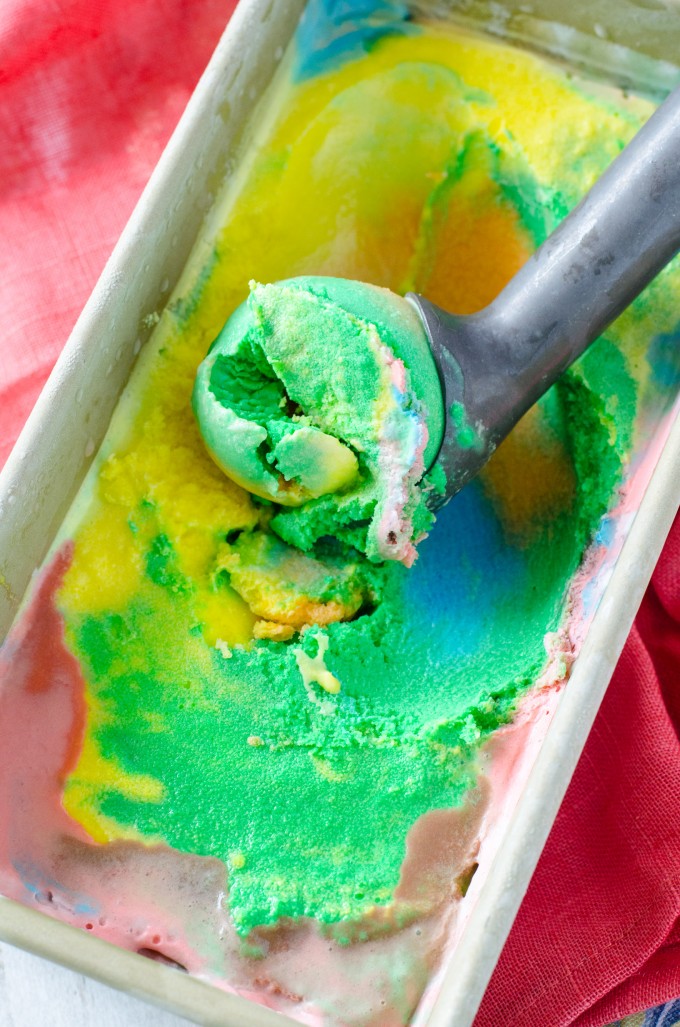 Doing the colors is simpler than you might expect- once your ice cream has become the consistency of whipped cream, you'll divide it between bowls and use whatever colors you like. For the rainbow effect here, I used red, orange, yellow, green and blue.
The red and blue also combined in a few areas and gave me violet. Once I mixed up the colors, I put them back in the freezer to set up for a bit and get back to a whipped cream consistency.
Then I poured the colors in- red, blue and orange in the bottom of a loaf pan, then green and yellow across the top, as you can see in the pictures. The colors swirled together nicely, as you can see.
Make sure to add some whipped cream for clouds! And of course, don't feel like you need to hold back on the rainbow sprinkles.
Tools needed to make this Vanilla Rainbow Ice Cream:
First and foremost, if you plan on making a lot of ice cream this summer, an [easyazon_link identifier="B0006ONQOC" locale="US" tag="gogogogo03-20″]ice cream maker[/easyazon_link] is a tool you'll want to have around alllll the time!
Although this ice cream is pretty easy to scoop, a nice [easyazon_link identifier="B0001MSEQ4″ locale="US" tag="gogogogo03-20″]ice cream scoop[/easyazon_link] is good to have too.
You'll also need a [easyazon_link identifier="B00NGV4506″ locale="US" tag="gogogogo03-20″]blender[/easyazon_link] to quickly blend all of the ingredients before freezing.
If you liked this rainbow vanilla ice cream recipe, check out these other homemade ice cream recipes:
Vanilla Rainbow Ice Cream
Ingredients
3

cups

whole milk

1 1/2

cups

cream

1 1/2

cups

sugar

2

tsp

high quality vanilla extract

I used Rodelle

1 1/2

T

vodka
Instructions
Add the milk, cream sugar, vanilla and vodka to a blender. Run until the sugar is dissolved.

Pour the ice cream base into the bowl of an ice cream maker. Run the machine until the ice cream is the texture of whipped cream.

Divide between five bowls. Tint each bowl a different color: red, yellow, orange, green and blue. Place back in freezer for 30-45 minutes.

Add the colors in "blocks" in the pan. Red on one side, Blue in the middle, Orange on the end. Pour the green and yellow lengthwise across the top and smooth out.

Place in the freezer until solid.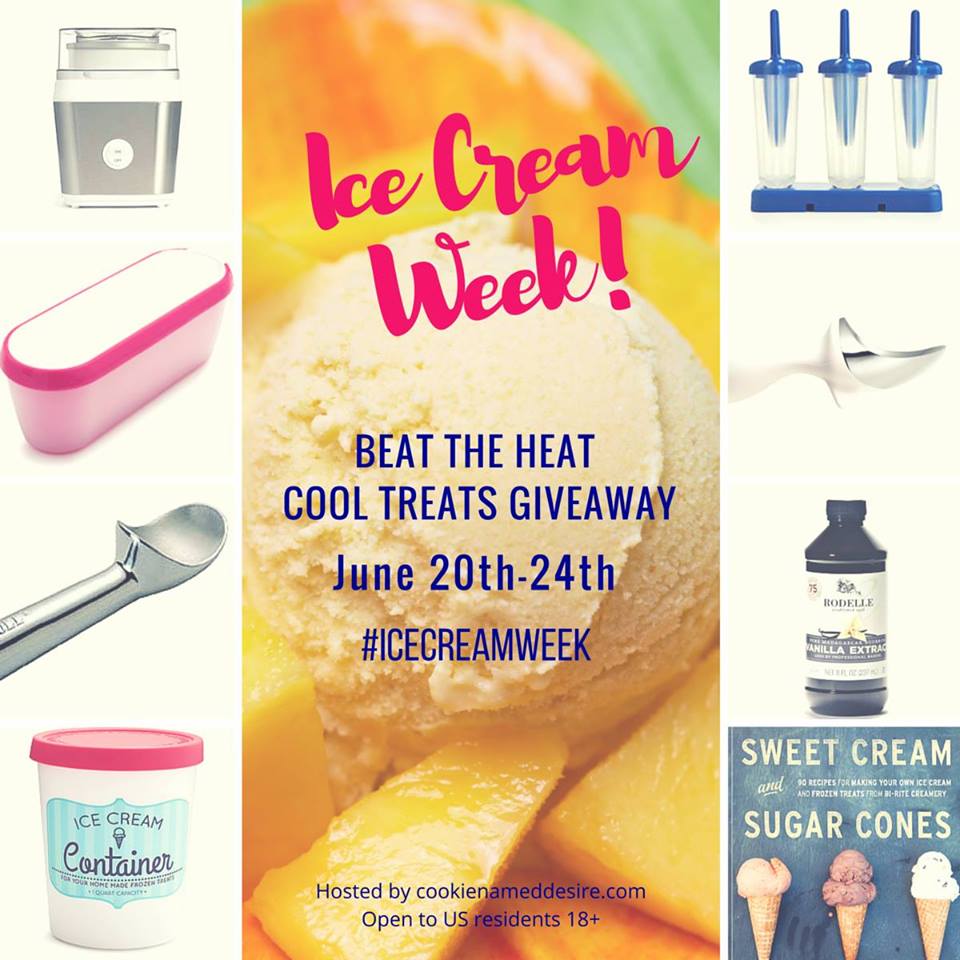 I've teamed up with a bunch of other fabulous bloggers to celebrate Ice Cream Week (#icecreamweek). As I'm sure you've guessed, they really had to twist my arm to participate. Lucky for you, I did- because we have an amazing giveaway for one lucky reader!
Enter below for a chance to win an ice cream maker from Cuisinart, an ice cream scoop from Zeroll, vanilla from Rodelle, containers, popscicle molds, an ice cream scoop from Tovolo, the Sweet Cream and Sugar Cones cookbook, plus a few extra goodies!
Make sure to check out all the other bloggers for #IceCreamWeek:
S'mores Ice Cream via A Cookie Named Desire
Coffee Chocolate Ripple Ice Cream via An Italian in my Kitchen
Unicorn Ice Cream via The Tip Toe Fairy
Tahini Ice Cream with Chocolate Chip Cookies via The Floating Kitchen
No Churn Honey Nut Ice Cream via Honey and Birch
Vegan Peanut Butter Chocolate Praline Crunch Ice Cream via Heart of a Baker
Peanut Butter Lovers Ice Cream via Cookie Dough and Oven Mitt
Cotton Candy Ice Cream via Homemade Hooplah
Butter Pecan Ice Cream via Zagleft
Bourbon Vanilla Bean Ice Cream via Vanilla and Bean
Mint Mojito Coffee Ice Cream via The Little Epicurean
Strawberry Banana Ice Cream via The Bitter Side of Sweet
Peanut Butter Ice Cream via Pretty Simple Sweet
Vanilla Rainbow Ice Cream via Go Go Go Gourmet
Lychee and Cherry Swirl Ice Cream via My Food Story
Brigadeiro Ice Cream via Olivia's Cuisine
Salted Pretzel Ice Cream with Chocolate and Peanut Butter via Cake Over Steak
Strawberry Black Sesame Ice Cream via Madeline Marie Blog
No Churn Caramel Chip Ice Cream via Fearless Dining